As a solo traveller, meticulous planning precedes any trip. Sieving through scores of reviews, from the safety to the food and things to do, is a daunting task. We've got you covered. Here's why Macao should be your next solo travel destination.
It's a safe city
For a solo traveller, fret not! Macao ranks as one of the cities with the lowest crime rates in the world; mugging and violent crime are rare. One would hardly feel out of place surrounded by hordes of other tourists.
As with any city, do take the necessary precautions to keep your valuables safe, and stay away from dubious alleys at night. Other than that, feel free to roam as you like in one of the cities that is a haven for solo travellers.
It has great accessibility
Ferry
It is incredibly easy to get around Macao by public transport. Often, people ride buses or hail a taxi, but ferries are also available as an efficient way to travel  back and forth. There are two main ferry terminals – Outer Harbour and Taipa Temporary Ferry Terminal that gets you to Hong Kong in 50 minutes. They are frequent too and run every hour.
Casino Shuttle Buses
The unique option available in Macao is using free casino shuttle services to and from major tourist spots. These shuttle services are the brainchild of many renowned hotels in the city. The shuttle is open to members of the public and starts at hotels, the Outer Harbour Ferry Terminals and Gongbei Border Gate.
The bus routes cover most of the city, drifting through the ferry terminals, airport, historical centre and major hotels. A shuttle trip between Macao Peninsular and Cotai; the two main tourist hubs, is a mere 15 minutes, making it extremely convenient to hop on.
Public Buses
The bus system is clear as day. A comprehensive list of bus routes is available on the Sociedade de Transportes Colectivos de Maca (TCM) website (www.tcm.com.mo) and any Macao Tourist Map available at Tourist Offices.
Most public run from 6 is through midnight, making getting around the city hassle-free. They cover all major attractions and hotels up to the Peninsular and the picturesque islands of Taipa and Coloane.
Even with such extensive connectivity, one needn't worry about public transport burning a hole in your pocket. Each route is a meagre (MOP$6); less than 1 USD. Travellers may also opt for an even more inexpensive option of purchasing the Macao Bus Pass at supermarkets or convenience stores to enjoy half price on trips.
Sea Bridge
The newly opened Hong Kong – Zhuhai – Macao Bridge (HZMB) links Macao to Hong Kong's Lantau Island and the mainland Chinese city of Zhuhai, increasing accessibility by tenfold.
The meandering bridge is the longest sea bridge in the world, snaking along for 55 kilometres. To cross the bridge, travellers can enter shuttle buses that run 24 hours a day, from Macao Port. The shuttle runs at a timely interval of 5 minutes during peak hours and 15-30 minutes during off-peak hours.
Plenty of attractions
There are ample things to do to satisfy your wanderlust as a solo traveller. Make sure to drop by the scenic St Paul's Ruins and Macao's Historic District to immerse yourself in the charms of the city.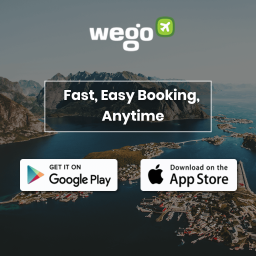 The glitzy casinos, shopping malls, and the palatial resorts also make for great places to see and be seen. Venetian Macao, for one, serves up a sumptuous gondola-in-Asia experience.
You can book a stay here or choose your perfect stay from the many hotel options on Wego!
If you're there December, the city plays host to unmissable events such as the Macao Light Festival where different districts of the city transforms into an artistic light extravaganza.
Find out more about the event and others like it on official Macao Government Tourism Office website.
The glorious food
Take a breather from all the sightseeings and replenish yourself with Macao's culinary offerings. Macao's culinary heritage marries Portuguese and Chinese legacies, and the result is a food haven specializing in rich flavors.
Macao has everything for everyone. Indulge your sweet tooth with the famous egg tarts and freshly-baked almond cookies, while zapping through from humble stalls and restaurants serving traditional cuisines to Michelin-starred hotspots showcasing exquisite delicacies.
And you know what, travelling alone means more of these great food for yourself!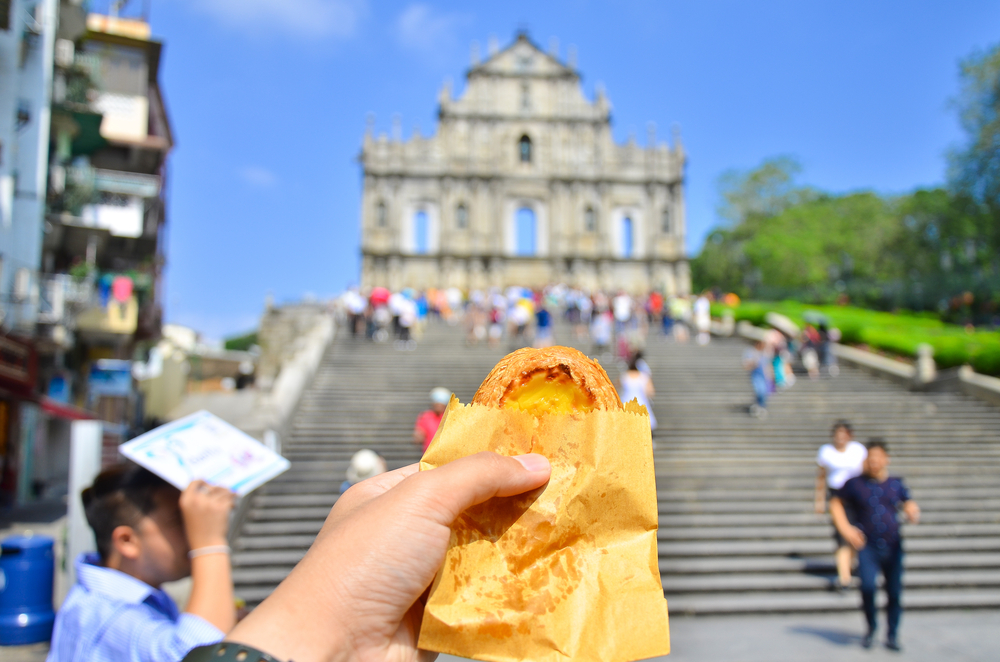 Let's get going, then! Book your flights to Macao now!