A closer look at the map of India makes you realize that the northeast resembles the left arm of India. Northeast is majorly inhabited by aboriginals tribes. Modest commercialization of the area has left many breathtaking natural wonders of the region hidden from a common man's eye. Different cultures and lifestyles of the region make it all the more intriguing. If you plan to take a trip through the region here are some places you should not miss.
Majuli Island, Assam
Majuli Island, on the Brahmaputra, is one of the largest river islands in the world. Here you can witness the Assamese culture in its glory. It lies on the routes of many migratory birds, hence an absolute paradise for bird watchers. Among the places to visit are the Molai forest, Phatobihu, Faato Bihu – Mohghuli Chapori. Kamalabari Satra and Dakhinpat Satra which is the center of culture, literature, art, music in Majuli is a must-visit. Tengapania, which is a popular picnic spot, is a favorite of nature lovers.
Loktak Lake, Manipur
Loktak lake in itself is the lifeline of people settling around it. It is the largest freshwater lake in northeastern India and is also said to be the only floating lake in the world due to the floating phumdis. Phumdis are floating biomass with rich nutrients for plant growth. Here you can witness the endangered Sangai deer in all its glory. This lake is a perfect getaway for all nature lovers.
Loktak Lake is accessible through Moirang town, and less than an hour away from Imphal airport and Imphal town. You can find many camping and homestay sites.iN
Vantawng Waterfall, Mizoram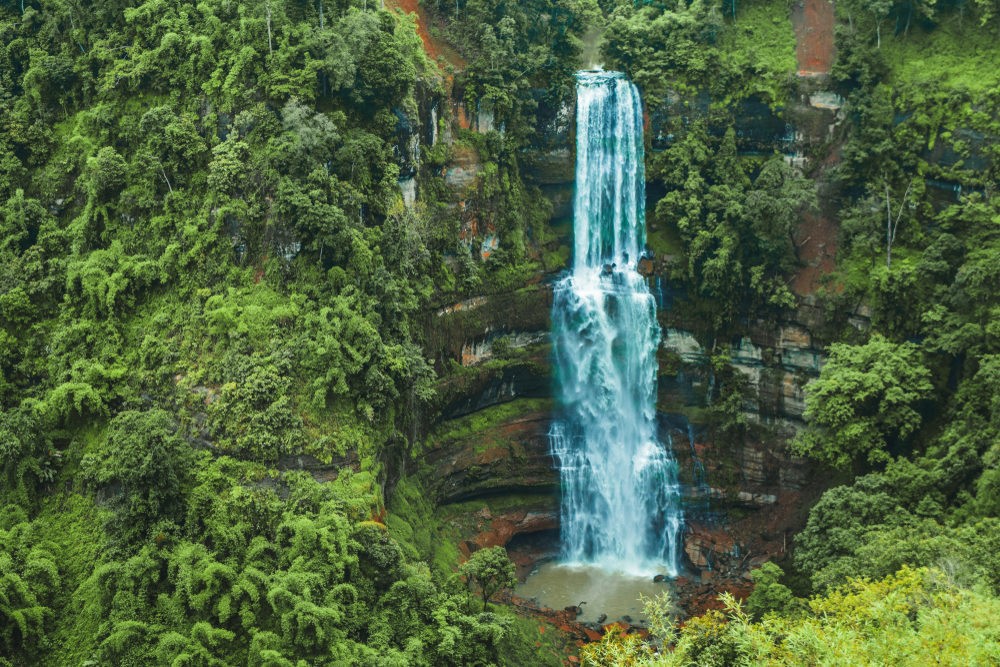 Vantawng Waterfall in Thenzawl village is Mizoram's highest waterfall with a height of 750 ft. it is also the 13th highest in India. Thenzawl is known for its handloom products, and is surrounded by lush green bamboo forests.it is Located at a distance of about 130 km from the capital city Aizawl. Originating from the Vanva River, these falls are tucked in between green valleys and look like a river of milk from a distance. This amazing waterfall is listed in the topmost tourist attractions in the state of Mizoram. It is certainly nature's delight.
Tawang, Arunachal Pradesh
Located in the lap of Eastern Himalayas, this less-explored town may prove to be your rendezvous with a different world altogether. As the birthplace of the sixth Dalai Lama, it is a holy site for Tibetan Buddhists and a prominent center for Gelug or Gelugpa, the pre-eminent Buddhist school in Tibet. Places to eat in Tawang are limited, food rates are expensive as most of the things have to be transported from the plains.
Roadside stalls selling momos and Thukpa are quite common. Be warned, the traditional food of Monpas is liberally spiced with chilies. Every tourist visiting Arunachal Pradesh needs to obtain an Inner Line Permit and a Protected Area Permit which can be collected from Delhi, Kolkata, Guwahati, or Tezpur airports. 
Unakoti, Tripura
Unakoti is one of India's hidden gems. Dating back to the 8th-9th century, it is estimated that Unakoti is one of the biggest bas-relief sculptures on the side of a rocky hill in the country. Legends believe that Lord Shiva halted at this site for a night, while on a journey to Kashi. It is believed that Lord Shiva had asked his companions to wake up in the morning so that they might depart to Kashi. But as nobody woke up before sunrise, Lord Shiva crushed his comrades into stones and proceeded towards Kashi. Unakoti, which means "less than a crore in number", has several discovered and yet-to-be-discovered sculptures of Hindu gods and goddesses. The 30-ft-long carving of Lord Shiva's head called Unakotishwara Kal Bhairav is the most praised sculpture of the place.
Shillong, Meghalaya
Shillong is home to mesmerizing waterfalls, crystal clear lakes and impressive mountains. Located in undulating pine-covered hills, the city has a milder climate than tropical India. The state capital was known as the 'Scotland of the East' during the British Raj and continues to fascinate people all over the world.
Shillong is arguably the best option for those who wish to spend the summer holidays in serenity as Lakes of Shillong are perfect spots to find peace of mind, Like Umiam Lake and Wards Lake and when you get all the peace that you needed you can visit Iewduh, the largest open street market in north-eastern India. As an added advantage Shillong is the only hill station in India that is accessible from every corner.
Mawlynnong, Meghalaya
Mawlynnong Village located in the East Khasi Hills of Meghalaya won the acclaim of being the cleanest village in Asia in 2003.Its located around 90 km from Shillong. It is on the global nature-lovers list for its living roots bridge. The bridges are constructed from bamboo but have many small fig tree creepers growing along with the structure. Hanging on a river, the bridges are made by connecting the aerial roots of one massive rubber tree with another.
Sky View is a vantage point and a popular attraction of Mawlynnong Village. The silence of a jungle is broken by the gushing sound of the Mawlynnong waterfall. A major landmark of Mawlynnong Village, the Church of Epiphany is a 100-year-old structure that still holds an old-world charm. The weather in Mawlynnong is pleasant all through the year. Still, the best time to visit Mawlynnong, Meghalaya is monsoon.