Bangkok is a melting pot of people from all around the world. With over 20.5 million visitors welcomed to the Thai capital in 2017, it comes as no surprise that a number of those people have fallen in love with this city and decided to stay.
A large community of expats lives in Bangkok, and for good reasons. Excitement is just around every corner, there is a good balance of work and play, and there is a sense that anything can happen. The vibrant sights, smells, noise, and colors of the city can easily send you into euphoria.
But before you make the big move to the City of Angels, here are 5 things you need to know about living as an expat in Bangkok:
The cost of living is low
Depending on your lifestyle, Bangkok can be one of the most affordable cities in the world to live in. A small studio apartment can go as little as 300 USD per month, and the food comes just as cheaply, with street food costing as little as 2 USD.
Because of the enormity of the city, public transport is the ideal way to travel around and doesn't cost a lot of money. Taxis, trains, and motorbike services are all affordable, but tuk-tuks tend to charge higher, especially for tourists. Furthermore, if you shop at the local markets for your groceries and clothes, you can end up saving a lot of money while you work and live in Thailand.
The number of people can be overwhelming
With 14 million people living in the greater metropolitan area of Bangkok, this is a given. Thousands of people can swarm around you at any time and, while that can be exhilarating at first, if you're an introvert like me, it can start to feel overwhelming. This is especially true if you are walking around the main tourist areas of Bangkok or anywhere near Sukhumvit Road, the main thoroughfare of the city.
The solution is easy: explore the quieter, more authentic areas of Bangkok which are inhabited by locals and less by tourists, such as the leafy neighborhood of Ari—one of my favorite suburbs in the city.
It's hot all year round
Bangkok is governed by a tropical monsoon climate. This means that it basically has only three seasons: hot, rainy, and cool (or not so hot). It's claimed to be one of the hottest cities in the world, so expect to wear your summer clothes all year round, even during the night time; day time temperatures are a minimum of 30 degrees and nighttime temperatures stay above 20.
While this means that every day is a pool day and that your tan will never fade, it can be overbearing. Don't fret, though—air-cons exist in every room of every building, and cheap bottled water is available everywhere (or better yet, bring your own reusable water bottle).
Traffic can be a big problem
It's not surprising to look out your window and see traffic at a complete gridlock below. During peak hour times, you can be sitting for up to hours in the car. As a result, many people opt for the Skytrain or subway to get around, but even that gets bad—I've seen people push and force their way in within an inch of the door closing in on their noses.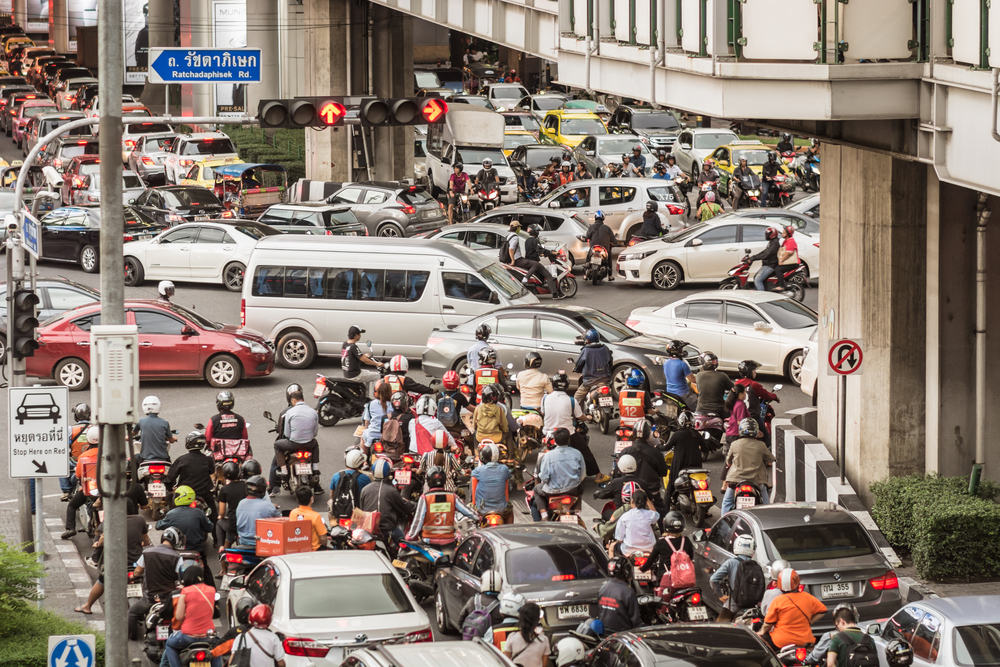 However, train transportation is a wonderfully clean and efficient way to get around the city, and if you need to get somewhere fast, there are no shortage of motorbike taxis to provide you with a speedy lift—just make sure you wear a helmet and use a generous amount of caution.
It's a safe city to live in
When you think of Thailand (or South East Asia in general), certain connotations come to mind. Drug scandal or kidnapping may be a couple of them. However, Bangkok is a generally safe city to live in and its crime rate is lower than that of many U.S. cities. You will find that the locals and police are more often than not very friendly and happy to lend a helping hand to those who need it.
Of course, precautions should be taken—it's not wise in most places in the world to wander about in the middle of the night by yourself, and keeping your bag secure is common sense—but expats and tourists can enjoy Bangkok without too much concern about their safety.
It's hard not to love a lively and bustling city like Bangkok, and sure enough, the many expats I've met who live there say that there is just something about it that keeps pulling them back for more. Whether you are planning to move there or visit, be warned that you might just feel the same.