You can see them all over Southeast Asia, tootling along the narrow streets and weaving in and out of the traffic. They have even starred in movies. Any way you look at them, the darling autorickshaws are a signature icon of much of Asia.
Known lovingly throughout Thailand as the tuk-tuk, the little truck is a cheap form of personal transport and taxi-cab. Its name is derived from the sound made by the tiny two-stroke motor, which in English would be more familiar as 'putt-putt'.
Here in Trang, to south of the famous resort area of Phuket, the vast majority of tuk-tuks are owned by their drivers as opposed to Bangkok, where the uniform colour indicates they are company owned. Many have been in the same hands for decades.
For the 'spotters' among us, the design of the DKA Midget began in 1957 in the Daihatsu factory in Japan and the famous 'frog head' design has been kept alive here in Trang.
The idea was for a compact, economical vehicle for light duties in the many narrow streets of Japanese cities. After an appearance on a TV show, the idea took off and soon the mini-taxis were finding their way onto streets, alleys and workplaces all around the world.
They even enjoyed some limited success in the USA as a light freight and delivery vehicle. They were even used around large factory sites like Boeing for transporting workers and parts. The tuk-tuk taxi was marketed in the USA as the Daihatsu Trimobile AP (all purpose) 'Safari Wagon'.
Trang is one of the few places left in the world where you will easily see the early MP5-derived models that trace their history and design back to the originals from the late 1950s.
The tuk-tuk is powered by an air-cooled 305cc 2-stroke, single cylinder engine with a power output of around 9kW. In many places of the world, upgrades to LPG are available. This was in response to some congested regions where the little 2-strokes can get a bit smoky, especially if not properly maintained.
Kuhn San has owned his tuk-tuk for more than 30 years, diligently painting and repainting it in the original factory colour. Kuhn San is not so meticulous about the trimmings, with a Mazda steering wheel, Honda stickers and a Toyota bonnet badge.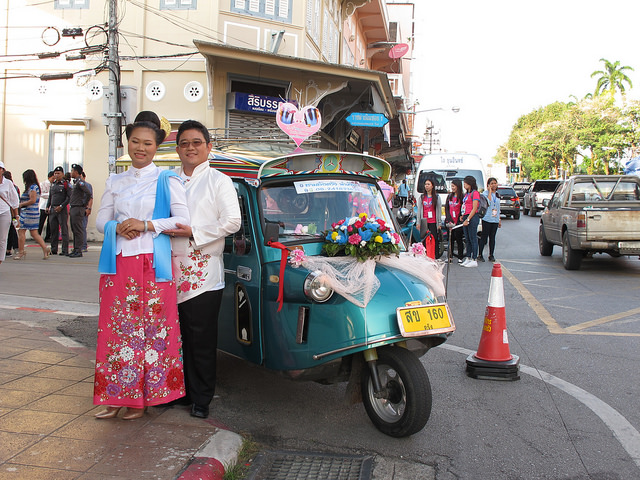 To demonstrate their much-loved place in Thai urban folklore, bridal couples in the Trang 20th Anniversary Underwater Wedding Ceremony were photographed with immaculate collector examples in prominent city locations.
While cheap and effective forms of urban transport remain in demand, you can expect to see tuk-tuks on the streets of Thai cities for a while to come.
Images courtesy of author