This page was last updated on 3 June, 2022.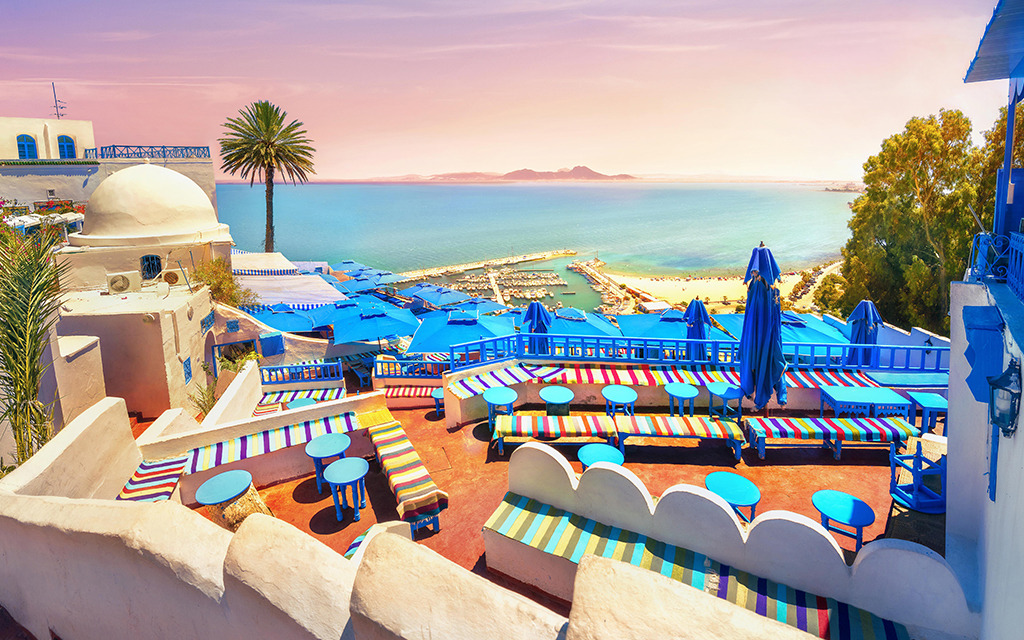 At a Glance
Travel Restrictions
Entry For All Travellers: Allowed
Vaccination Requirements: Fully vaccinated travellers are exempt from testing requirements
Tourist Entry: Allowed
Testing: Negative PCR test is required for unvaccinated arrivals
Quarantine Required: No quarantine, unless tested positive during random swab test
Quarantine Details: Quarantine for 5 days or more for positive testing passengers.
Local Restrictions
Lockdown in Effect: None
Events: Allowed
Transport: Operational
Shopping: Open
Restaurants and Bars: Open
Detailed Travel Advisory
Entry requirements
Passengers are required to complete an online Health Declaration Form for Tunisia before departure.
After submitting the E7mi form for Tunisia, travelers receive an email containing a QR code. This is checked before boarding and by health officials on arrival in Tunisia.
Travellers must download Tunisia's track and trace application- the E7mi application on their mobile phones.
To enter or transit Tunisia, passengers must have one of the following documents:
Negative PCR COVID-19 test result, taken no more than 48 hours before departure
Negative antigen COVID-19 test result, taken no more than 24 hours before departure
COVID-19 vaccine certificate showing full vaccination with an approved vaccinate (see below)
These requirements do not apply to children under 6 years old.
Vaccinated travellers
Vaccinated travelers need to carry valid proof of vaccination. The medical certificate must show full vaccination with an approved vaccine.
Approve vaccine list to travel to Tunisia:
Janssen
AstraZeneca (Vaxzevria, SK Bioscience)
Covaxin
Covishield
Moderna (Spikevax)
Nuvaxovid (Novavax)
Pfizer-BioNTech (Comirnaty)
Sinovac
Sinopharm
Sputnik V and Sputnik Light
Janssen must have been received at least 28 days before arrival. All others at least 7 days before arrival. A combination of vaccines is accepted.
Passengers under the age of 18 are exempt if accompanied by a vaccinated parent or guardian.
Unvaccinated travellers
Only travelers without valid proof of vaccination are required to have a COVID-19 test to go to Tunisia.
As stated above, PCR tests and antigen tests are accepted for Tunisia.
Quarantine
Unvaccinated visitors are no longer required to enter hotel quarantine on arrival in Tunisia, providing they have a negative test result.
Passengers could be subject to random COVID-19 testing on arrival and, if positive, required to isolate for 5 days or more.
Transit rules
Some transit flights are now operating through Tunisia. Transit passengers are subject to the same requirements as those entering the country. This means they must have a negative test result or vaccine certificate.
Passengers on transit flights must follow all the health and safety procedures now in place at airports.
Detailed Tourist Information
Passport holders from many countries need a Tunisian tourist visa to visit the country for leisure purposes.
Citizens of over 20 countries will soon get a visa online by completing the Tunisia eVisa application form. The system is being launched to facilitate travel. It will not be necessary to attend a Tunisian embassy or consulate in person by applying for the electronic visa. The entire process is online.
The applicant's passport must be valid for at least 6 months. Proof of accommodation in Tunisia or a letter of invitation is also requested.
Nationals of Tunisia visa-exempt countries can stay for up to 3 months without a visa. Citizens of Germany and Canada can stay for up to 4 months, and Bulgarians can enjoy 2 months visa-free.
To stay in the country longer or for other purposes such as studying or working, a visa for Tunisia will be required.
Temperature may be checked arrival at Tunis-Carthage International Airport or other ports of entry.
Rapid tests carried out on randomly selected passengers
Wearing a facemask is compulsory on transport and in stations
Lockdown Details
Lockdown measures in Tunisia have been eased. Tourists can enjoy most services and facilities in Tunisia.
Cafés and restaurants are open
Hotels and private rentals can operate
Tourist attractions are open with hygiene measures
All shops can open
Wearing a face mask is compulsory in public places
Travelers must make sure they understand all the latest rules and restrictions before departure. COVID-19 measures and travel restrictions are subject to change.
Sources
https://www.gov.uk/foreign-travel-advice/tunisia/entry-requirements
https://www.visatunisia.com/travel-and-entry-restrictions/