This page was last updated on 15 September, 2021.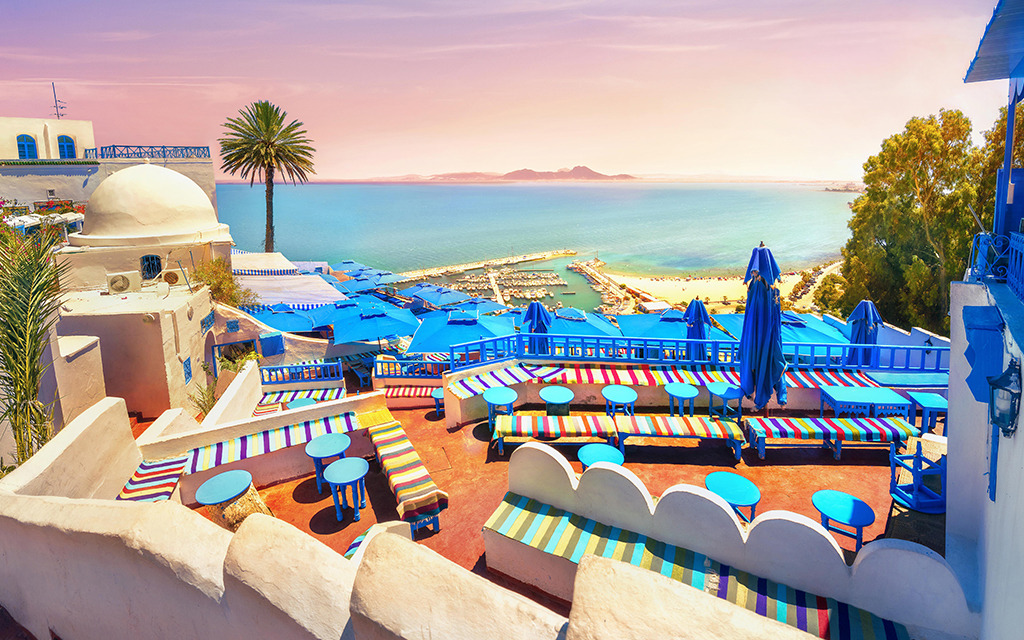 At a Glance
Travel Restrictions
Entry For Vaccinated Travelers: Allowed
Vaccination Requirements: Fully vaccinated travelers are exempt from the requirement to self-isolate if you provide COVID-19 vaccination certificate that has a QR code
Tourist Entry: Partially Allowed
Testing: Negative PCR test is required for all countries.
Quarantine Required: Yes
Quarantine Details: Self-isolation for 5 days is required.
Local Restrictions
Lockdown in Effect: Partial
Events: Partially Allowed
Transport: Operational with restrictions
Shopping: Open
Restaurants and Bars: Open with restrictions

Detailed Travel Advisory
Published 03.09.2021
1. Passengers must complete a Health Declaration form before departure at https://app.e7mi.tn . This will generate two documents which must be signed, printed and presented prior to boarding and to immigration upon arrival.
2. Passengers entering or transiting through Tunisia must have a negative COVID-19 RT-PCR test result issued at most 72 hours before departure from the first embarkation point. The test result must have a QR code or be issued by a competent authority. The test result must be in Arabic, English or French.
3. Passengers must have a confirmed and paid hotel reservation for 10 days booked at Cosmos Tergui Club, Elmouradi Elmenzah Hotel, Elmouradi Mahdia Hotel, Golden Carthage Hotel & Residences, Hammamet Village Hotel, Helya Hotel, Kanta Hotel, Lac Leman Hotel, Neptunia Hotel, Palm Beach Club, Palmyra Holidays Hotel, Penthouse Hotel, Sousse City Beach Hotel, Sun Beach Resort, Tunisia Palace Hotel or Zenith Hotel.
– This does not apply to:
– passengers with a COVID-19 vaccination certificate showing that they were fully vaccinated;
– passengers with a COVID-19 recovery certificate and a COVID-19 vaccination certificate showing that they received 1 dose of the vaccine;
– passengers traveling as part of an organized all-inclusive tour;
– passengers younger than 18 years if accompanied by a fully vaccinated parent/guardian;
– unaccompanied minors.
4. Passengers could be subject to a COVID-19 rapid antigen test upon arrival.
5. Passengers who are exempt from the hotel quarantine requirement could be subject to self-isolation for 10 days.
Detailed Tourist Information
Travellers from all countries into Tunisia must take a PCR test less than 72 hours before travel and carry dated evidence of a negative result.
You are also required to self-isolate for seven days on arrival in Tunisia. You should isolate at home for 7 days and pay to take a second COVID-19 PCR test, and receive a second negative result, in order to leave isolation. You need to arrive in Tunisia with evidence of a booking for this second COVID-19 PCR test (to be taken from day 5 of your isolation period). You can organise this online (http://rdvtestcovid.tn/). You are advised to confirm your appointment directly with the clinic.
You are exempt from the requirement to self-isolate if you can present evidence that you have tested positive for coronavirus at least six weeks before your departure date, or received all doses of your coronavirus vaccination. This evidence should be from the relevant health authorities or contain a QR code, (see 'Demonstrating your COVID-19 vaccination status' https://bit.ly/3ir0wFu).
Travellers entering Tunisia from Libya need a negative PCR test but are not currently obliged to self-isolate on arrival.
Official delegations on professional missions of less than 5 days are exempt from the self-isolation requirement but still need to present a dated negative PCR test on arrival.
The Tunisian government has also announced that travellers arriving in Tunisia as part of a tour or package holiday will not need to self-isolate on arrival, if they adhere to the following measures:
-Take a PCR test less than 72 hours before travel and show evidence of the negative test result, with the date of the test clearly labelled, at your point of departure for Tunisia.
-Present booking confirmation for a holiday organised by a tour operator.
-Remain in a bubble with the tour group for the duration of your trip, including accommodation and all travel.
-Complete this Tunisian government short online questionnaire before travelling.

Lockdown Details
From 19 August, national curfew hours are from midnight to 5am. During the curfew you are only allowed to leave your residence in an emergency.
Cafes, bars and restaurants are currently allowed to operate. Public places have hygiene measures in place, including obligatory face masks, taking a temperature check and sanitising hands upon entry.
Gatherings of more than three people in closed spaces are banned.
You are allowed to attend gatherings in outdoor spaces, if you have been vaccinated and if you respect health measures.
The Tunisian authorities have announced that wearing a face mask in public places is mandatory. Failure to wear a mask may result in a fine or imprisonment.

Sources
https://www.gov.uk/foreign-travel-advice/tunisia/entry-requirements
Data Source: covidcontrols.co