This article has been reviewed by Wego's editorial team to ensure that the content is up to date & accurate.
Updated January 2023
The UAE imposes fines on individuals who overstay their visas in the country. If you are currently in the UAE or planning to visit, it is important to be aware of the potential fines and how to check if you owe any overstay fines. This article will provide information on how to check for overstay fines in the UAE and the steps you can take to pay them.
UAE overstay fine
After your UAE visa has expired and your given grace period is over, you will be required to pay your overstay fine as per the number of days accrued. The cost of the overstay fine is AED 50 per day.
This also applies to visa cancelations; the UAE government will provide you with a grace period of six months until you leave the country or apply for another visa.
Furthermore, as per the latest announcement, visa overstayers will also need to obtain a Dubai/UAE out pass on top of the overstay fine. The out pass is essentially an exit permit allowing holders to leave the UAE, which costs up to AED 300.
Book cheap flights to UAE
UAE overstay fine check
To check your UAE overstay fine, please follow the steps below:
GDRFA website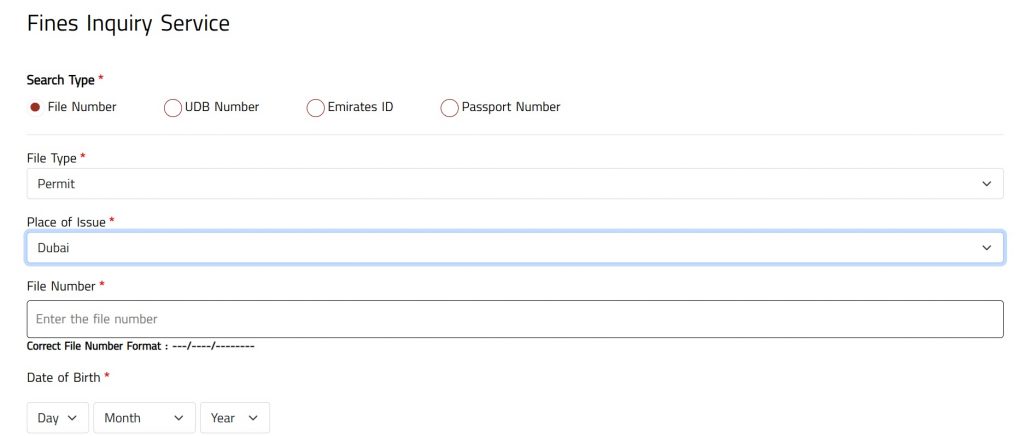 visit the GDRFA website
select the file type from the dropdown menu

resident (for residence visa holders)
permit (for visit or tourist visa holders)

provide the requested details
solve the simple math equation for captcha verification
click the 'Submit' button
You should be able to view the details of your overstay fine.
ICP website
visit the ICP website
choose 'Public Services'
click on the start service for 'FINES – PAY FINES – VIOLATIONS OF ENTRY PERMISSIONS OR RESIDENCES – PAY NEW FINE'
fill in all the required details
click on 'Search' after you check the captcha box
Details on your due overstay fine should be displayed.
UAE overstay fine payment
The ICA has provided a way to pay your overstay fine online. You just have to follow these steps:
visit the ICA website
click the virtual assistant on the bottom right side of your screen
select 'Apply for Services' after you are provided with the list of services
choose 'Pay Fine' or simply type the service number
enter your unified number
enter the date of birth with the following format: MM/DD/YYYY
the details of your violation and the fines will be displayed along with the link to pay the fine (if any). Click on the link to pay
after being redirected to the service submission screen, review the information and click next
click on 'pay' to complete the process
If the payment is successful, you will receive a notification from the ICA along with your transaction number.
[Total:

122

Average:

4.8

]