This article has been reviewed by Wego's editorial team to ensure that the content is up to date & accurate.
Updated 8 October 2021
Looking to hit the malls this weekend in Abu Dhabi? Or planning on attending your boss' wedding in Sharjah? Or How about visiting Expo 2020 in Dubai?
If your travel plans involve any of the above, you may or may not be able to go through with your travel plans depending on your vaccination status. Malls in Abu Dhabi are now requiring visitors to either be fully vaccinated or be able to present a green status on the Al Hosn app.
Likewise, attendance at weddings and other social events in Sharjah is capped and limited to those who have been vaccinated against COVID-19.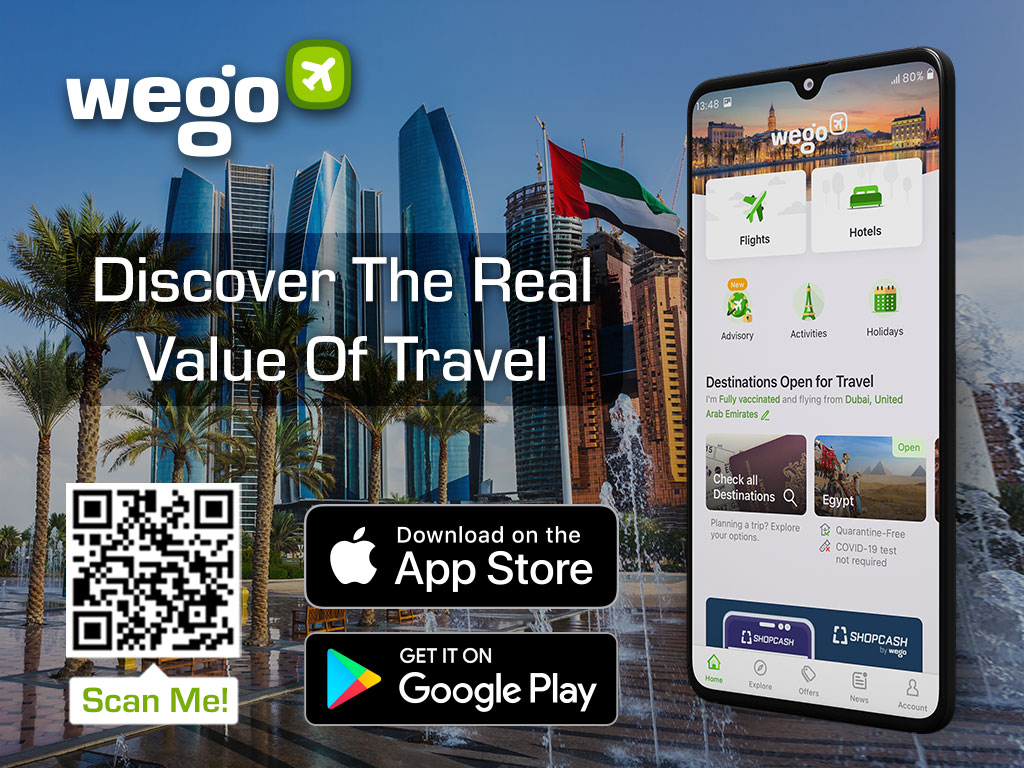 In any case, if you're wondering what the latest vaccine rules in the UAE are, we've compiled the latest update from Dubai, Abu Dhabi, and Sharjah for your convenience.  
Vaccine rules for travellers to UAE
A fully vaccinated status allows travellers to UAE and its own residents to enjoy several benefits and privileges.
Entry into the UAE
Fully vaccinated travellers arriving in Abu Dhabi will not be required to quarantine upon arrival. However, those who have not been fully vaccinated and are arriving from countries outside of Abu Dhabi's green list must quarantine for 10 days and take two PCR tests on arrival and on day nine.
Dubai does not currently require international arrivals to be fully vaccinated, but residents from some countries will be subjected to an on-arrival PCR test. If the test returns positive, travellers will be required to quarantine. Residents from specified countries must also obtain ICA and GDRFA approval before being allowed entry.
As for Sharjah and Ras al Khaimah, if travelling from a restricted country only fully vaccinated passengers with e-visas are allowed to travel to Sharjah and Ras Al Khaimah. They must be fully vaccinated with a WHO-approved vaccine and must provide a vaccination certificate when departing. 
Vaccine bubble arrangements
The UAE has signed agreements with Bahrain, Greece, Serbia, several countries to establish a quarantine-free vaccine bubble for fully vaccinated people. Passengers holding vaccination certificates issued by health authorities can travel to and from these countries without having to quarantine on arrival.
There are also a number of countries worldwide that welcome fully vaccinated UAE travellers and will not require travellers to quarantine upon arrival. Such countries include the UK, France, Thailand, St. Kitts & Nevis, as well as numerous other countries.    
Vaccine rules in Dubai
Activities across Dubai have largely been restored and are accessible to inoculated residents and tourists. The safety measures are put in place to safeguard public health and ensure all parties involved are protected against the viral infection.   
The following activities and events are currently limited to those who have been vaccinated. 
Live entertainment and activities: They can be held in restaurants, cafes and shopping malls if performers and entertainers have received the jab.
Concerts and events: Concerts and events like gala dinners and award ceremonies can be held if attendees and participants have been vaccinated.
Weddings: With attendance capped at 100 for wedding venues/hotels, all attendees and staff should have received the vaccine.
Bars: All customers and staff should have received the vaccine.
Sports events: Fans and spectators will be able to attend sports events provided all attendees, participants and staff have received the COVID-19 vaccine.
At present, Dubai allows 10 people to sit at a table, 100 people present at a wedding and 30 people at a party, barbecue or gathering held privately.
Expo 2020 Dubai entry rule – vaccination and testing
All eyes are currently on Dubai as the city prepares to welcome an estimated 25 million visitors to Expo 2020 for the next months. As per the Dubai authorities' guidelines, all visitors to the mega event must either be fully vaccinated or have a negative PCR test result issued within 72 hours to be granted entry. 
Vaccine rules in Abu Dhabi
People in Abu Dhabi need to present a green status to gain entry into numerous public places including shopping malls, restaurants, cinemas and so on. Those who cannot be vaccinated may also be allowed to enter only should they have obtained a vaccination exemption received through the approved process and registered on the AlHosn app, or if they're aged 15 and under.
As per the latest guidelines, the following venues require visitors to present an active green pass on their Al Hosn app to be allowed entry:
Shopping malls

Entertainment centers

Cultural centers

Museums

Cinemas

Restaurants and cafes (10 people per table)

Health clubs

Sports academies

Gyms

Spas
As for both public and private social events, the rules require every attendee to present an active green pass as well as a negative PCR test issued within 48 hours prior to the event.
Social and sports events

Entertainment events

Corporate events

Wedding halls (100 people)
Furthermore, the emirate of Abu Dhabi requires students aged 16 and above to be fully vaccinated against COVID-19 to attend school.
The requirement also extends to staff, employees, and all visitors to the school. They must be fully vaccinated to access the school premises, whether within or outside school hours, and be verified by the Alhosn app.
The decision doesn't apply to those who are unvaccinated because of an exemption and children aged 15 and below.
Entering Abu Dhabi from other emirates
Abu Dhabi has eased its entry requirements for fully vaccinated citizens, residents and tourists by no longer requiring PCR tests for travellers arriving from other emirates. However, Abu Dhabi has implemented the green pass rules requiring travellers to be vaccinated in order to maintain the green status on their Al Hosn app.
Vaccine rules in Sharjah
Sharjah has updated its guidelines regarding social gatherings and weddings by adopting the Al Hosn green pass system. 
A cap for social gatherings has been set to a maximum of 50 people at home and 100 people at halls.
Authorities have also allowed wedding tents providing they do not accommodate more than 200 attendees at any given time. All precautionary measures and the 4-meter social distancing requirements must continue to be observed.
Attendance is fully contingent upon a fully vaccinated status as reflected by the green pass status on the Alhosn app.