This article is reviewed regularly (on a monthly basis) by Wego's editorial team to ensure that the content is up to date & accurate.
Updated October 2023
UK's tourism landscape has been stunted since the onset of the pandemic on account of the travel restrictions put in place by the UK government.
However, as rules are changed and restrictions reconsidered, international travel to the UK seems to be on the rise again.
So, is the government issuing tourist visa right now? Has international travel resumed in the country? Here's all you need to know about the UK tourist visa.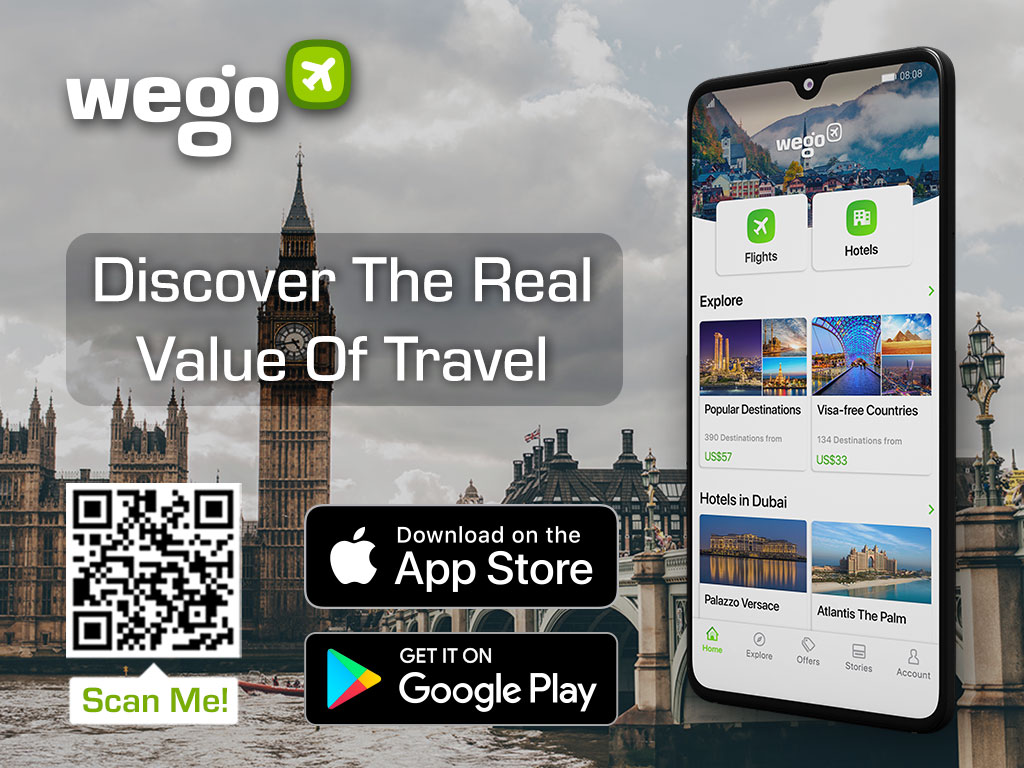 Do I need a UK tourist visa?
The UK visa policy allows visa-free entry for up to six months to citizens of several countries, most of which are GCC, EU and Commonwealth states. If you are not from the countries included in the visa exemptions, then you will have to apply for a standard UK tourist visa. For stays longer than six months, as well as trips during which you will work, everyone needs a visa regardless of their nationality.
The following countries will need a UK tourist visa for entry into the country:
Afghanistan
Albania
Algeria
Angola
Armenia
Azerbaijan
Bangladesh
Belarus
Benin
Bhutan
Bolivia
Bosnia-Herzegovina
Burkina Faso
Burma (Myanmar)
Burundi
Cambodia
Cameroon
Cape Verde
The Central African Republic
Chad
China (PRC)
Colombia
Comoros
The Democratic Republic of the Congo
Republic of the Congo
Cuba
Northern Cyprus
Djibouti
Dominican Republic
Ecuador
Egypt
Equatorial Guinea
Eritrea
Ethiopia
Fiji
Gabon
The Gambia
Georgia
Ghana
Guinea
Guinea Bissau
Guyana
Haiti
India
Indonesia
Iran
Iraq
Ivory Coast
Jamaica
Jordan
Kazakhstan
Kenya
Kosovo
Kyrgyzstan
Laos
Lebanon
Lesotho
Liberia
Libya
Macedonia
Madagascar
Malawi
Mali
Mauritania
Moldova
Mongolia
Montenegro
Morocco
Mozambique
Nepal
Niger
Nigeria
North Korea
Pakistan
Palestinian Authority
Peru
Philippines
Russia
Rwanda
Sao Tome & Principe
Senegal
Serbia
Sierra Leone
Somalia
South Africa
Sri Lanka
Sudan
Surinam
Swaziland
Syria
Tajikistan
Tanzania
Thailand
Togo
Tunisia
Turkey
Turkmenistan
Uganda
Ukraine
Uzbekistan
Vatican City
Venezuela
Yemen
Zambia
Zimbabwe
Please note that in the case of Vatican City only holders of service and emergency passports will need a visa. On the other hand, in the case of Venezuela, if you have a valid Venezuelan biometric passport with an electronic chip, you do not need a visa.
Under the UK's Electronic Travel Authorisation scheme, nationals of the six GCC countries – UAE, Saudi Arabia, Qatar, Bahrain, Kuwait, and Oman – will no longer require a UK visa to enter the island country.
Nationals of Taiwan whose passports include a personal ID number on the biodata page are also exempt from the visa requirement.
You can also check if you need a visa from here.
What types of tourist visas are available?
There are two types of Standard Visitor Visa available in the United Kingdom:
Short-term Visa
Long-term Visa
Short term Visa
You can usually stay in the UK for up to 6 months on a Standard Tourist Visa. You might be able to stay longer if:
you're travelling for a family visit or tourism- up to 6 months.
you're a traveller under an ADS agreement- up to 30 days.
you're coming to the UK for private medical treatment – up to 11 months
you're an academic and meet the eligibility requirements – you, your spouse or partner and your children may be able to stay for up to 12 months
you're applying as an organ donor for a family member or someone you have a close personal relationship with.
Long term Visa
You can apply for a long-term Standard Visitor visa that lasts 2, 5 or 10 years if you need to visit the UK regularly over a longer period. You can stay for a maximum of 6 months on each visit. If you're under 18 years old when you apply, your long-term Standard Visitor visa will only be valid for up to 6 months after you turn 18. You cannot get a refund on the fee.
Documents required
To apply for a Long-Term Standard Visitor Visa, you have to provide the following documents:
Evidence of regular temporary visits to the UK.
Proof of intention to leave the UK at the end of the visa period.
Confirmation that you will not change the reason for which you require this visa.
UK tourist visa processing time
The decision on your UK visitor visa will take no longer than 3 weeks if you apply online. However, it is currently taking 5 weeks on average to get a decision on Standard Visitor visas.
You can check from here to see if you can get your visa decision faster, depending on the country you're in.
Please note that you will get an email or a letter containing the decision on your application. This will explain what you need to do next.
UK tourist visa application process
Complete the online application form
If you need a visa, you must apply online before you travel to the UK. Usually, the UK visa online application form contains questions on personal information as:
your name & surname.
nationality.
country of residence.
marital status.
personal number.
passport number.
reason for wishing to enter the UK.
other information about your application.
Collect the required documents
As a part of your UK visa application, you should submit some mandatory required documents to support your case.
You must provide a passport or travel document. Your passport should be valid for the whole of your stay in the UK and must contain a blank page for your visa. You'll be told what other documents and information to provide when you apply online. You must provide certified translations of any documents that are not in English or Welsh.
You'll need to provide the following UK tourist visa requirements:
the dates you're planning to travel to the UK
details of where you'll be staying during your visit
how much you think your trip will cost
your current home address and how long you've lived there
your parents' names and dates of birth (if known)
how much you earn in a year (if you have an income)
details of any criminal, civil or immigration offences you may have committed
You might also need to provide:
details of your travel history for the past 10 years
your employer's address and telephone number
your partner's name, date of birth, and passport number
the name and address of anyone paying for your trip
the name, address and passport number of any family members you have in the UK
Schedule and attend the UK visa appointment
After making the appointment online, print the email confirming the details of your appointment, and take the required documents with you to the UK visa application centre or VFS that you have chosen to attend.
The documents required in the original must be submitted in original. Make sure that the documents are as required because sometimes even a little mistake can cause a lot of trouble. Please note that the appointment must be made in your name, not in someone else's.
When you attend the UK visa application centre, you will need to provide your biometric information, which includes a photograph and a digital scan of your fingerprints.
Every applicant who is submitting a visa application must attend the visa application centre in person, including children. Applicants under 18 years old must be accompanied by an adult.
UK tourist visa fees
A Standard Visitor visa for 6 months costs £115.
The fee for a long-term Standard Visitor visa depends on its length:
2 years – £400
5 years – £771
10 years – £963
UK tourist visa application denial
Even the smallest mistake can lead to the rejection of your UK visa application by the UK Home Office. The rejection can take place due to some of the following reasons:
Missing documents.
Applying for the wrong type of visa.
Failure to prove you have the financial means to support your stay in the UK.
Fraudulent documents.
You have overstayed on a previous trip.
Criminal history.
How can I appeal against a UK visa denial?
When your UK visa application gets rejected you will be notified about the reasons for it being rejected. If you feel that the decision has not been taken justly, then you can appeal against the visa denial.
To appeal against the visa denial you'll need to follow certain steps:
Fill in Form IAFT-2, which is an appeal form.
Submit it to the UK Immigration and Asylum Chamber.
This body will send the documents to the relevant authorities.
A new decision will be taken and communicated to the applicant in writing.
However, if the decision is still not changed, you can file a new application by correcting the previous mistakes.
Can I extend my UK standard visitor visa?
Yes, you can apply for an extension of your UK Tourist Visa or Standard Visitor Visa only when:
Your total time spent in the UK is less than 6 months.
You apply online for the visa extension before your current visa expires.
You apply for a visa extension from the UK.
If you're staying in the UK for longer than 6 months, you must collect your biometric residence permit when you arrive. You may also have to take a tuberculosis test as part of your application, depending on your origin point.
[Total: 216 Average: 4.8]