This article is reviewed regularly by Wego's editorial team to ensure that the content is up to date & accurate.
Updated 13 June 2022
The Umrah is a minor and non-compulsory pilgrimage that any able-bodied Muslim with the financial means to do so may undertake in order to gain the blessings and favor of the Almighty Allah. 
Pilgrims looking to fulfil this religious calling must first obtain an Umrah visa as one of the prerequisites for entering the Kingdom of Saudi Arabia. Here's all you need to know about the Umrah visa; its requirements, associated costs, and how to apply for one.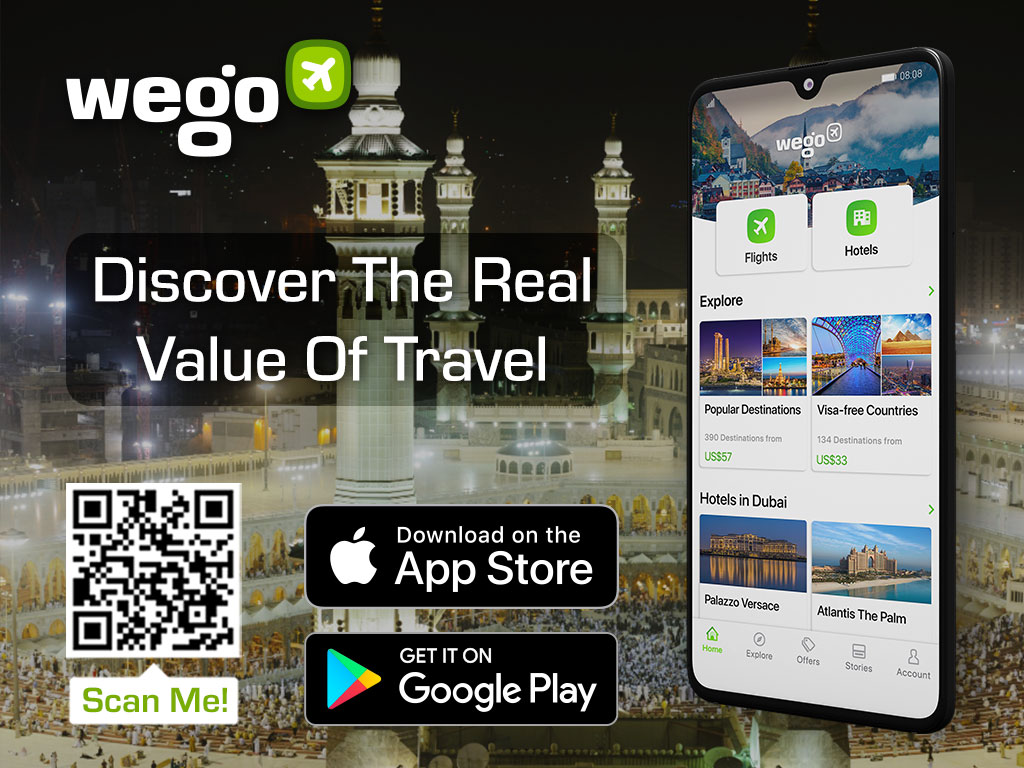 What is the Umrah visa?
An Umrah visa is an official document designed to facilitate Muslims wishing to embark to Makkah on a minor pilgrimage known as the Umrah. 
On their journey, pilgrims visit the Masjid al Haram and must partake in several rituals such as the Tawaf (circling) around the Ka'bah, the Sa'i (walking) between the hills of As-Safa and Al-Marwa, and the cutting or shaving of one's hair.
Do I need a visit visa to perform Umrah?
Unless you are a citizen of Bahrain, Kuwait, Oman, Qatar, and the UAE you would need to secure a visit visa for Umrah. Citizens from said countries may use their national ID Cards to enter Saudi Arabia.
Can I perform the Umrah on a tourist visa?
Yes, you can use the Saudi tourist visa for Umrah, you may register for Umrah and obtain the necessary permits to do so. 
Both the Saudi tourist visa and e-visa are multiple-entry visas valid for one year and allow holders to travel to and enter Saudi Arabia for up to 90 days for each visit.
The countries that are eligible to perform Umrah with tourist visa are the United Kingdom, Canada, the United States, China, Japan, Germany, France, Italy, Kazakhstan, Malaysia, Brunei, Andorra, Austria, Belgium, Bulgaria, Croatia, Cyprus, the Czech Republic, Denmark, Estonia, Finland, Hungary, the Netherlands and Greece, Iceland, Ireland, Latvia, Liechtenstein, Lithuania, Luxembourg, Malta, Monaco, Montenegro, Norway, Poland, Portugal, Romania, Russia, San Marino, Slovakia, Slovenia, Spain, Sweden, Switzerland, Ukraine, Australia and New Zealand.
What are the types of Umrah visa available?
There are two kinds of Umrah visas that may be available to you depending on your country of origin, namely the Umrah visa and the Umrah e-visa. Both Umrah visas are valid for two weeks.
Requirements for Umrah visa
The required documents for the Umrah visa are as follows:
A completed original Umrah visa application form. This form can be obtained by sending a large, self-addressed envelope to your nearest Saudi consulate. However, it is advisable to enlist the help of a certified travel agent to ensure the process goes smoothly

One recent passport size color photograph with a white background. The entirety of the applicant's face must be wholly visible visa and directly facing the camera. Side or angled views will not be accepted

A passport with a minimum validity of six months from the date of the application 

A confirmed and non-refundable airline ticket. Departure from Saudi Arabia must be within two weeks from the date of entry

A valid residency permit must be submitted if the applicant is not a national of the country he/she is applying from

A vaccination certificate against Meningococcal Meningitis should be attached. The certificate of vaccination must have been issued at least 10 days prior to entry while not exceeding three years. The vaccination certificate must be carried by the pilgrim into Saudi Arabia.

Note:

COVID-19 vaccination certificate is required to enter Saudi Arabia, but it is not one of the requirements of the Umrah visa
Requirements for Umrah e-visa
The requirements for an Umrah e-visa are as follows:
A completed Umrah visa application form which can be filled out

online

A valid passport

A recent passport photo

A valid email address

A debit or credit card
Please note that the Umrah e-visa is only applicable for pilgrims residing in specified countries.
Who is eligible for the Umrah visa?
Muslims wishing to perform the pilgrimage. Non-Muslims will not be able to apply for the visa. Please note that non-Muslims will not be granted entry into the cities of Makkah and Madinah.

For those whose names do not reflect their Islamic belief, they must attach a certificate issued by a mosque or an Islamic center stating that the applicant is indeed a Muslim

As of now, women can apply for Umrah visa even if they wish to perform the pilgrim without their mahram. Recently, the Ministry of Hajj and Umrah allowed women aged 18 to 65 to perform Umrah without a male guardian or "mahram", but on the condition that they are a part of a group. They are also required to be vaccinated for one dose (partially vaccinated) and free of any diseases. 
How do I apply for the Umrah visa?
In a piece of welcome news, the Saudi authorities have recently launched an electronic service for Umrah pilgrims that will enable them to obtain their Umrah visa within 24 hours. Umrah seekers residing in countries all over the world may now directly apply for the visa through a designated web service. 
The validity of the Umrah visa has also been extended from one month to three months. This new arrangement also allows pilgrims to move about freely within Saudi Arabia without any restraints.
While the electronic service for the Umrah visa has reportedly been launched, there has been no information on where the Umrah seekers may register. We'll update this section as soon as new details emerge.
In the meantime, the government of Saudi Arabia recommends that you enlist the assistance of an approved travel agent in your country to obtain your Umrah visa. 
For the Umrah e-visa, you simply need to complete the form, upload the required documents, make the payment, and wait for a response.
Online registration for pilgrims from Europe, the US and Australia
The Ministry of Hajj and Umrah has launched an online portal through which Hajj seekers from Europe, North America, and Australia may register electronically for Hajj 2022. The online Hajj registration portal offers various facilities such as package options, support services, and a multi-lingual communication centre that is available 24/7.
More importantly, the online portal features the electronic issuance of Hajj visas for Hajj hopefuls residing in the aforementioned countries. You can access the portal here: motawif.com.sa
Through the portal, the pilgrim can ensure that they meet the conditions including, full vaccination against COVID-19, under the age of 65 and obtaining a negative PCR result before leaving, with priority given to those who have not performed Hajj before.
What is the fee for obtaining the Umrah visa?
The Umrah visa is free of charge but there may be fees associated with Umrah-related services. It's been reported that these fees may amount to somewhere between USD 173 to 223.
Rules to observe during Umrah 
According to the latest update, the Hajj and Umrah Ministry established a rule where Umrah pilgrims are given a three-hour permit to complete their pilgrimage.
Children between five and eleven years old are now permitted to enter the Grand Mosque in Makkah and the Prophet's Mosque in Madinah if they are fully vaccinated against COVID-19. 
For more details and information regarding Umrah, you can check out our Umrah 2022 article below: