This article is reviewed regularly by Wego's editorial team to ensure that the content is up to date & accurate.
Updated March 2022
For Filipino residents and non-residents who have been fully vaccinated, here is how to get your COVID-19 vaccination certificate known as VaxCertPH and what you can do with it.
VaxCertPH news & updates
As reported by the Department of Information and Communications Technology (DICT), the contract with the third-party software provider of VaxCertPH expired on 30 September 2022. However, the Department of Information and Communications Technology (DICT) has vowed to look for ways to revive the program started by the previous administration.
Moreover, as reported by the authorities, DICT is currently in process of renewing the contract after looking for funds. 
This news comes in light of the applicants pointing out several issues in using VaXCertPH, such as a lack of updated data that includes their booster shots. 
What is VaxCertPH?
VaxCertPH is the official designation of the Philippines' vaccine certificate issued by the Department of Health (DOH). The digital vaccine certificate complies with the digital guidelines issued by the World Health Organization (WHO).
The VaxCertPH facilitates Filipinos in properly reflecting their fully vaccinated status. The vaccine certification also equips Filipino travellers travelling abroad with a form of vaccine passport recognized in foreign jurisdictions. VaxCertPH will contain information such as the date and venue of immunization, vaccine brand, and QR code.

The VaxCertPH is now recognized in over 94 countries and territories, which makes it a widely-recognized vaccination certificate globally. The vaccine certificate is also accepted and recognized across the European Union (EU) and has also been connected to the EU Digital Covid Certificate (EUDCC) system. 
Please note that VaxCertPH is not to be confused with the International Certification of Vaccination (ICV), also known as the Yellow Book or Yellow Card. The Yellow Card provides information on a person's vaccination status against diseases apart from COVID-19. Whereas the VaxCertPH certifies a person's vaccination status in the Philippines only against COVID-19.  
VaxCertPH registration 
You can avail of the vaccine certificate either by registering for it online or by visiting your nearest VaxcertPh booth. 
Registering online 
register yourself on the

online portal

48 hours after receiving your final dose. Note that the certificate's validity starts 14 days after completing the registration.

upon accessing the VaxCertPH portal, you will be presented with the option to either request a vaccination certificate or verify an existing vaccination certificate. Select the first option.
enter your personal information, such as your full name and date of birth and so on. Please ensure that your submitted details are correct and match the details on your vaccination card.
you will also be asked some questions regarding your vaccination details and whether or not you're planning on travelling abroad. Provide the answers accordingly.
Registering via the VaxCertPH booth
Visit the official VaxCertPH booth of the local government unit (LGU) of your vaccination to request for assistance in generating your vaccine certificate. Locations of booths are as follows:
Manila – SM Manila
Paranaque – Ayala Mall Manila Bay
Muntinlupa – Museo ng Muntinlupa
Makati – Glorietta 2 and Ayala Circuit Mall and SM Makati
Pasig – Pasig Mega Parking
Las Pinas – SM Southmall
Pateros – Municipal Hall
Quezon City – City Hall
Malabon – Malabon City Hall
Marikina – City Hall
Caloocan – City Hall
San Juan – City Hall
Pasay City – Cuneta Astrodome
Navotas City – Navotas City Hall
Mandaluyong City – SM Megamall, Robinson's Forum and Manda City Hall
VaxCertPH booster shot registration 
The process to certify your booster shot on VaxCertPH is the same as registering it for the first time. Visit the VaxCertPH website at vaxcert.doh.gov.ph to generate your vaccination certificate and follow the steps instructed above.
Please check the accuracy of your data based on your vaccination card (e.g. spelling of the full name, correct dates, etc.) before submitting a request.
VaxCertPH 2nd booster shot registration
It remains unclear whether those who have already taken their 2nd booster shot will have their status properly reflected on the VaxCertPH. It's been reported that the authorities will add this feature soon, but no specific timetable has so far been announced.  
VaxCertPH QR code and certificate download
After a successful generation, you may either:
download the VaxCertPH as PDF/JPG
take a screenshot
print in the desired size provided that the QR code is clear and large enough to be scanned.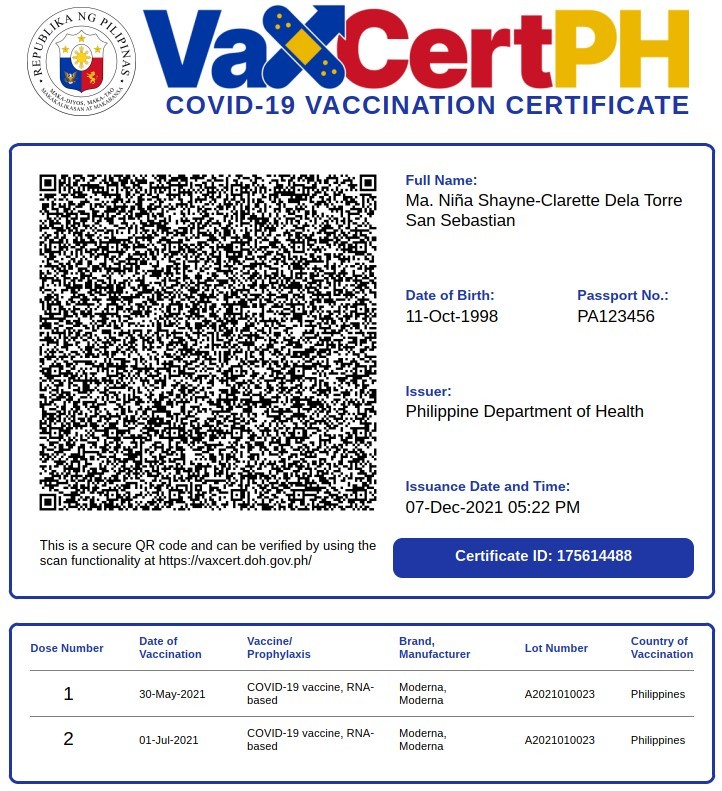 Sample of VaxCertPH- https://vaxcert.doh.gov.ph
VaxCertPH – what if there's no record found?
It's been reported that some cannot find their vaccination records or have errors in details even after completing their COVID-19 vaccination. According to an announcement made by the officials, to remedy this, individuals may upload photos of their vaccination card and government ID at vaxcert.doh.gov.ph. The uploaded images will be sent to the DICT to properly update users' vaccination status.
Another available option is to visit health offices in local government units and bring photocopies of their government IDs and vaccination card.
VaxCertPH scanner/verifier
The QR Code of your vaccine certificate can be verified by following some simple steps:
through your mobile phone or computer, or laptop with a webcam, open the VaxCertPH web portal.
upon accessing the VaxCertPH portal, you will be presented with the option to either request a vaccination certificate or verify an existing vaccination certificate. Select the second option.
make sure to allow the website to access your device's camera.
click on the "Scan" button below.
place the camera in front of your vaccine certificate's QR code. The red line should be in the middle of the QR code
the application will now display that your QR code, as well as your name, birth date and gender, has been verified. Hence, your vaccine certificate will be successfully verified.
How to request VaxCertPH record updates?
Users can update their VaxCertPH records if:
the generated VaxCertPH contains incorrect details (name, vaccination site, etc.)
previously generated VaxCertPH does not yet contain booster/additional doses
Follow these steps to update your records:
click "Update record" to begin the process of updating.
you will have to upload a photo of your vaccination card and government-issued ID and enter your email address and/or contact number.
your request will be forwarded to the GU where you received your vaccination so they can validate and rectify your vaccination records.
you will be notified through your email address or contact number once your request is completed.
How to track the request status?
To track the progress of your request, follow these steps:
click "Track Request Status" on the landing page of the site here
enter your Reference ID and First Name;
once you click "Submit", the status of your request will be displayed, including the status description and any remarks from the LGU.
VaxCertPH contact number
If you experience troubles such as the missing details of your second dose or no record found, you can contact VaxCertPH authorities through the following channels for more support and answers to your queries:
Phone number: (02) 8876-1488.
Email address: [email protected]
[Total:

348

Average:

4.7

]