This article has been reviewed by Wego's editorial team to ensure that the content is up to date & accurate.
Updated 22 April 2021
The month of December 2020 is one for the history books. For the first time ever, countries such as the UK, the UAE, and the US rolled out their respective inoculation campaigns utilizing various vaccines such as the Pfizer/BioNTech, Sinopharm, and Moderna. Numerous other countries have or are expected to follow suit in the coming weeks and months.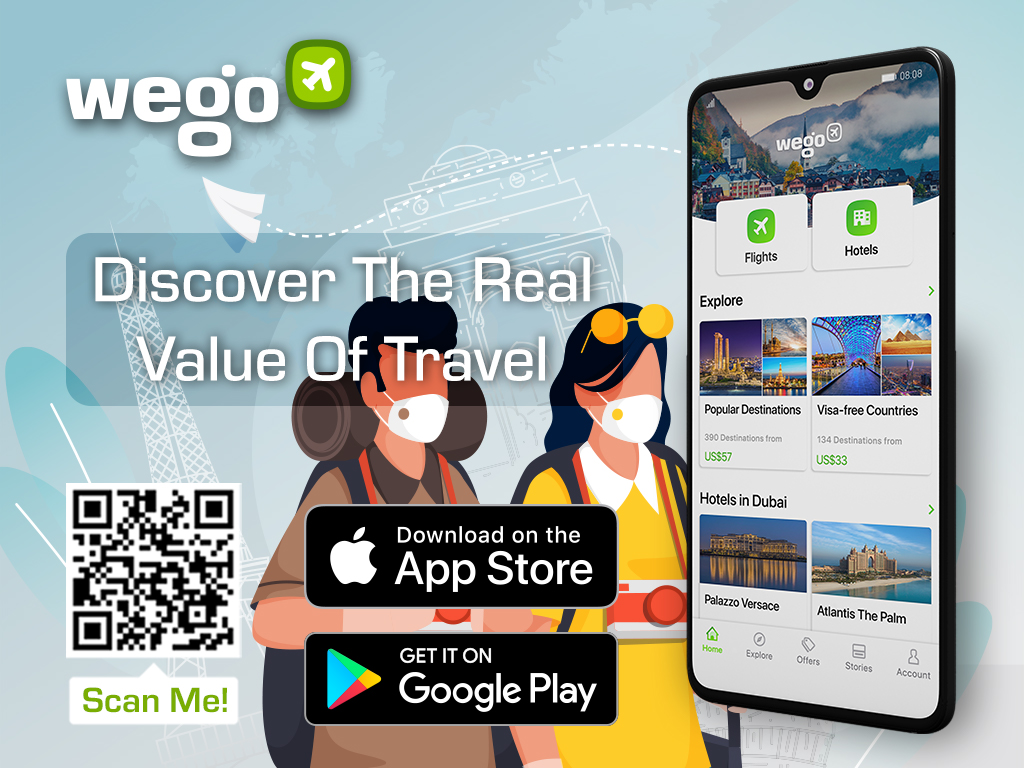 As hope has seemingly returned to the world following the approval and rollout of various vaccines in numerous countries, the idea of ​​creating a vaccine passport —which would condition the access of air travel and several public places to vaccination against Covid-19— is gaining ground.
Here is everything you must know regarding vaccine passports for travel during the coronavirus pandemic.
What is a vaccine passport?
A vaccine passport is an app containing a user's verifiable vaccination credentials on their mobile devices in order to officially prove that they have indeed been vaccinated. The digital vaccination document may then be utilized to gain access to offices, cinemas, public transport, restaurants, and even foreign countries.
How would a vaccine passport work?
Essentially, the app allows you to produce a scannable QR code pertaining to your COVID credentials such as vaccination status, latest test result, and COVID recovery status for those who had contracted the virus. Upon scanning, said digital credentials will allow you to gain admittance into numerous venues previously off-limits due to the pandemic.
For example, airlines or border authorities could verify the validity of a traveller's inoculation status and the type of the administered vaccine. This would allow the authorities to obtain information on the type and efficacy of said vaccine and act accordingly. 
Borders authorities or airlines wouldn't need to manually verify the names of the health facility or type of administered vaccine either by phone or email.  
From the traveller's perspective, the vaccine passport would allow them to instantly learn of a country's vaccination requirements, which may include the types of vaccine accepted by the destination country. 
Would the vaccine passport be used for anything other than travelling?
Although there haven't been any official measures for vaccine passports being implemented in any country as of yet, it stands to reason that once the COVID vaccine has enjoyed widespread administration, various establishments, venues and corporate spaces may very well utilize vaccine passports as a prerequisite for entry.
Case in point: IBM is currently developing the IBM Digital Health Pass as a means to provide organizations with a smart way to bring people back to a physical location, such as a workplace, school, stadium or airline flight.      
Bottom line, a point of entry—be it an international border, a corporate office, a concert venue— would want to learn of a person's inoculation status along with the accompanying variables before granting entry. If the person has indeed been inoculated, what type of vaccine was administered, was it the Pfizer vaccine, Sinopharm, etc? These variables are important as they correspond to varying efficacy rates.
Vaccine passports around the world
Different countries around the world are developing their own versions of the vaccine passport. Some have been officially deployed while others still remain on the drawing board. Let's take a look at how various countries are approaching the need to come up with COVID digital certifications.
EU Covid Card
The European Union will soon propose the Covid Card aka Digital Green Certificate in 27 member states and countries of the European Economic Area as a pivotal step in the direction of reopening international boundaries. It will consist of three documents that will testify to-
whether the holder has gotten a vaccine and if yes, which one
the results of a coronavirus test if taken, and
the details on whether he has recovered from a COVID-19 infection.
The pass will cover all the different shots approved by the European Medical Agency (EMA) as well those authorized for emergency use in member countries. As of late, European leaders have agreed to push ahead with plans for an EU-wide Digital Green Certificate as "a matter of urgency". 
The United States
While a single US vaccine passport applicable nationwide is not being developed—and likely will not be, New Yorkers can now provide a code on their cell phone or a printout to prove their vaccination status or recent negative test result for COVID-19. The Excelsior Pass is now online and can be used to gain entry to state-wide, large-scale venues such as Madison Square Garden along with scores of entertainment events and wedding ceremonies, funerals and other social events.
Similar to an airline boarding pass, the Excelsior Pass utilizes QR codes to verify the authenticity of a user's COVID credentials. Needless to say, New Yorkers would first need to to download and install the app on their mobile devices. The Excelsior Pass app can be acquired for Android here and for iOS here.
Following New York's lead, Hawaii is also working towards a vaccination passport for travelers coming in and out of the state during the COVID-19 pandemic, government officials have announced.
The United Kingdom
The UK government has confirmed that a COVID-status certification system was being developed.
The trial, to be run at nine events, will be used to assess whether large events can be held in closed settings without social distancing. The pilot events – which include the FA Cup final, the World Snooker Championship, cinema screenings and nightclub events – will take place up until mid-May. Sports Minister Nigel Huddleston said the PM would receive a report on all the trial events at the end of May.
The UAE
Emiratis can now download their vaccine card on the Al Hosn app, which will act as UAE's national COVID vaccine registry. The card displays complete details of an individual's vaccination status after 28 days have elapsed after the second dose. Emiratis may need to carry their vaccine cards at all times and present them to be granted access to venues such as restaurants, cinema halls, gardens, shopping malls, etc.
Japan
Japan is reportedly set to launch digital health certificates for citizens and residents who have been vaccinated against COVID-19. As per international requirements, the digital certificate comes in the form of a mobile app, which would allow users to present proof of vaccination necessary to board a plane or check in to a hotel. No further details regarding the app are currently available.
Israel
Israel's Green Pass is an entry permit to places or facilities for recovered coronavirus patients and vaccinated people. To be able to acquire a green pass, someone must have had both doses of a coronavirus vaccine. The Green Pass is personal and is given to any person who is vaccinated for coronavirus or people who recovered from coronavirus. Others are not eligible for the Green Pass at this stage.
Iceland
The government of Iceland has required its citizens to acquire digital vaccine certificates obtainable at this online portal. The digital certificate is to facilitate the movement of people between countries and be exempted from COVID-19 border measures in accordance with the rules of the country concerned.
India
India currently has not signed off on or launched a digital vaccine certificate. Those receiving the first vaccine jabs in India are currently receiving a provisional certificate, and the final certificate is given only after the second dose. Various states are considering the vaccination certificates as a driver of the tourism industry that has suffered significant losses in the recent past.
Singapore
Singapore's aviation regulatory, Civil Aviation Authority of Singapore (CAAS) and International Air Transport Association (IATA) has announced that the country will implement and accept the IATA Travel Pass to facilitate verification during pre-departure checks for international travel from May onwards.
Travellers can get clearance to fly to and enter Singapore by showing the smartphone application containing their data from accredited laboratories. 
Thailand
Thailand has officially adopted the vaccine passport as a certificate proving Covid-19 vaccination for the people of Thailand. The vaccine passport will be issued by the Disease Control Department and will serve as an official travel document for those looking to travel overseas. The vaccine passport will only be issued to those jabbed with vaccines registered in Thailand or ones certified by the World Health Organization.
Concerns regarding the vaccine passports
The main problem with vaccination passports is the lack of evidence to prove that vaccinated individuals can't carry and transmit the virus to others. This means that even if vaccinated passengers don't get sick themselves, it is still probable that they can pass on the infection to someone else, putting the locals of the destination country at risk.
Secondly, medical science is yet to find out about the length of any immunity or resistance to the new variants. Even after the administration of both doses, the body takes its time to prime the immune system against the virus, and during this period, you still remain susceptible.
The fundamental concept of vaccine passports also raises serious questions from legal and ethical perspectives. It encroaches on data privacy and human rights, creating a divide between people on the basis of their health status. Those who are not in a position to take the jabs, for financial reasons, pregnancy, or on any other grounds, will be discriminated against de-facto. 
If such personal information falls in the wrong hands, it may be used for unintended purposes, such as hiring or access to certain places or services.