This article has been reviewed by Wego's editorial team to ensure that the content is up to date & accurate.
Updated 22 December 2021
More and more people have already received the final dose of vaccination against COVID-19, and the available data suggest that a full vaccination regimen does indeed lower the risk of succumbing to the infection as well as transmitting it to others.
As such, countries worldwide are now adopting the vaccine passport as a way of opening up borders and safely restoring access to places and activities where people may amass in large numbers. With the freedom of travel and a sense of normalcy seemingly within reach, let us take a look at the vaccine passports being utilized by countries around the world.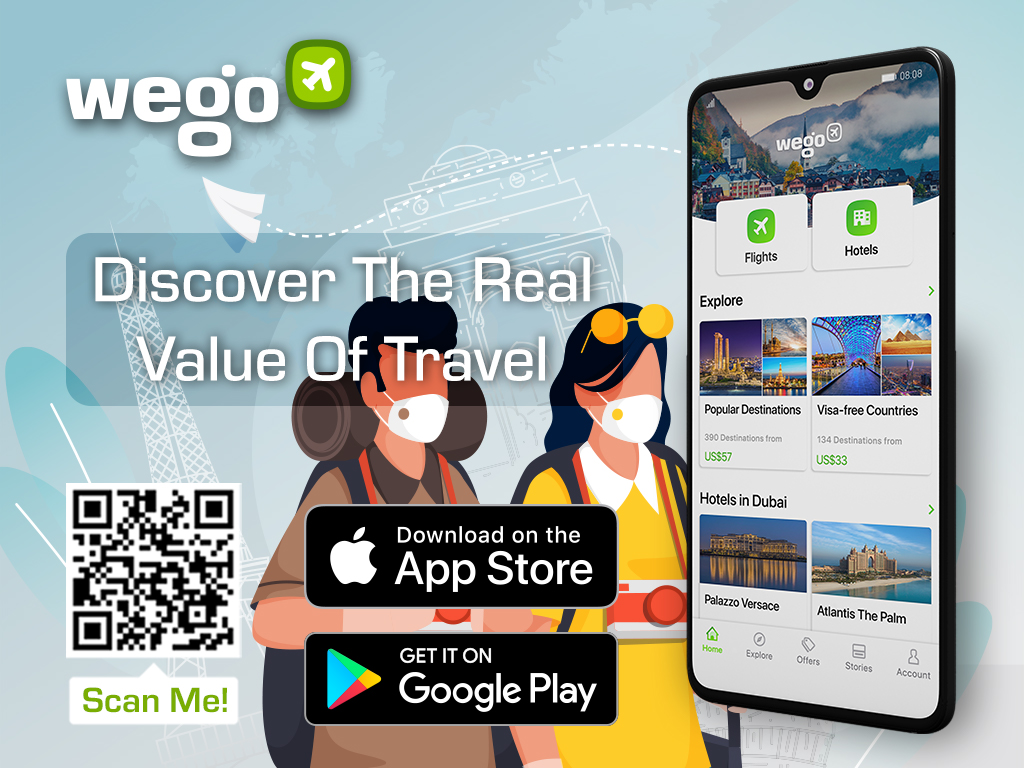 What is a vaccine passport?
A vaccine passport is an app containing a user's verifiable vaccination credentials on their mobile devices in order to officially prove that they have indeed been vaccinated. The digital vaccination document may then be utilized to gain access to offices, cinemas, public transport, restaurants, and even foreign countries.
How does a vaccine passport work?
Essentially, the app allows you to produce a scannable QR code pertaining to your COVID credentials such as vaccination status, latest test result, and COVID recovery status for those who had contracted the virus. Upon scanning, said digital credentials will allow you to gain admittance into numerous venues previously off-limits due to the pandemic.
For example, airlines or border authorities could verify the validity of a traveller's inoculation status and the type of the administered vaccine. This would allow the authorities to obtain information on the type and efficacy of said vaccine and act accordingly. 
Borders authorities or airlines wouldn't need to manually verify the names of the health facility or type of administered vaccine either by phone or email.  
From the traveller's perspective, the vaccine passport would allow them to instantly learn of a country's vaccination requirements, which may include the types of vaccine accepted by the destination country. 
Would the vaccine passport be used for anything other than travelling?
Despite the controversies surrounding it, vaccine passports have been utilized to determine who may or may not access flights, public venues, and schools by some governments worldwide in order to safeguard public health.
One such example would be Pakistan. With COVID-19 cases soaring primarily driven by the delta and omicron variant, air travel is no longer be accessible for individuals yet to be inoculated with one of the approved vaccines in Pakistan, nor are they allowed to enter government offices, schools, restaurants and shopping malls. 
The emirate of Abu Dhabi has also announced its approval of implementing the Al Hosn green pass as a requisite for entry into a number of public venues. The green pass will be used for access to shopping malls, hotels, public parks and beaches, as well as entertainment centers the likes of cinemas, museums, restaurants and cafes.
Vaccine passports around the world
Different countries around the world are developing their own versions of the vaccine passport. Some have been officially deployed while others still remain on the drawing board. Let's take a look at how various countries are approaching the need to come up with COVID digital certifications.
The European Union
The EU Digital COVID Certificate (previously called the Digital Green Certificate) facilitates the safe and free movement of citizens within the EU and will eventually allow non-European travellers to safely visit the bloc and the continent.
At present, all 27 member countries of the European Union have been effectively connected to the EU Gateway along with Iceland, Liechtenstein and Norway. Non-EU countries such as San Marino, Vatican City and Switzerland have also connected themselves to the EU Gateway.
The EUDCC will testify to:
whether the holder has gotten a vaccine and if yes, which one
the results of a coronavirus test if taken, and
the details on whether he has recovered from a COVID-19 infection.
The pass will cover all the different shots approved by the European Medical Agency (EMA) as well those authorized for emergency use in member countries.  
France
In a bid to encourage vaccination, the French authorities are requiring citizens to obtain a health pass to access public places the likes of shopping malls, cinemas, theaters, cafes, museums and even hospitals. Similar to the EU Digital COVID Certificate, the French health pass is available both in digital and paper format and features a scannable QR code to safeguard the vaccine passport from manipulation and falsification.
Venues or businesses found not checking or requiring the health pass from their patrons are liable to be shut down. The Health Pass contains a user's verifiable vaccination, test or recovery credentials to show that they have been vaccinated officially. Passes can be digital (on the TousAntiCovid app) or paper (proof of vaccination or test result).
The United States
While the idea of a single US vaccine passport valid across the country has been ruled out, some states have developed and implemented their own versions of the vaccine credential storing system while others have banned vaccine passports altogether.
Currently, the following states are implementing vaccine passports:
The UAE
The Al Hosn app serves as the country's vaccine passport by utilizing a color-coded system designed to reflect vaccination-related status and validity. Emiratis can now download their vaccine card on the Al Hosn app, which will act as UAE's national COVID vaccine registry. The card displays complete details of an individual's vaccination status after 28 days have elapsed after the second dose.
The emirate of Abu Dhabi has made the green pass reflected on the app mandatory for those over the age of 16 to enter venues such as restaurants, cinema halls, gardens, shopping malls, beaches and more.
Japan
The Japanese government is now issuing vaccine certificates to act as vaccine passports for fully vaccinated residents planning on travelling abroad. On December 20, the government launched a digital vaccine passport in addition to the paper document. The digital vaccine passport is currently only available in Japanese and you can only register for a digital certificate via the app if you have a My Number card. 
For the paper version of the vaccine passport, the method of application available to you will depend on which ward you live in. Whichever method you use, you'll need to provide the following documents: 
a vaccine passport application form
proof of vaccination
a copy of your passport
a copy of your vaccination coupon
India
India is currently employing provisional certificates after individuals have received their first vaccine jabs with the final certificate is given only after the second dose. These certificates may be downloaded through the CoWIN website, Aarogya Setu app, or the Digilocker app.
Pakistan
The Pakistani authorities have implemented their version of the vaccine passport called the PAK COVID-19 Vaccination Pass app. The vaccine passport allows vaccinated individuals whether Pakistani nationals or foreign residents to store and display their vaccination certificates. After receiving the vaccine jab, the COVID certificate can be obtained from the NADRA website at a fee of Rs100 (approximately USD 0.60).
It is now mandatory for passengers to produce a QR code contained within the app prior to boarding flights in Pakistan. Furthermore, from the first of October, it will also be necessary for Pakistanis to show their vaccine credentials before boarding trains as well.
Singapore
Singapore's aviation regulatory, Civil Aviation Authority of Singapore (CAAS) and International Air Transport Association (IATA) has announced that the country will implement and accept the IATA Travel Pass to facilitate verification during pre-departure checks for international travel from May onwards.
Travellers can get clearance to fly to and enter Singapore by showing the smartphone application containing their data from accredited laboratories. 
Thailand
Thailand has officially adopted the vaccine passport as a certificate proving COVID-19 vaccination for the people of Thailand. The vaccine passport will be issued by the Disease Control Department and will serve as an official travel document for those looking to travel overseas. The vaccine passport will only be issued to those jabbed with vaccines registered in Thailand or ones certified by the World Health Organization.
The country and also authorised Thailand Pass which is a web-based system for Thai and foreign travellers to fill in their travel and health information. Once your vaccination certificate is verified, a QR Code will be generated and will serve as your identification or profile.
Australia
Anyone with COVID-19 vaccinations registered on the Australian Immunisation Register (AIR) and who has a valid passport will be eligible to attain an International COVID-19 vaccination certificate, enabling travellers to enjoy hassle free entry and exit protocols. 
If you were vaccinated in Australia, your vaccinations are automatically registered in the AIR. Your certificate has a QR code that protects against forgery in the same way as the chip in your passport. 
Canada
The Canadian COVID-19 certificate has now become an essential part of travel and entry procedures in Canada. You must be prepared to show proof of vaccination to board a plane or train in Canada. This applies to all travellers 12 years of age and older who are
air passengers flying on domestic, transborder or international flights departing from airports in Canada
rail passengers on VIA Rail and Rocky Mountaineer trains
Before you use your Canadian COVID-19 proof of vaccination, you should
make sure your vaccination details are up to date
print a paper copy of your Canadian COVID-19 proof of vaccination in case you can't access the proof on your mobile device when you need it
Concerns regarding the vaccine passports
The main problem with vaccination passports is the lack of evidence to prove that vaccinated individuals can't carry and transmit the virus to others. This means that even if vaccinated passengers don't get sick themselves, it is still probable that they can pass on the infection to someone else, putting the locals of the destination country at risk.
Secondly, medical science is yet to find out about the length of any immunity or resistance to the new variants. Even after the administration of both doses, the body takes its time to prime the immune system against the virus, and during this period, you still remain susceptible.
The fundamental concept of vaccine passports also raises serious questions from legal and ethical perspectives. It encroaches on data privacy and human rights, creating a divide between people on the basis of their health status. Those who are not in a position to take the jabs, for financial reasons, pregnancy, or on any other grounds, will be discriminated against de-facto. 
If such personal information falls in the wrong hands, it may be used for unintended purposes, such as hiring or access to certain places or services.