The latest Wego.com survey shows, once the destination country is reopened, 40 percent of Indonesian travelers stated they would travel abroad after receiving vaccination. The most favored overseas destination is East Asia, followed by Southeast Asia and Europe.
Jakarta, March 5, 2021 – Wego.com, the leading online travel marketplace in Asia Pacific and the Middle East and North Africa (MENA), has launched its latest insights into Indonesian travelers following the vaccine rollouts. The insights are based on an online qualitative survey carried out between January 28 – February 10, 2021.
This survey aims to gauge Indonesian travelers' sentiment towards the COVID-19 vaccine. In addition, it also aims to see which overseas destinations are Indonesians keen to visit after the vaccine rollouts, as well as the public willingness to use a "COVID-19 vaccine passport" app for international travel in the future.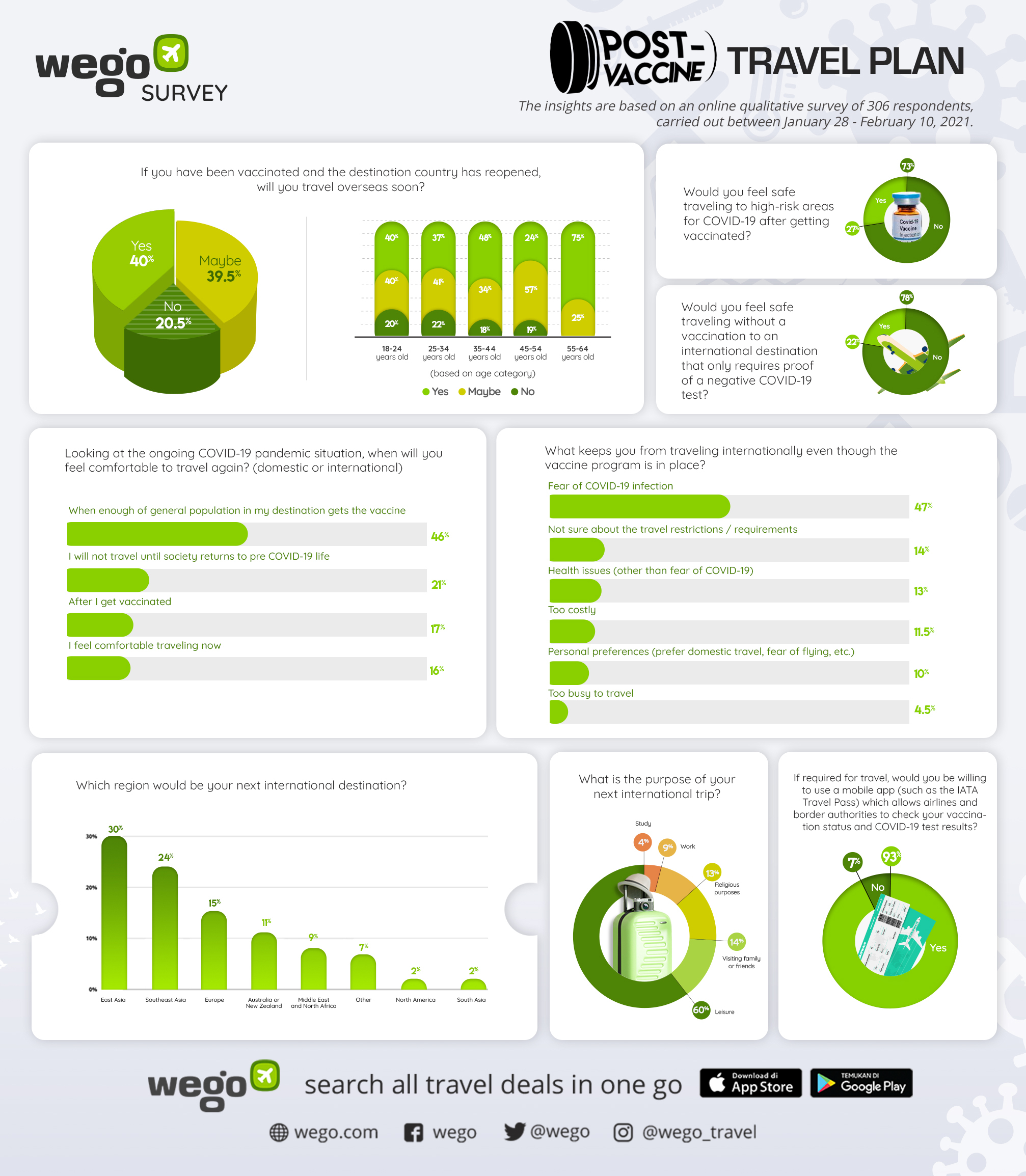 Which travelers are more ready to travel?
As much as 40 percent of Indonesian travelers plan to travel abroad after receiving the COVID-19 vaccine. A similar share of respondents answered, "Maybe" (39.5 percent). On the other hand, 20.5 percent of Indonesian travelers who did not view vaccines as the stand-alone solution to safe international travel, stated they will not travel overseas even though they have been vaccinated and the destination country has reopened.
Based on the age category, the majority of Indonesian travelers aged 35-44 years claimed that they would travel internationally after receiving the vaccine (48 percent). 40 percent and 37 percent of respondents in the younger age categories of 18-24 and 25-34-year-olds respectively also stated the same preference.
Meanwhile, most of the respondents in the older age category are more hesitant to travel after vaccination. This suggests that Indonesian travelers aged 18-44 are more willing to travel after inoculation.
When would Indonesians feel safe to travel abroad?
The majority of Indonesian travelers (78 percent) of respondents would not feel safe traveling to international destinations that only require negative COVID-19 PCR test results.
Given the different vaccine plans and schedules in other countries, the majority of Indonesian travelers (46 percent) would only feel safe to travel when enough of the general population in the destination city/country has received the vaccination.
A different opinion was shown by 21 percent of respondents who said they would not travel until people returned to life before the pandemic.
What keeps people from post-vaccine traveling?
The main reasons why Indonesian travelers would not travel abroad even though the vaccine program is in place are: concerns of being infected with COVID-19 (47 percent), not knowing the entry requirements of the destination country/current international travel ban (14 percent), and other health issues other than COVID-19 (13 percent).
Kaushal Pilikuli, Growth Marketing Director, APAC, Wego, said: "Our recent survey shows that Indonesian travelers can not wait to travel overseas again after they get vaccinated. Furthermore, they would only feel comfortable to travel when the majority of the population in the destination has been vaccinated."
"In addition, not knowing the entry requirements of the destination country is one of the major reasons keeping them from post-vaccine travel. To alleviate this concern, the industry stakeholders should proactively convey complete information regarding the latest developments and travel regulations in effect," added Pilikuli.
East Asia, post-vaccine travel destinations for Indonesians
Regardless of the preference of the best time to travel after vaccination, the majority of Indonesian travelers stated that they would like to travel abroad for recreational purposes once conditions allow.
Most of the respondents chose leisure travel as their main purpose of traveling abroad (60 percent), followed by visiting family and friends (14 percent), and religious/spiritual purposes (13 percent).
The most favored destinations for post-vaccine travel are in East Asia (Japan, South Korea, Hong Kong, Taiwan and China), chosen by 30 percent of respondents, followed by Southeast Asia with 24 percent, and Europe with 15 percent respectively.
Indonesian travelers are willing to use "COVID-19 vaccine passport"
In addition, the majority of Indonesian travelers (93 percent) would not mind having to use a "COVID-19 vaccine passport" mobile application such as the IATA Travel Pass, which allows airlines and border authorities to check passengers' vaccination status and COVID-19 test results.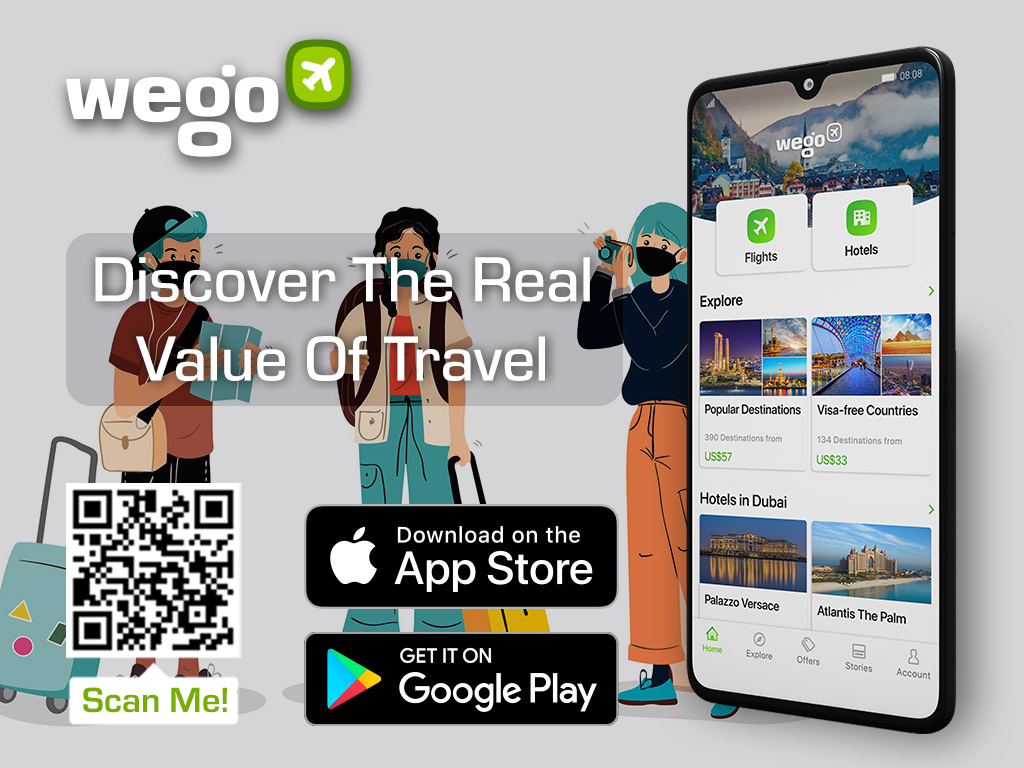 —
About Wego
Wego provides award-winning travel search websites and top-ranked mobile apps for travellers living in the Asia Pacific and the Middle East regions. Wego harnesses powerful yet simple technology that automates the process of searching and comparing results from hundreds of airline, hotel and online travel agency websites.
Wego presents an unbiased comparison of all travel products and prices offered in the marketplace by merchants, both local and global, and enables shoppers to quickly find the best deal and place to book whether it is from an airline or hotel directly or with a third-party aggregator website.
Wego was founded in 2005 and is headquartered in Dubai and Singapore with regional operations in Bangalore, Jakarta, Cairo and Kuala Lumpur.
Media contact
Prawita Indah ([email protected])
+62 812 9727 9620