In the 2nd edition of 'Wego Travel Pulse', we look at the travel search patterns for Wego users in the MENA region. Our insights are based on data from the first week of June. We will be reviewing the trends on a bi-weekly basis and providing regular updates.
In the last 2 weeks, GCC countries have eased some lockdown measures and lifted some travel restrictions which has made life feel a bit more normal and which has led to people to start thinking about booking their next trip as evident in an uptick in Wego search volumes. We think this domestic uptick is likely to accelerate as more travel restrictions are lifted and as people become confident about resuming more normal behaviors.
The first phase of recovery has started with domestic travel and will likely be followed by regional travel and then long-haul international travel. How this plays out though is really dependent upon the establishment of "travel bubbles", "travel corridors" or "green-lanes" between countries. The purpose of these is to allow the movement of people between countries with comparably low levels of Covid risk without the need for mandatory quarantines or stay home periods.
Most analysts are now predicting the recovery is more likely to be a U-shaped or L-shaped for Middle East countries rather than V-shaped.
Early travel trends from the post-COVID world include:
– Leisure travel to nearby destinations reachable by car or train are already at 2019 levels in China
– Interest in alternative accommodations is already at the pre-COVID level providing companies like VRBO and Airbnb with a strong boost.
– The move to working from home has inspired many people to rent holiday homes and escape the city. Month-long rentals now make up half of all rentals on Airbnb.
– Countries are finding it easier to restart domestic flights than international given all of the new safety and logistic issues to be figured out between governments
We are primarily focusing on the searches in this report; however, it is important to note that the booking rates have remained fairly consistent throughout the period.

GCC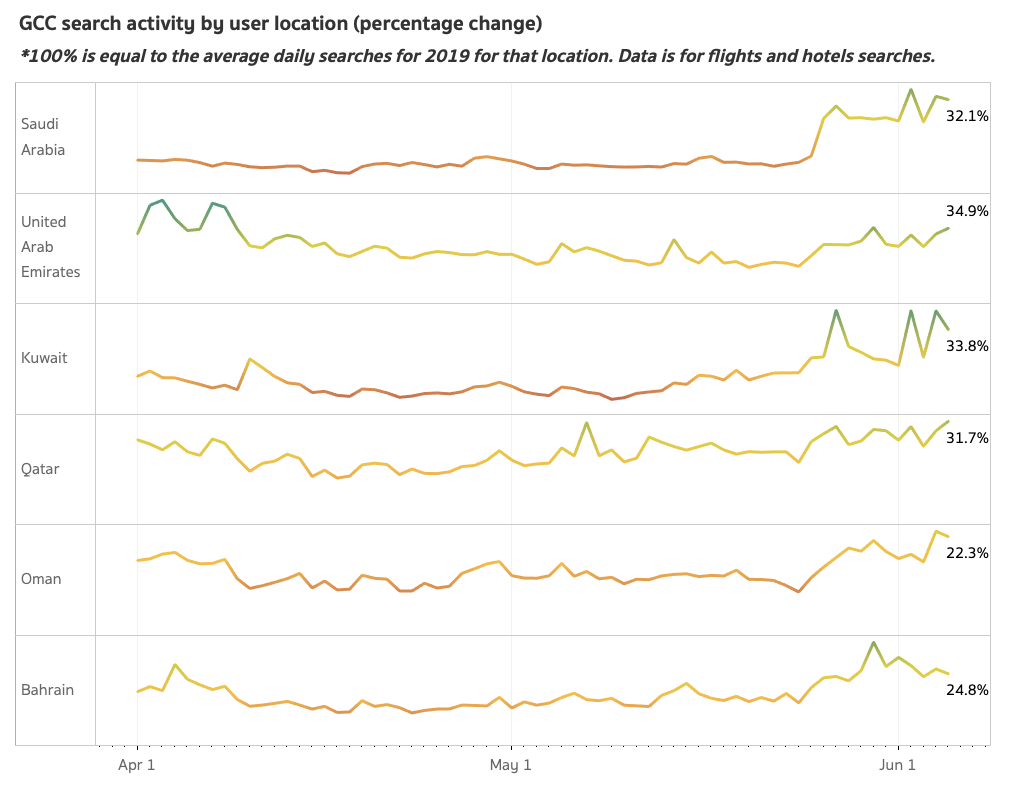 Saudi Arabia
Saudi Arabia resumed domestic flights at the end of May and Wego recorded a significant increase in search volumes from ~10% of what we saw this time last year to ~30%.
The precautionary measures introduced by the General Authority of Civil Aviation and the reopening of most airports in the Kingdom have played a significant role in giving travellers the reassurance to travel again.  With most Saudi carriers starting to fly domestic again, searches to top domestic destinations jumped from almost nothing to 40% of 2019 levels.
International flights are also expected to resume soon with searches increasing in the expectation of the move to reach 25% of the level in the previous year.
Hotel searches have more than doubled month over month with domestic hotels reaching ~25% of last year's level. We expect this will steadily rise as people start moving around the Kingdom again and as a result of Saudi Tourism Authority encouraging Saudi's to holiday domestically.
UAE
The country is following a similar pattern to KSA where domestic travel has picked up immediately following the lifting of local restrictions so people are now planning local trips and staycations. 14th May saw a tremendous surge in pent-up demand that not only surpassed previous days and weeks but even 2019 levels.
All domestic destinations across the UAE that are reachable by car proved popular including Dubai, Abu Dhabi, Sharjah, Ajman, Ras al-Khaimah, and Fujairah.  While the initial surge eventually tapered off a bit, interest in the first week of June is easily double that of early May.
International flight searches from UAE-based users increased 30% off early May levels following the announcements by Emirates, Etihad and FlyDubai to resume flying in the weeks ahead. We expect to see rapid increases in demand for UAE outbound flights, beyond the current repatriation flights, as soon as schedules are confirmed, tickets are bookable and any testing or quarantine procedures in destinations become clearer.
Qatar
Qatar saw an uplift in recent days, returning to approximately a third of the 2019 search volumes. Qatar Airways has been promoting the new health and safety measures they have put in place but we expect the majority of demand to be transit flights rather than Qatar originating.
Hotel searches from Qatar users has increased in recent weeks to approximately a third of last year's level but the destination mix has changed significantly. This time last year the leading destinations were all international but now nearby destinations easily reachable by car such as Al Daayen, Al Khor and Al Rayyan that are seeing most of the search volume.
Kuwait
The Kuwait government announced a 5 phase plan to re-open the economy which includes the resumption of commercial flights and travellers immediately started planning their next holidays despite no specific dates for the resumptions have yet been announced yet. Search activity in early June is roughly triple that of early May's lows but we are still at only 30% of 2019 levels.
Hotel search volumes have roughly doubled in the past month, yet with lockdown restrictions still in place, it is still only 15% of 2019 levels.
Oman
The Public Authority of Civil Aviation in Oman has recently put together a recovery plan to restart domestic and international flights giving hope for the resumption of regional travel, with Oman being one of the favorite gems in the GCC.
While both interests in flights and hotels have started to increase, the levels are still far off 2019 respectively at or below 20% of 2019 levels.
Bahrain
Bahrain is recovering at a similar pace as Oman where it has relaxed its lockdown measures. Interest in flights and hotels has roughly doubled over the past month and while the trend is encouraging, we expect it to continue and go well beyond the current level of 25% of 2019 level.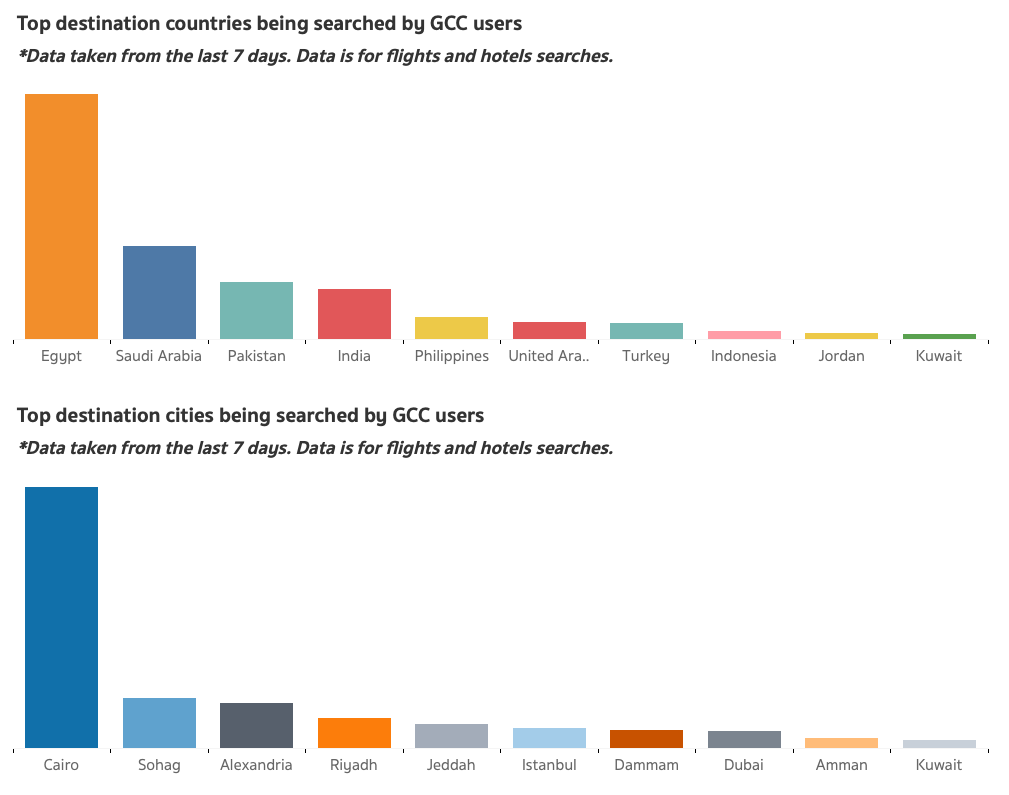 Egypt
The most populous Arab nation experienced the most noticeable change in search volumes in MENA. As soon as the hotels began to open their doors promoting staycations for residents, hotel searches almost tripled with most properties reaching full capacity. The country has recovered from lows of just 8% continuously increasing to the current 30%.
Destinations such as Tanta and Ismailia proved particularly popular as they are within a couple of hours drive from Egypt's two largest cities, both leveraged on the pent-up travel demand reaching search levels close to 2019.
Flight interest in Egypt is picking up once again. From the single-digit lows in late April/early May, international travel has nearly tripled reaching almost 25% of 2019 levels.
North Africa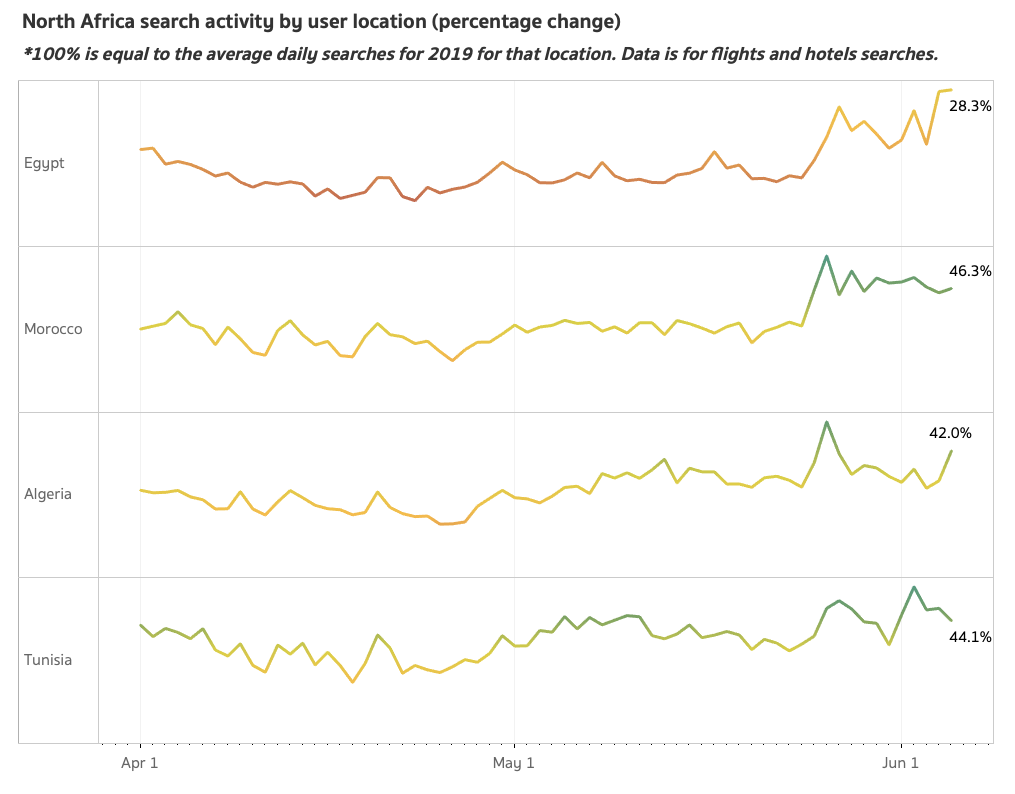 North African countries have proven to be the most resilient and the upwards trends that were seen in the GCC follow the same trend here too.
Morocco, Tunisia, and Algeria all follow a similar increase, seeing numbers in the 40s in the last few weeks, a recovery that began as early as May for most of the countries.
While travel interest is coming back in North Africa like in other markets, Morocco and Tunisia's good and timely handling of the pandemic helped soften the impact and traffic numbers never decreased as much as in other Wego markets.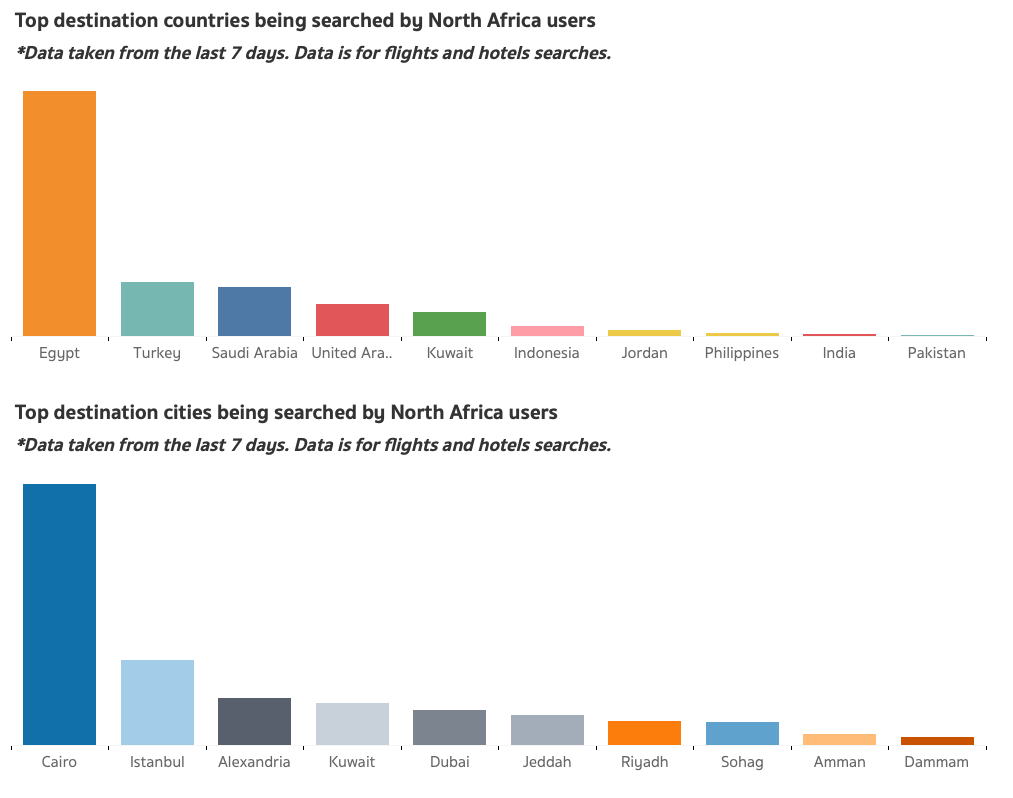 Levant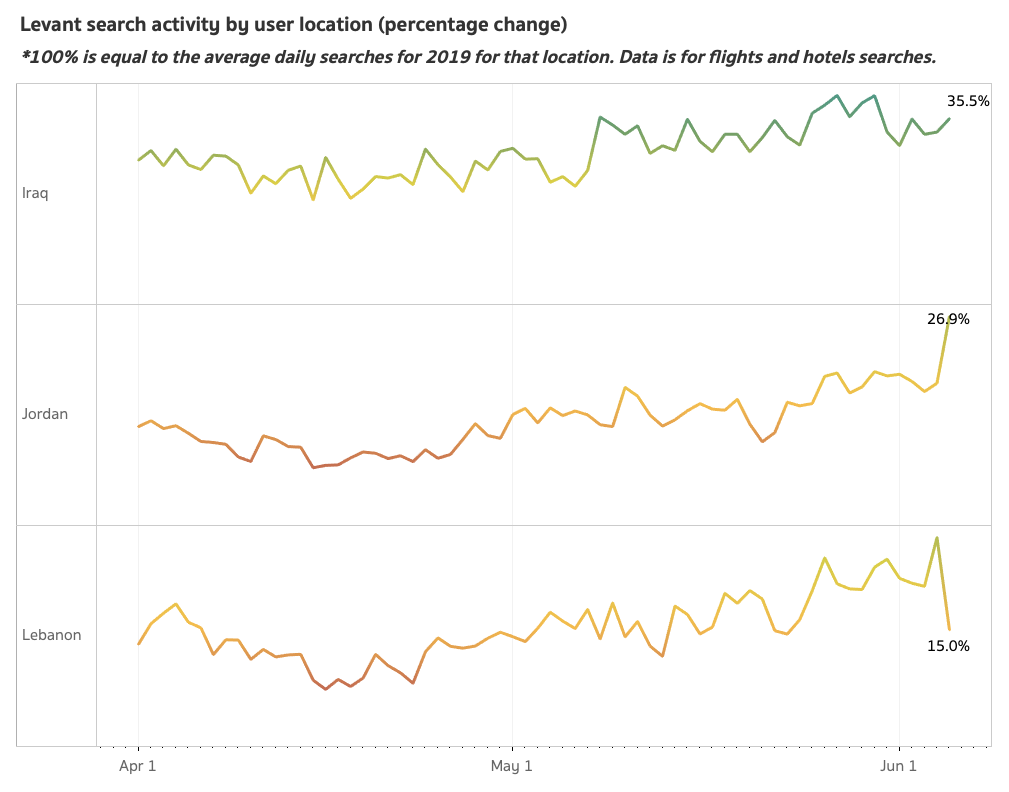 The Levant countries have been following the MENA trend upwards, although a little less consistently compared to other regions.
Lebanon is seeing demand for staycations which is probably best explained by people wanting to get away from Beirut to avoid the recent protests.
Jordan saw a spike in domestic hotel searches first week of June with Amman in particular tripling since early May reaching 40% of 2019 levels.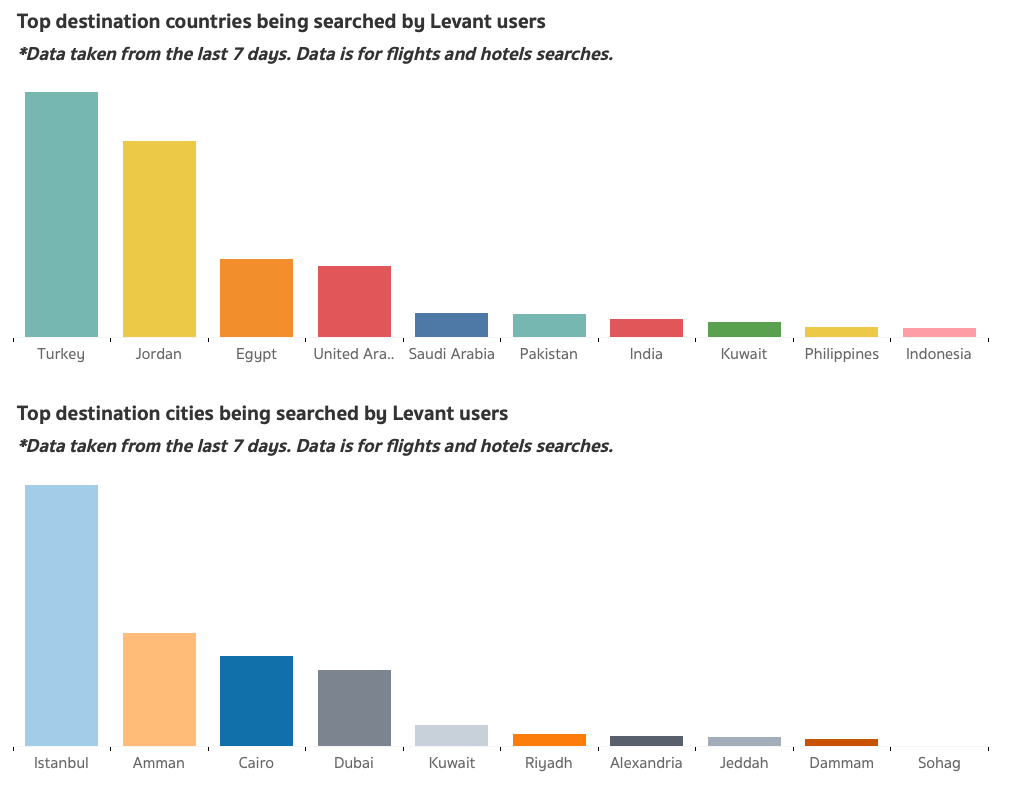 ***
At Wego we remain optimistic that travel markets will recover sooner rather than later, and we suggest that you keep in touch with us via your social media channel of choice so we're able to share with you future editions of the "Wego Travel Pulse".