Coronavirus has reshaped the travel industry scene in the world. A lot of countries are introducing precautionary measures to curb the outspread of the virus and revive the industry.
For travellers around the world, most trips have been canceled. We are left wondering if and when our vacations will resume. Tourism boards are putting together inspiring campaigns reminding people to dream now and visit later.
This crisis has inspired us to dig deeper and uncover innovative ways to communicate.
We bring to you 'Wego Travel Pulse' newsletter series shedding the light on travel consumer insights diving deep into each market to understand how travel has changed, answering these questions:
–   When will we see an uplift in travel?
–   Which countries are trending the most?
–   When are people searching for flights?
To start with, let's look at the trends in the GCC countries:
KSA and Kuwait
According to our data, Kuwait and Saudi Arabia have the lowest search rates compared to other neighboring GCC countries.
This is due to the increase in the number of coronavirus cases, the restrictions and curfew in some parts of the Kingdom of Saudi Arabia, as well as the cancellation of Hajj and Umrah travel which forms the largest percentage of travel to Saudi.
A recent study by Redseer shows that people in KSA are more pessimistic, with 44% expecting around four months or more for things to recuperate compared to 20% of people in the UAE. With the new measures taken by the Saudi Government on suspending the cost of living allowance and increasing the VAT, 80% of people already feel some negative financial impact.
With Kuwait expanding a nationwide curfew to 16 hours until May 31 as part of the efforts to combat the coronavirus and restricting travel, we have seen a decline in the searches to this country.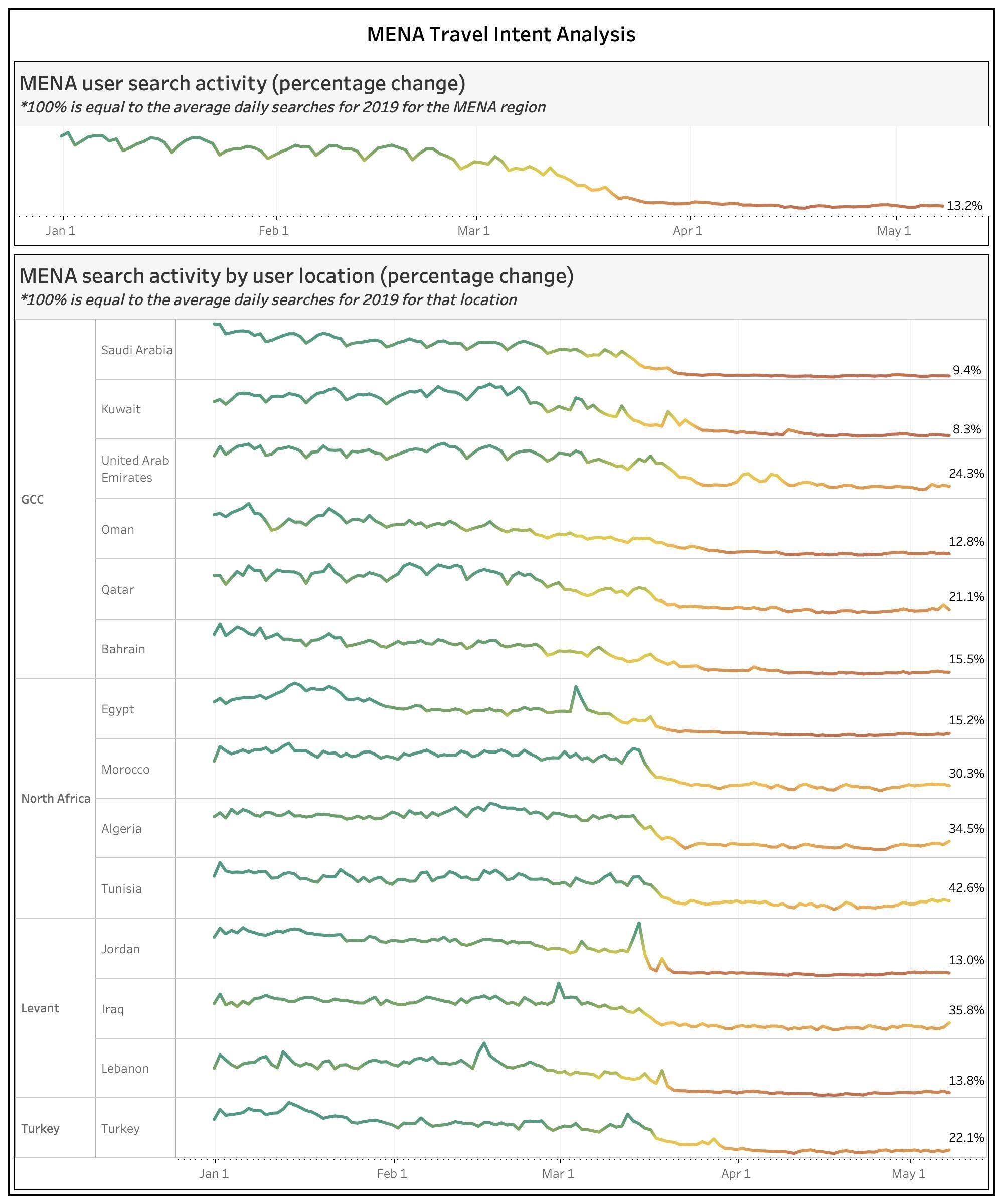 UAE and Qatar
UAE and Qatar are in the top searched destinations in the GCC.
The Emirates' technological innovation, post-COVID-19 plans, national airline efforts, and the dynamic hospitality offerings score high for travellers.
The UAE's national carriers have taken significant precautionary measures to reassure travellers making travelling safer. Etihad and Emirates have also announced inbound flights for UAE residents from selected destinations.
DTCM's recent announcement on Dubai reopening for tourists at the beginning of July gave hope for the travellers and people are searching for more flights to UAE from July onwards. We're also seeing a demand for domestic travel with hotels gradually reopening in the UAE.
Qatar is successfully managing the Coronavirus crisis and as a result, it has been experiencing an uplift in recent days, with searches reaching 30% at its highest point.
Travellers welcomed the country's national airline, Qatar Airways, the decision to gradually resume flights where the airline aims to fly to 52 destinations by the end of May and up to 80 destinations in June.
MENA
Most MENA countries are following a similar pattern, spikes at the start of June can show users "testing" out searches to see if flights have opened up for that month.
North Africa
North Africa looks more positive with Tunisia, Algeria and Morocco holding at least a third of their user searches compared to 2019 all of which have had recent uplifts in recent weeks in search activity, showing more confidence in travel than in Egypt, which has seen a flatline at the 15% mark.
We expect to see Egypt gaining more confidence in the next month or so, with the country easing travel restrictions and hotels gradually opening for tourists by the beginning of June.
The North African countries have the widest spread travel searches, with noticeable spikes in September, especially in Algeria.
Turkey
Turkey has introduced a four-stage exit plan. It is a perennial favorite with Middle East travellers. The country has held steady in its search activity, plateauing at approx 20%.
July remains the next most popular date, possibly to see if flights have opened up further in the future, which shows that users are still looking to see when they can travel next to plan their trips.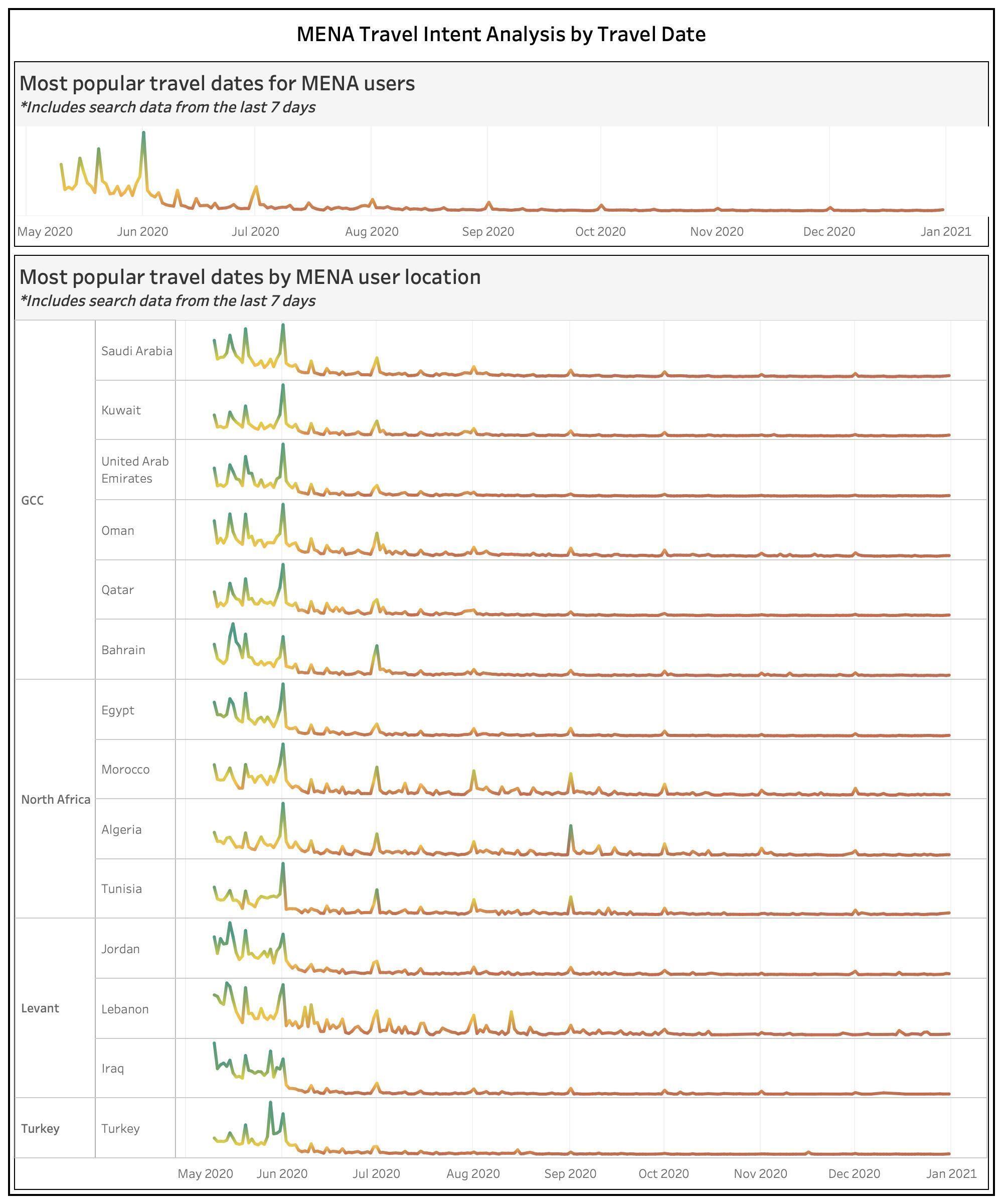 Even in times of prolonged uncertainty, we at Wego maintain an optimistic mindset and we will come out of this stronger.