I am no stranger to the splendor of Venice. I have seen this magnificent city as it has lazed languidly beneath the summer sun, hunched moodily beneath autumn clouds and even flooded, as it regularly is, during the storms of winter. But I had decided it was finally time to experience Venice at carnival time.
So, here I am at the Aladdin's cave-like mask shop of Alberto Sarria in San Polo but how on earth am I supposed to make a decision? Filling every wall, piled on the floor and tables and even hanging from the ceiling are a glittering array of traditional hand-made masks, each more fantastical than the last.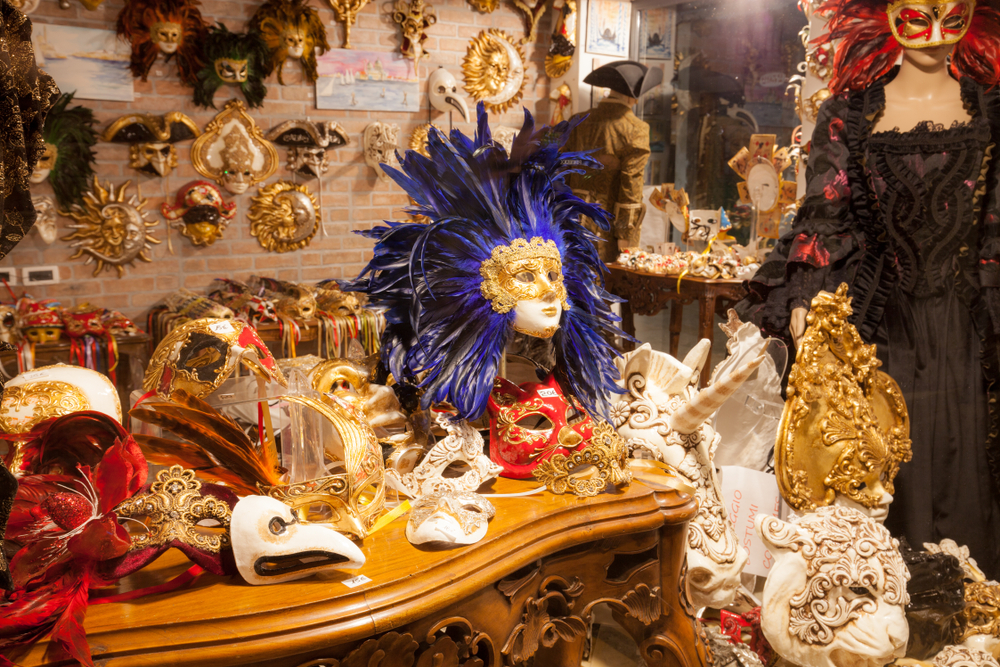 My budget doesn't run to costume hiring so my mask needs to be just right. There are the Gnaga or Venetian cat, the decidedly sinister-looking long beaked Medico della Peste masks once worn by 17th doctors dealing with plague victims and the square-shaped Bauta. This, I am told, is especially popular as you can still eat while wearing it.
I finally settle on an exquisitely painted purple, gold and bone-white affair, adorned with brocade and jewels. This will be my face for the next 15 days.
Venice's Medieval Mask-Wearing Traditions
But why are there such a multitude of masks at all?
Venice was once a city where the endless power struggles meant an endless round of plotting and scheming. For centuries masks were used to keep identities hidden as the major players went about their business of intrigue, able to go wherever they chose without detection.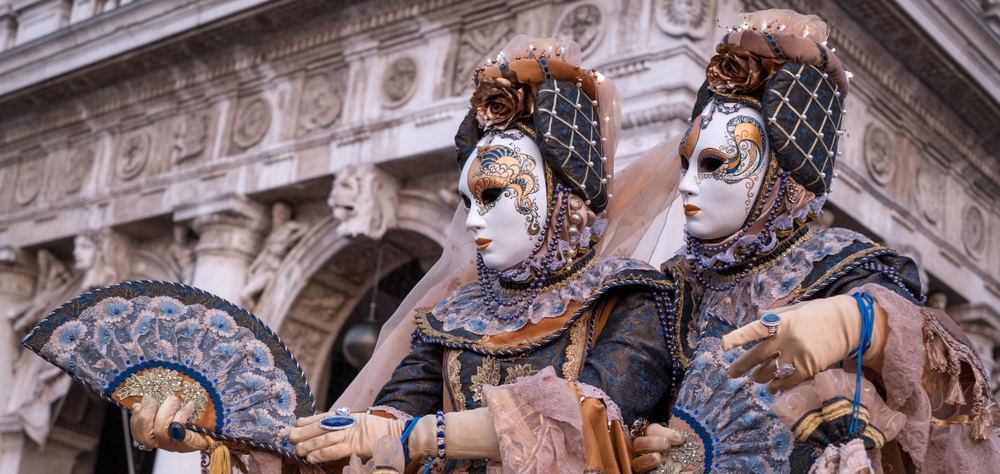 The anonymity also meant noble reputations stayed untarnished while doing potentially scandalous things such as drunken partying, sharing the company of unprincipled women and gambling. Finally, in the 18th century, the practice became illegal.
Today, it is impossible to walk too far in Venice without arriving at a mask shop and during carnival, as a celebration of its heritage, the city once again becomes filled with mask-wearing characters.
The Grand Opening Night Procession
The first week of this movable winter carnival, which can last anything up to 20 days depending on when Lent falls, is often the quietest: something more of a local's celebration before the hordes descend from every corner of the planet and turn the streets into an extravagant costume parade. But I find Venice at night magical beyond words so the opening night water procession was a must-do for me.
As I stand watching acrobats fly across the canal on trick wires, boats and gondolas gliding by full of elaborately-costumed dancers and the shadows and silhouettes bouncing across the faces of the grand old palaces I know I made the right decision. Hundreds of lights and laser effects also help to transform scenes already spellbinding into a complete flight of fancy.
A Fantasy-World Fancy Dress Extravaganza
For some the Venice Carnival is a series of masquerade balls and sumptuous ticket-only pageants but the price-tag of such events – the most exclusive ones many hundreds of dollars – is beyond my means, especially as many of them are costume-compulsory. And anyway, the true spectacle, I quickly came to realize, was found simply by strolling the streets.
I need only walk a few paces in any direction (and seemingly at any hour of day or night) to find myself amid a kaleidoscope of colors, as costumed carnival goers strut around town like peacocks, posing for pictures and intent on being admired by all who see them.
Gorgeous dresses covered in lace, ruffles and jewels, impossibly towering head-dresses sprouting feathers and sequins, sumptuous capes and elaborate wigs – it is all here. There are occasional Supermans and Mickey Mouses thrown in but the majority have chosen to go with the Venetian nobility theme and thus, with no imagination needed, I am transported back to 17th century Venice.
Although it seems a little over-fanciful to even write the words here, the spirit of carnival during this time becomes a living entity. Perhaps it is the collective illusion created by thousands of people playing roles, being whatever they want to be hidden behind masks.
I found it impossible not to be drawn deep into the same fantasy and there is something incredibly liberating about being so anonymous. Although, it also has to be said, it can be a little disconcerting to prop yourself at an espresso bar and find yourself stood next to a bejeweled prince, for example, whose expression is completely unreadable. It could be anyone behind that mask.
The world-renowned San Marco Square becomes the focus of all kinds of festival events for the carnival's duration including the surreal 'Flight of the Angel'. This tradition, which dates from the 1500s, sees an 'angel', complete with wings, descend from the famous bell-tower and fly down into the square.
I find myself in San Marco's daily anyway, agog for the late morning 'Best Mask Contest' in which anyone who chooses to can parade before the judges and try their luck. Not surprisingly this is where to come to see the greatest concentration of the sensational and I never tire of feasting on this sight.
With its winding traffic-free alleys, its opulent collection of ancient palaces, its gondolas gliding silently under ornate bridges and an overall cloak of evocatively crumbling grandeur Venice is already rich in the beguiling. Once you fill it with a population of masked nobles a magical portal to the past swings wide open for all to walk through and step straight into a world of dream-like mysticism.
The carnival over for another year I left Venice to explore other parts of Italy but it was like being yanked out of the past and rudely deposited in the surroundings of the 21st century which felt strange and unfamiliar.
That is how powerful the spell of Venice Carnival is.