ShopBack is a cashback reward program that allows users to earn cashback as they shop online. Join us this ShopFest where we will value-add your online purchase decisions and help you to shop the smarter way. ShopBack is currently prominent and empowering customer and online merchants across 7 countries – Singapore, Malaysia, Indonesia, Philippines, Taiwan, Thailand and Australia.
Seoul, the land of K-Pop, awesome food and shopping. It is a shopaholic's heaven, a gourmand's day dream and a tourist's playground. There is so much to do, so much to see, and so much to eat. Join us as we bring you along for this quick-and-dirty introduction to Seoul, South Korea!
Spring (April to June)
Spring is often touted as the best time of year to visit South Korea. The average daily temperatures ranges from 15°C to 18°C. Making a visit during this period nice and pleasant. It is also the time of the year when most festivals and events are held.
What to do?
In spring, there is nothing better to do than to go and see the cherry blossoms! Imagine beautifully lined streets, filled with various shades of pink. Grab lunch from a nearby convenience store or order delivery right to the park and have yourself a nice picnic. Here are some awesome spots for cherry blossom viewing.
Yeouido's Yeouiseo-ro Street
Every April, the Yeouido Spring Flower Festival is held here. Enjoy a stroll through the 1.7 km-long cherry blossom tunnel while enjoying the various cultural street performances.
Seokchon Lake
Take a stroll along Seokchon Lake and enjoy the beautiful views that Mother Nature has to offer. After that, hop over to Lotte World — Seoul's equivalent of Disneyland — for a fun afternoon!
Seoul Forest
A favourite picnic spot amongst locals. This is the perfect spot to chill and relax.
Summer (July to August)
Korea has a brief summer which lasts from July to August. This is the hottest time of the year and temperatures range between 23°C and 30°C. It is also officially monsoon season, and heavy rains are to be expected.
What to do?
Most of your attention will be focused on escaping the summer heat. As such, there is no better activity to do other than shopping indoors and eating!
Myeong-dong Shopping Street
Head to Myeong-dong for some serious shopping therapy. With street after street of stores, this place is a shopaholic's dream.
Visit Seoul Tower
Head to Nam-sum for an amazing view of Seoul. From this vantage point, you will be blown away by the beauty of Seoul city.
Autumn (September to November)
Autumn marks the beginning of cooler weather. The temperature ranges from 19°C to 21°C with relatively low rainfall. During this time, South Korea bursts into colour with stunning shades of orange and red peppering the autumnal landscape.  Many festivals occur during this time.
What to do?
Autumn is one of the best seasons to hit up various festivals. Here are some of the best festivals in Seoul that you should check out!
Hanwha Seoul International Fireworks Festival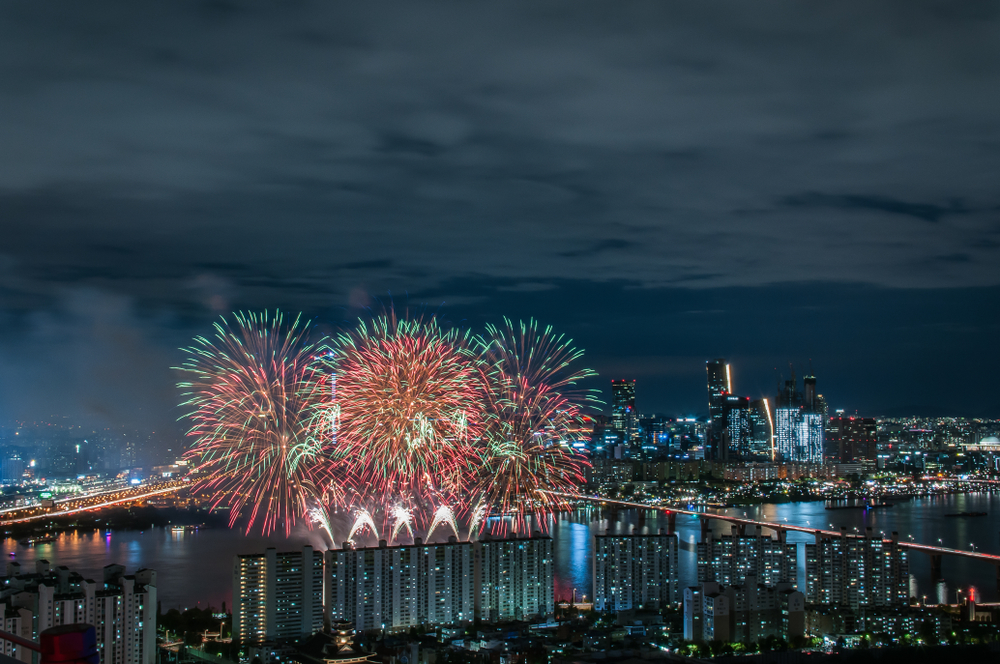 This festival usually occurs in October and takes place annually at the Hangang River. During this festival, World-famous professional fireworks teams set the sky ablaze with spectacular fireworks, accompanied by lighting displays, laser shows. If you do attend this festival, be prepared to be delighted by a range of superb performances and events.
Seoul Lantern Festival
Held along Cheonggyecheon Stream from Cheonggyecheon Square to Supyogyo Bridge. Be prepared to be wowed by thousands of lanterns which will line and light up the 1.2 km long water path. Picturesque and beautiful, bring along your camera for some insta-worthy snaps.
Winter (December to March)
The weather drops to freezing during winter. The temperature ranges between -10°C and 5°C. So if you decide to visit during this time, pack warm and arm yourself with heat packs. Also, it snows during winter, so be prepared for a beautiful snowy landscape.
What to do?
What else is there to do in winter than winter sports. Here are some amazing spots to hit up to get your Ski-ing on!
Jisan Forest Resort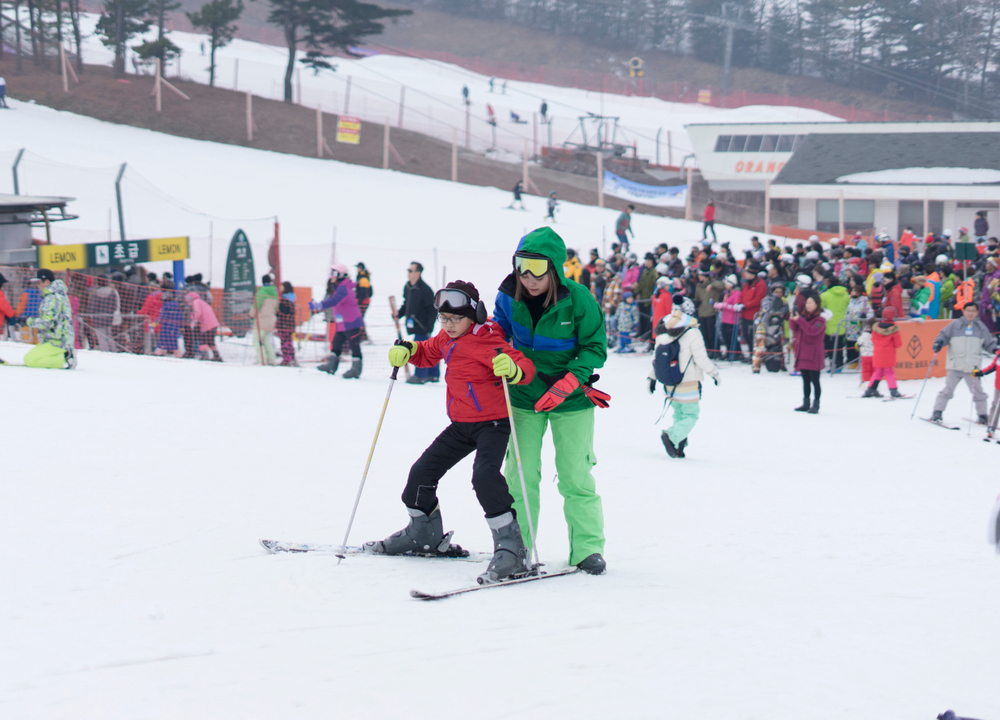 Jisan Resort is located a mere 40 minutes from Gangnam. Boasting 7-8 beginner-intermediate level slopes. This place is perfect for a one-day or weekend trip of skiing. The resort offers 2 and 3 day packages from 139,000 – 179,000 KRW (approx. RM516 – RM665)
Daemyung Vivaldi Park
Daemyung Vivaldi Park is slightly further. It is located 1.5 hour away from Seoul. The resort offers a shuttle bus service which departs from Jamsil Sports Complex Station. With 13 slopes as well as indoor screen golf, bowling, billiard and karaoke, there's plenty to do besides playing in the snow. The resort offers 3-day packages which start from 239,000 KRW (RM888).
Time Difference
In terms of time difference, Seoul is only an hour ahead of Malaysia.
Where to stay in Seoul
There are many neighborhoods around Seoul that are perfect spots to stay at. The most important factor is your proximity to a subway station. You can get to almost any place in Seoul via subway. It is one of the best ways to get around Seoul. Here are our top picks as to where to stay in Seoul!
For the Shopaholics
Myeong Dong
Famously known as the shopping capital of Seoul. Myeong Dong is hands down one of the most popular places to stay in Seoul for visitors.
The streets of Myeongdong are always bustling with shoppers. And it is easy to see why. Streets lined with store after store from small boutiques to large department stores make the area a shopaholic's wonderland.
Apart from shopping, there's also plenty of street food and restaurants to be found there.
Dongdaemun
This is another shopper's paradise. Dongdaemun is home to many traditional shopping markets, department stores, and shopping centers. Most well-known as the shopping district that comes alive after nightfall. This place is bustling even at midnight. It is also the fashion center of Seoul and hosts the annual Seoul Fashion Week at Dongdaemun Design Plaza (DDP).
For the Cultural Buffs
Bukchon
Bukchon hanok village is a slice of old Korea set in the heart of modern day Seoul. If you love history and want to see what traditional Korean homes look like this is the perfect place for you. Stroll through the quiet winding roads and take in the beauty of the hanok-lined streets. As it is a residential area, visitors are asked to keep the noise down low. Staying in one of these hanok is sure to be an unforgettable experience.
Insadong
Insadong's main street is full of traditional shops, boutiques, accessory stores, tea houses, and cafes. It is the perfect place to stay for a full-on cultural experience. Explore the nooks and crannies of Insadong to discover small, quiet tea houses and quirky stores nestled in quiet alleyways. There is always something to do and something to see here.
For the youths
Hong Dae
If you are below 30 or young at heart, Hong Dae is the place to be at. This area is popular with university students thanks to it being home to Hongik University. It is famous for being a neighbourhood that never sleeps. And is known for it's late night partying and food at all hours. This area is chocked full of restaurants, cafes, and plenty of shopping. If you are a party animal, Hongdae will be perfect for you!
Ewha (aka Edea)
Edae is home to Ewha Women's University and is located in between Sinchon and Hongdae. This is another spot in Seoul that is popular with the younger crowd. However, it has a more muted nightlife than Hongdae but is full of cute, tiny stores, restaurants and cafes. If shopping is more up your alley than clubbing, then Ewha is the place for you.
How to get around in Seoul
Getting around Seoul by subway is easy. Just purchase your tickets at the automated ticketing machines located at virtually any subway station and hop on. The announcements and signage all have English versions. So you don't have to worry that you'll get lost in translation.
This article originally appeared on Shopback