Manifestations of reverence and hallowed devotion to the divine, places of worship are typically ornate and ostentatious. Hoping to entice the unenlightened to delve into the religions they represent, these sanctified structures are preternaturally gorgeous and intriguing.As time decorates their facades, they fill with stories and memories of spiritual fulfillment, becoming bastions of heritage. But society and culture change too, and when faced with declining attendances, increasing maintenance costs and fading presence, civilization's forward march sends the threat of demolition looming over these shrines.
Some, however, seize the opportunity to transform these spaces by giving them new identities as alternative spaces, imbuing them with a new life that maybe isn't as wholesome, but certainly attractive. Blasphemous or not, here are some re-purposed religious spaces, now indulging pursuits that might make angels blush.
The Tabernacle (Atlanta)
Constructed in 1911 as the home for the Baptist Tabernacle Church, this neoclassical building hosted prominent religious and political speakers in its early years but was re-imagined as a concert hall for The House of Blues after its decline. Since then, management has changed, but the music goes strong. Surviving a 2008 tornado, the Tabernacle continues to book world-class gigs and music artists.
The Church (Dublin)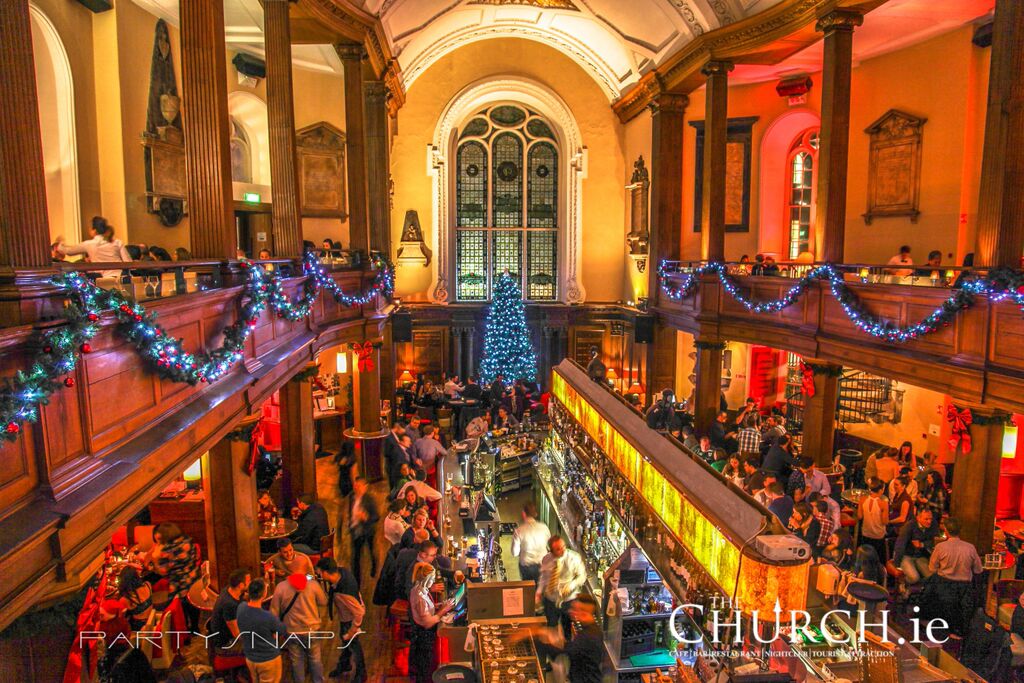 No one just leaves beautiful stained glass windows and a Renatus Harris organ to decay. But that's what happened to St. Mary's Church for 30-odd years until some imagination and money brought it back to life as a bar and restaurant. Scattered with relics from two hundred years of history, partygoers mingle within the various floors, while the venue is also a watering hole for ardent fans of Irish rockers U2.
The Church Nightclub (Denver)
Not to be confused with the Dublin venue above, this former Episcopal church is a raucous home to weekly strobe and neon-lit parties, buffeted by booming electronic music. A pulsing member of Denver's SoCo nightlife, the Gothic monument has grown from club music and punk shows to become one of the best DJ clubs in America. It might seem blasphemous to be drinking in church, but then, some say techno is a religious experience.
Le Chic Resto Pop (Montreal)
The Église Saint-Mathias-Apôtre might no longer function as a church but still has its heart in the right place. Today, it's a restaurant catered to the socially-disadvantaged in Montreal's working-class community, from offering cheap but satisfying meals to integration programmes for those seeking employment. This selfless social enterprise continues the respectable aid of its previous owners, showing the heart is more important than the building.
Théâtre Paradoxe (Montreal)
Another of Montreal's transformed churches, what was once the Notre Dame du Perpétuel Secours is now a multidisciplinary art and event venue. From weddings to film screenings and even boudoir-style parties, the draconian columns of its front belie the liberation that manifests across its wide range of events. Whether its resplendence or risque that you're looking for, here you can let your imagination run wild.
Abadía Retuerta Le Domaine (Spain)
Previously a sanctuary of learning for Benedictine monks, this 5-star hotel now explores sensations of the epicurean kind. With its 12th-century Romanesque exteriors protected by Monumento Histórico-Artístico status, the pastoral surroundings of vineyards and Valladolid countryside only enhance the building's beauty. With Michelin-starred cuisine and luxurious facilities to boot, the hotel's guests are treated to sensuous decadence that is probably anything but monastic.
St. Peter's Seminary (Glasgow)
Belonging to an institution with as much clout as the Roman Catholic Church guaranteed this Scottish seminary would not be torn down, but not necessarily cared for. Neglected by the archdiocese, rampant graffiti and secret, unsavoury meetings happen within its abandoned interiors. Despite the dereliction, the Corbusier-modernist layout and brutalist lines still hold a regal aura. Projects to turn it into an art gallery have fallen through, but with a little money and imagination, this could become anyone's wonderland.
Kiscelli Museum (Budapest)
Once a 16th-century baroque monastery and church, this museum in Budapest's Obuda district was converted into a mansion post WWI and has endured conflicts, repairs and restorations to become a repository of modern art and contemporary city collections. Dedicated to Hungarian arts and heritage, remnants of religious origins still adorn its cavernous interiors and exteriors, observing the flow of time through art.
CHIJMES (Singapore)
Originally a Catholic convent, this complex in Singapore's Central Business District was commercially redeveloped into a swanky F&B venue after the school shifted campus. Featuring upscale restaurants and bars, it's a popular evening destination for post-workday unwinding and after-hours business deals. The school chapel is now an elegant function venue used for fashion shows, private events and famously, weddings, as featured in the 2018 film Crazy Rich Asians.
The Church of the Holy Communion (New York)
Few buildings, let alone places of worship, have undergone a journey like this Gothic icon of Manhattan's Flatiron district. Originally a brownstone beacon bankrolled by wealthy Anglican New Yorkers, its interiors have been a rehab centre, cultural space, and most infamously, a bacchanal destination to see and be seen. From drug-fuelled parties to a retail, gym and restaurant venue today, the unholy communions that occurred here linger like scars.
As designers brainstorm over what the Notre Dame's roof will look like post-fire, these examples and many others show the creative reasons that breathe life back into former religious spaces, fearlessly (perhaps even carelessly) turning its spiritual origins into a unique selling point.
From bookstores to libraries to student residences, it's fascinating how these buildings' new chapters completely flip their scripts and make you wonder at humanity's capacity and tolerance for transformation.
Hopefully, someone up there is impressed, or at least amused, by these imaginative endeavours.
Featured image © Magnolia Pictures