Where and when to go in 2018 (10 destinations, SG)     It's such an awesome time to be traveling these days – budget travel has unlocked a whole new world of possibilities for even the most-cash strapped traveller, and Airbnb has completely overhauled the way we think about our homes away from homes. 2017 was the year of women and millennial travellers – and an interesting reshuffle in the leaderboard of top travel destinations.
At WeGo, we are particularly astute with travel trends – in fact, we pay so much attention to detail, we can confidently tell you when's best to grab your flight tickets! Our list of 10 destinations are all strong contenders which saw the largest jump or maintained their standing in 2017 relative to 2016. From lesser-known sights to the most popular stays, we've got everything in place – all you need to do is get right down to the booking.
New year, new adventure. Where will your next adventure take you?
Istanbul (67 to 33) 
picture credits: https://www.lonelyplanet.com/turkey/istanbul
       Leapfrogging from 67th to 33rd place, 2017 was a fantastic year for Turkey's former capital. Situated at the crossroads of Europe and Asia, Istanbul is a colourful potpourri of cultures richly blended together by antique grandeur and contemporary gleam. From byzantine murals in grand buildings harking back to the days of Ottoman imperial power to the many mosque churches which possess a peculiar mix of religious motifs, Istanbul is a treasure trove of the historical and cultural.
picture credits: https://travel.usnews.com/Istanbul_Turkey/Things_To_Do/Hagia_Sophia_Museum_Church_Ayasofya_60785/
         While no trip to Istanbul is complete without a visit to Topkapi Palace and Hagia Sofia, intrepid travelers should give less conventional (yet highly accessible) locations such as the Basilica Cistern and Sakirin Mosque a look.
picture credits: https://www.ruebarue.com/istanbul/attraction/basilica-cistern/5473559203807232
The sheer scale and astounding symmetry of the underground Basilica Cistern not only offers myriad opportunities for the enterprising photographer, but also a convenient respite from the summer heat.
picture credit: http://www.2d.com.tr/aluminyum-isler/aluminyum-dekoratif-kaplamalar
While mosques are an ubiquitous sight across the city, Sakirin Mosque provides contemporary interpretation of Istanbul's many historical and cultural influences, blending them together in an architectural masterpiece of unparalleled beauty.
             While Istanbul is still somewhat of a "mid-range" destination,  folks looking to visit the Pearl of the Bosphorus will be delighted to know that the cheapest (return) airfare is a comfortable 419 SGD – just be sure to grab your flight tickets in June! Airbnbs and hostels abound in Istanbul, but if you're a travel conservative or simply looking for the best experience Istanbul can provide, check in with the Grand Anka Hotel at a fair rate of 78 SGD/night.
Perth (24 to 23) 
picture credits: https://tripitanywhere.com/popular-destinations/australia/western-australia/perth/
    Despite its' relatively laid-back and easygoing character, Perth has been pulling quite the punch – the city moved up from 24th to 23rd place, ahead of its' more raucous cousins Sydney and Brisbane. Perths'  great balance of urbanite pleasures and chill-out options caters to a wider array of tourists, especially those simply looking for a time to unwind and get away from their everyday hustle.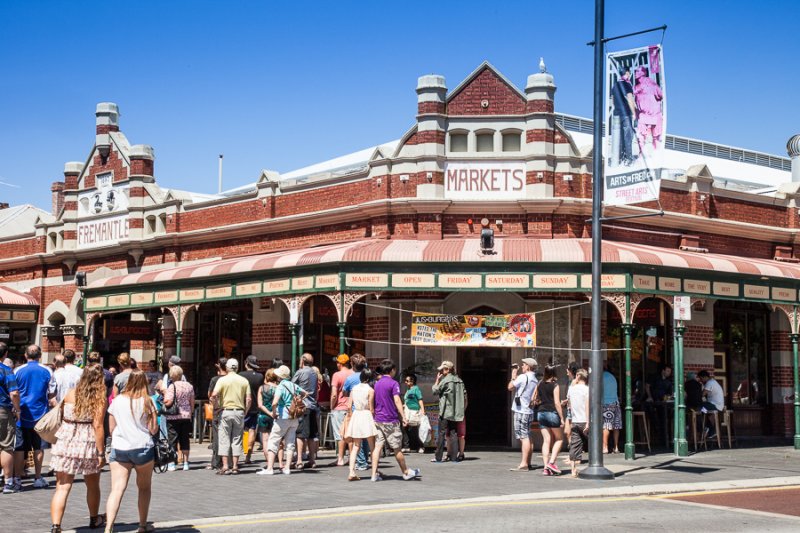 picture credits: http://www.galleryservicedapartments.com.au/index.site.attractions.239.html
       Perth's most popular spots are ,without doubt, Fremantle Market and Busselton Jetty; Wildlife lovers  vouch for Caversham Wildlife Park, with it's many avenues to get up close and personal with a variety of furry critters.
picture credits: http://www.bushlandperth.org.au/member-groups/5-eastern/8-friends-of-ellis-brook-valley
Nature lovers looking for a good trek should absolutely give Ellis Brook Valley Reserve a go, and visitors raving for a sand-boarding adventure replete with beachside activities will be in for a treat at Sandy Cape.
https://www.trover.com/d/kFhm-sandy-cape-recreation-park-jurien-bay-australia
       Most of Australia has been made super-accessible by budget air travel, and return airfare to Perth typically averages 341 SGD. Even better, book your flight tickets in March and you might just grab the cheapest airfare deals for just 152 SGD! Accommodation options are plenty and vary widely in cost and comfort, but if you're only seeking the best, look no further than Crown Plaza Perth – rooms go for 229 SGD a night.
Madrid (36 to 14) 
picture credits: http://www.telegraph.co.uk/travel/destinations/europe/spain/madrid/
        Few cities in the world are able to exude an infectious enthusiasm for life, but Madrid takes joie de vivre to a whole new level. From its' time-tested reputation as a city of art to merrymakers out in the barrios dancing the night away, Madrid is a city in perpetual love for itself and for life.
picture credits: https://traveloni.com/blog/destination-museum-museo-nacional-del-prado-madrid/
As with any art gallery showcasing resident masterpieces, Madrid's star attractions are highly visible. Tourists flock to the Museo Nacional Del Prado for it's well-curated art collections and tend to congregate either at Plaza Mayor or Puerta del Sol.
picture credits: https://www.viajejet.com/el-templo-de-debod-en-madrid/vista-nocturna-del-templo-de-debod/
The city also packs a wealth of highly peculiar attractions such as Templo De Debod, an Egyptian temple dismantled and reassembled in Madrid, as well as Sobrino de Botin, which wears the title of "world's oldest restaurant".
picture credits: http://ayobandung.com/read/20171204/66/26178/dimanakah-restoran-tertua-di-dunia
Until Ryanair decides to stop by Singapore, return flights to Madrid average 1050 SGD. Want to cut down on the flight expense and see more of Madrid? Book your flight tickets in January and save up to 40% with flight deals going for 616 SGD! Madrid's all about living the beautiful life in style, so why not complete the experience with a stay at Barbieri by Forever Apartments? At a reasonable 144 SGD/night, you'll have the comfort of a sophisticated apartment and the convenience of central Madrid right at your doorstep.
New York (19 to 13) 
picture credits: https://www.city-journal.org/new-york
          The city that never sleeps. The Big Apple. An Empire State of Mind. Bold and visionary, New York needs little introduction. Every step in the city immerses you in a perpetual feast for the senses – be dazzled by the lights of Times Square,  imbibe the sounds of Broadway's renowned stages, be awed by Manhattan's iconic skyline and relish the city's impressive repertoire of culinary delights.  At 13th place, New York continues to hold a definitive spot in everyone's travel plans.
picture credits: http://travel-media.hotel-discount.com/new-york-times-square
Broadway, Times Square and the Statue of Liberty are synonymous with the Big Apple – if you're looking to spice your trip up, consider taking a gander over to City Hall Station.
picture credits: http://newyorkcityfeelings.com/visit-old-city-hall-subway-station/
The inspiration behind the final scene in "Fantastic Beasts and where to find them", City Hall station is an abandoned railway station that continues to awe with it's unique curves and abundance of natural light.
picture credits: https://flashmomentcontinued.wordpress.com/2016/04/08/nyc-c-o-bigelow-the-oldest-apothecary-in-america-20151205/
If you're looking for a respite from the hustle and bustle of the city, C.O Bigelow Apothecary's vast collection of medicines, balms and other therapeutic concoctions cater to every bodily need.
      Return flights from Singapore to New York average a whopping 1575 SGD, but if you'd take our word for it and grab your flight tickets in February, you just might snag a return trip to the Big Apple for just 587 SGD! Get into that empire state of mind over at The Premier – at 332 sSGD a night, a world of luxury and convenience right in the heart of Manhattan could be yours.
Dubai (21 to 12) 
picture credits: https://www.drinkpreneur.com/beverage-howto/10-extraordinary-non-alcoholic-drinking-experiences-to-try-in-dubai/
A city of ceaseless energy, Dubai is, quite simply put, ambition on overdrive. From palm – shaped islands, a snow rink right stark in the middle of the desert and gleaming skyscrapers which pierce the horizon, Dubai is a place of endless possibility limited only by human imaginings. Whether you choose to revel in the city's nomadic traditions or be part of its' futuristic vision, one things for sure – in Dubai, the only limit is yourself.
picture credits: https://www.bookmundi.com/dubai/burj-khalifa-tour-and-dubai-mall-tour-1579
While the Burj Khalifa and Jumeirah Mosque are tourist mainstays, do check out the Dubai Miracle Garden .
picture credits: http://www.dubaimiraclegarden.com/
A walk through the massive flower arrangement  will be sure to make you forget the place was even desert at all. If taking a trip back in time catches your fancy, Al Bastakiya will enthral with its' well -preserved sand-coloured structures.
picture credits: http://flashydubai.com/al-bastakiya-dubai-the-oldest-residential-area-in-dubai/
             Dubai's many amenities and luxuries may come at a hefty price tag, but return airfare averages a reasonable 597 SGD. Want massive savings on flight tickets? Grab your flight to Dubai in January and you might snag your return flight for just 14 SGD!  Dubai is all about the glitz, and our numbers agree that Radisson Blu Hotel Dubai Media City is the crowd pick – at 297 SGD a night, first-class luxury and comfort a la Dubai can be yours.
Melbourne (16 to 11) 
picture credits: http://www.telegraph.co.uk/travel/destinations/oceania/australia/victoria/melbourne/
Celebrated for its' liberal and artsy streak, Melbourne possesses a unique flair for the avant-garde and the culturally progressive. A global microcosm of cultures, the city's many districts teem with art-deco architecture and are easily associated with particular cuisines.  Moving up the leaderboard to 11th place, Melbourne's reputation continues to hold strong in 2018.
picture credits: https://www.youtube.com/watch?v=eDzQovjLUUM
Most visitors to Melbourne will want to stop by the Royal Botanic Gardens and Southbank promenade. If you're looking for a unique experience,  Coop's Shot Tower provides a glimpse into Melbourne's past, while The Limelight Department, an attic studio located in the Salvation Army,  pays homage to one of the world's first movie studios.
picture credits: http://www.heraldsun.com.au/news/victoria/under-the-glass-cone-the-story-behind-melbourne-centrals-historic-shot-tower/news-story/84fcb0a1bd7b935027551e81c23d5136?nk=7b7c29a1e4b02cd250bc3792c9bf09c1-1516361599
Return flights to Melbourne typically average 502 SGD, but get your flight tickets in March and you might snag your return airfare for jut 235 SGD! Melbourne offers all travellers  a wide variety of accommodation options, but Ibis Melbourne Swanston Street is hands-down the tourist favourite – with so many attractions just a stone's throw away and contemporary rooms offering no-frills comfort, 135 SGD a night is quite the bargain.
Bali (10 to 9)
           Indonesia's most famous island paradise comes in at a strong 9th in 2017 —  travellers who have been can surely vouch for world-class Balinese hospitality and recall ,with peculiar ease, the ever-present contrast between the natural tranquility of rice paddies and soft waves and the restless energy of the spiritual rituals and festivals. With great beaches, great hangouts and great people, it's little wonder Bali continues to enthral visitors from all around the world.
Tourist mainstays on Bali include the familiar Tanah Lot temple, Goa Gajah and the Ubud Monkey Forest. For the more culturally – inclined, Penglipuran village is a collection of native abodes offering a glimpse into well-preserved Balinese architecture and traditional practices.
picture credits: https://www.water-sports-bali.com/penglipuran-village-entrance-fee/
And speaking of architecture, the Millennium Bridge will be sure to awe, with its' impressive design incorporating native styles and motifs – plus, it's composed entirely of sturdy bamboo.
picture credits:https://www.treehugger.com/infrastructure/bamboo-millenium-bridge-pt-bamboo.html
   Return airfare to Bali averages a super affordable 185 SGD, but book your flight tickets in February and you might snag return airfare deals for just 86 SGD! Bali has awesome seafront resorts, but the numbers agree that Montigo Resorts Seminyak is everyone's popular choice. For 211 SGD a night, the high life, replete with spas and gourmet dining, can be yours.
Seoul (9 to 8) 
picture credits: http://www.roomsuggestion.com/Destination-of-the-week-Seoul
Gangnam Style may have gotten the world talking about Seoul, but South Korea's bustling capital is so much more than its' most glitzy district. Seoul is dynamic, creative and ever-changing – little remains of the city's former industrial roughness, and even those that still linger have since found ways to blend into Seoul's bold and innovative cityscape.
picture credits : https://www.halaltrip.com/other/blog/what-do-you-know-about-south-korea-s-gyeongbokgung-palace/
Gyeongbokgung beckons with its' huge gates in front of Gwanghwamun Square, Dongdaemun's all about cheap yet trendy fashion, and Myeongdong is inarguably everyone's personal makeup paradise. 
picture credits: https://www.funtastickorea.com/en/prod/insadong-poopoo-land-discount-ticket
If you're losing the Daebak feels for Seoul, Poopoo Land's poo-themed curios and Museum Kimchikan's obsession with kimchi will inject a much – needed dose of eccentricity into your otherwise predictable Seoul itinerary. 
picture credits: https://www.atlasobscura.com/places/museum-kimchikan
Need another reason to visit? 2018 is South Korea's time to shine at the Pyeongchang Olympics – with all the pre-event hype in and outside of Pyeongchang and South Korea's love for winter sports, your visit will certainly be unlike any other.
Return airfare to Seoul averages a reasonable 469 SGD, but if you are not looking to join in the Winter Olympic festivities, consider booking your flight tickets in March and you may just get your flight deal for just 253 SGD! Seoul has a wide array of accommodation options, but the numbers agree that Days hotel Seoul Myeongdong is the crowd favourite – at 146 SGD a night,  a room complete with in-house meal options in the heart of Myeongdong can be yours.
Phuket (6 to 3) 
picture credits: http://www.phuket.com/
Coming in at 3rd place, Thailand's world-renowned island getaway continues to captivate travellers all around the world. Whether you're looking to be one with nature or unleash your inner party animal, Phuket has everything in store for you. 
picture credits: http://www.phuket.com/island/beaches_patong.htm
Tourists who prefer to live life on the wilder side will be satiated by the guilty pleasures of Patong, while those looking for a family-friendly experience can head over to Phuket Elephant Sanctuary or go on a sight-seeing trek in Rawai.
picture credits: http://www.jamiesphuketblog.com/2009/04/shrine-of-serene-light.html
Want a glimpse of the island's confluence of many cultures? Stop by the Shrine of the Serene Light – hidden away from plain sight in Phuket's popular Phang Nga Road, this diminutive yet well-preserved Chinese temple retains many motifs easily found in other parts of Southeast Asia.
picture credits: http://www.travellennial.com/camping-at-samet-nangshe-viewpoint-in-phang-nga/
Once a tourists' best kept secret, Samet Nangshe Viewpoint is now one of Phuket's most popular spots to capture panoramic vistas.
  Return airfare to Phuket averages a highly affordable 162 SGD, but book your flight tickets in January and you may just snag flight deals for just 68 SGD! The numbers all point to Point Yamu by Como as Phuket's most popular hotel – for 1295 SGD a night, Phuket's most luxurious experience awaits.
Bangkok (2 to 1) 
picture credits: https://www.thousandwonders.net/Bangkok
While Phuket, New York and Seoul are popular enough to need no introduction, Bangkok is that one place everybody probably knows at the back of their hands. Coming in at 1st place, the Thai Capital is Singapore's favourite destination, and it's easy enough to see why – great food for highly affordable prices cater to even the most curious palate, a wealth of casual and street-shopping options for even the traveller on a shoestring budget and the reputable standard of Thai hospitality and general warmth that invites casual banter even at the most unfamiliar occasion.
picture credits: https://waytogo.cebupacificair.com/best-markets-asia/
Most folks will agree Chatuchak and Jatujak Green Market (otherwise known as JJGreen) are definite must-sees, and the more culturally inclined ought to include Wat Pho in the list too.
Want to see a different side of Bangkok?  Papaya Vintage Shop is retro paraphernalia galore and exploring the city's many khlongs in a river boat offers a unique alternative to the standard Chao Phraya river cruise.
picture credits: http://sunnyonlinetravel.com/product/bangkok-canal-tour/
Return airfare to Bangkok averages a highly affordable 172 SGD, but book your flight tickets in January and you might just snag your airfare deal for just 67 SGD! If you're all for spending more to get only the best,  Centre Point Pratunam is the place to stay. At 320 SGD a night, balcony-side breakfasts, a complimentary soak in an exclusive saltwater pool and the myriad conveniences of downtown Pratunam can be yours.