Hunting for halal restaurants in Muslim-minority countries can be tricky if you are not familiar with the destination. This should not be a problem, however, when you fly to Germany.
Germany is home to a community of five million Muslims — the second largest in Europe — and this number is ever-growing. Coupled with the growing volume of Muslim tourists flying all-year round, the demand for halal market clearly becomes greater.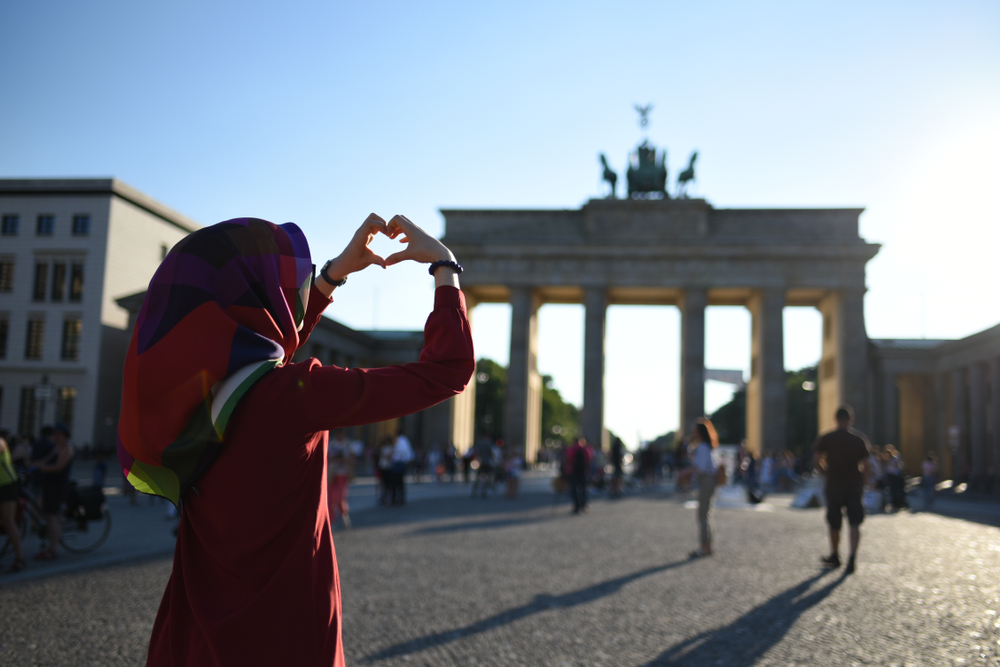 So if you, food enthusiasts, plan to stay in the following German cities, make sure to visit at least one of our top picks of five halal eateries:
Yarok, Berlin
Yarok, meaning "green" in Hebrew, serves freshly prepared Syrian comfort food. Despite its location in Mitte, Berlin's tourist magnet, Yarok's menu is reasonably priced.
One of the most sought-after items is Mixed Platter, a concoction of flavors and textures comprising kebab, grilled vegetables, hummus, tabouleh, couscous, and dips. Another star of the menu is Falafel, a popular chickpeas-based patty that is crisp on the outside yet soft on the inside.
Yarok's humble interior and rather compact space do not stop patrons from visiting. The eatery also offers an outdoor seating area which blends in with its neighbourhood — the perfect way to enjoy sunny days in the capital city.
(Torstraße 195, 10115 Berlin; Open daily from 12 pm to 10 pm; price range: €6 – €18)
3h's Burger & Chicken, Cologne
If a casual meal is what you are after during your sojourn in Cologne, 3h's is the place to go. Living up to its name, which stands for "halal, handmade, and homemade", this burger joint does take pride in its artisanal products — from the patties and buns to the sauces.
You will find a good selection of chicken and beef burgers with skin-on fries on the side. There are also veggie burgers and a variety of side dishes to choose from.
The joint may not be spacious, but its modern, industrial design becomes another point of interest. Its kitchen and counter are open to your view, so you can watch how your food is being prepared by the cook. 3h's is also available in five other cities: Aachen, Düsseldorf, Frechen, Wuppertal, and Gelsenkirchen.
(Koblenzer Str. 1-9, 50968 Cologne; Open Monday – Thursday from 12 pm to 10 pm, Friday from 12 am to 10 pm, Saturday from 2 pm to 12 am, Sunday from 3 pm to 10 pm; Price range: under €10)
Köz Urfa, Hamburg
Sitting next to Altona station, Hamburg, Köz Urfa is always busy with locals and tourists alike; so be prepared for a little wait.
The menu is all about Turkish favorites — from kebabs and lamb chops to steaks. The true draw, however, is the Adana Kebab, which is minced meat on a skewer served with grilled tomato and hot peppers, rice, vegetables, and yogurt.
Turkish tea and Ayran (salty yogurt-based drink) are highly recommended. Food portions in Köz Urfa are generous enough to be shared with your companion.
The vibe of the restaurant is classic with a hint of Turkish design, its brick color dominating the interior, and cave-like wall connecting the dining halls. Food ingredients are chilled in refrigerated display cases to be visually appealing to patrons.
(Paul-Nevermann-Platz 2-4, 22765, Hamburg; Open daily from 8 am to 3 pm; Price range: €11 – €20)
Shandiz, Munich
Done checking in to a hotel in Munich? Then grab a bite at Shandiz Restaurant, a ten-minute walk from Munich Main Railway Station.
The menu covers Iranian fare, such as Kabab Koobideh and Mahiche Polo (lamb shank stew), but the restaurant is famous for its tasty saffron rice. To refresh the taste buds, try Dough, a yogurt drink blended with fresh herbs.
Shandiz's decor truly portrays the atmosphere of Iran with Persian-inspired artwork and wall paintings as the backdrop. Colorful lighting and chandeliers also lend a dramatic look to the restaurant.
(Dachauer Str. 50, 80335 München; Open daily from 11.30 am to 11 pm; Price range: €14 – €20)
Thai Fun, Frankfurt
Bringing an Asian flair to the beating heart of Frankfurt is Thai Fun. Its offerings of authentic halal Thai food make for a standout addition to the existing restaurants dotting the city.
The menu comes with tons of options; you may take some time contemplating which one will be your pick. You can actually start it off with some delectable Thai spring rolls or hearty Tom Yam Gung. As for the mains, expect a more extensive list, from fried rice — with choices of duck, chicken, beef, squid, and shrimps — to noodle soup and fried egg noodles.
Thai Fun's ambience is laidback. While its simple interior is more functional than decorative, the bamboo wall ornaments give a true Asian touch to the eatery.
(Elbestraße 15, 60329 Frankfurt am Main; Open daily from 11 am to 11 pm; Price range: under €10)
A bit of research will come in handy in deciding which halal restaurants to go to. Also, not all of them put up a 'halal' sign at the entrance.There are times when some of them are fully occupied, so booking a table first would be a good move.
For more insights into Germany's culinary scene and beyond, head to the official website of German National Tourist Board.