This page was last updated on 21 July, 2021.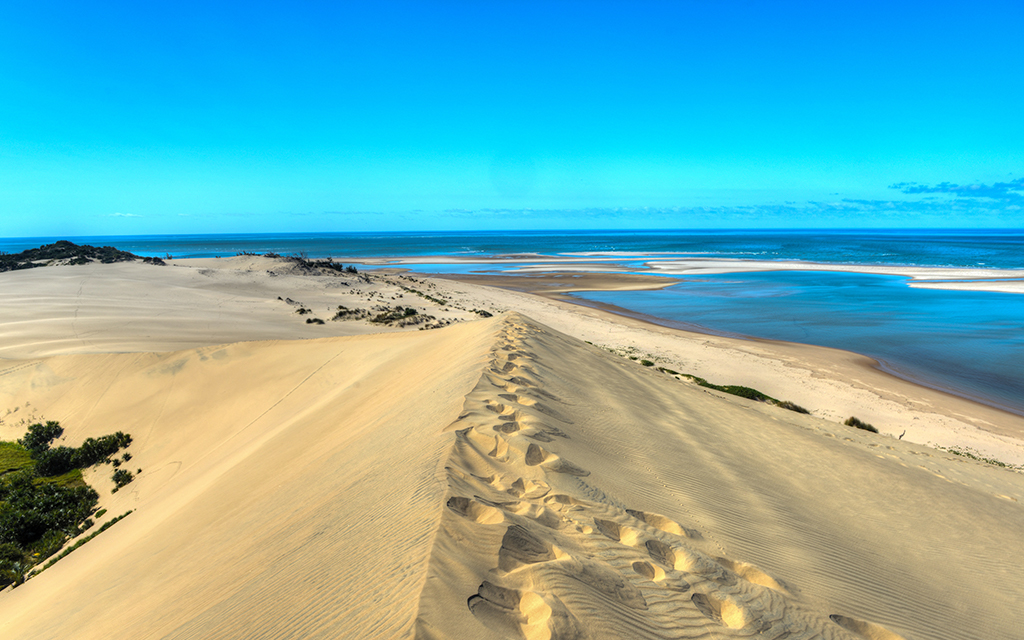 At a Glance
Travel Restrictions
Tourist Entry: Partially Allowed
Testing: Negative PCR test results is required for all countries.
Quarantine Required: Depends
Quarantine Details: Quarantine not required when presenting a valid negative test result.
Local Restrictions
Lockdown in Effect: Partial
Events: Partially Allowed
Transport: Operational
Shopping: Open
Restaurants and Bars: Open with restrictions

Detailed Travel Advisory
Published 19.07.2021
1. Flights to Mozambique are suspended.
– This does not apply to:
– flights arriving from Ethiopia, Kenya, Portugal, Qatar, South Africa and Turkey;
– humanitarian, medevac and repatriation flights.
2. Suspension of visa on arrival facilities for nationals of Bangladesh, Eritrea, India, Pakistan, Somalia and Sri Lanka.
3. Passengers must have a printed negative COVID-19 PCR test result issued at most 72 hours before departure. The test result must be issued in English, French or Portuguese.
– This does not apply to:
– nationals and residents of Mozambique who have been outside of Mozambique for less than 14 days. The PCR test they have obtained before departure is valid for 7 days;
– passengers younger than 5 years.
4. Passengers could be subject to medical screening and quarantine for 10 days.
5. Airline crew are subject to medical screening and quarantine until their next scheduled flight.
Detailed Tourist Information
Mozambique is now open to all foreign travelers as long as they have a residency permit or valid tourist visa.
Travelers arriving in Mozambique must:
Present a negative COVID-19 test result taken no more than 72 hours before departure.
The test must have been issued in the departure country.
Travelers will not have to quarantine when presenting a valid negative test result.

Lockdown Details
On July 15, 2021 President Nyusi extended the mitigation measures to combat COVID-19, with some adjusted regulations.
Current measures include:
In the Greater Maputo area and all provincial capitals there is a curfew in place from 9 p.m. to 4 a.m. every night. The curfew also applies in Manhiça, Chokwe, Maxixe, Gondola, Moatize, Mocuba, Nacala, Montepuez, Massinga and Guruè.
All passengers arriving in Mozambique must present a negative PCR test administered 72 hours before departure, even if they hold proof of vaccination. This requirement also applies to children over 5 years old.
The validity of PCR tests for short cross-border trips is now only 7 days.
All documents that expire during this period, with the exception of passports, are now valid until August 30.
In-person classes in primary, secondary and higher education are suspended for 30 days in the greater Maputo metropolitan area, including Manhiça, and in Xai-Xai, Inhambane city, Beira, Chimoio, Tete city and Dondo.
Pre-school education is suspended for 30 days nationwide.
All religious services and celebrations, and conferences and meetings are suspended.
The use of theaters, casinos, cinemas, concert halls and the like is prohibited.
All private social events are prohibited, regardless of where they take place, except for civil and religious wedding ceremonies, which must not exceed 20 people, and festivities associated with weddings are prohibited.
Public services and issuance of documents by publiuc institutions is now done through pre-booking;
Meetings in public and private institutions must not exceed 15 people in closed places and 30 people in open places and must not exceed 50 percent capacity.
State meetings or events are permitted for up to 80 people when duly justified.
The number of participants permitted at wakes and funerals is reduced to 20 people, except in cases where there was death by COVID, where the maximum number of participants is 10.
Museums, galleries and the like may remain open but are limited to 20 percent capacity.
Public swimming pools are closed, except for hotels, which may be used only by hotel guests and up to 20 percent capacity.
The training of competitive teams is prohibited, but national teams with international commitments may continue to train.
Large and medium-sized multipurpose gyms are closed.
Public institutions are open from 8:00 am to 2:00 pm, except for essential services, and the private sector is encouraged to follow the same measures.
Shopping centers are open from 9:00 am to 4:00 pm from Monday to Saturday and from 9:00 am to 1:00 pm on Sundays and public holidays.
Bottle stores are open from 9:00 am to 1:00 pm from Monday to Saturday and are closed on Sundays and public holidays.
Restaurants, take-aways and home delivery services are open from 6:00 am to 6:00 pm.
The stalls for the sale of food products are open from 6:00 am to 5:00 pm, but the ban on the sale of alcoholic beverages from stalls remains.
Bakeries and pastry shops are open from 5:00 am to 6:00 pm.
The Ministry of Transport and Communications must define the maximum capacity in the different means of transport.

Sources
https://www.worldnomads.com/travel-safety/worldwide/worldwide-travel-alerts
Data Source: covidcontrols.co