This page was last updated on 20 September, 2021.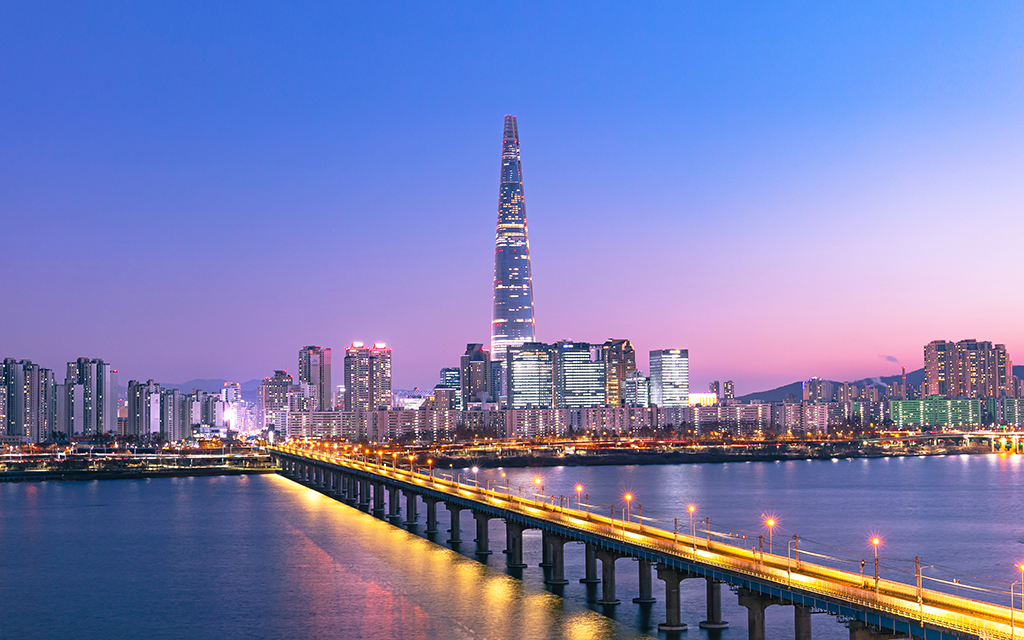 At a Glance
Travel Restrictions
Entry For Vaccinated Travelers: Partially Allowed
Vaccination Requirements: If you have been fully vaccinated against COVID-19, you can apply for a 'quarantine exemption' which allows you to bypass quarantine when entering South Korea. The process of applying for a quarantine exemption varies depending on where you were vaccinated and the purpose of your travel.
Tourist Entry: Partially Allowed
Testing: Health screening and health questionnaire are required for all countries
Quarantine Required: Depends
Quarantine Details: Self-quarantine required for some travelers.
Local Restrictions
Lockdown in Effect: No
Events: Partially Allowed
Transport: Operational
Shopping: Open
Restaurants and Bars: Fully Open

Detailed Travel Advisory
Published 14.09.2021
1. Short-term visas (type C-1 and C-3) issued on or before 5 April 2020 are no longer valid.
2. Suspension of visa exemptions for nationals of Antigua and Barbuda, Argentina, Australia, Austria, Bahamas, Bahrain, Belgium, Bosnia and Herzegovina, Botswana, Brazil, Brunei Darussalam, Bulgaria, Canada, Chile, Colombia, Costa Rica, Croatia, Cyprus, Czechia, Denmark, Dominican Rep., Ecuador, El Salvador, Estonia, Eswatini (Swaziland), Fiji, Finland, France, Germany, Greece, Grenada, Guatemala, Haiti, Honduras, Hungary, Iceland, Israel, Italy, Jamaica, Kazakhstan, Kiribati, Kuwait, Latvia, Lesotho, Liechtenstein, Lithuania, Luxembourg, Malaysia, Marshall Isl., Mauritius, Micronesia (Federated States), Montenegro, Morocco, Nauru, Netherlands, New Zealand, Norway, Oman, Panama, Paraguay, Peru, Poland, Portugal, Qatar, Romania, Russian Fed., Samoa, Saudi Arabia, Serbia, Seychelles, Singapore, Slovakia, Solomon Isl., South Africa, Spain, St. Lucia, Suriname, Sweden, Switzerland, Thailand, Tonga, Trinidad and Tobago, Tunisia, Turkey, Tuvalu, United Arab Emirates or Uruguay with a normal passport.
– This does not apply to airline crew.
– This does not apply to passengers with an APEC Business Travel Card.
– This does not apply to passengers with a diplomatic, an official or a service passport.
3. Suspension of visa exemptions for nationals of Japan.
4. Suspension of visa exemptions for passengers with a Chinese Taipei (on the cover: Republic of China Taiwan) normal passport.
5. Suspension of visa exemptions for passengers with a Hong Kong (SAR China) passport.
6. Suspension of visa exemptions for passengers with a Macao (SAR China) passport.
7. Passengers could be subject to quarantine for 14 days.
– This does not apply to passengers arriving from a country other than Angola, Bangladesh, Botswana, Brazil, Chile, Eswatini, Ghana, Haiti, India, Indonesia, Japan, Jordan, Kazakhstan, Kuwait, Kyrgyzstan, Lebanon, Malawi, Mozambique, Myanmar, Namibia, Oman, Pakistan, Peru, Philippines, South Africa, Nepal, Russian Fed., Tajikistan, Tanzania, Trinidad and Tobago, Turkey, Viet Nam, Suriname, United Arab Emirates, Uzbekistan or Zimbabwe with:
– a COVID-19 vaccination certificate showing that they received the vaccine in Korea (Rep.) at least 2 weeks before arrival; or
– a Quarantine Exemption Certificate.
8. Passengers must install the 'self-quarantine safety protection mobile app' found at https://tinyurl.com/m9fcz6dc
9. Passengers must complete a "Health Declaration Form" and a "Travel Record Declaration" and present it upon arrival. The forms can be obtained upon arrival.
10. Passengers are not allowed to transit through Korea (Rep.) for more than 24 hours.
11. Nationals of Thailand are not allowed to transit if they are traveling onward to Thailand.
– This does not apply to nationals of Thailand with a Certificate of Entry issued by Royal Thai Embassy and a Fit to Fly health certificate in English issued at most 72 hours before departure.
– This does not apply to airline crew.
12. Nationals of Egypt, Sudan, Syria and Yemen are not allowed to transit through Korea (Rep.).
– This does not apply to nationals of Egypt with a diplomatic or service passport.
13. Passengers traveling to China (People's Rep.) are not allowed to transit through Korea (Rep.).
14. Passengers with a visa on an expired passport must present a printed "Visa Grant Notice" and the expired passport to the immigration upon arrival.
15. Passengers with an E-9 visa issued by Korea (Rep.) must present a completed 'Confirmation of Self-quarantine' form upon arrival. The form can be obtained at the local EPS center.
16. Passengers must have a printed negative COVID-19 test result issued at most 3 days before departure from the first embarkation point. Tests accepted are: LAMP, NAAT, NEAR, PCR, SDA and TMA tests.
The test result must:
– be in English, Korean or accompanied by a certified English or Korean translation; and
– have the name of the passenger which must match the name in the passport, the date of birth or passport/ID number and the name of the issuing laboratory; and
– be issued by an approved laboratory if arriving from Indonesia, Philippines or Uzbekistan. Details can be found at the Korean (Rep.) Embassy website in those countries.
– This does not apply to:
– nationals of Korea (Rep.) traveling on official business or funeral attendance purposes with a Quarantine Exemption Certificate;
– nationals of Korea (Rep.) arriving from Myanmar;
– passengers younger than 6 years.
Detailed Tourist Information
Passengers allowed to enter
– Holders of diplomat visa (A-1), government official visa (A-2), agreement visa (A-3), ABTC, APEC CARD, Long-term visa of more than 90 days, overseas Korean visa (F-4), refugee travel document, and travelers re-entering Korea following the departure on or before May 31
[For E-9 visa holders, self-quarantine confirmation is required (Published by the Human Resources Development Service of Korea EPS Center), If no self-quarantine confirmation, not allowed to enter]
– Foreigners staying for a long period of time can re-enter the country after obtaining a re-entry permit when leaving the country after June 1, 2020.
(Deletion of alien registration card when leaving the country without obtaining permission)
※ Exception: Foreigners re-entering Korea after leaving Korea before May 31, 2020, diplomatic (A-1), public service (A-2), agreement (A-3), overseas Koreans (F-4) qualifications and refugees travel document holder
– Suspension of all short-term visas issued before April 5, 2020
COVID-19 negative certificate required
Implementation of K-ETA (As of Sep 1, 2021)
For more details(K-ETA) For more details(K-ETA) https://www.k-eta.go.kr/portal/apply/index.do
Required documents for COVID-19
All Passengers (Including Re-entry foreign nationals) entering Korea must submit a Print PCR test result (Inspection method must be written in Korean or English. If written in other languages, a certified translation must be submitted together) within 72 hours of departure (As of February 24)
– Electronic certificates such as on mobile devices are not accepted.
– Exception: Children under 6 years of age, Transit Passenger, persons subject to exemption from quarantine for humanitarian reasons and purpose of overseas business trips for official duties, Shift seafarer departing from Singapore (with Korean seafarer's book) Korean nationals (with Korean passport)
– Valid PCR test scope : Tests based on gene amplification detection (NAATs, PCR, LAMP, TMA, SDA, NEAR, etc.)
– If you are issued a PCR quarantine document online, be sure to print it out and submit it
– All Passengers departing from the Philippines, Indonesia and Uzbekistan it is necessary to submit a PCR test result issued by an inspection agency designated by an overseas mission
Penalties for passengers who are confirmed positive without submitting a PCR negative confirmation(As of May 10, 2021).
– Penalty : 2,000,000 KRW
– Subject to : Passengers who have been confirmed positive as a result of the COVID 19 test at the quarantine station among Koreans who have not submitted a PCR negative confirmation or submitted a substandard PCR negative confirmation
– Exception : Under the age of 14, etc.
Quarantine Regulations
Quarantine for Korean nationals/Long-Term Foreigners : 14 -day quarantine at residence
Short-term foreign residents: 14-day quarantine (expenses to be paid by passengers)
– Self-quarantine is possible if a family relationship with a long-term foreign residents/Korean is confirmed (within third cousin, direct descendant)
Long-term foreigners/Korean nationals entering from Brazil, Africa, India, self-quarantine after PCR diagnostic test at a temporary living facility upon arrival
14-days Quarantine at a government-designated facilities for long term stay foreign nationals /Korean nationals from Tanzania, South Africa (As of Apr22, 2021)
Family members (lineal ascendants, blood relatives, etc.) of Korean nationals or long-term foreign residents registered in Korea are eligible for self-isolation
Long-term foreigners/Korean nationals departing from Myanmar have a inspection and confirmation of results at temporary living facilities (takes 7 days), Self-isolation 7 days thereafter as of Aug 6, 2021.
For Koreans/long-term foreigners who departed from Chile/Peru, self-quarantine for 7 days after PCR diagnostic test and confirmation of results (7 days) at temporary living facilities(As of Sep 1)
Koreans/foreigners staying for a long time from other countries, self-quarantine (14 days) after PCR diagnostic test at Public health center where you live
Quarantine/isolation procedures when a Korean national who has been vaccinated in Korea enters Korea (if asymptomatic)
– Arrival in Korea → Submit vaccination certificate/PCR negative certificate to the quarantine officer → Pass the examination by the Ministry of Justice → Pick up baggage → Move to residence (no restrictions on using public transportation) → Standby after a *diagnostic test at the local public health center within 1 day (takes 1 day)→ Exemption from quarantine → Visit a public health center on the 6th or 7th day after entering the country and conduct additional diagnostic tests
*Starting from August 30th, additional diagnostic tests will be added within 1 day after entry
– Change of conditions for those who have completed vaccination(As of Aug 30)
In case of leaving Korea after 2 weeks have elapsed after completion of vaccination
In case of entering Korea after 2 weeks have elapsed after completion of vaccination
Example: If the second inoculation date (inoculation completion date) is September 1, Quarantine exemption is possible if the date of entry into Korea is after 00:00 on September 16
Quarantine exemption
– Passengers have completed vaccinations in Korea and re-entered after leaving the country (As of May 5, 2021)
– Passengers have completed vaccination abroad and have entered the country for the following purposes(Quarantine exemption form must be issued in advance/As of Jul1,2021)
[Visiting the immediate family/Important business/Academic public interest/Humanitarian purpose] Applicable only to those who enter the country two weeks after receiving all the recommended doses for each vaccine in the same country
*Only WHO-approved vaccines are allowed: Pfizer, AstraZeneca, Janssen, Moderna, Covishield, Sinopharm/Sinovac
*If you are entering from a country with a mutated virus, such as South Africa or Brazil etc, you cannot be exempt from quarantine even if you have been vaccinated.
*For the issuance of the quarantine exemption letter, the quarantine exemption application documents, pledge, and vaccination certificate must be submitted to the screening agency (embassy/consulate and relevant ministries)

Lockdown Details
Face masks are compulsory in public places and on public transport. Failure to wear a mask can result in a fine of up to 100,000 Korean Won (£66). There is a limited exception to this rule if you have received at least one vaccine shot, are outside, can maintain at least a 2 metre distance from others, and are outside of Seoul, Incheon and Gyeonggi.
South Korea currently has a four-level national social distancing scale.
For full details of the current restrictions and requirements you should check the South Korea Disease Control and Prevention Agency https://bit.ly/2VELDYT (KDCA) and Ministry of Health and Welfare websites http://ncov.mohw.go.kr/en/ (English). You can find information on any local variations in COVID-19 restrictions and requirements on metropolitan and provincial government websites as follows:
Seoul Metropolitan government (http://english.seoul.go.kr/)
Busan Metropolitan City (https://english.busan.go.kr/index)
Daegu Metropolitan City (http://www.daegu.go.kr/english/index.do)
Incheon Metropolitan City (https://www.incheon.go.kr/en/index)
Gwangju City (https://www.gwangju.go.kr/eng/)
Daejeon Metropolitan City (https://www.daejeon.go.kr/dre/index.do)
Ulsan Metropolitan City (http://www.ulsan.go.kr/english/index)
Sejong City (https://www.sejong.go.kr/eng.do)
North Chungcheong (https://www.chungbuk.go.kr/wwweng/index.do)
South Chungcheong (http://www.chungnam.net/englishMain.do)
Gangwon (http://eng.gwd.go.kr/gw/eng )
Gyeonggi (https://english.gg.go.kr/)
North Gyeongsan (http://www.gb.go.kr/Main/open_contents/section/eng/index.html)
South Gyeongsang (https://www.gyeongnam.go.kr/english/index.gyeong)
North Jeolla (https://www.jeonbuk.go.kr/eng/index.jeonbuk)
South Jeolla (http://www.jeonnam.go.kr/)
Jeju (https://www.jeju.go.kr/corona19.jsp)

Sources
https://kr.usembassy.gov/022420-covid-19-information/
Data Source: covidcontrols.co