This article is reviewed regularly (on a monthly basis) by Wego's editorial team to ensure that the content is up to date & accurate
Reviewed January 2022
Armenia goes high on the list of underrated travel destinations. With captivating scenic landscapes, an interesting history kept alive in its museums, and one of the oldest cultures in the world, every adventurous traveller should be checking out Armenia right now. Moreover, Armenia's visa process is straightforward for most countries, and the e-visa is making things even simpler.
Keep reading to learn more about who can obtain the Armenia e-visa and how.
Armenia e-visa eligibility
The Armenian e-visa is open to ordinary passport-holders of countries which are neither on the visa-free entry list nor on the visa-upon-invitation list.
This effectively means that all ordinary passport-holders from the following countries are eligible for the Armenian e-visa:
Algeria, Antigua & Barbuda, Bahamas, Bahrain, Barbados, Belize, Bhutan, Bolivia, Bosnia & Herzegovina, Brunei, Cambodia, Canada, Chile, Colombia, Costa Rica, Cuba, Dominica, Dominican Republic, Egypt, El Salvador, Fiji, Grenada, Guatemala, Guyana, Haiti, Honduras, India, Indonesia, Iraq, Israel, Jamaica, Japan, Jordan, Kiribati, Kuwait, Laos, Latvia, Lebanon, Malaysia, Maldives, Marshall Islands, Mexico, Micronesia, Mongolia, Morocco, Myanmar, Nauru, Nicaragua, North Macedonia, Oman, Palau, Panama, Papua New Guinea, Paraguay, Peru, Philippines, Rwanda, Saint Kitts & Nevis, Saint Lucia, Saint Vincent & Grenadines, Samoa, Saudi Arabia, Solomon Islands, South Africa, Suriname, Syria Arab Republic, Taiwan, Thailand, Timor-Leste, Tonga, Trinidad & Tobago, Tunisia, Turkey, Turkmenistan, Tuvalu, Vanuatu, Venezuela, Vietnam.
Book cheap flights to Armenia
Armenia e-visa requirements
To apply for the e-Visa, UAE residents will require their passport or travel document, a completed visa Application, and a photo of size 3.5cm X 4.5cm.
Applicants are also encouraged to attach, if available:
air ticket
hotel reservation
invitation
proof of financial means (bank statement, other documents)
health (travel) insurance
a copy of passport pages containing visas obtained during the past 3 years, resident cards, and other documents
Armenia e-visa application
Visitors to Armenia can apply for the e-visa on the dedicated e-visa portal.
enter your type of passport and the issuing country
type in your email address and captcha. Open your email inbox and click on the link received from the portal to continue the application
fill in the passport, personal, and contact details
upload a facial photo, the passport scan, supporting documents (if available), and the completed application form
pay the applicable fees
Your Armenia e-visa application will then be sent for processing.
Armenia e-visa validity
Visitors to Armenia can apply for an e-visa with a stay duration of either 21 days or 120 days. The visa fees vary according to the e-visa validity.
Armenia e-visa status check
Travellers who have applied for the Armenia e-visa can check the status of their application here by entering their application ID and the captcha.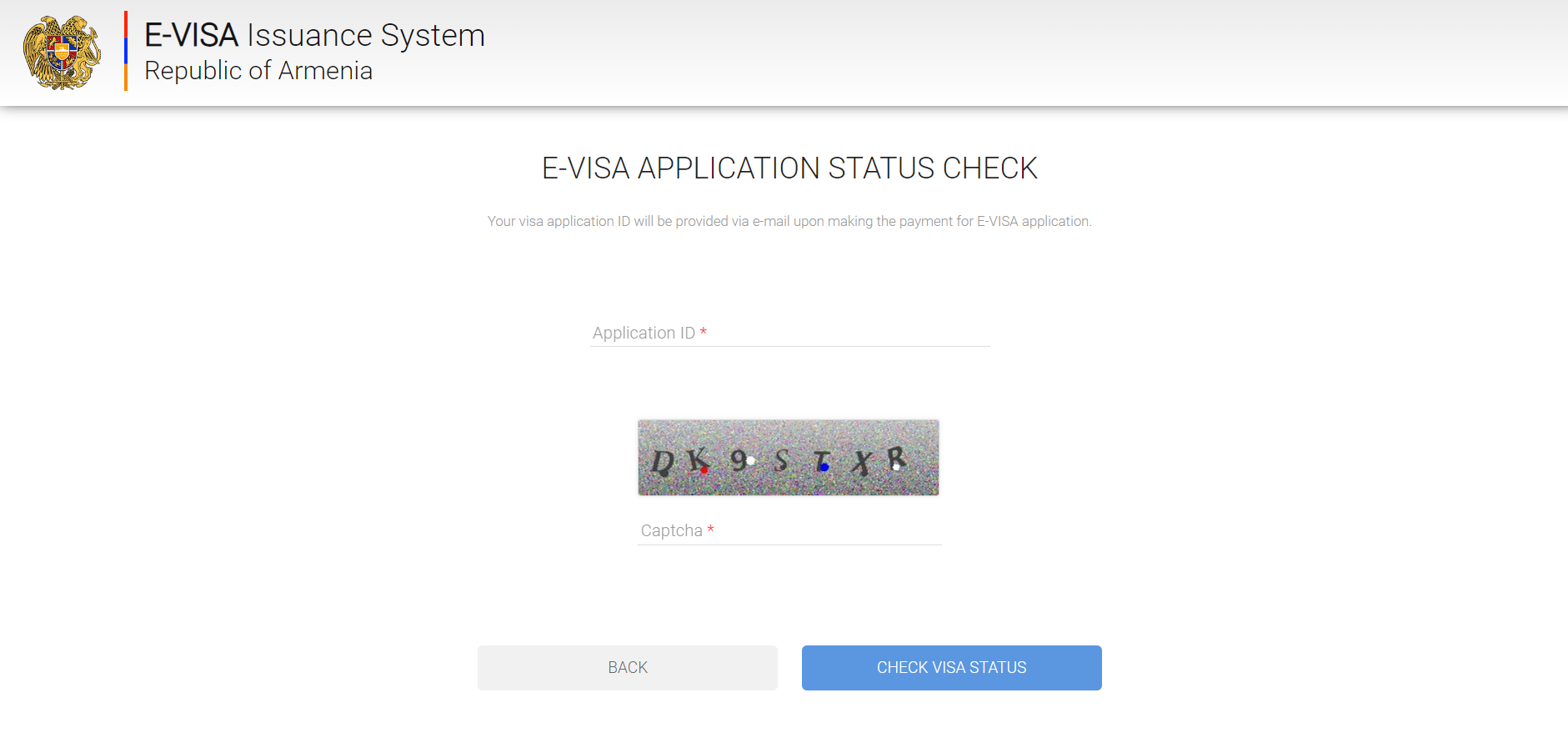 Armenia e-visa price
The Armenia e-visa for visitors comes at the below price tags:
visitor visa (up to 21 days of stay): դր 3,000 (AED 28)
visitor visa (up to 120 days of stay): դր15,000 (AED 140)
Remember that the Armenia e-visa fee is non-refundable.
Armenia e-visa processing time
It takes up to 3 working days to process the Armenia e-visa.
[Total:

152

Average:

4.6

]