Buckingham Palace, Stone Henge, Tower Bridge… The UK has plenty of historic landmarks which are known the world over. It also, however, has an enormous collection of other ancient, beautiful and impressive landmarks which you have probably never heard of. Here are just 5 of them for you to explore—all hidden in plain sight.
St. Michael's Mount (Cornwall)
Just off the south Cornish coast sits a rocky outcrop enshrouded in legends of giants, mermaids and miracles and which, throughout its long history, has echoed to the sounds of chanting monks, tolling church bells and cannon-fire roaring out across the bay.
Inhabited since Neolithic times, St. Michael's Mount's incredible story includes everything from holy pilgrims to civil war sieges and its ornate castle is today home to the same noble family who first claimed it in the mid 1600s.
Small though it is, the island has plenty to explore including a 12th century chapel, a tiny village which was traditionally made up of dwellings for castle servants, gardens and an ancient cemetery.
The centuries old fortress is the highlight and actually still home to the St. Aubyn family. Explore its rooms to see how it became a grand stately home from its original use as a medieval priory and take in the stunning views of coast and ocean from the canon-strewn battlements.
Adding to the romance of this enchanting place is the fact that visitors arrive by following the stones of a man-made causeway. This is only uncovered at certain times of the day while the rest of the time, the rising seas surge forward and surround the rocky base, turning St. Michael's Mount into an island.
Clevedon Pier (Somerset)
In the Victorian age piers were built all over the UK during a time when, for the first time, heading to the seaside for recreation and health became the popular thing to do. However, howling winds, raging seas and the ravages of time have all taken their toll on these grand old relics of a bygone era; today very few remain.
The lovely and unusual Clevedon Pier is England's only fully-intact Grade 1-listed pier—a high-level status granted to structures deemed of exceptional national, architectural or historical importance.
Perched above the Severn Estuary on its graceful wrought iron arches built from former railroad tracks, this historical landmark has been described as the most beautiful seaside pier in England.
When it opened in 1869, Victorian ladies with their bonnets and bustles would have strolled the wooden boards with their cane-carrying beaus. Today, the pier's visitors still walk the 304 m length, eating ice-creams, visiting the elegant pavilion at the end of the pier and taking in panoramic views of the Severn Estuary.
Chysaucester Ancient Village (Cornwall)
Tucked away amid farmland and countryside alive with birdsong can be found the ancient village of Chysaucester, abandoned around 1,600 years ago for reasons no-one will ever know. Wild orchids and fragrant gorse bushes sprout among the evocatively-ruined 2,000-year-old stone houses and their courtyards which were once the homes of farmers.
Tranquil and often all but deserted, Chysaucester sits perched on a hillside which presents a constant backdrop of scenic countryside and sea to accompany your exploration.
Arguably the highlight of the village is the fogou – a type of mysterious underground passage – the like of which are sprinkled throughout this area on England's extreme south-west tip but found nowhere else in the country. While no-one knows for sure quite what purpose these subterranean passages served the theories include cold storage for food, shelter during times of conflict and even as some kind of sacred ritual space.
The Uffington White Horse (Oxfordshire)
While ancient geoglyphs might be more typically associated with Chile and Peru England is actually full of them. From end to end of the country can be found mysteriously carved figures on hillsides, at least 16 of them representing horses. Typically these are white, where the pale limestone bedrock has been exposed to stand starkly in contrast to the surrounding grass.
The king of all the white horse figures is found on White Horse Hill in Oxfordshire. While several of the figures scattered around the country's hillsides are mere youngsters at 200 to 300 years old the Uffington treasure is known to be at least 3,000 years old.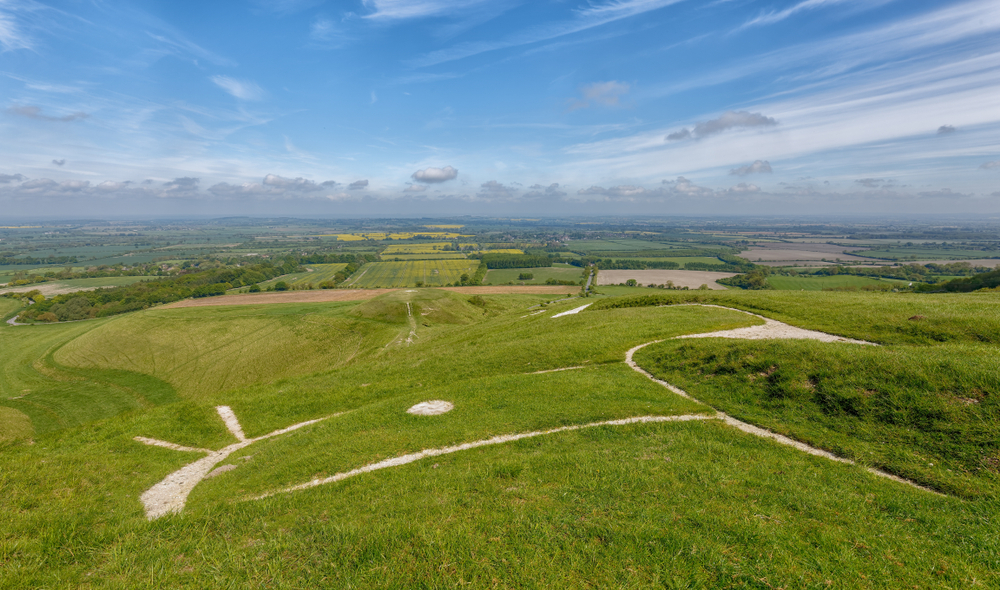 The jury is still out on exactly why ancient man carved this 110 m figure up to a meter deep in places but it is known how it came to survive to this day. Re-scouring to keep a distinct definition to the figure was incorporated into local ritual and fair gatherings since time immemorial although since the late 1800s this precious task has been put into the hands of experts and official bodies.
The Callanish Stone Circle (Isle of Lewis)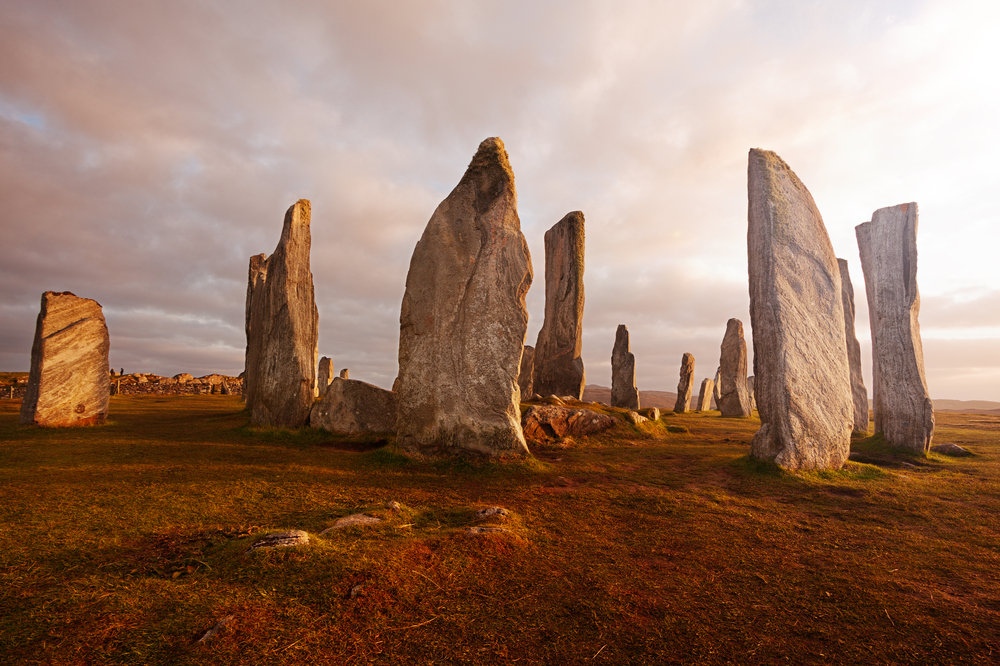 Unless you have been living in a cave all your life it is unlikely the existence of Stonehenge is unknown to you. A far lesser known fact however is that these mighty monoliths are in reality just one of over a 1,000 stone circles in the UK.
While Stonehenge might be the grandest of these Neolithic leftovers the title for the most atmospheric could easily be claimed by the Callanish Stone Circle which, like its much more famous cousin, is at least 5,000 years old.
Standing sentinel on a wildly windswept jut of land lapped by the moody waters of Loch Roag, the Callanish circle features 13 main stones and further smaller stones leading off to form a cruciform shape. In the center of the circle are a chambered tomb and a further large stone.
Just like Stonehenge, for now, the site's original purpose remains a mystery although lunar and solar calendars, sacred ritual and even alien intervention tend to figure most as theories. According to island folklore however, the Callanish stones were once giants, turned to stone when they refused to embrace Christianity.
While comparisons with Stonehenge are unavoidable one very different feature of the Callanish Stone Circle is that you can actually walk among these monoliths and touch them. Another is that having Stonehenge to yourself is highly unlikely while the Callanish site is more often than not entirely free of another soul.