Halal food in Hong Kong? Not only is there a surprisingly large variety, the standard and quality of halal dining is enticing and rather unique.
I accepted the challenge to explore Hong Kong's best halal dining in a recent nine-day trip to the Pearl of the Orient and I am happy to share six exceptional restaurants that blew my mind, and my taste buds.
Curry Wai Kee
Shop 5, Bowrington Rd Cooked Food Centre, 1/F, Bowrington Rd Market, 21 Bowrington Rd, Wan Chai
Opening hours: 11.00 – 18.00
Roast duck is a quintessential Hong Kong dish and restaurants displaying the birds hanging upside down in their windows are in abundance. Finding the halal restaurant is however not quite as simple.
My search led me to an unpretentious restaurant inside a food court of a local market in the Wan Chai area. Curry Wai Kee Restaurant is a hidden gem inside Bowrington Road Market and Cooked Food Center.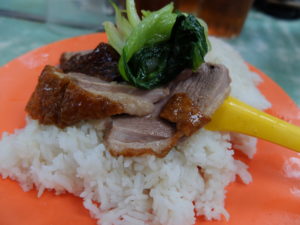 I shared a table with some friendly locals – a most common Hong Kong dining experience and part of its charm. The roast duck with rice was delicious. The rice, white and fragrant, topped with tender and juicy slices of duck resting on top. But the ultimate for me was the skin of the duck which was crispy yet moist at the same time.
Following other diners around me, I also ordered a small portion of beef curry. I did not expect anything fancy, but what arrived at my table was delightful. My Indonesian palate immediately approved the Hong Kong-style curry. Big chunks of beef and potato are served in a bowl full of spicy, creamy curry. Not too spicy but still empowering. I also tried the beef curry with the hot simmered turnip, as my fellow diners did, and ah! What a beautiful Cantonese combination!
Islam Restaurant – Curry Beef Brisket
1 Lung Kong Rd, Kowloon City
Opening hours: 11.00 – 22.45
After a brief conversation with one of the friendly staff at Curry Wai Kee about other great halal dining options, I planned a visit to Islam Restaurant in Kowloon City. He said the Northern Chinese restaurant has the best curry beef brisket in town.
Locals know best, so a short twenty minute bus ride took me to the location of the old Kai Tek Airport, Hong Kong's gateway from 1925 to 1998.
My first choice from the menu was the rather large and wide dumplings with veal goulash filling. The goulash poured out onto the plate after I halved the dumpling with my spoon in a rather satisfying manner, the same satisfaction I experienced when I put a small portion in my mouth.
Moving on to my second starter, the sour and spicy soup exploded with flavour. This was real comfort food – the soup filled with beef, cloud ear mushrooms and shredded tofu. The punch came from the vinegar and peppery broth which gave me a real lift.
In typical Hong Kong style, the supersonically fast service had a large bowl of beef brisket curry in front of me almost before I had a chance to put down my spoon. Following the waitress suggestion, I ate with a pan pot scallion. The curry was a flavour explosion. It was very spicy and hot, twice Hong Kong style curry, and the brisket melted in my mouth. I walked out of the restaurant with a warm and happy tummy.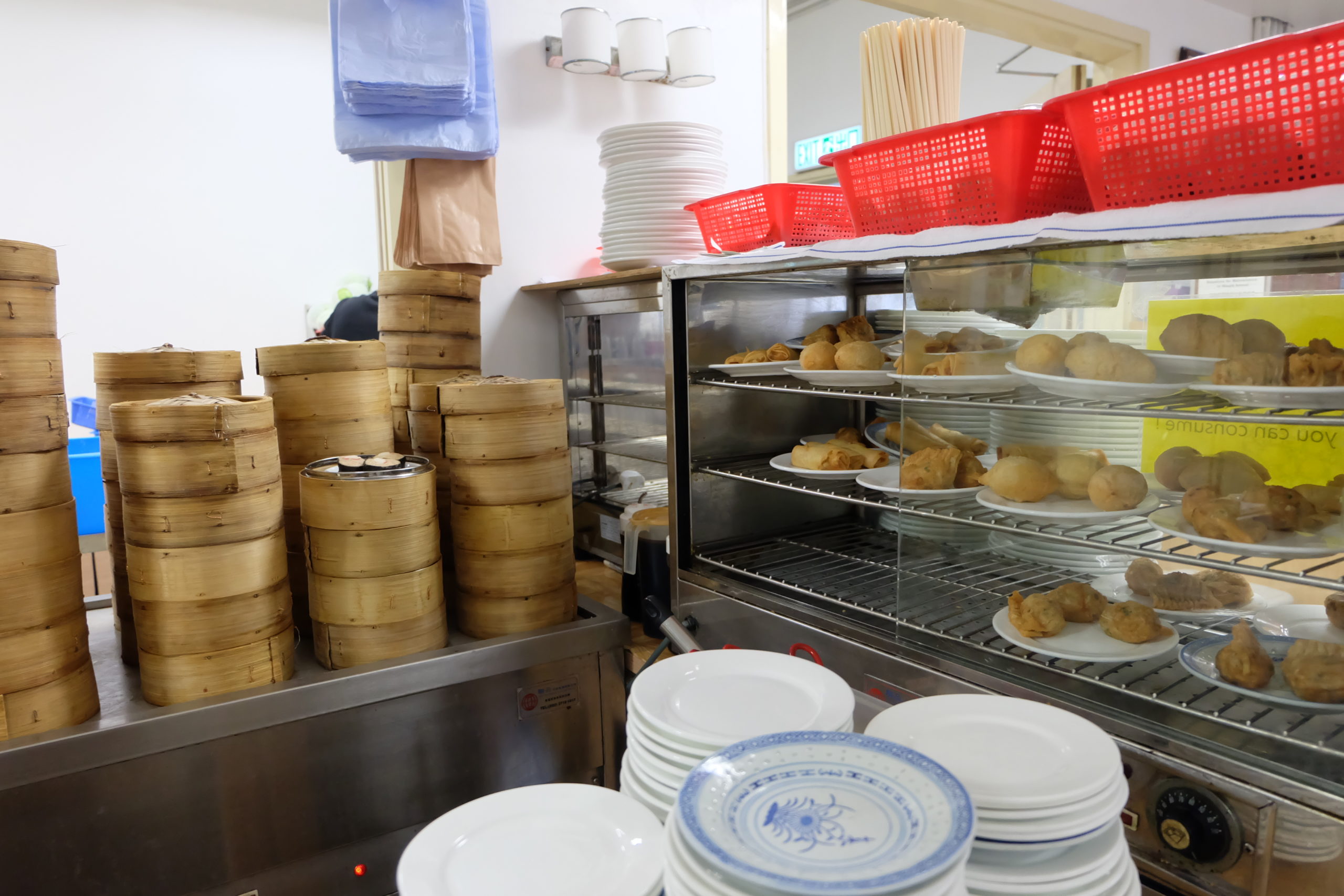 Islamic Center Canteen
Masjid Ammar and Osman Ramju Sadick Islamic Centre, 40 Salvation Amy Street, Wan Chai
Opening hours: 10.00 – 21.00
You can't visit Hong Kong without diving into dim sum. And this is a dim sum frenzy! The Islamic Center Canteen serves halal dim sum starts from 10 am and until they are sold out. I came earlier in the morning and was greeted by a friendly aunty surrounded by stacks of steamer baskets asking me which dim sum I would prefer? From the enormous variety of dim sum on the menu, I ordered siewmai, shrimp and Chinese cabbage dim sum, steamed beef balls and the fried tofu skin roll.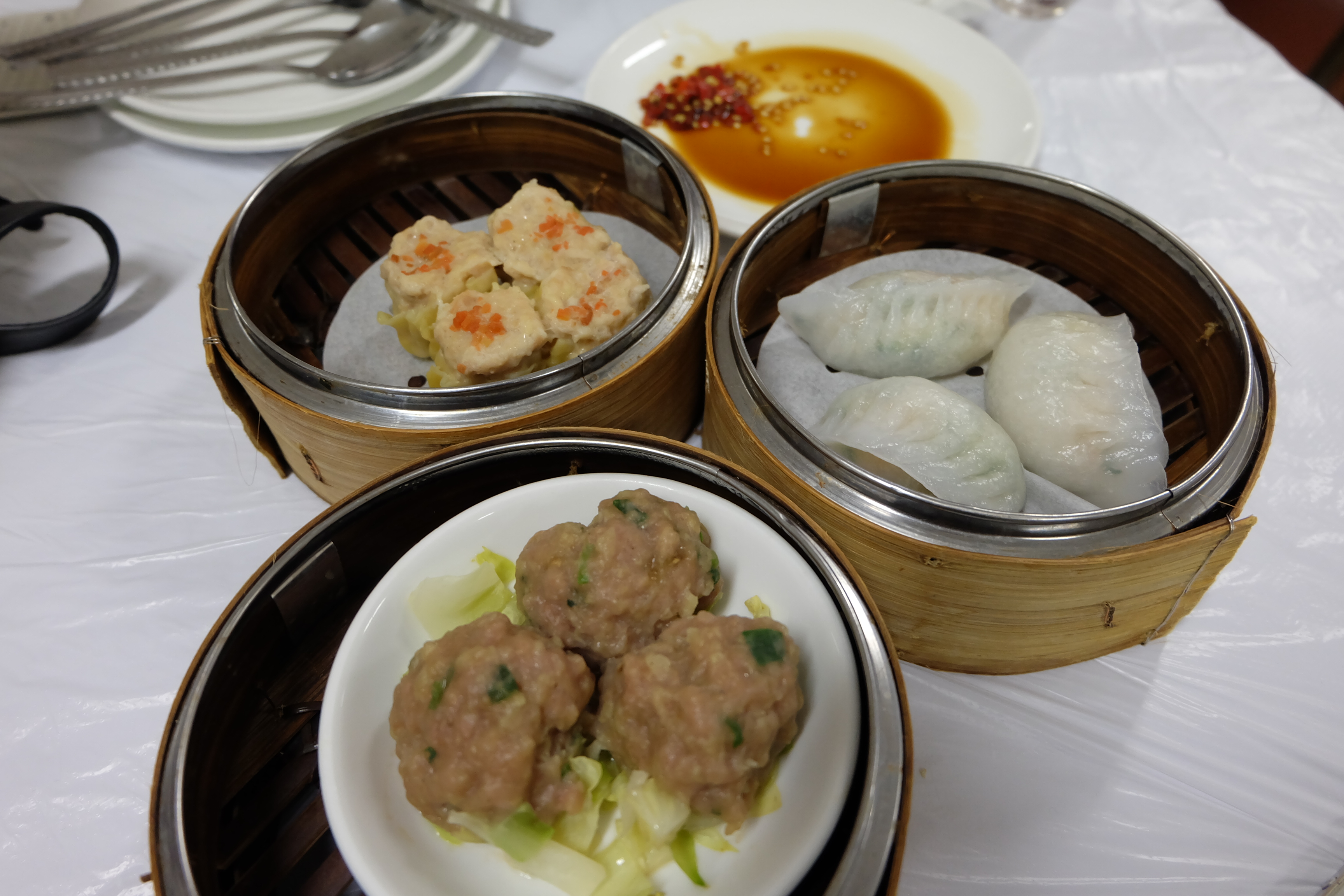 While I dipped my dim sum in the soy-chili sauce, the long flow of diners began to appear. Most come in groups and share a table talking in a variety of languages. I spotted quite a few Malaysian and Indonesian diners.
The dim sum is fantastic, and the prices are rather amazing. A basket of three dim sum costs only HK$15-20 which is around half the general price in other Hong Kong restaurants, so it's not surprising that I see the queue of prospective diners getting longer. If you miss out on dim sum time, don't worry! ICC serves a number of great Cantonese dishes, all pork and lard free.
Ma's Restaurant
21-25 Cheung Sha Wan Rd, Sham Shui Po
Opening hours: 11.00 – 22.45
Located in a quiet district, with not so many tourists, Ma's Restaurant serves up delicious Northern Chinese halal food.
My favourite from Ma's were the beef dumplings and salted fish fried rice. The dumpling is thick and tight, while its skin is soft. The texture is just right, and the serving is generous. Jumping to the salted fish fried rice, I found the shredded salted fish really consistent, very salty and savoury. It was a rather surprising addition to the small portion of fried rice.
I also tried the hot and sour soup with noodles – a common dish in Northern Chinese restaurants – and was really not mad about it. Although the noodles were slightly overcooked, I'm fairly sure I'll remember the warmth of the sour and spicy soup on that cold January night.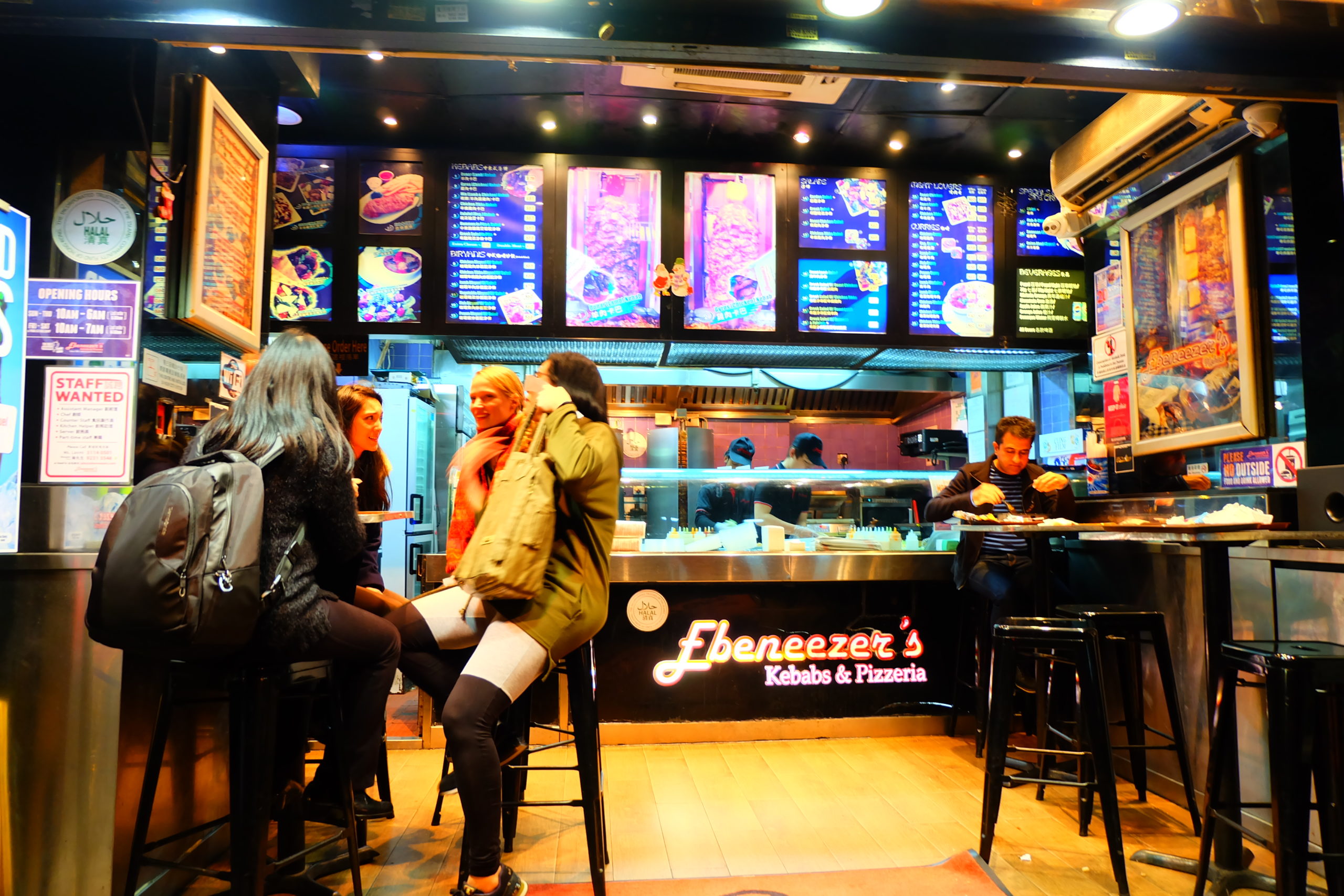 Ebeneezer's Kebab & Pizzeria
89 Lockhart Rd, Wan Chai
Opening hour: 10.00 – 05.00
Ebeneezer's Kebab & Pizzeria is a halal solution for those late night hunger pains. Many restaurants in Hong Kong close at 10 pm but Ebeneezer's outlets own the night and are open until 5am. There are a number of Ebeneezer's throughout Hong Kong, and I visited their Wan Chai outlet.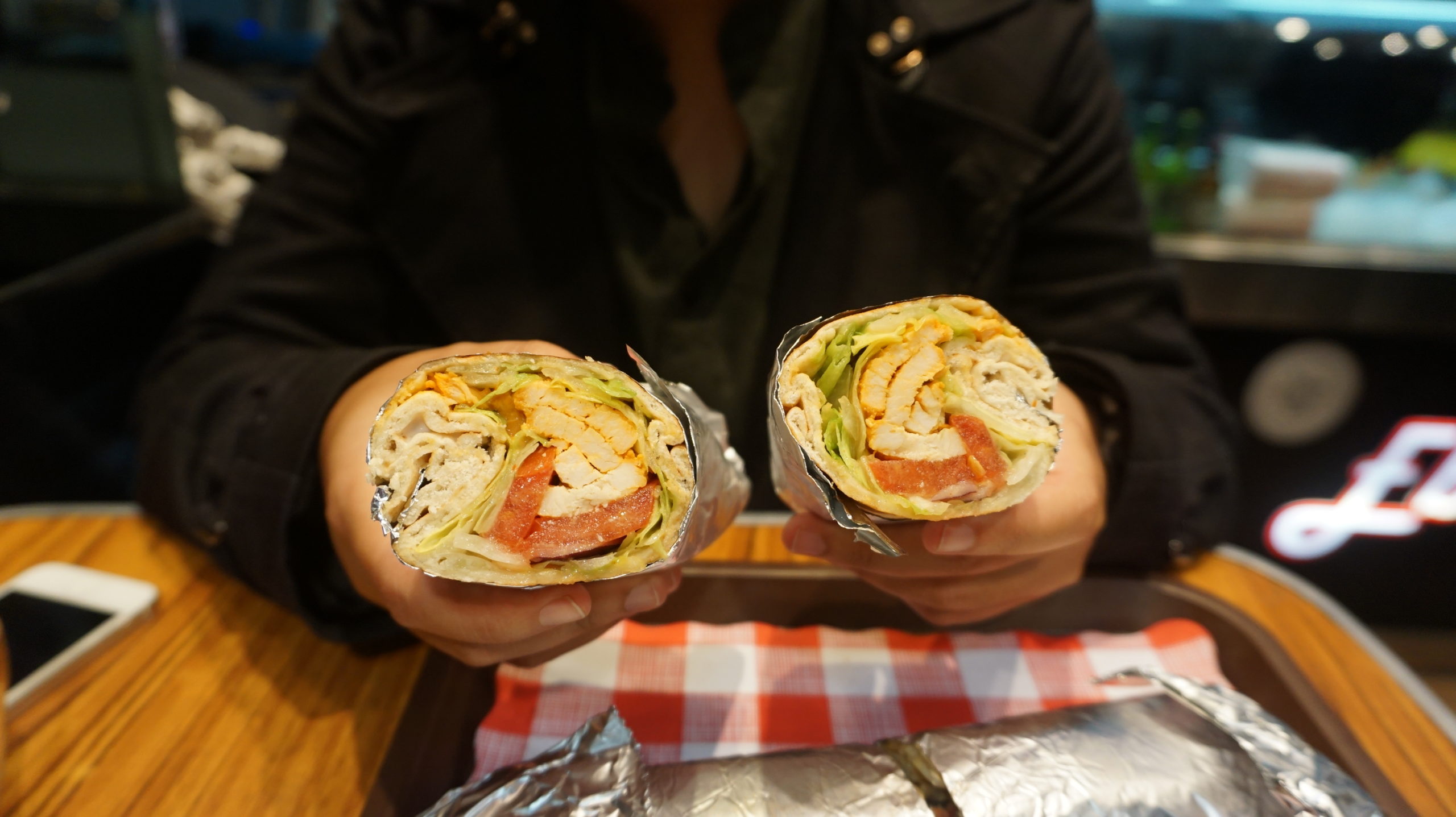 I had scanned some not so great reviews earlier online, but my experience was good. I ordered chicken tikka kebab and I found it somewhere between satisfying and great. Ebeneezer's also serves Greek salad, which is refreshing paired with meat or curry.
Aladin Mess
2/F, 60 Russell Street, Causeway Bay
Jam buka: 11.45 – 15.00, 18.00 – 22.45
Situated around the corner from busy Times Square, it's not difficult to find this restaurant with its big green neon sign. The ten-table restaurant serves authentic Indian cuisine. I tried chicken tikka masala and fish madras with garlic naan.
The herbs and spices are strong in the chicken tikka masala, its texture very creamy with large chicken chunks. With an average spice level, it's fairly safe for everyone. If you don't fancy spicy food, try the fish madras, with swordfish fillets and potato cuts, served in a mild yellow curry.
I asked the waiter for his advice for an accompanying vegetable dish and tried the palak paneer, which literally means spinach and cheese.
That was something new for me and it turns out I rather enjoy spinach puree mixed with melted paneer cheese. It's also a great way to neutralise the strong flavours of the chicken tikka masala.

Note: The restaurants above are certified by the Incorporated Trustees of the Islamic Community Fund of Hong Kong.
To find the best hotels in Hong Kong, click here, and for the best flights to get you there, click here. And go to Discover Hong Kong to find out more about this foodie paradise!