Lush green jungles, rural diversity and wild beaches – Sri Lanka is one of the most beautiful and diverse countries to explore in Asia. Nowhere in the world possesses as many UNESCO world heritage sites in as small an area as Sri Lanka. Ancient monuments and old traditions not only endure but flourish in this mystical country. The diverse array of irresistible flavours in Sri Lankan cuisine makes for an equally exciting sensory experience, complementing the country's captivating beaches, rich tea culture and boundless hospitality. 
Here are the top 5 must-see places in Sri Lanka among countless beautiful sights spread across the country that you might be interested to visit on your next excursion:
Nine Arch Bridge in Ella
Popularly known as "the Bridge in the Sky", the Nine Arch Bridge in Ella is on the Demodara loop stretching for 91 meters at a height of 24 meters. Being located in a dense jungle and agricultural setting, this place offers a very picturesque spot and is on every traveller's list coming to Sri Lanka. Tea leaves are being cultivated along the railway tracks, and the number of cafes are also strategically situated at the vantage points of the bridge.  
Yala National Park in Hambantota
Yala national park basking on the southern province of Sri Lanka is one of the most visited tourist destinations in Sri Lanka. Though The park has earned a reputation for the sake of the Sri Lankan leopard, Yala is also considered as one of the 70 crucial Bird Areas in Sri Lanka. The only way to visit the Park is as part of a Safari in one of their Jeeps, so it's advisable to book in advance. Once you enter, the landscape welcomes you with a breathtaking view of lakes, open patches of grassland, jungle and serene beauty.
Scenic Train Ride from Kandy to Ella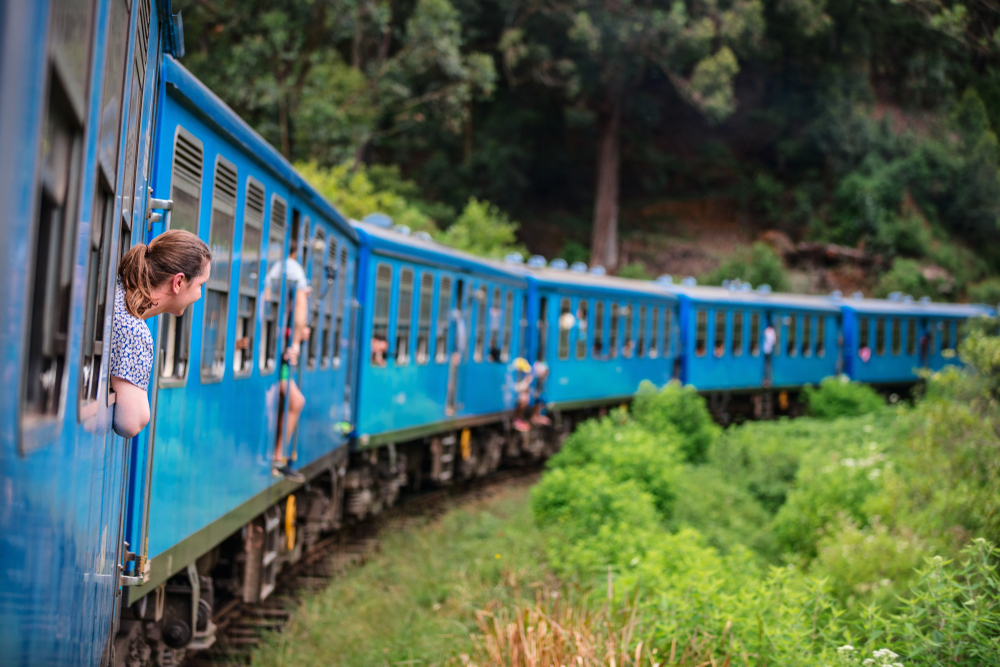 Claimed to be one of the most beautiful train trips in the world, this train ride is 7 hours long. It takes you through stunning landscapes of green lush tea plantations and mountain views. You get wide varieties of local munchies like freshly cut pineapple and mango with cinnamon, corn with salted butter, freshly made rice and curry, chilli fritters, and crispy papadums at every stop throughout the journey. We highly recommend you to pre-book tickets online to save both hassle and money.
Temple of the Sacred Tooth, Kandy

If you are up for a day of discovering new things and experiencing Buddhist life, a visit to the Temple of the Tooth in Kandy is a must. The stunning 17th-century Temple of the Tooth (Sri Dalada Maligawa) is believed to house the left upper canine tooth of the Lord Buddha himself. During puja(offerings or prayers), the heavily guarded room housing the tooth is open to devotees and tourists. Being a UNESCO World Heritage site, the temple attracts a lot of tourists and holds a great historical, cultural and spiritual significance.
Tea Plantations trekking in Nuwara Eliya
We highly recommend that you take a day stop in the beautiful picturesque town of Nuwara Eliya for a night while you take the train from Kandy to Ella. This place provides a strange but unique blend of England and Swiss Alps. Take a walk along with the beautiful tea gardens, watch dusky maidens plucking tea buds and finally buy some from local tea boutiques for yourself and your loved ones. Many tea factories also offer tea tour, which can be very insightful for the tea enthusiasts. 
Explore Galle Fort
Galle is at times known as the European city of Sri Lanka. While wandering around through the narrow streets, you might even forget that you are in Sri Lanka. It feels like walking the streets of a medieval city in Europe. Galle Fort covers an area of a total of 400 historical monuments. Starting from Old gate, moving on to clock-tower, it confines several local cafes and shops in between. The history lovers will find some of these places quite intriguing. To name some – Zwarte Fort, All Saints' Church, Groote Kerk, and Maritime Archaeology Museum.
Surf and Chill at Arugam Bay
Known as Surfers' paradise, Arugam Bay is one of the best beaches in Sri Lanka. Located on the east coast, it also hosts yearly international surf competitions. With world-famous Yala National Park located beside this, Arugam Bay is lucky to be surrounded by with loads of wildlife like monkeys, elephants, and crocodiles. Lagoon safari is a recommended thing to do when you are here. There are many small site-seeings locations placed on the beach itself like Elephant Point, Muhudu Maha Viharaya (White Temple), and Kudumbigala Monastery
So book your tickets at the cheapest fare, pre-book your stays at these locations and get ready to soak in the aesthetic beauty of "Pearl of Indian Ocean" on your next trip. The recent decision by the Sri Lankan government to provide free Visa-on-arrival for Indian surely adds the icing on the top.