This article is reviewed regularly by Wego's editorial team to ensure that the content is up to date & accurate.
Updated 21 January 2021
After months of dormancy due to the raging pandemic. The travel industry is gearing up to return to small normalcy with borders re-opening, easing quarantine requirements, and creating travel bubbles. Above all, travelers worldwide are now keen to find out if, when, and where they can travel abroad. One famous country on many travel wish-lists is Japan. Can anyone travel to Japan now?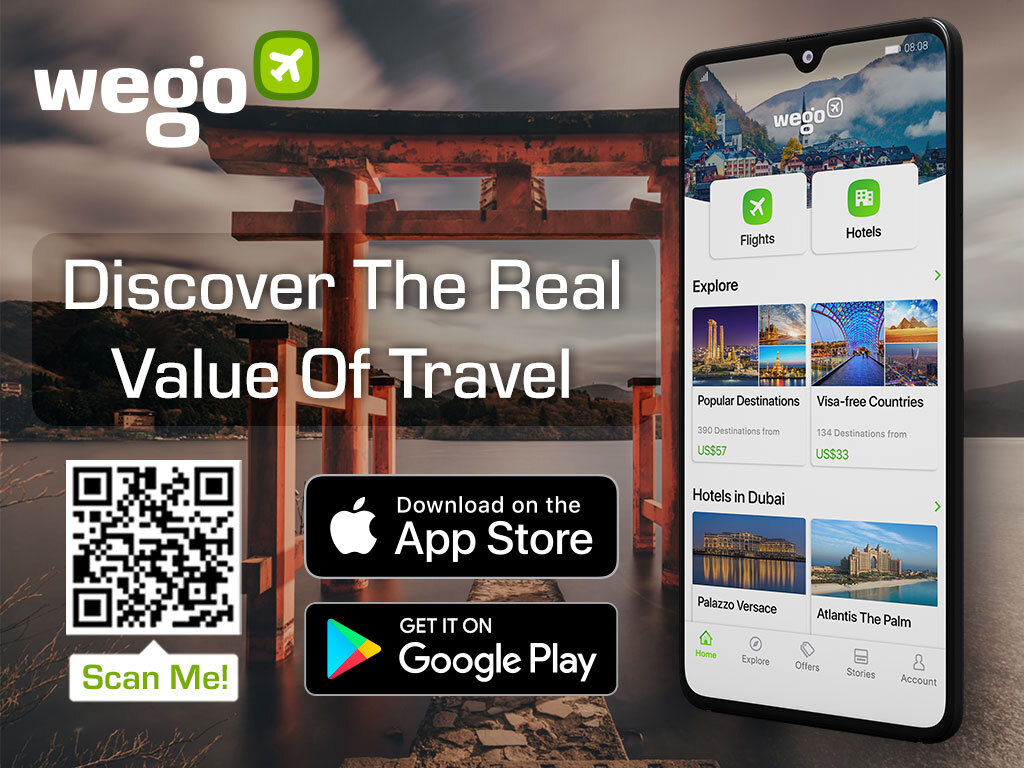 Contents
Who can travel to Japan?
Do I need to quarantine if I travel to Japan?
Are there flights to Japan now?
Japan travel bubble news & dates
Who can travel to Japan?
Citizens from countries not banned from entering Japan
Japan has restricted entry for all travelers meeting the following criteria:
Foreigners who have stayed for 14 days in the following countries before arrival in Japan:


– Asia:

Bangladesh, Federal Democratic Republic of Nepal, India, Indonesia, Kingdom of Bhutan, Malaysia, Maldives, Republic of the Union of Myanmar, Pakistan, Philippines


– North America:

Canada, United States of America


– Latin America and the Caribbean:

Antigua and Barbuda, Argentine, Bahamas, Barbados, Belize, Bolivarian Republic of Venezuela, Bolivia, Brazil, Chile, Colombia, Costa Rica, Cuba, Dominica, Dominican Republic, Ecuador, El Salvador, Grenada, Guatemala, Guyana, Haiti, Honduras, Jamaica, Mexico, Nicaragua, Panama, Peru, Republic of Paraguay, Republic of Suriname, Republic of Trinidad and Tobago, Saint Christopher and Nevis, Saint Vincent and the Grenadines, Uruguay


– Europe:

Albania, Andorra, Armenia, Austria, Azerbaijan, Belarus, Belgium, Bosnia and Herzegovina, Bulgaria, Croatia, Cyprus, Czech, Denmark, Estonia, Finland, France, Georgia, Germany, Greece, Hungary, Iceland, Ireland, Italy, Kazakhstan, Kosovo, Kyrgyz Republic, Latvia, Liechtenstein, Lithuania, Luxembourg, Malta, Moldova, Monaco, Montenegro, Netherlands, North Macedonia, Norway, Poland, Portugal, Republic of Uzbekistan, Romania, Russia, San Marino, Serbia, Slovakia, Slovenia, Spain, Sweden, Switzerland, Tajikistan, Ukraine, United Kingdom, Vatican


– Middle East:

Afghanistan, Bahrain, Iran, Iraq, Israel, Jordan, Kuwait, Lebanon, Oman, Palestine, Qatar, Saudi Arabia, Turkey, United Arab Emirates


– Africa:

Algeria, Cameroon, Cape Verde, Central African Republic, Côte d'Ivoire, Democratic Republic of the Congo, Djibouti, Egypt, Equatorial Guinea, Eswatini, Federal Democratic Republic of Ethiopia, Federal Republic of Nigeria, Federal Republic of Somalia, Gabon, Ghana, Guinea, Guinea-Bissau, Kingdom of Lesotho, Libya, Mauritania, Mauritius, Morocco, Republic of Botswana, Republic of Congo, Republic of Kenya, Republic of Liberia, Republic of Madagascar, Republic of Malawi, Republic of Namibia, Republic of Rwanda, Republic of Sierra Leone, Republic of The Gambia, Republic of Tunisia, Republic of Zambia, Republic of Zimbabwe, Republic of South Africa, Sao Tome and Principe, Senegal, The Republic of South Sudan, The Republic of the Sudan, Union of Comoros
The Government of Japan announced "Phased Measures for Resuming Cross-Border Travel" whereby it intends to establish a special quota pertaining to cross-border business travelers and others for entry into and departure from Japan, that operates separately from general procedures for cross-border travelers. For details, please check the following page.
Foreigners who have Chinese passports issued in Hubei Province or Zhejiang Province of China.
Foreigners who were on the cruise ship Westerdam departed from Hong Kong.
Citizens and permanent residence holder
The Japanese government announced the re-entry eligibility of its citizens and foreign nationals with the status of residents. Those who have left Japan with a valid re-entry permit before August 31 are now eligible to re-enter Japan from September 1.
Foreign nationals with any of the four categories of the status of residence are subjected to extra quarantine measures.
Permanent Resident 

Spouse or Child of Japanese National 

Spouse or Child of Permanent Resident

Long Term Resident (including the spouse of a Japanese national or Japanese child who does not have residence).
Upon re-entry, it is essential to present:
The Letter of Confirmation of Submitting Required Documentation for Re-entry into Japan. It is also known as the "Re-entry Confirmation Letter" obtained from the Japanese overseas establishments at the country/region where applicants reside.

The certificate of negative COVID-19 test result within 72 hours of the flight's departure time.
Do I need to quarantine if I travel to Japan?
All nationals arriving from the countries and regions listed above within 14 days before they apply for landing will be subject to PCR tests and the subsequent 14-day quarantine.
All nationals arriving from all regions need to wait 14 days at a location designated by the quarantine station chief. They will also be prohibited from using public transportation.
Are there flights to Japan now?
Since Japan had lifted its travel entry ban from select countries, airlines have been operating to Japan. Furthermore, you can find flights to Tokyo on Wego, but note that you may need to check if you're allowed to enter the country.
Japan travel bubble news & dates
Although Japan and Singapore have established a Reciprocal Green Lane (RGL) between them, on 26 December 2020, Japan announced a temporary ban on the entry of all non-resident foreign nationals into Japan from 28 December 2020 to 31 January 2021. Thus for the time being, the RGL between Japan and Singapore is temporarily suspended.
The same is true with Japan's resident and business track arrangements with countries looking to enter the country under the current framework. Both the residence and business track are temporarily suspended until further notice.