This article is reviewed regularly (on a monthly basis) by Wego's editorial team to ensure that the content is up to date & accurate.
Approaching Christmas, Berliners indulge in the time-honored tradition of visiting one or some of the traditional Christmas markets scattered throughout the city. Berliners get together in a festive congregation along with families, friends, colleagues, and even tourists no matter the temperature. The cold? A glass of mulled wine will keep the cold at bay.
This Christmas season, Berlin invites you and your family to spend an unforgettable holiday here. Take in the scent of mulled wine and roasted almonds lingering in the air, and prepare to be amazed. 
Berlin Christmas markets
Christmas market at the historic Spandau Citadel
The Spandau Citadel has been confirmed as this year's host to the traditional Spandau Christmas market. The inner courtyard of the citadel will serve as the grounds for the Christmas market as opposed to the historic Old Town due to coronavirus precautions.   
A plethora of nostalgic stalls and medieval attractions set in a riveting historical backdrop promises visitors a pleasant journey through time and traditions. Right next door, a cluster of tents invite visitors to enjoy festive meals seeding the specialities of the different German regions.
The children are of course not forgotten, historic rides such as the swing carousel await their smiles and laughter. Older children along with other visitors can look forward to highlights such as curling, ice skating, nativity scene with live sheep, winter carriage ride, medieval music, and numerous others.
Visitors may visit the Spandau Citadel Christmas market free of charge starting from 26 November to 23 December  2021 at these hours.
Monday to Thursday from 2 – 8 pm, Friday from 2 – 10 pm, Saturday from 12 – 10 pm, Sunday from 12 – 8 pm 

The citadel is open daily from 10 am
Visitors who would also like to visit more of the Spandau Citadel may do so by purchasing a ticket for EUR 4.50.
Gendarmenmarkt Christmas market
The Gendarmenmarkt Christmas market takes place at one of Berlin's most majestic squares flanked by the Konzerthaus and two almost twin churches, namely the Französischer Dom and Deutscher Dom. 
The Gendarmenmarkt Christmas market features a sea of beautifully decorated canopies and over a thousand shining Christmas baubles and lights, while the WeihnachtsZauber at Gendarmenmarkt offers artisanal decors and gifts.
Visitors may visit the Gendarmenmarkt Christmas market starting from 22 November to 31 December 2021 at these hours:
Daily from 11 AM to 11 PM, 24 December until 6 PM, 31 December.

Savings tip: 11 AM to 2 PM admission is free after that admission costs 1 euro

Admission according to the 2G regulation
Christmas Garden at the Botanical Garden
The Christmas Garden at the Botanical Garden Berlin is reserved for those looking to immerse in a tranquil and silent night accompanied by twinkling Christmas lights. You can choose to share the magical night with your family, friends, and colleagues accompanied by a glass of hot mulled wine and seasonal delicacies.
We recommend booking your tickets online prior to your visit. You can secure your tickets to the Botanical Garden here. Otherwise, visitors may visit the Christmas Garden at the Botanical Garden at these hours:
From 4.30 PM to 10 PM, from 19 November 2021 to 9 January 2022. Please note that the Christmas Garden will be closed on the following days: 22, 23, 29, 30 November and 24 and 31 December 2021.

The price of the admission ticket varies and ranges from EUR 15.50 for individuals to EUR 50 for families. 
Lucia Christmas market at the Kulturbrauerei
The Lucia Christmas market's namesake is a nod to the goddess Saint Lucia who, according to Nordic tradition, brings forth light.
Visitors can look forward to discovering Scandinavian arts and crafts in the rustic red and white wooden stalls serving glasses of Swedish Glögg. As for the children, they can delight in the sweetness of Kanelbullar, a sweet cinnamon pastry.
Visitors may visit the Lucia Christmas market starting from 22 November to 22 December 2021 at these hours:
Monday to Friday 3 PM – 10 PM, Saturday to Sunday 12 PM to 10 PM

Admission is free of charge
Christmas market at Jagdschloss Grunewald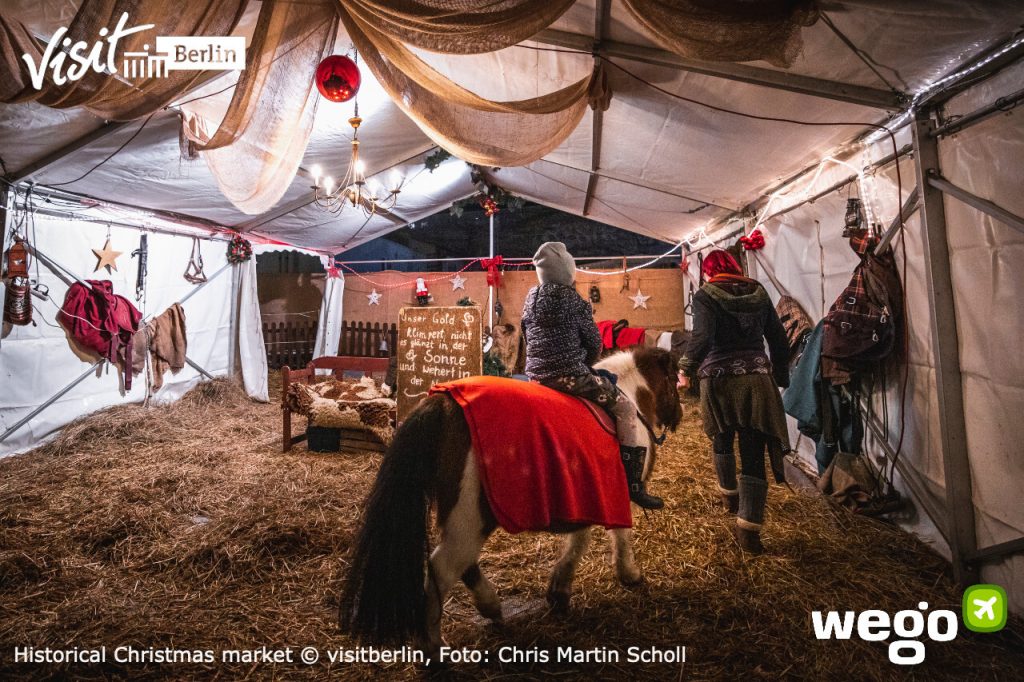 The Christmas market at Jagdschloss Grunewald is held in the courtyard of the Jagdschloss Grunewald castle, one of the oldest surviving castles in Berlin. 
The Christmas market prominently features wooden chalets, traditional decorations, handicrafts, as well as fairytale figures, the likes of Hansel and Gretel, Cinderella and numerous others. 
Visitors to the Christmas market will also be spoiled with traditional culinary delights such as fried sausages, gingerbread and roasted almonds as well as mulled wine and hot chocolate. The market at Jagdschloss Grunewald may very well be Berlin's most enchanting Christmas markets.
Visitors may visit the Christmas market at Jagdschloss Grunewald on Saturday and Sunday, 4 and 5 December 2021 at these hours:
11 AM to 7 PM

Admission is EUR 3, reduced rate EUR 2 (including castle tour), free admission for children up to 6 years of age
Merry Markthalle
Visitors to the Merry Markthalle are bound to be entranced by the various mouth-watering traditional delicacies such as bakery gingerbread, roasted almonds, deep-fried pastry, handmade sausages, organic wine and baked apples. Italy's panettone as well as Switzerland's cheese fondue are among other international Christmas delicacies featured here.
But Merry Markthalle isn't all about food; visitors will also come across fine craftsmanship in the form of handicrafts, beautiful products, and handmade items perfect as gifts or mementoes to remember your visit by.
The Merry Markthalle will be open on the four Advent weekends, 27 – 28 November, 4 – 5 December 12, 11 – 12 December, and 18 – 19 December 2021.
12 PM to 6 PM

Admission is free of charge
Berlin's current situation – essential information to know
The city of Berlin is open for both domestic and international visitors. However, in light of the pandemic, there's a number of essential information that all visitors to Berlin must keep in mind.
The 2G option model is currently in effect in Berlin. This means that public establishments the likes of restaurants, cultural institutions, and event organizers may only provide their offerings only to those who have been vaccinated and recovered. 
Children up to 12 years of age do not fall under the 2G regulation, which means they are allowed to accompany their parents to 2G restaurants and 2G events without being vaccinated or having recovered from the COVID-19 infection.
For a more detailed explanation of the COVID essentials in Berlin, please do refer to the frequently updated FAQ page.
Discovering Berlin
Berlin in winter is all about the Christmas markets and more! For those wondering how to best discover Berlin at its most festive best, you can head over to the visitBerlin website and find out more about all the best places to visit in Berlin during this time.
Itinerary ready? Secure your flight and accommodation in Berlin on Wego and find the best deals to sweeten your family travel plan this year.