This article is reviewed regularly (on a monthly basis) by Wego's editorial team to ensure that the content is up to date & accurate. 
Updated 3 November 2021
Diwali is probably one of the most awaited festivals for Hindus. The festival is considered as the celebration of the autumn harvest and the triumph of good over evil.
Expats and residents in UAE can look forward to events and subtle celebrations of Diwali in the emirates, too. Here is all you need to know about the celebration of the Festival of Lights in the UAE.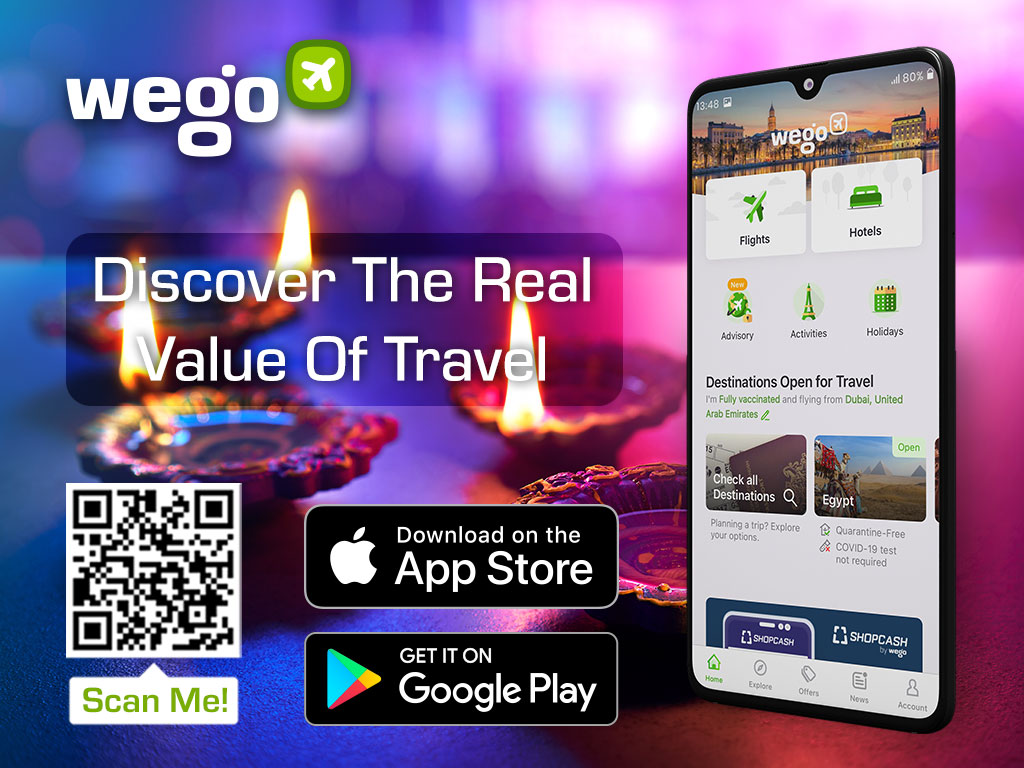 Diwali dates and calendar 2021
The date of the festival varies every year as per the Lunar calendar. This year, Diwali will be celebrated on 4 November 2021. It is also considered an official holiday in many countries.
Diwali celebrations in the UAE
The Diwali celebrations in the UAE share a lot of similarities with those of the rest of the world, albeit with some minor differences. Jains, Sikhs and some Buddhists also celebrate the festival of lights.
The preparations begin with 'Dhanteras', which includes a tradition to clean every house corner one week before the festival. People start renovating their homes, discarding useless items, and purchasing new items like kitchen appliances, electronics, clothes, vehicles, etc.
Earthen oil lamps are lit for the next five days and are meant to remove the darkness and dispel evil. The second day is also referred to as 'Chhoti Diwali'. A variety of Indian sweets and gifts are exchanged among friends and family.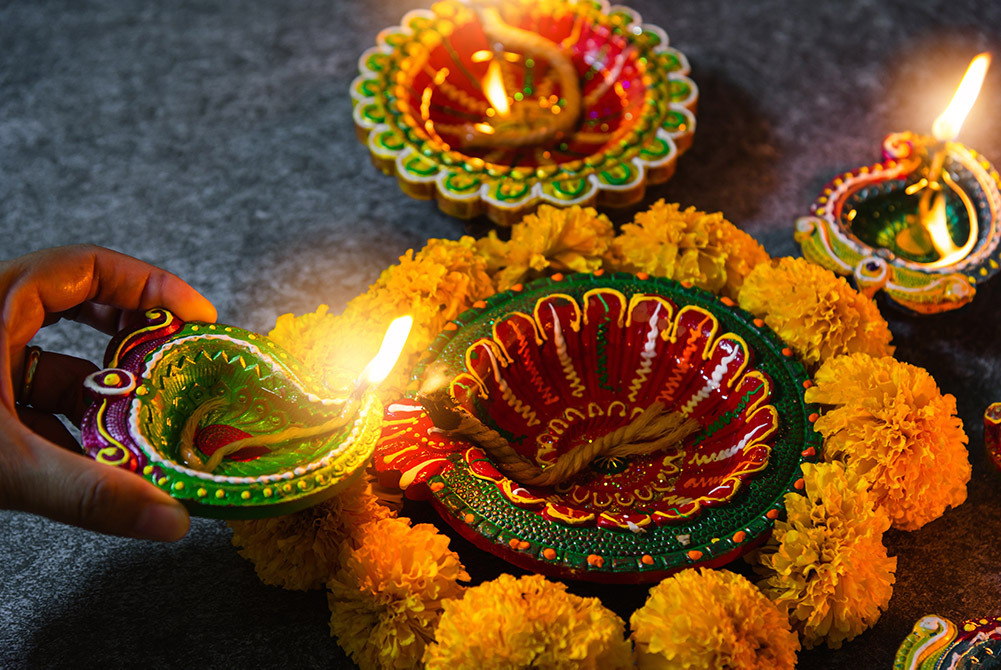 The third day or the 'Main Diwali', is when most of the festivities take place. People wear their best outfits, organize firework sessions along with parties and special events to mark new beginnings.
Decorations like rangolis (an art form using coloured sand, flowers, or other materials) are also popular ways to celebrate Diwali. The fourth day is primarily ceremonial, with many celebrations indicating the end of the harvest season.
Shopping for gold
The tradition of buying and gifting gold during the Diwali season is not a new concept. Popular jewellery stores across UAE offer eye-catching discounts and promotions to their customers on their latest collections.
Shoppers purchase gold as part of the festival's tradition and benefit from considerable savings of around 30 to 75 per cent.
Diwali bazaar and consumer sales
Dubai will be hosting bazaars and consumer sales throughout the celebratory season of Diwali.
On October 22 and 23, Jumeirah Lakes Towers in collaboration with Indian Expats in Dubai will be organizing a Diwali Bazaar at Cluster S, Lake Level JLT for all visitors wanting to shop for the festival. Multiple brands will be offering festive clothes, jewellery, decor & gift hampers all under one roof.
The festive season has also ushered in some exciting sales for those who want to shop for Diwali. The Expo Centre Sharjah has partnered with Liz Exhibitions to launch the Spring Sale 2021. It will be offering substantial discounts on various items like fashion, traditional clothes, expensive gift items, electronics, jewellery and decors during the Diwali festive season.
Places to visit in Dubai during Diwali
Al Mankool: This place in Dubai consists of a large number of ex-pats. Every year during the Diwali festival, one can see a beautiful display of streets adorned with sparkling lights.
Bur Dubai: A famous Souq area for shopping and fireworks display during Diwali. The other places famous for Diwali shopping in Dubai are the Dubai Mall, Wafi Mall, Deira City Centre, Mall of Emirates and Al Seef's Diwali Mela.
Burj Khalifa: The tallest skyscraper in the world puts up a show of lights and sound to send out a heartwarming Diwali message to the audience.
Dubai Creek: Thousands of people flock here with friends and family for a mind-blowing display of fireworks. This place also happens to be the only area fireworks are allowed in the city during Diwali.
Bollywood Parks Dubai: This place airs various shows and famous Bollywood movies along with concert performances by favourite artists.
The Pointe at Palm Jumeirah: hosts an array of grand fireworks displays for onlookers.
Places with special Diwali menus in Abu Dhabi
Diwali is a festival of lights, celebrations and exceptional food. Given below are some of the places in Abu Dhabi that will be having a special menu and celebration on the auspicious occasion of Diwali:
Punjab Grill: For any person in Abu Dhabi looking for a special menu on Diwali, Punjab Grill is offering a noteworthy menu filled with dishes specially curated by chef Sandeep Ali. Masala maska bun, pulled Tindle chicken raj kachori, kheema mutter karanji, motichoor laddoo with chocolate cake, and more will be included in the restaurant's unique menu.
Available- daily, until November 10; Timings- 12.30 pm-midnight; Location- Punjab Grill, The Ritz-Carlton Abu Dhabi, Grand Canal; 02 449 9839 
Namak: Kunal Kapur's popular Indian restaurant, Namak in Abu Dhabi, is all set to feature a special dinner for the auspicious occasion of Diwali. Konkan prawn masala and murgh tikka kheema masala featuring in the non-vegetarian menu, and subz begum bahar featuring in the vegetarian menu, complemented with some imarti and saffron mawa rabri are some of the special dishes for the night. 
Available- Wednesday to Saturday, November 3 to 6; Timings- 7 pm-11.30 pm; Prices- Dh149 for the vegetarian option, and Dh169 for the non-vegetarian option; Location- Dusit Thani Abu Dhabi; 026988137
Rangoli: A restaurant named after the traditional Indian art-form, Rangoli is gearing up to feature a special menu that has been exceptionally curated for the diners to experience a culinary journey through India. Murgh tikka, dum biryani, pulao, rasmalai, complemented with a colourful rangoli display for photo opportunities, will be available on site. Apart from this, the restaurant will also be displaying a masala chai station,
Available- Thursday to Saturday, November 4 to 6; Timings- 6 pm-11.30 pm; Price- Dh189; Location- Yas Island; 026564000
Martabaan: A classic Indian dining destination, Martabaan has been preparing to feature a fine-dining menu for the celebrated occasion of Diwali. From mint salmon with chonka prawns, lamb chop with beet to lamb biryani, murg makhana, complemented with exceptional desserts such as badami sharifa rabdi and teen halwe ka malpua are some of the special dishes included in the menu. The restaurant will have different options for vegetarians. Apart from this, the restaurant is also offering sweet boxes at prices starting from Dh206. The sweet boxes will be available till Friday, 
Available- Wednesday to Saturday, November 3 to 5; Timings- 1 pm-10 pm; Price- Dh350 per person; Location- Emirates Palace, Abu Dhabi; 026907999
India Palace: Available in gold or blue finishings, the India Palace restaurant chain has launched specially curated sweet boxes for the festival of lights. Customers will have the opportunity to choose from the three options- standard, classic and royal boxes filled with a variety of Indian sweets. 
Available until stocks last; Prices from Dh65 per box; outlets across the UAE; 050 444 6087.