This article is reviewed regularly (on a monthly basis) by Wego's editorial team to ensure that the content is up to date & accurate. 
Updated October 2022
Diwali is probably one of the most awaited festivals for Hindus. The festival is considered the celebration of the autumn harvest and the triumph of good over evil.
Expats and residents in UAE can look forward to events and subtle celebrations of Diwali in the emirates, too. Here is all you need to know about the celebration of the Festival of Lights in the UAE.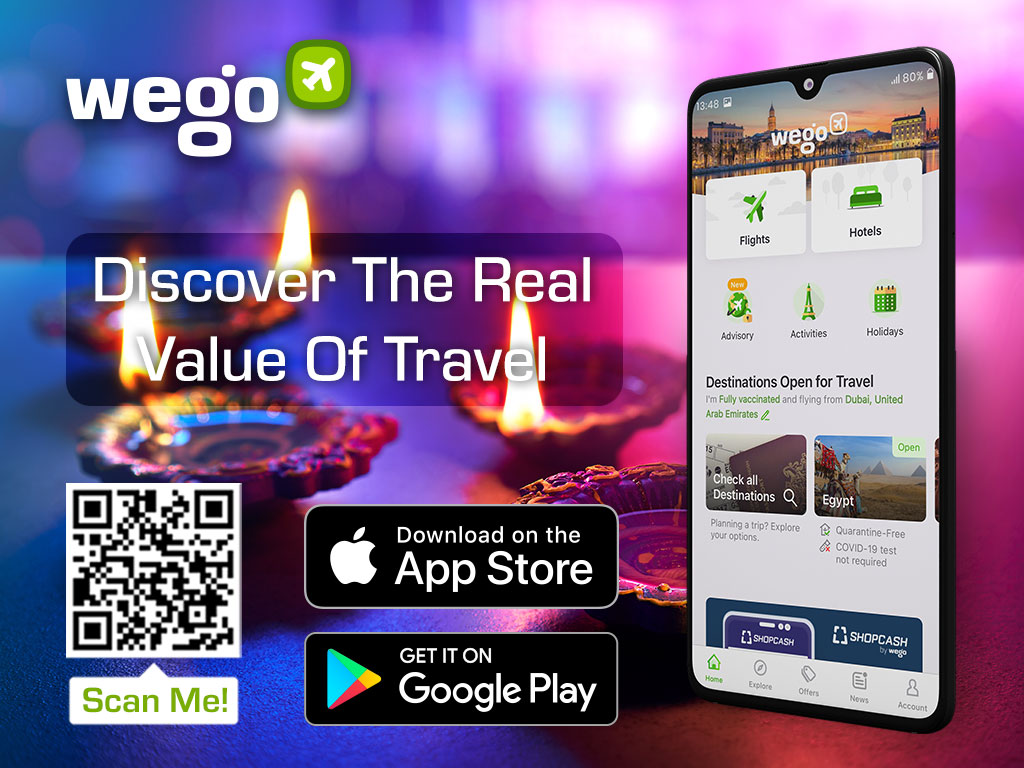 Diwali dates and calendar 2022
The date of the festival varies every year as per the Lunar calendar. This year, Diwali will be celebrated on 24 October 2022. It is also considered an official holiday in many countries.
Diwali celebrations in the UAE
The Diwali celebrations in the UAE share a lot of similarities with those of the rest of the world, albeit with some minor differences. Jains, Sikhs and some Buddhists also celebrate the festival of lights.
The preparations begin with 'Dhanteras', which includes a tradition to clean every house corner one week before the festival. People start renovating their homes, discarding useless items, and purchasing new items like kitchen appliances, electronics, clothes, vehicles, etc.
Earthen oil lamps are lit for the next five days and are meant to remove the darkness and dispel evil. The second day is also referred to as 'Chhoti Diwali'. A variety of Indian sweets and gifts are exchanged among friends and family.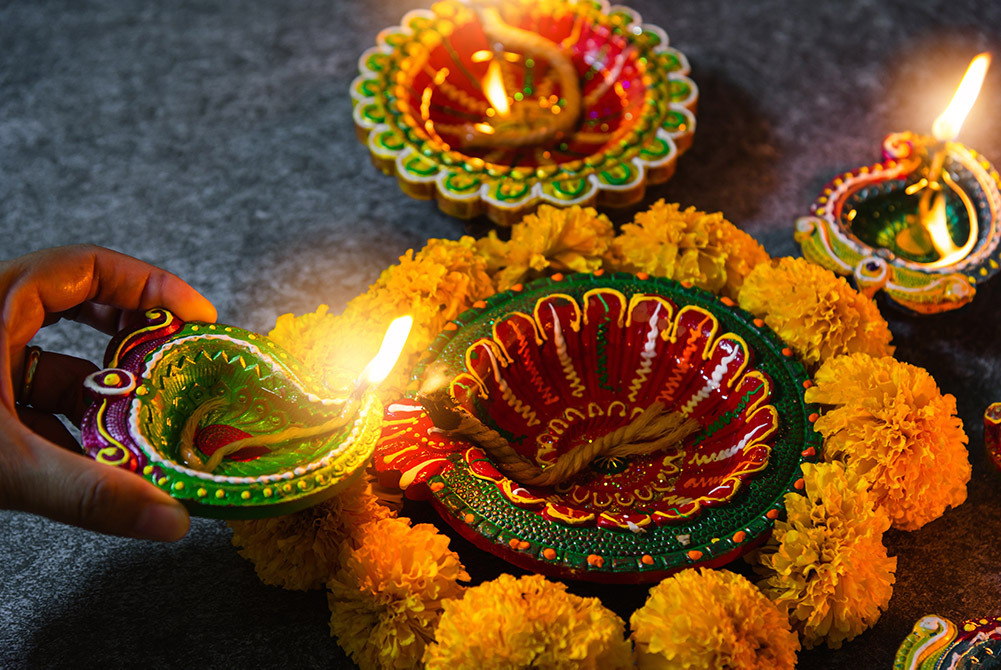 The third day or the 'Main Diwali', is when most of the festivities take place. People wear their best outfits and organize fireworks sessions along with parties and special events to mark new beginnings.
Decorations like rangolis (an art form using coloured sand, flowers, or other materials) are also popular ways to celebrate Diwali. The fourth day is primarily ceremonial, with many celebrations indicating the end of the harvest season.
Special Diwali displays at Al Wasl Dome
Illuminating the heart of the Expo City Dubai, special Diwali displays will be held at the al from 22 October to 23 October 2022.
The 'Expressions' series will illustrate how small ideas and simple sounds can lead to great symphonies, cutting-edge architecture and moving poetry.
Apart from this, visitors will be transported on an epic adventure as they stand beneath constellations, fly weightlessly across galaxies, and touch the face of Mars through the projections of another spectacular display 'the Cosmos'.
From a drop of rain to the beating of a butterfly's wing, 'Nature' shows illustrate the interconnectedness of the world, allowing visitors to enjoy the vibrant beauty of land and sea as a reminder to live sustainably.
Grand Diwali celebrations in Dubai
Promising the biggest lineup of Diwali celebrations in Dubai the details for the two-week-long celebrations running from 14 October to 28 October 2022 have now been announced by the Dubai authorities.
There's no place like Dubai to celebrate the Festival of Lights✨

Colorful events, amazing deals, and family-friendly entertainment are waiting for you this Diwali citywide from 14-28 October. pic.twitter.com/AaDlifkXjG

— Celebrate Dubai (@CelebrateDubai) October 10, 2022
From dazzling fireworks display, raffles giving out a 1-year-rent-free apartment, a massive and spectacular water and light show to gold prizes and several other promotions and festivities across the emirate, Dubai is all set to hold an extravagant Diwali celebration for the year 2022.
Record-breaking water and light show
The major highlight of the Diwali celebrations in Dubai will be a record-breaking water and light Imagine show at Dubai Festival City Mall specially choreographed for Diwali and synchronised with the fireworks display on 23 October.
Grand prizes with a chance to win gold
Dubai's Diwali celebrations are set to offer some grand prizes including a chance to win a 1-year-rent-free apartment for shoppers who spend over Dh250 at Burjuman. Furthermore, 30 lucky shoppers buying gold jewellery worth Dh500 from participating outlets can take home an equal share of Dh150,000 in jewellery shopping vouchers.
Additionally, Dubai Shopping Mall has announced 20 grams of 24-karat gold coins valued up to Dh100,000 in total for 20 shoppers making purchases worth Dh200 from various participating malls. Several other impressive awards including gold coins and vouchers have also been announced.
Tribute to the Indian culture & heritage
Offering tribute to the Indian heritage, the Global Village in Dubai will represent the best of Indian traditions, culture and food at India Pavilion. Hosting a variety of Bollywood shows, crafts, and performances, the Global Village will also allow residents and tourists can shop for unique items and special gifts from more than 240 stalls selling the finest Indian handicrafts and artefacts.
Shopping for gold
The tradition of buying and gifting gold during the Diwali season is not a new concept. Popular jewellery stores across UAE offer eye-catching discounts and promotions to their customers on their latest collections.
Shoppers purchase gold as part of the festival's tradition and benefit from considerable savings of around 30 to 75 per cent.
Diwali bazaar and consumer sales
Dubai will be hosting bazaars and consumer sales throughout the celebratory season of Diwali.
The IED Diwali Mela will be celebrating its 6th edition on 24 September 2022 from 12:00 PM to 10:00 PM. As part of the Diwali festivities, the bazaar will be held at Doubletree by Hilton hotel in Al Mankhool. Run by Indian expats in Dubai, IED Mela will feature a range of items including jewellery, apparel, skincare, footwear festive décor, home décor, and much more. Visitors can expect over 80 exhibitors coming together under one roof.
Places to visit in Dubai during Diwali
Al Mankool: This place in Dubai consists of a large number of ex-pats. Every year during the Diwali festival, one can see a beautiful display of streets adorned with sparkling lights.
Bur Dubai: A famous Souq area for shopping and fireworks display during Diwali. The other places famous for Diwali shopping in Dubai are the Dubai Mall, Wafi Mall, Deira City Centre, Mall of Emirates and Al Seef's Diwali Mela.
Burj Khalifa: The tallest skyscraper in the world puts up a show of lights and sound to send out a heartwarming Diwali message to the audience.
Dubai Creek: Thousands of people flock here with friends and family for a mind-blowing display of fireworks. This place also happens to be the only area fireworks are allowed in the city during Diwali.
Bollywood Parks Dubai: This place airs various shows and famous Bollywood movies along with concert performances by favourite artists.
The Pointe at Palm Jumeirah: hosts an array of grand fireworks displays for onlookers.
Dubai Festival mall: For everyone who visits the region, a special performance is planned that will feature a complex display of laser, fire, water, and other projections on Sunday, October 23, 2022, at 8:30 p.m.
Hiton Yas Island: On October 29, 2022, from 6 p.m. to 11 p.m. at Capila Pool Bar & Grill, cultural events, scrumptious food, and a stunning light show will be there and an animated 3D projection and a grandiose firework extravaganza at Yas Bay will be shown for the onlookers.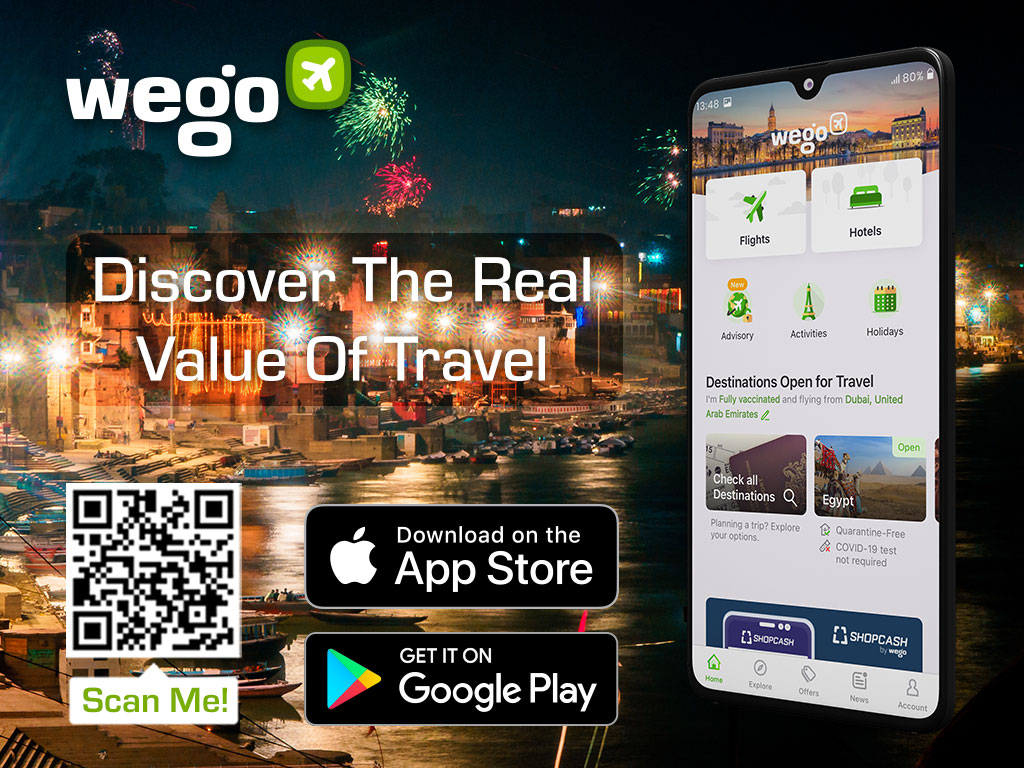 [Total:

266

Average:

4.8

]