Words by Maresa Manara 
Travelling the world is about seeing new places, dining out and sampling food you might never have tried. Yet for Muslim travellers, finding Halal-certified places to eat isn't always easy. Luckily, in Australia you can find halal food in many major cities which means there are plenty of places to try while you're on holidays. Here's our pick of the best.
In Canberra, Samiuz Ristorante and Pizzeria (3/57 Benjamin Way, Belconnen) is the kind of local Italian trattoria that wouldn't be out of place in Rome. All the classics are on the menu, including a creamy beef carbonara pasta, and one of the best spaghetti marinaras we've had outside Italy.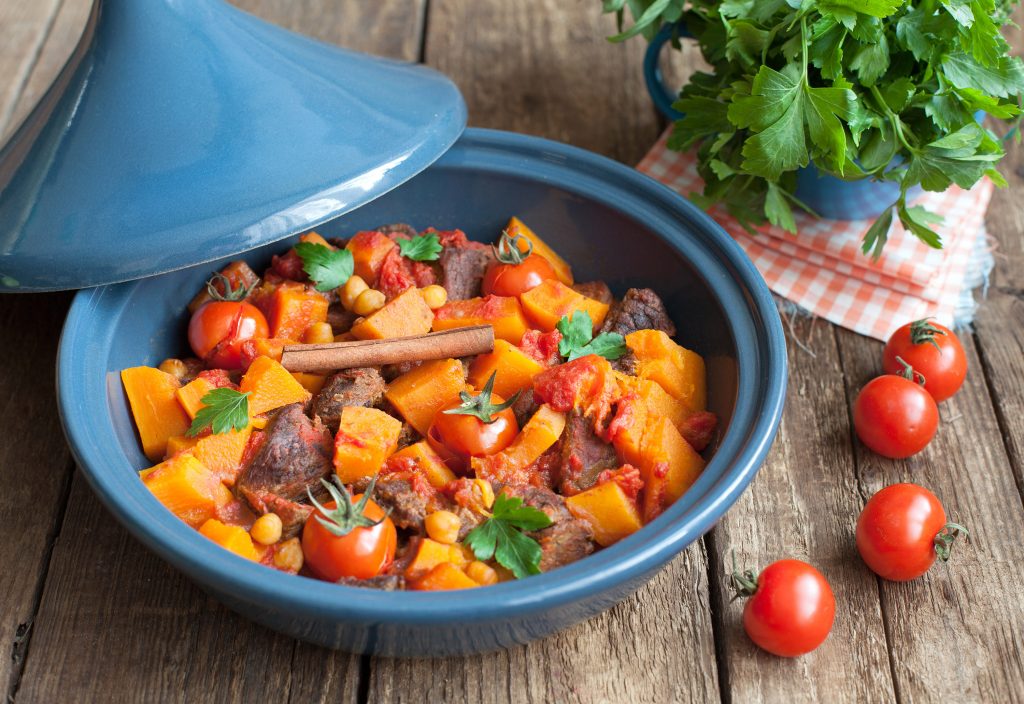 Over in Adelaide, Moroccan cuisines is your best bet when going for a Halal meal. At Marrakech Moroccan (91 O'Connell St, North Adelaide), the chefs serve tagines of lamb, beef and chicken – all certified Halal. Don't miss the Afrah Tangine (lamb with cinnamon, honey, prunes, roasted almonds and sesame seeds).
If you're staying in Brisbane, head to Mecca Bah (21/1000 Ann St, Fortitude Valley) for Middle Eastern dining in stylish surroundings. The ever-changing menu features dishes such as calamari cooked in paprika and falafel made with sweet potato, and chicken tagine with cinnamon, sesame and honey.
Across town, Mado Turkish Restaurant (15 Tribune St) is something of a Brisbane institution – and it's not hard to see why. This is a place that knows its food, with dishes such as roasted red peppers and bowls of creamy hummus to start, followed by chargrilled chicken wings, lamb drizzled in yoghurt and lemon, or barramundi skewers served with salad.
In Australia's Top End, Darwin's Sari Rasa (6/24 Cavenagh St) does some of the country's best Indonesian cuisine. Join the lunchtime queues for a bowl of Halal- certified beef curry and green beans, with sambal, or head to Sumatra Cafe in Smith Street Mall for piping-hot bowls of whatever curries are fresh that day – think beef rendang, or the ever-intriguing jack fruit curry.
In Hobart, Tasmania, locals take their food seriously. The Saffron Indian (2/15 Hunter St) draws people from all over the city, thanks to its charming menu of North Indian dishes like Lamb do Piazza (lamb with onions and coriander) or the popular Dal Makhani.
Home to buzzing street food stalls and some of the world's best restaurants, Melbourne's reputation as Australia's culinary capital is well deserved. There are plenty of Halal restaurants here, but it's Abla's (109 Elgin St) that truly stands out. The popular Lebanese eatery serves mezze to start followed by a comforting list of the usual classics: mixed grill, kibbee (balls of minced lamb with pine nuts), and shish taouk (marinated chicken skewers). Order the home-made baklava to finish.
In Western Australia, Perth's Tamarind Café (20/40 St Quentin Avenue) takes you on a culinary journey to Indonesia, thanks to their excellent beef and chicken Javanese satay dishes. Don't miss the ginger and lime crème brulee with coconut ice cream – it's cool, creamy, and the perfect way to end the meal.
Dining out is a Sydneysiders' favourite pastime, so it's no surprise there's myriad Halal options in the city. Efendy (79 Elliott St, Balmain) serves top-notch Turkish cuisine made from all local produce (think barrel ages feta with melon or house cured beef pastirma with pickled wild cucumbers, followed by beef and pistachio kofte with white beans and tahini) in a mesmerizingly beautiful space. No matter what your preferred cuisine, there's a restaurant to suit every Halal traveller.
Images credit: shutterstock.com
(Some of this information was based on Halal restaurants list published in www.tourism.australia.com)