Words by Riaan Jacob George
The luxury traveller is spoiled for choice on the islands off the coast of Queensland.
From exclusive yacht charters to designer suites; private island hotels to panoramic golf courses and bespoke dining experiences, the options are endless.
With the Great Barrier Reef as a backdrop, the discerning, luxury connoisseur is left asking for more. Fly to the Whitsundays from Brisbane, Sydney, Melbourne or Cairns into Hamilton Island or Proserpine airport, and enter the wonders of the Great Barrier Reef islands. We handpicked ten of our favourite and indulgent experiences you must see to believe.
Fashion meets luxury at One&Only Hayman Island
When a powerhouse designer joins hands with what is possibly the most luxurious island resort in Australia, a creative explosion, in the most stunning of settings is born!
Diane von Furstenberg's uber-trendy two-bedroom penthouse at the One&Only Hayman Island is a tasteful mix of refinement and edginess. A personal butler, pillow menu, access to water sports and complete privacy are just some of the other perks. Insider's tip – if you plan to make an entrance, arriving at Hayman in the resort's private helicopter might suit.
Golf with a view on Dent Island
Situated just ten minutes off Hamilton Island, with regular ferry connectivity, this 18-hole course was designed by golf champion, Peter Thomson. Dramatic would be a mild way to describe this stunning course, which seems to hang off cliffs, straddle valleys and overlook the ocean, making for an unforgettable golfing experience, coupled with 360-degree views of the Whitsunday Islands. Apr¨s-golf drinks or a meal in the airy Clubhouse are a must-do.
Understated island luxury at qualia, Hamilton Island
If you want to see and be seen, this is certainly not the place for you. qualia, located on the northern end of Hamilton Island, is all about discretion and isolation. What's more, if you're a guest at the qualia, make the most of the reserved-only-for-you beachside lounges at the nearby Pebble Beach. Privacy is the key word here!
Seaplane and picnic at Whitehaven Beach
A veritable white haven, this jewel of the Whitsunday Islands is considered to be one of the most beautiful beaches in the world. Live life like a jetsetter and allow yourself to be whisked away on a private seaplane for the day. With you in the passenger seat, the pilot will glide over the spectacular Hill Inlet and Whitsunday Islands, before coming in to land at the isolated Whitehaven Beach. Disembark and enjoy a gourmet-style picnic "" did we hear someone say Australian sparkling wine?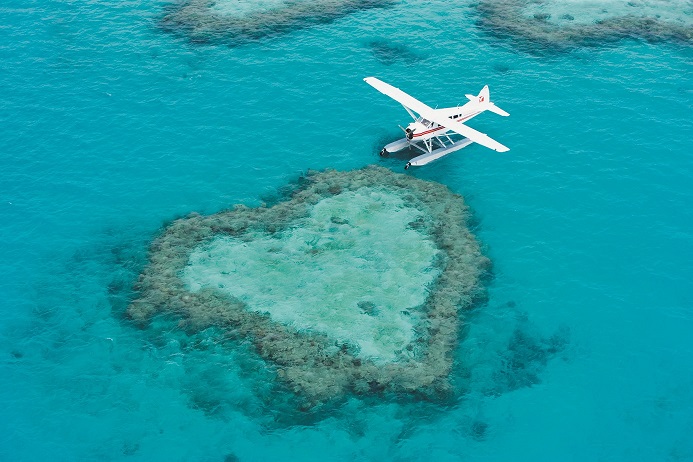 Soar over Heart Reef
As you might have guessed, the Heart Reef, shaped like a heart, has now become a trademark "postcard image" for the Great Barrier Reef. Board one of Air Whitsunday's private scenic flights which hovers over the Heart Reef before flying over other picturesque parts of the reef. Crystal blue waters and reefs that nature appears to have designed with artistic perfection "" a perfect combination!
A private picnic on Langford Island
Since secluded picnic spots are the vacation pastime du jour, we discovered the upscale Langford Island, located just off Hayman Island, at the far end of the Whitsunday Islands. Langford Island is perfect for a day out, picnicking on the virgin beach, perhaps even indulging in a spot of snorkelling or swimming. The sand bank on this island is its unique feature and makes for a perfect relaxation spot, when the tide is low. If you're looking for total solitude, this is the place for you.
Sustainable and barefoot luxury of Bedarra Island
These days, sustainable luxury is being increasingly discussed among conscious travellers. And justifiably so! On Bedarra Island, there are no more than eight villas, surrounded by thick, tropical rainforests, making for an ideal experience of barefoot luxury.
From using eco-friendly treatments in the swimming pool, to harvesting tropical rainwater, reduction of any chemical use across the island, promoting solar energy, conducting a re-vegetation drive and even growing a vegetable garden on the island, Bedarra is going all out to push its sustainability efforts. Luxury with a conscience!
Scuba dive the Reef
While this might be the most predictable thing to do when visiting the Great Barrier Reef, there's no denying that the thrill of actually plunging into the water and swimming amidst hundreds of fish, marvelling at the natural wonder that is the Reef is far greater than your wildest imaginations. If you've never tried a scuba dive before, now's a good time to do a basic course.
Dining with the tides on Orpheus Island
An isolated island, comprising a National Park and a Marine Park, Orpheus Island is an understated getaway for the nature-lover and luxury seeker. Some of the perks of this island include fishing, snorkelling, diving and even day trips to the nearby Hinchinbrook Island. However, our pick for the must-try "Orpheus experience" is the Dining With The Tides, where you can design your own six-course gastronomic menu, which will be served to you in the private setting of the pier, surrounded by the ocean.
Fishing charters on Lizard Island
Curious to know how the name Lizard Island came about? Walk around and you will come across plenty of monitor lizards. A signature experience on the island is to charter a luxury vessel such as the 51-foot MV Fascination. The yacht is anchored at Lizard Island and is ideal for private fishing, diving and snorkelling charters.
Do it! Plan your luxury indulgence in one of the most beautiful parts of the world – Queensland. You know you deserve it!
Find great flights to Queensland from India here, from Singapore here and from Malaysia here, and indulge away!
Images courtesy of Tourism Australia.