This article has been reviewed by Wego's editorial team to ensure that the content is up to date & accurate.
Updated August 2023
Malaysia is a country that offers a unique blend of natural beauty, rich culture, and modern cities. The diverse landscapes of Malaysia include lush rainforests, beautiful beaches, and stunning mountains while its culture is just as diverse and enticing.
With such an impressive pedigree, every traveller should be checking out Malaysia right now. Moreover, Malaysia's visa process is straightforward for most countries, and the e-visa is making things even simpler.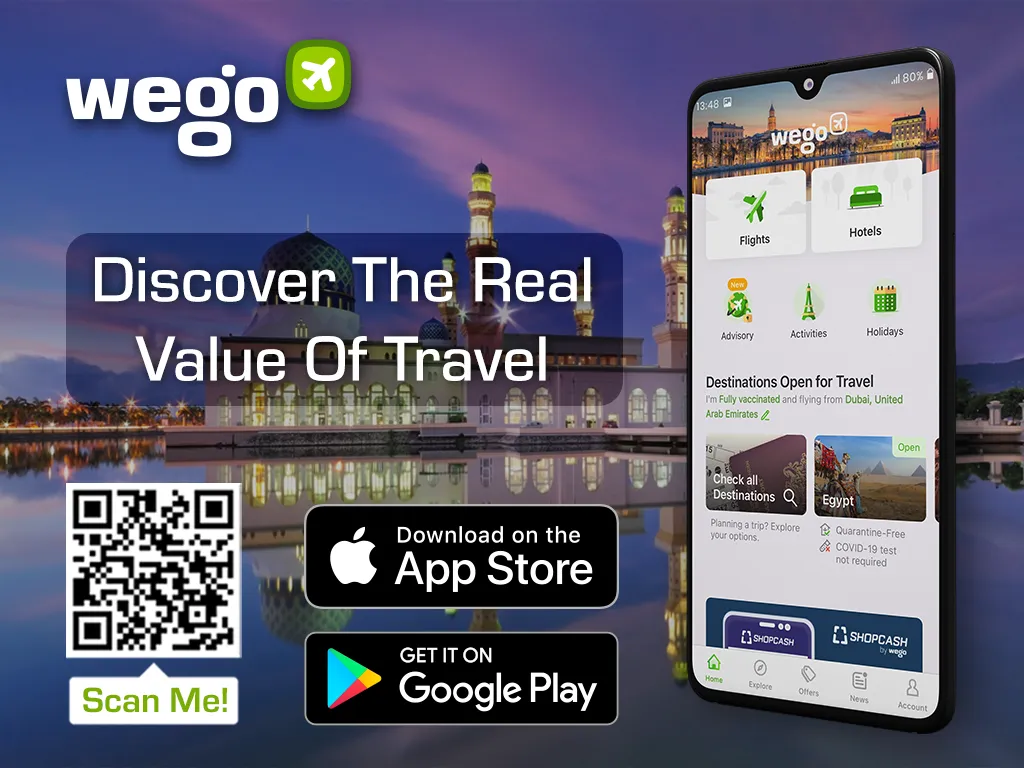 Malaysia e-visa
A Malaysia e-visa is an electronic visa that allows eligible foreign nationals to enter and travel within Malaysia for tourism, business, or medical purposes. It can be obtained through an online application process and is valid for a specific period of time. The Malaysia e-visa conveniently eliminates the need to apply for a traditional visa at a Malaysian consulate or embassy.
Book cheap flights to Malaysia
Malaysia e-visa eligible countries
As per the Malaysian government portal, countries eligible for the Malaysian e-visa are as follows:
Afghanistan (VDR)

Angola

Bangladesh

Bhutan

Burkina Faso

Burundi

Cameroon

Central African Republic

China

Colombia

Congo Democratic Republic

Congo Republic

Djibouti

Equatorial Guinea

Eritrea

Ethiopia

Ghana

Guinea-Bissau

Hong Kong (C.I/D.I)

India

Ivory Coast

Kosovo

Liberia

Mali

Montenegro

Mozambique

Myanmar

Nepal

Nigeria

Niger

Pakistan

Rwanda

Serbia

Sri Lanka
Malaysia e-visa application
Malaysia e-Visa can be applied from countries all around the world except Malaysia, Israel, and North Korea. You can start your online application process on the official website of Malaysia Visa.
First-time applicants are required to select the "I'm New" option to start their application process.
Existing applicants are required to click on "Returning User" to return to their account.
Below are the required documents for your Malaysia e-Visa application:
Required documents
passport-sized studio photo
passport biodata page with passport validity of more than six (6) months from the travel date to Malaysia
confirmed return flight booking
birth certificates for minor applicants
proof of accommodation
other supporting documents
You are required to print out your Malaysia e-visa in an A4 format. Kindly be reminded that the printout is crucial and must be presented upon your arrival at Malaysia entry checkpoints.
The visa application will be approved by the High Commission/ Embassy / Consulate General of Malaysia abroad. In case there is any suspicion, you will be required to supply further documents or be called for an interview or online video conference.
Other documents to present at Malaysia entry checkpoints:
a valid passport/travel document
a valid Malaysia e-visa printout (eVISA Note)
a boarding pass
sufficient funds (cash/traveler's cheque/debit or credit cards/e-wallets recognized by Malaysian Government) to cover your expenses during your stay in Malaysia
a confirmed return flight ticket
a proof of accommodation; and
other supporting documents.
Malaysia e-visa fee
The fee for a Malaysia e-visa varies between countries and ranges from RM 9 to 50. Additionally, applicants will also need to pay the processing charge of RM 105.
Please note that there is a service charge for several payment methods. Applicants who use e-commerce/Mastercard payment will be charged 0.8% of the transaction value. Meanwhile, those who use eWallet, such as Alipay, Wechat pay, and Union pay, will be charged 1.7% of the transaction value.
Malaysia e-visa status check
You can check your Malaysia e-visa status on the 'Verify Your Visa' on the official website. Follow the steps below to check the status of your Malaysia e-visa: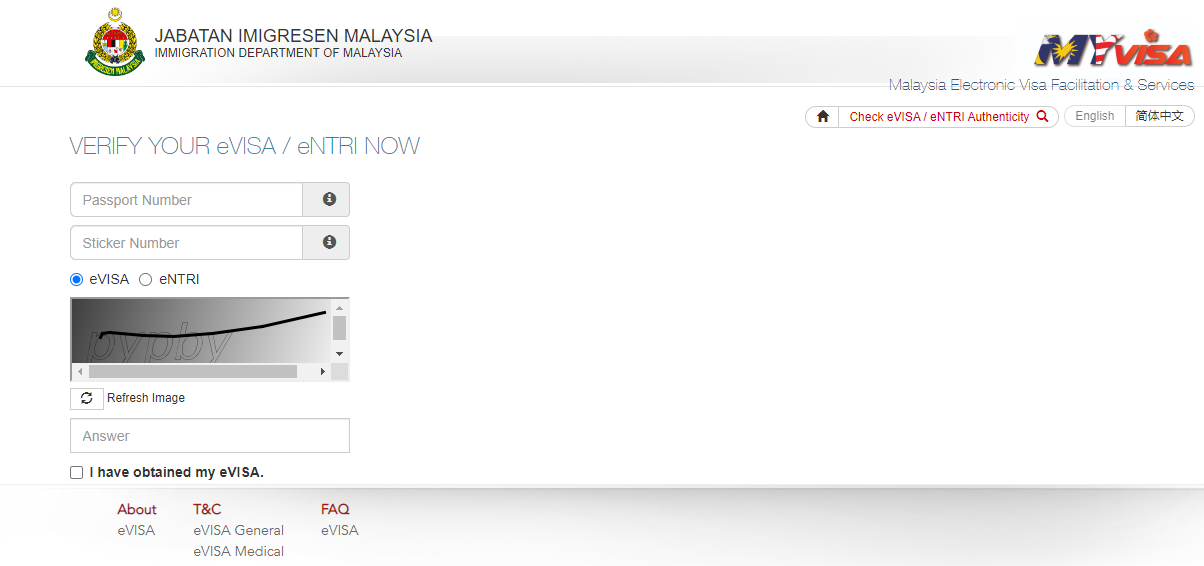 Visit the website
Input your passport number
Input your sticker number
Tick on 'eVisa'
Fill out the captcha
Tick on the 'I have obtained my eVisa' if you have obtained your Maaysia e-visa
Click 'check'
Malaysia e-visa validity
Malaysia e-Visa is valid for 3 months, and grants stay periods of 14 or 30 days based on the country.
30-day validity
Afghanistan
Bangladesh
Bhutan
China
India
Kosovo
Montenegro
Myanmar
Nepal
Pakistan
Serbia
Sri Lanka
14-day validity
Angola
Burkina Faso
Burundi
Cameroon
Central African Republic
Colombia
Congo Democratic Republic
Congo Republic
Djibouti
Equatorial Guinea
Eritrea
Ethiopia
Ghana
Guinea-Bissau
Hong Kong
Ivory Coast
Liberia
Mali
Mozambique
Nigeria
Niger
Rwanda
Malaysia e-visa extension
The Malaysia tourism e-visa is only available for a single entry and can not be extended.
[Total:

121

Average:

4.6

]