This article is reviewed regularly (on a monthly basis) by Wego's editorial team to ensure that the content is up to date & accurate.
Updated 3 November 2021
Can't resist travelling anymore? We understand. It's been ages since we have been bound to our homes and it's only natural if you aren't able to defy those itchy feet. In some circumstances, travel might even be unavoidable. Whatever the reason, travelling to Egypt during the COVID-19 pandemic is safe only if you follow the precautionary guidelines to the tee.
Here's how you can travel safely in Egypt in 2021.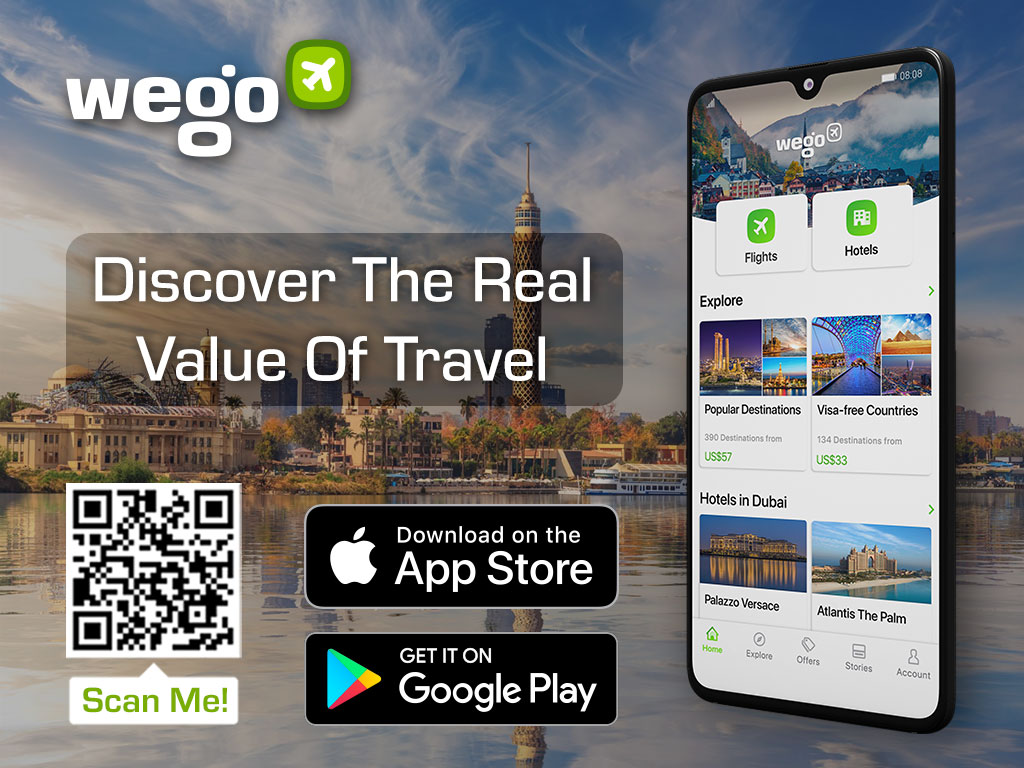 Current COVID-19 situation in Egypt
So far, the country has experienced three waves of COVID-19, and as of June, is recuperating from the blow of the third surge. The country has an average recovery rate of nearly 84.3% but fares better in terms of the death rate.
On the brighter side, the country hasn't reported any case of the highly transmissible, Indian variant of the COVID-19, Delta, yet.
The country has opened for all international tourists, but some COVID-19 restrictions to travel to Egypt are still in place. All overseas visitors, above the age of six, must present a negative result from a PCR test taken within 72 hours before travel. This extends to 96 hours for arrivals from  Argentina, Australia, Bolivia, Brazil, Cameroon, Canada, Chile, China, Colombia, Ecuador, France (Paris), Germany (Frankfurt), Guyana, Italy (Rome), Japan, Republic of Korea, Mexico, New Zealand, Paraguay, Peru, Suriname, Thailand, the USA, the UK (London Heathrow), Uruguay, or Venezuela.
If you're coming from these countries you may have to take a second test on arrival:
Argentina, Bangladesh, Belize, Bhutan, Bolivia, Brazil, Chile, Colombia, Costa Rica, Ecuador, El Salvador, Guatemala, Guyana, Honduras, India, Mexico, Myanmar, Nepal, Nicaragua, Pakistan, Panama, Paraguay, Peru, Sri Lanka, Suriname, Uruguay, Venezuela or Viet Nam
Precautions while travelling in Egypt
Wearing masks
A mask is the most basic, but the most effective protection at your disposal. In a densely populated country like Egypt, social distancing may not be possible in all public places. That's why a properly fitting mask covering your nose and mouth should be worn at all times.
The Egyptian government has mandated masks in all enclosed public places, on public transit and in taxis. Not wearing masks indoors could even attract heavy fines.
Dodging the crowds
While going sightseeing, it is better to stick to offbeat places. Trade the thronged cities like Cairo and Alexandria for the less-explored attractions such as the City of the Dead, Colossi of Memnon, and the Temple of Abu Simbel, and you won't only stay away from the crowds, but have an equally memorable experience with less risk.
This is also the time to head to deserts, where tourists will be scattered enough de facto. Enclosed places like tombs and caves aren't the best idea right now.
Steering clear of petty thieves
A word of caution: be wary of petty crimes. Due to the pandemic, unemployability has increased and so has the crime rate. Carry the bare minimum with you, keep all precious items (that includes your travel documents) at home. Be alert around touts and guides and hold on to your belongings firmly.
Transport facilities
Travelling on public transportation increases the risk of getting and spreading COVID-19 by bringing people in close contact with others, often for prolonged periods, and exposing them to frequently touched surfaces. Taxis are better alternatives during a situation like this. The safest way to get around would be to hire a private vehicle (and a driver, unless you have an international driving license).
Accommodation and food safety
2 and higher starred hotels and resorts will be particular about their hygiene, but if you want to stay as safe as possible, private vacation rentals are a better option. Choose to order in or get takeaways instead of dining out. Street food should be a strict no-no during these times as there is almost no control over the hygiene standards.
Is it safe to travel to Egypt now?
Unless it's a crucial trip, avoid travelling to Egypt if you can at this moment.
Most of the countries advise against travelling to Egypt or advise exercising a high degree of caution in Egypt due to the unpredictable security situation and the threat of terrorism. The Sinai Peninsula (except Sharm el-Sheikh), the Western Desert and the Libyan Border Area are the most risky and dangerous areas where travelling should be avoided at all costs.
Owing to the loss in the travel and tourism sector, the UK has now officially removed Egypt from the 'red-list'. Hence, the UK does not necessarily advise against travel to Egypt, except for some extremely risky areas. The USA, however, advises reconsidering travel to Egypt.
If you must travel to Egypt, follow all the necessary precautions without any negligence or complacency.