This article is reviewed regularly (on a monthly basis) by Wego's editorial team to ensure that the content is up to date & accurate. 
Updated 28 September 2021
Egypt is famous around the globe for its ancient treasures and rich history. However, there is more to this beautiful country: from surreal beaches, the world's most renowned diving spot to the paradise-like white desert, this country offers everything a traveller can ask for. 
If you plan on vacationing in Egypt and experience its hospitality first hand, here is the latest in Egypt tourism 2021, including entry requirements and guidelines. 
Egypt is open for tourism
Egypt is currently open for tourism, and specific flights have also started resuming. Foreigners can travel to Egypt as long as they meet the country's COVID-19 restrictions and guidelines.  
Countries eligible for Egypt eVisa online
Albania, Australia, Austria, Belgium, Bulgaria, Canada, Croatia, Cyprus, Czech Republic, Denmark, Estonia, Finland, France, Germany, Greece, Hungary, Iceland, Ireland, Italy, Japan, Latvia, Lithuania, Luxembourg, Macedonia, Malta, Moldova, Monaco, Montenegro, Netherlands, New Zealand, Norway, Poland, Portugal, Romania, Russia, Serbia, Slovakia, Slovenia, South Korea, Spain, Sweden, Switzerland, Ukraine, United Kingdom, United States.  
Countries that need authorised visa from the Egyptian embassy or consulate
Afghanistan, Algeria, Bangladesh, Burundi, Chad, Comoros, Djibouti, Eritrea, Ethiopia, Ghana, Indonesia, Iran, Iraq, Israel, Kosovo, Lebanon, Liberia, Mali, Mauritania, Moldova, Morocco, Myanmar, Niger, Nigeria, Tunisia, Pakistan, Palestine, Philippines, Rwanda, Sierra Leone, Somalia. 
Visa exemption
Egyptian visa exemptions apply to Bahrain, Hong Kong, Kuwait, Lebanon (for certain airports only on a charter flight), Macao, Oman, Saudi Arabia, the United Arab Emirates, and Malaysia for a stay of 14 days.  
Places to visit
Packed with stunning temples, tombs, desert that offer 4×4 adventures, the Red Sea Coast for sunbathing, and the Nile River for cruising, Egypt offers culture, experience, and relaxation in one trip.
Pyramids of Giza
For over a thousand years, the Pyramids of Giza have remained intact as one of the last surviving members of the Seven Wonders of the Ancient World. The Pyramids of Pharaohs Cheops, Chephren (Khafre), and Mycerinus (Menkaure), surrounded by the mysterious Sphinx, are indisputably the most popular tourist sightseeing spots in Egypt. 
Diving in the Red Sea
Known for its coral reefs and mesmerising sea life, the Red Sea is one of the best diving locations with a view to boot: find everything, from vibrant reef fish and nudibranchs to sharks, dolphins, and dugongs.
In addition to the fish and coral life in the Red Sea, it is also one of the top five wreck diving destinations on the planet because of the plethora of cars, motorbikes, and objects from the Second World War scattered around the shipwreck and inside it.
White Desert
In Egypt, the White Desert National Park is one of the strangest natural wonders. A vast expanse of chalk pinnacles and massive boulders rises from the desert plateau, creating the illusion that it looks like icebergs are emerging from the sand.
Tourists also flock here for 4WD desert trips and overnight camping. So, it is a haven of splendour and natural beauty for travellers and desert lovers alike.
Cruising the Nile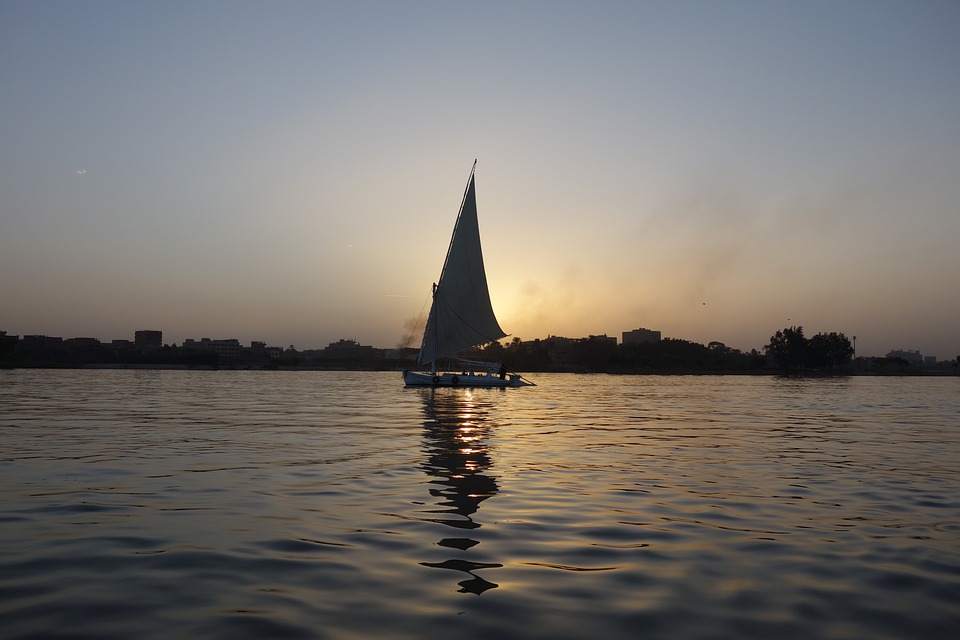 A trip to Egypt is incomplete without taking a cruise along the Nile. There is no better way to see the endless temples that dot the route from Luxor to Aswan than a cruise up this famed waterway.
There are two famous sights on a Nile Cruise: Kom Ombo's Temple of Horus and Edfu's Temple of Horus.
The Egyptian Museum
The Egyptian Museum in Cairo is one of the world's most significant museums. Every corner of the museum contains masterpieces of ancient art or sculpture that would stand out in any other museum.
The museum's most priceless collection of golden artefacts from Tutankhamen's tomb, along with the fascinating Royal Mummies exhibit room, makes it one of the most stunning places to visit in Egypt.
Guidelines for travellers to Egypt
To safeguard the health of residents and tourists in the country, the Egyptian government has imposed specific pandemic-related measures for both residents and tourists. Please abide by the following safety measures for the duration of your stay in Egypt.  
It is compulsory to wear a mask when out in public in Egypt. This includes supermarkets, banks and offices, restaurants, and while on public transportation. Those who do not wear one will not have access to Egyptian public transportation. 

 

Restaurants, cafes and tourist sites are currently operating at reduced capacity and with restricted hours. 

 

Health status approved hotels are currently limited to 50% capacity and are required to follow specific regulations. 

 

Places of worship have also reopened with limitations on the number of attendees and other health precautions in place. 

 

Even though there is no evening curfew in Egypt, restaurants and cafes are still required to close by 10 pm. Shops are now required to complete no later than 9 pm. 

 

Avoid large gatherings of people and wash your hands frequently, especially after contact with others. 

 
Things to observe 
Aside from the pandemic-related guidelines, tourists may also need to observe the following:  
Try to maintain a distance of at least a meter between yourself and strangers when out in public. 

 

The currency of Egypt is the Egyptian pound (EGP, E£). 

 

Drones are strictly prohibited in Egypt; anyone convicted of unauthorized import or use of drone technology could be subject to lengthy jail terms and deportation. 

 

Photography of bridges, canals (including the Suez Canal), government, police and embassy buildings and vehicles, and military personnel and establishments is prohibited. 

 

It is prohibited to export any antiquity or any item older than 100 years without a licence. Contact the Embassy of the Arab Republic of Egypt in Ottawa for further information regarding customs requirements. 

 

Publishing or posting social media or other content that could be perceived as critical of Egyptian society, government, security forces, or the President may be considered illegal under Egyptian law. Convictions can carry heavy fines and lengthy prison sentences. 

 
Since most of the tourist sites in Egypt are open, some safety measures have to be taken by the visitors as there is a potential for rapid escalation into violence where large groups of people are assembled. To protect themselves from such situations, tourists must know:  
Egypt has a special police force to assist tourists.  

 

Officers wearing a distinctive armband saying "Tourism Police" can be found in hotels and tourist sites. 

 

Make sure to carry identification at all times.  

 

Carry photocopies of your passport and other identification in case of loss or seizure.

 
Egypt entry requirements
On arrival in Egypt passengers will undergo temperature checks are in place at airports in Egypt and travellers are required to wear a face mask at all times in the airport terminal. 
The visitors must comply with the following special COVID-19 rules to be granted entry into the country.  
All arrivals above the age of 6, including its citizens, must provide a negative PCR test taken within 72 hours of departure. This extends to 96 hours for arrivals from Japan, China, Thailand, North America, South America, Canada, London, Paris, and Frankfurt. 

 

The test must be based on a nasal or oral swab, and an approved laboratory should issue the certificate. Certificates are accepted only in Arabic or English. 

 

Passengers with a COVID-19 vaccination certificate stating full vaccination at least 14 days before travel will be exempt from testing. Accepted vaccines are AstraZeneca, Janssen, Moderna, Pfizer, BioNTech, Sinopharm, Sinovac, and Sputnik V. 

 

All travellers must complete a Personal monitoring card and show proof of health insurance on arrival. 

 

Passengers should provide flight information and contact details. The authorities will notify them if someone they travelled with later tests positive for COVID-19. They will be required to self-isolate in that case.

 
PCR test on arrival
Passengers who arrive from any of the following countries are subject to a COVID-19 PCR test on arrival in Egypt:  
Argentina, Bangladesh, Belize, Bhutan, Bolivia, Brazil, Chile, Colombia, Costa Rica, Ecuador, El Salvador, Guatemala, Guyana, Honduras, India, Mexico, Myanmar, Nepal, Nicaragua, Pakistan, Panama, Paraguay, Peru, Sri Lanka, Suriname, Uruguay, Venezuela, or Vietnam.  
Alternatively, passengers on direct flights to any of the airports listed below will also be required to take a PCR test on arrival priced $30 if they fail to obtain the medical certificate before departure:  
Hurghada (HRG) 

 

Marsa Alam (RMF) 

 

Sharm El Sheikh (SSH) 

 

Taba (TCP)

 
Quarantine requirements
There is no quarantine requirement for passengers arriving in Egypt. However, Travellers who have to undergo a PCR test on arrival should stay in their hotel room until they receive the result. Individuals are generally notified of the result in 12 to 24 hours.  
In case of a positive result, self-isolation for 14 days is mandatory. The cost of this test has to be covered by the travellers.
General safety measures to be taken