Layovers are tough if you keep your eye on the clock and mind on the plane. The best way to pass time is to explore the city you are in if you have enough time. Layovers in the UAE don't have to be spent at the airport. There are several places that can be explored within 24 hours and they all will leave you with breathtaking memories to cherish on your next flight. 
Here we have put together a 24-hour itinerary – creative museums, hidden gems, a stunning hotel which feels more like a house, new openings, and everything else – which shows why you should go to one of the finest cultural emirates and explore the city given the chance. 
The best place to start is with is chic Fen Café & Restaurant. A quick visit here can relax, restore and recharge you for the day ahead. The restaurant is located within the premise of the Sharjah Art Foundation. This veritable gem places as much emphasis on the presentation of food as it does on its taste. Eggs are perfectly cooked to your taste, avocado toast is drizzled with truffle honey and balsamic reduction, and yogurt flakes and dehydrated coconut crumbs are applied to the chia pudding. While the tea and coffee range is great, the one to seek is the  'Ube Latte'.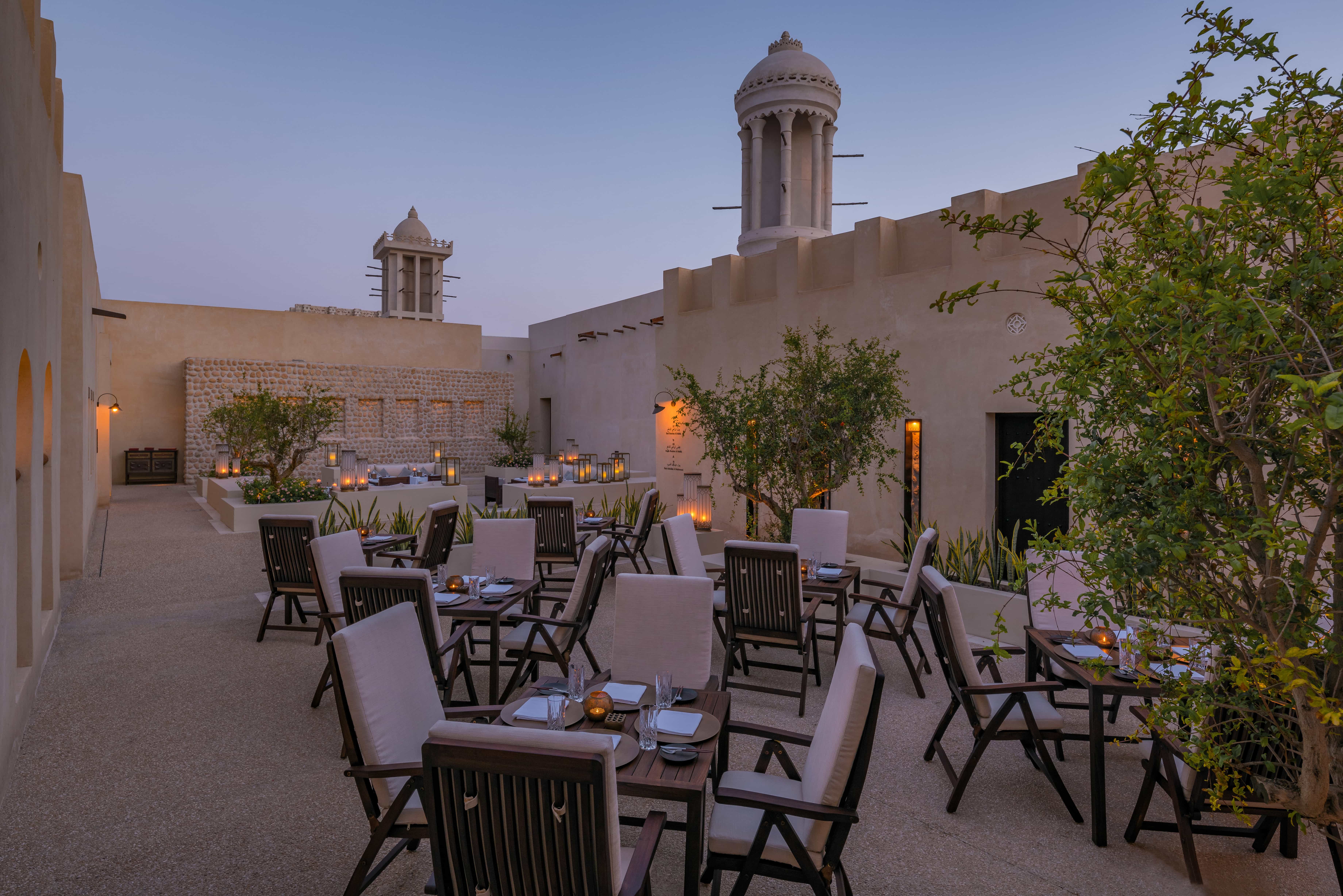 Once you fill your tummy, it's time to burn some calories. Take a stroll around the Sharjah Art Foundation neighborhood and explore urban gardens, multiple exhibitions, and endless photographic opportunities. Many buildings situated in the vicinity of the foundation have been restored over the years, so traditional courtyards, coral walls, narrow alleys, and hanging lanterns translate to a real sense of nostalgia.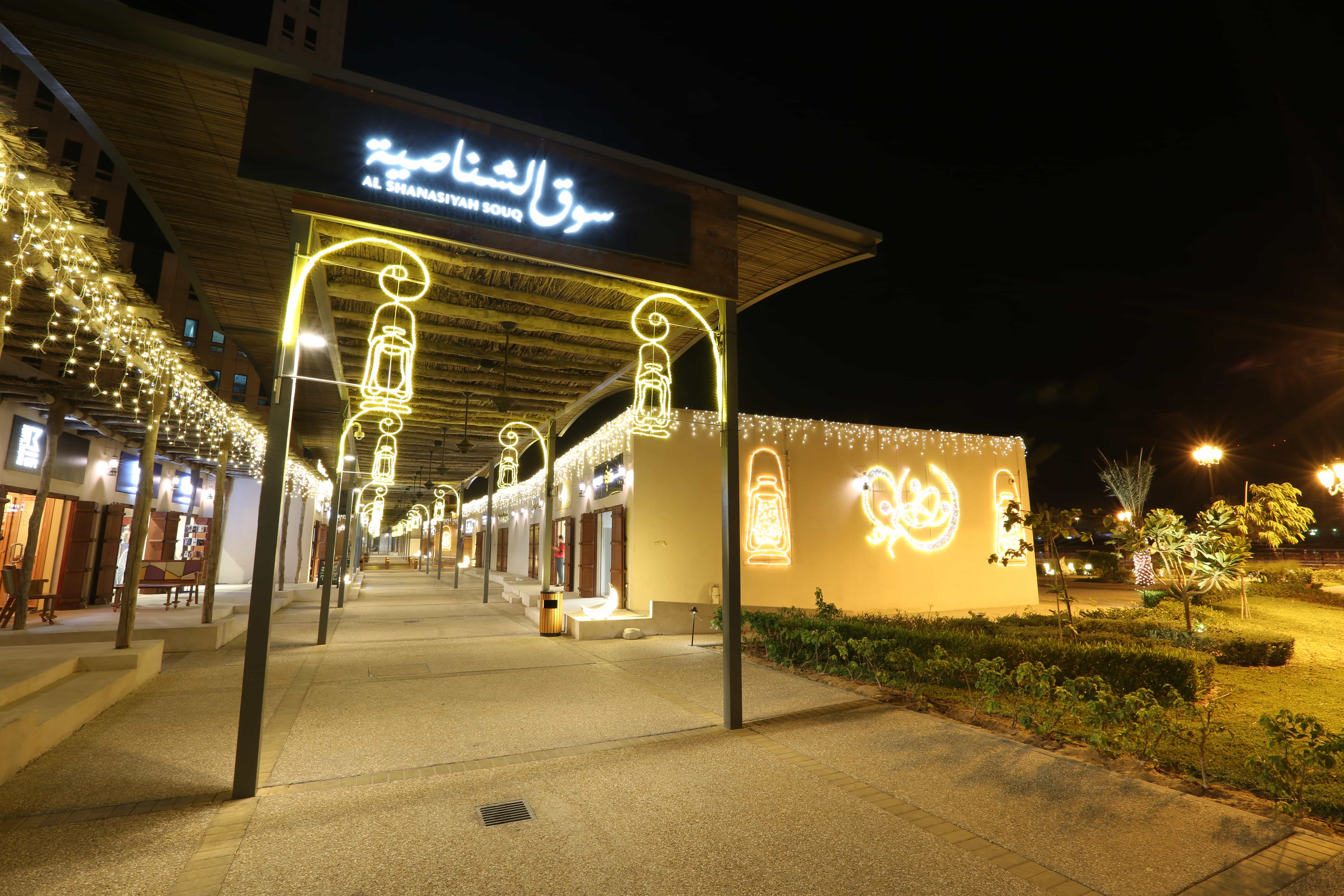 The next perfect stop for you will be a trip to Souq Al Arsah, which is situated quite nearby. It is considered the oldest souq in the UAE, a marketplace for many little stores selling antiques, handicrafts, herbs and spices, bridal chests, incense, and all manner of kitsch. A must visit place here is Al Omani Sweet Factory, which both produces and sells the beloved Omani halwa that pairs wonderfully with strong Arabic coffee. The souq close during the middle of the day so plan your visit for before 2 PM or after 4 PM.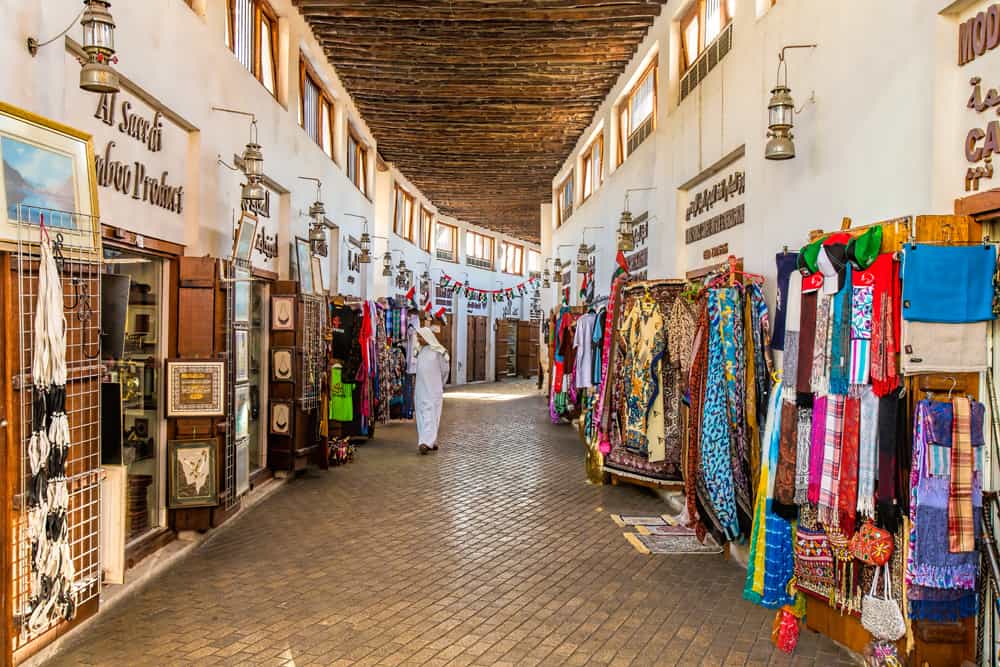 Now, again it's time for a small break and try something which you should never miss. It's time to try the UAE's first ever soda – Namlet. Dukan Namlet is one of the most famous shops situated at Souq Al Shanasiyah. This drink dates back to the 1920s, when trade between India and UAE flourished. Another cafe you can opt for is Ratios Coffee which is also nearby and overlooks Sharjah Creek. It aesthetically features various decor elements that have been reclaimed from a 60-year old dhow (wooden boat) used by traders to ship merchandise across the Arabian Gulf. 
Next, head to the Al Arabi Toys Centre, which is situated next to Souq Al Shanasiyah, to have a look at the awe-striking artistic works of eL Seed. A French-Tunisian artist who uses his work to promote cross-cultural tolerance with the speciality being "calligraffiti".  His larger-than-life murals can be seen everywhere from Cairo's Garbage City to a bridge in Paris, a rooftop in Rio de Janeiro, and the minaret of a mosque in Tunisia – and Sharjah. An abandoned building serves as the canvas for the artist's first piece of public art in the UAE.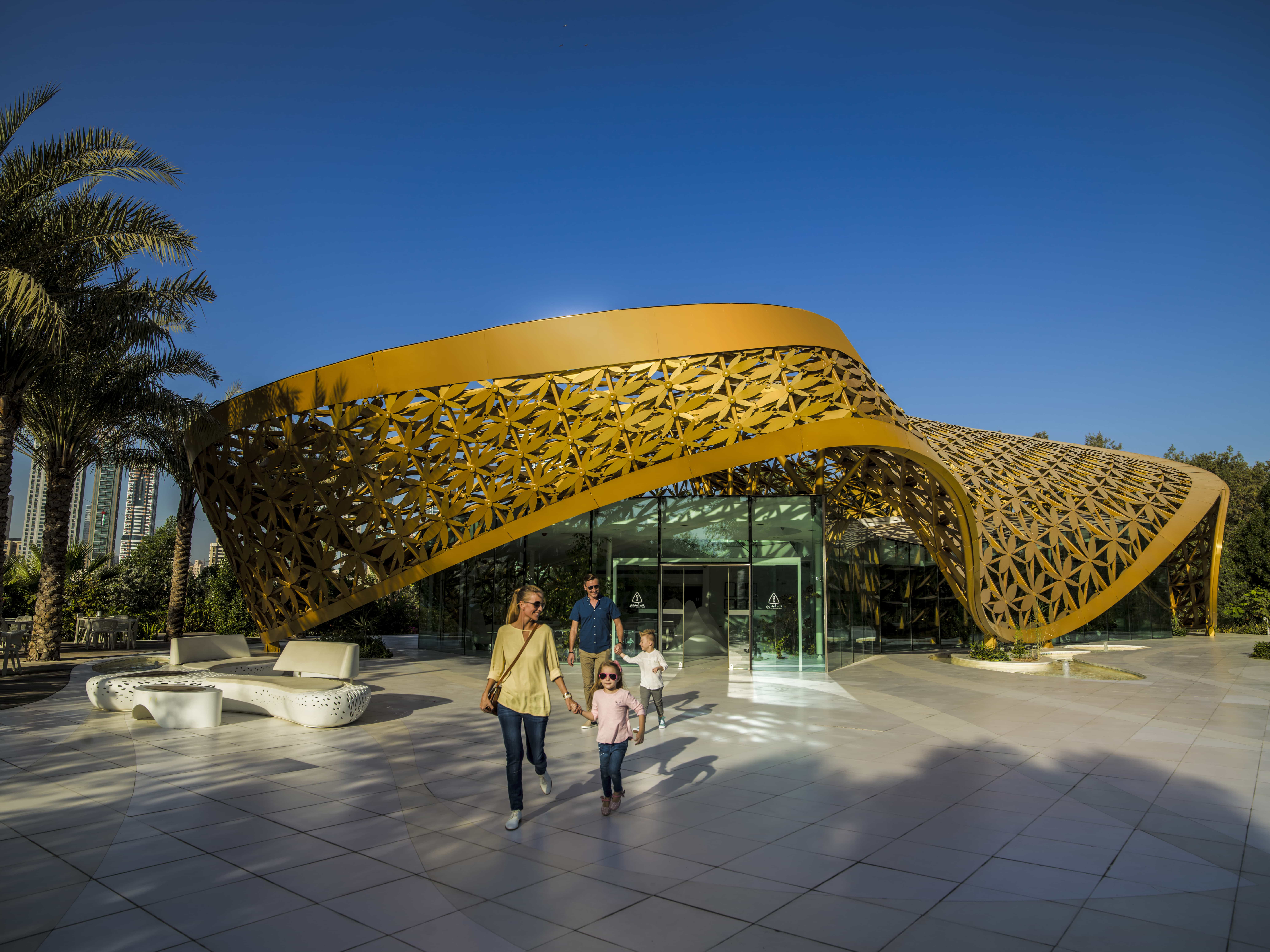 Make sure to take a wander through one of Sharjah's newest attractions, a project that will provide a genuine continuous rainfall experience. Rain Room allows visitors to the installation to walk through a downpour without getting wet. Motion sensors detect visitors' movements as they navigate through the darkened space, becoming "performers in this intersection of art, technology, and nature".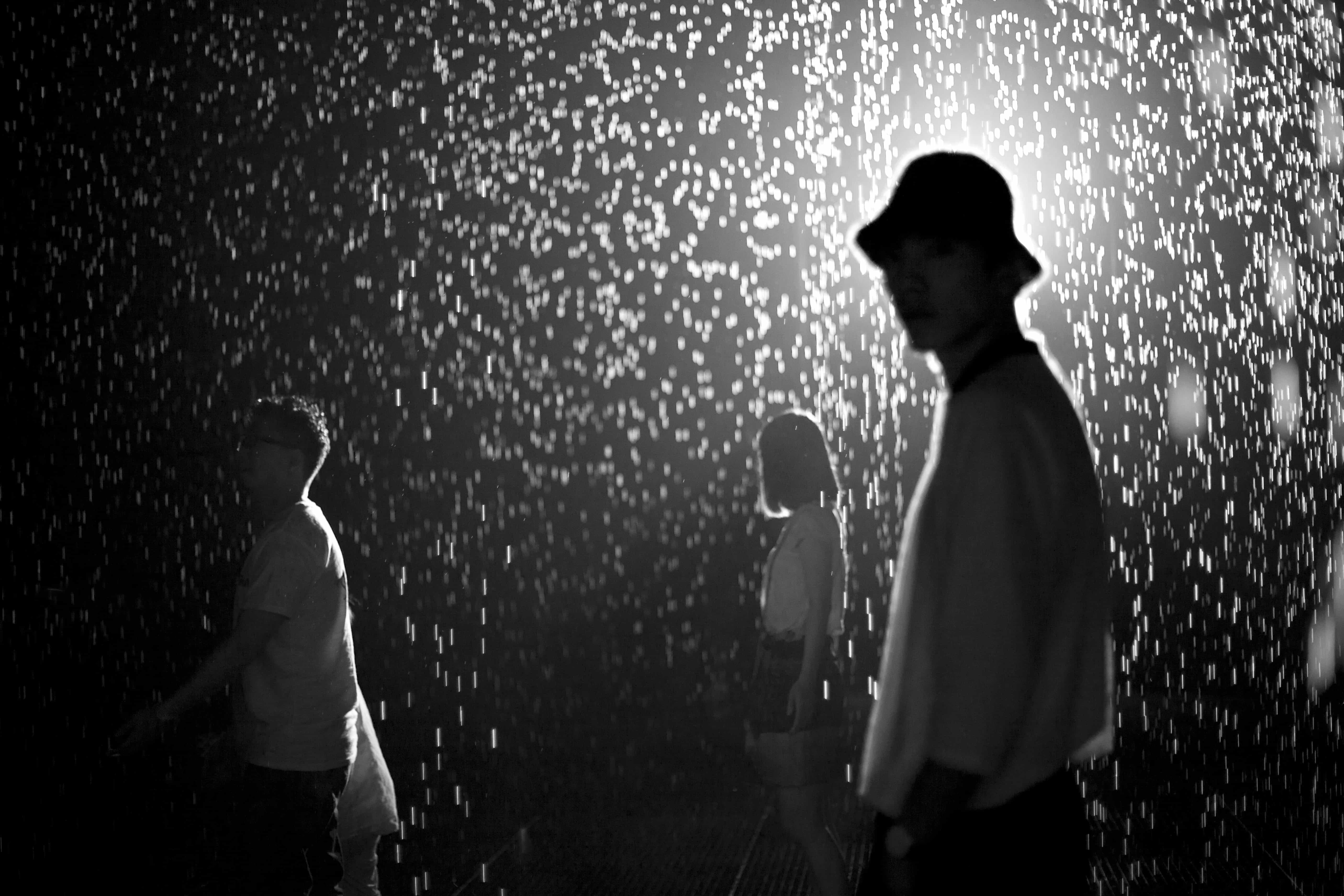 Getting drenched is not a concern though; as you walk through the room, your movements will trigger motion sensors to stop the rainfall. The Rain Room is amazingly popular and usually fully booked, so we strongly recommend buying them online beforehand. If you need a spot to wait for your turn, there's also a smaller branch of Fen Café here.
As the evening approaches, it's time to head to Al Noor Island. Situated across an area of 45,470 meters, make sure you reach just before sunset. In this recreational place, art installations, music, poetry, and nature combine to cultivate a sense of peace and serenity.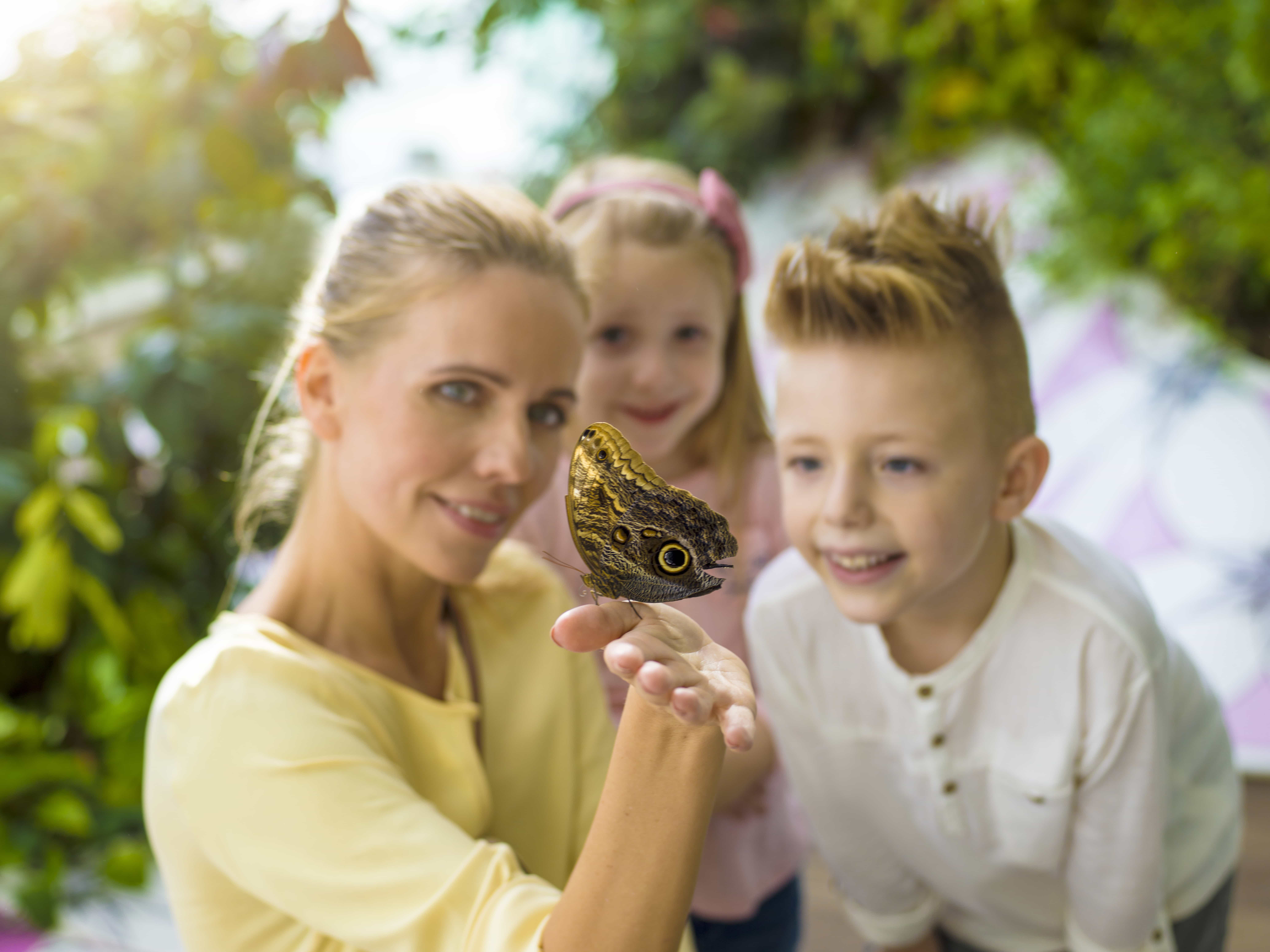 There's something for everyone: the egg-shaped "OVO" installation presents a multi-sensory experience utilizing water and light, the Butterfly House is home to approximately 500 butterflies in an ornately built structure influenced by ancient Arab architecture, while the Literature Pavilion provides the bibliophiles of the city with a serene room adorned with calligraphy and cushions. If you are lucky enough, you might get to see some jazz performances, photography exhibitions, or yoga sessions. 
Next stop should be Al Majaz Waterfront, which is tagged as the epicenter of entertainment in the city according to virtually every Sharjah resident. You can opt for a tour bus for sightseeing, or try out traditional abra in Khaled Lagoon. Al Rawi, the new kid on the block at Al Majaz Waterfront, is also well worth a visit. In particular, architecture experts may enjoy the many features which accentuate the property: the handrails ' woven pattern is centered on the stitching that connects books, the bookshelves are in the middle of the floor (and not against walls) to encourage light and shadow to enrich the room, and a sculptural structure suspended from the ceiling is created using wire-framed books.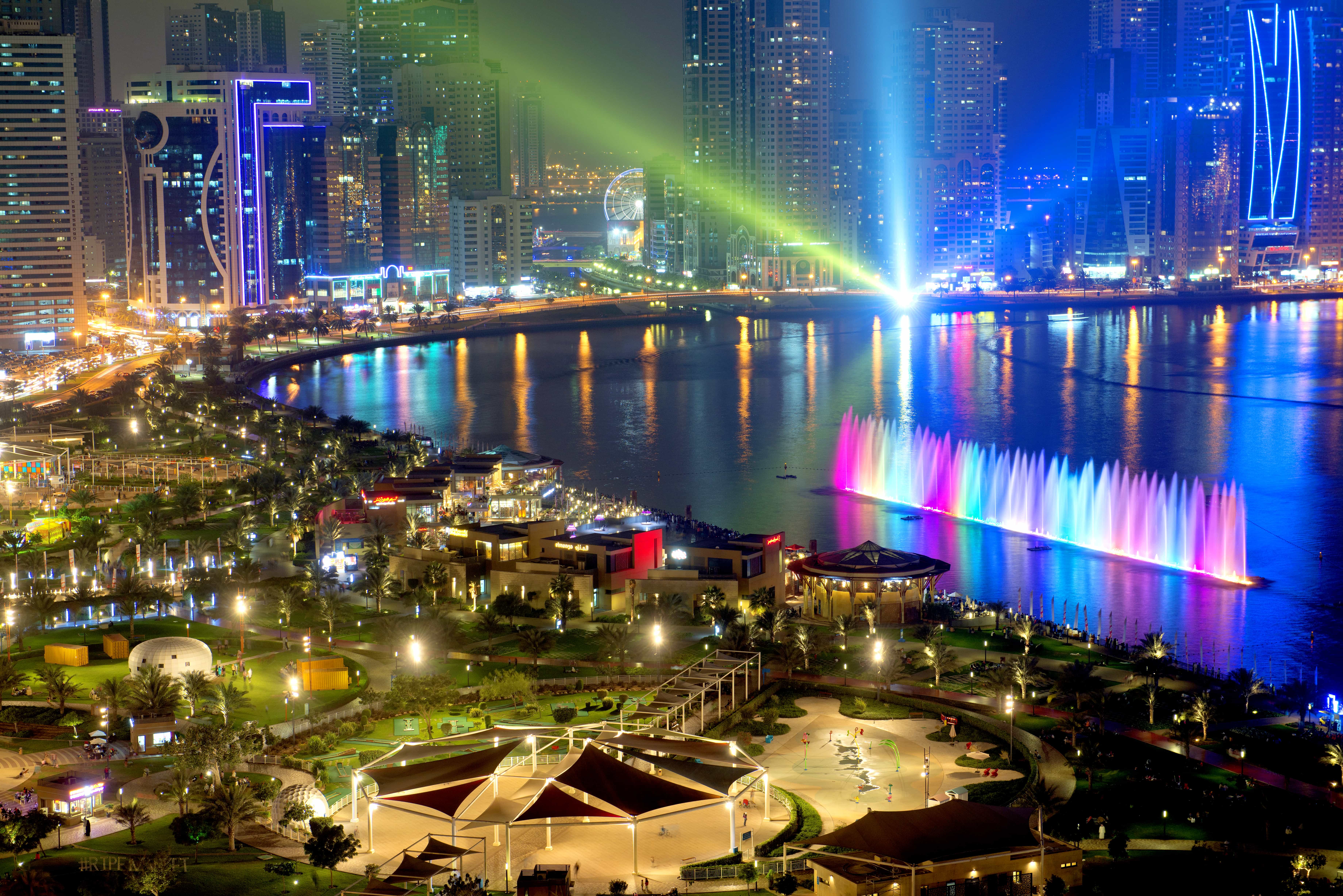 It never hurts to end your trip with a little culinary experimentation after a long day of travel. Another must-visit foodie hotspot is Zushi. Located in the University City, Dinner at this contemporary sushi restaurant is not like you'd expect; the signature rolls are topped with the likes of melted cheese, alfredo sauce, Cheetos, Doritos, and Chips Oman – but they work. There are also plenty of conventional options such as 'Dragon' and 'Avocado Royal Tulip' alongside. Coming to desserts, 'Mango Sticky Rice' is a must try which comprises of caramelized rose milk and meringue powder. 
Now, if you wish to book a stay to rest, we suggest you try the Al Bait Sharjah hotel which is situated in the heart of Sharjah, where you will find 53 luxurious rooms and suites including several built upon the original foundations of old houses that once belonged to Sharjah's most prestigious families, a warren of narrow alleyways, and secluded courtyards that house a hammam and spa, two restaurants and cafes, as well as a library, museum and ice cream shop. The rooms are homey, romantic, tasteful—heritage luxury.  If time dictates otherwise, head back to the airport with a million picturesque memories in your mind, and delicious tastes lingering on your tongue. So, next time you have a layover in Sharjah, head out to explore the vibrant city.