Living in Singapore may have its share of conveniences, but it's a really stressful deal too. So stressful in fact, that Singaporeans flee the confines of our homes over the holidays in search of, quite literally, a breath of fresh air. Fast-paced city that sucks your wallet dry with little semblance of private space? No wonder Singaporeans are a stressed-out bunch. We want our conveniences, and we want the carefree life too.
Macao might just be the right answer!
Vibrant, modern and global just like Singapore, Macao also has its own share of fun without all the stress. Convenience comes stress-free in Macao, and here are 5 ways the city makes for the perfect getaway!
1. With its unique architectural mix, Macao's style is visible and inviting
image credit: https://www.superiorwallpapers.com/buildings-and-architecture/macau-grand-lisboa-hotel-gorgeous-architecture_2560x1440
Beyond our iconic Marina Bay area skyline and heritage areas, Singapore's architectural aesthetic can get pretty one-dimensional. Our newest high-rise homes may be a far cry from more  austere flats from earlier, but it's still really no question that much of our urban facades aren't visually enamouring.
image credits: http://www.hotelandrest.com/en/travel/article-30709/
Macao, on the other hand, has a rich mix of various architectural influences that really bring out the city's identity. Teeming with traditional Chinese and colonial Portuguese aesthetic, it's living, breathing history that does not feel artificial or forced; The glitzy pomp of the city's many casinos is contrasted by the reservedness of colourful alleyways that serve culinary delights, providing visitors with a wide spectrum of visual experiences for every level of comfort. Macao's aesthetic intimidates a lot of detail, but yet it's inviting.
For the aesthetically-inclined and Instagram-obsessed, Macao has many photo spots that boast unique character and colour themes. Travessa Da Paixao and Senado Square are definite go-tos. The former red-light district of Rua De Felicidade and the famous ruins of St Paul's also provide interesting backdrops for enterprising photographers.
Move along boring high-rise facades — Macao's many faces is perfect visual therapy for stressed-out souls.
2. Macao also happens to be a foodie paradise.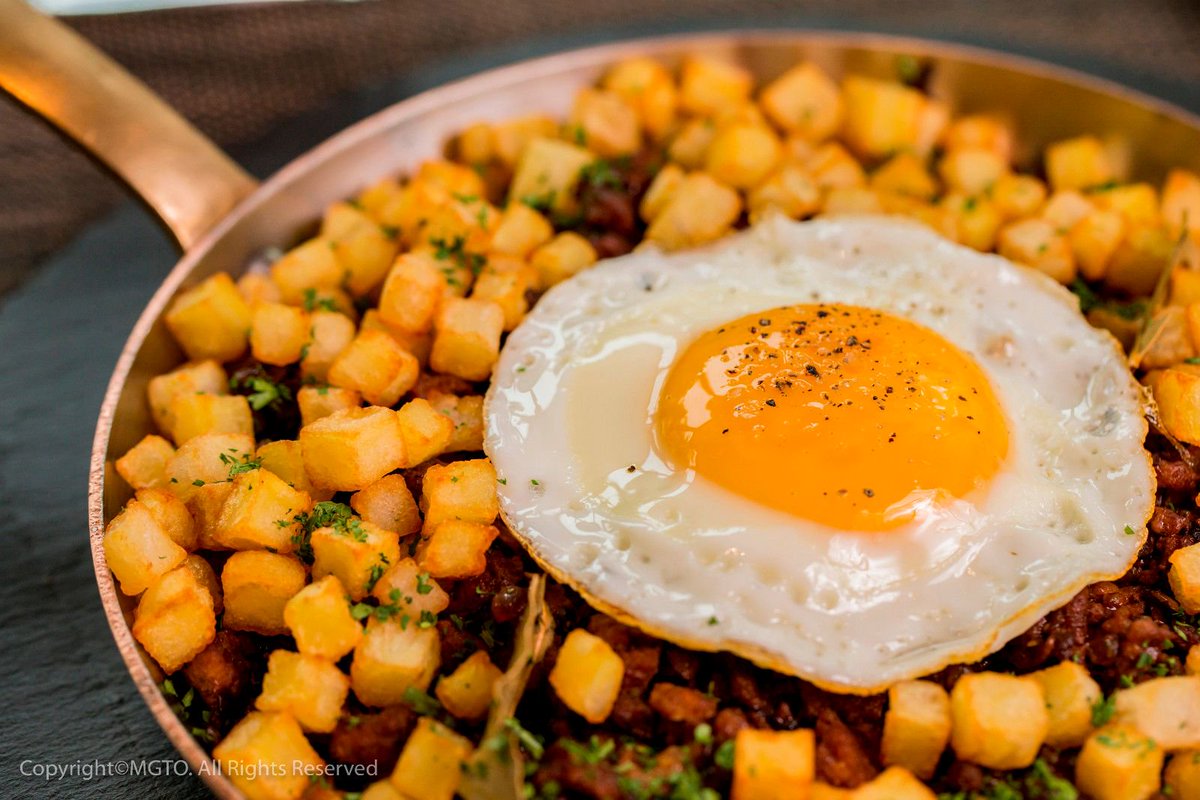 image credits: Macao Government Tourist Office
Food (and the love for it) is such a big part of being Singaporean, and we certainly take our favourite dishes seriously. Chilli crab, Hainanese chicken rice, char kway teow and bak kut teh are just the proverbial tip of the country's giant gourmet iceberg; local delights aside, one can easily find any cuisine in in Singapore's global kitchen.
image credits: https://www.splendidtable.org/story/preserving-the-food-of-macau-and-family-recipes-at-fat-rice
With a confluence of cultures and global outlook, Macao has long stood at the culinary crossroads. Chinese cooking techniques blend with Portuguese recipes and vice versa, creating a whole array of dishes now known as Macanese cuisine. Minchi, a Macanese favourite and also Macao's de facto national dish, has steamed rice topped with generous servings of seasoned pork or beef; Portuguese classics like Balcalhau (salted cod fritters) and Serradura pudding are super popular with both the locals and tourists, and ubiquitous Chinese fare like dim sum and steamed milk pudding are all-time meal favourites.
Good food can be found practically anywhere, even on the streets of Macao. Portuguese fare can get slightly pricey, but take a moment to appreciate the fact that you're paying in patacas (the currency in Macao) and not euros.
3. Macao doesn't have a train system, but the lack of road congestion makes up for it.
With so many expressways, train lines and taxi services, it's surprising how ridiculously congested the transport services in Singapore can be. Waking up in the morning to get to school or work, only to be squeezed in a literal sea of bodies jostling for what little space available on the train or bus, can get rather depressing.
Macao's many one-way roads make traffic flow a lot smoother, and though the rides may be longer, you'd certainly appreciate passing by the beautiful seafront or well-maintained colonial Portuguese and traditional Chinese facades. Traipsing across the city by taxi or bus won't take up much of your time, and even during the early morning and late evening peak hour rush, congestion rarely poses a problem. No jostling on trains and buses or plastered faces against sweaty backs — getting around Macao is convenient and comfortable.
4. Macao is literally chiller than Singapore.
image credits: http://www.daileyadventurers.com/a-day-in-macau/
Feeling sweaty and stick-icky all over is pretty standard in Singapore. The sweltering heat threatens to cook you inside-out, while Singapore's crazy high humidity means your sweat and you are gonna be close buddies all-day, everyday.
Macao  has a tropical – temperate climate, and even besides the warmest months of August and September, Macao typically hangs around the mid to high 20ish degree-range. The city also enjoys a good breeze frequently, and at an average temperature of just 23 degrees, sightseeing in Macao won't be a sweaty nor tiring affair.
5. Most attractions in Macao are free, and sometimes it's not just attractions that are free.
image credits: http://www.china-macau.com/downtown/attractions.htm
"See no touch, touch no see, see and touch must pay money", or so the adage goes. Visitors and locals in Singapore get to neither touch nor see a whole lot of the country's attractions without handing over a fee: an adult ticket into the twin conservatories at Gardens by the Bay cost $28, one round on the Singapore Flyer will set you back $33, and so do adult tickets for the Singapore Zoo. Having fun while worrying about your wallet thinning out isn't stress relief, but a source of stress itself.
Contrary to Singapore, most of Macao's attractions and experiences can be had for absolutely FREE. No frills, no charges, just fun without any (purse)strings attached. Vantage points like Fortaleza do Monte and Penha Hill provide some of the best views of the city for free, and key attractions like the ruins of St. Paul's, Senado Square, the Taipa Village and even the city's many prominent casinos are all free to explore.
And that's not all — Macanese food vendors are known to be quite generous with their samples, plus some of the city's shuttle buses are also free to board! Why watch the pursestrings when there's really no need at all?
Charming, full of gastronomic delights, easy to get around with pretty cool weather and cost-free attractions, Macao is the stressed-out Singaporean's ideal respite. Macao is really all about chill and living the good life, so drop by for a carefree vacation today!