Unlike most Australian cities, Sydney's almost impossible to capture in a single label — it bears a strong confluence of history and modernity like Melbourne, evokes the allure of natural wonder like Adelaide,reflects the panoramic beauty of seafront vistas in Brisbane and commands enough international prominence to rival Canberra. Vibrant and charming, the Harbour City wears many beautiful facades — so many you'll certainly be able to keep your #tbts going for months after your visit.
Sydney's many faces are a huge boon to anyone who is really into keeping their Instagram game strong – from impressive architecture, beautiful sunsets and beaches to awesome street art, artisan cafes and boutique galleries, the whole city is practically #inspo material for just about anyone. The Opera House, Harbour Bridge, Redfern and Observatory Hill are indisputable all-time favourites, but they're certainly not the be-all-end-all to any serious instragrammer.
So move over the usual suspects and put a twist on #Sydneygram – here are 6 spots to get you started!
1. White Rabbit Gallery
image credit : Volume Zero, http://volzero.com/white-rabbit-gallery-a-pristine-setting-for-vibrant-artwork-an-adaptive-reuse-effusing-culture-designed-by-smart-design-studio/
Most folks flock to the more expansive and sophisticated art-deco style Museum of Contemporary Art, but White Rabbit Gallery holds its' own with it's well-curated niche of contemporary Chinese works in a beautifully refurbished industrial garage. Do not let the unassuming exterior fool you — this boutique art gallery packs enough surprises to surpass even the loftiest expectations.
image credit :  @onlineartappreciation
image credit : @gitchbarmer
While the gallery itself provides space for interaction between natural lighting and a white minimalist interior, the many works of art on display also offer many opportunities for a creative photo or two.
If art isn't exactly your kind of inspiration, a cup of tea over at the gallery's in-house cafe, Teahouse, might just do the trick. A modern interpretation of a Chinese teahouse, it features a number of suspended birdcages reminiscent of "Forgotten Songs" over at Angel Place.
HOW TO GET THERE:
The White Rabbit Gallery is located at 30 Balfour Street in Sydney's Chippendale district. Visitors can take a train to Central station and walk down Regent street before taking a turn into Wellington Street, or take a bus to University of Technology Sydney and walk down Carlton Street before taking a turn into Wellington Street.
2. Flower Child Cafe, Chatswood Branch
image credit : @flowerchildcafe
Mother Nature has her own exclusive dining service, and it's called Flower Child Cafe – stylised as a cafe, garden and eatery all-in-one,  this F&B act collaborates with the renowned The Grounds of Alexandria, bringing quality coffee, pastries and service to customers in a lush yet spacious greenhouse setting.
image credit : @jojochambord
Dining here is a visually and gastronomically appealing experience, with dishes served coming in a riot of colours with a peculiar sense of artistic deliberation behind them — perfect for reinvigorating not only the soul, but even the mustiest of Instagram profiles.
HOW TO GET THERE:
The Chatswood Branch of Flower Child Cafe is located at Shop 391, Anderson Street in Westfield Shopping Centre. Westfield Shopping Centre is a brief walk away from St. James, Martin Place and Town Hall train stations, and can be easily reached by a number of bus services across Sydney.
3. Manly Wharf
image credit : @damienmcfarland
One way to tell a Sydneysider apart from a tourist is in the choice of beach — while Bondi receives love from all around the world, Manly is every local's best kept secret. As expansive yet more tranquil than its' world-renowned cousin, Manly beach boasts great surf, great eats and great views— sunset over at Manly Wharf, in particular, is #photogoals indeed.
image credit : @joansjala
Don't take my word for it, but a spectacular sunset shot complete with a mouthwatering fish-and -chips in the foreground and you may just have Tourism Australia dropping you a private message real soon.
HOW TO GET THERE:
While Manly Wharf is accessible by bus, private car or ferry, it is highly recommended that visitors take the signature Manly Ferry — the ferry service cruises through the waters of Sydney Harbour, providing passengers with spectacular waterfront vistas along the way.
4. Barangaroo District
Sydney's newest district is urban design at it's best — Barangaroo's bold architecture breathes character into otherwise nondescript concrete jungle, seamlessly marrying the old with the new and the artificial with the natural to create casual spaces where light, people and the waterfront interact.
image credit : @ciaomammaiovado
The highlight of Barangaroo, Barangaroo Reserve is brilliant re-imagining of Sydney's past — an old concrete container terminal – turned – foreshore park,  the Reserve provides unique juxtaposition with Sydney's contemporary facade as well as a space to escape the hustle and bustle of the Harbour City — an ideal spot for landscape and nature enthusiasts.
image credit : Sustainable Building Awards Australia, http://www.sustainablebuildingawards.com.au/commercial/international-house-sydney/
image credit  : Arch Daily, https://www.archdaily.com/877182/r7-barangaroo-durbach-block-jaggers
While Barangaroo Headland Park is often seen as the main draw, it would be a real shame to give architectural marvels like Sydney's International House and R7 Barangaroo a miss — after all, Sydney's trendiest district is all about super-sized creativity, isn't it?
HOW TO GET THERE:
Barangaroo Reserve is highly accessible by many modes of transport – buses 311, 324 and 325 offer a direct route to the Reserve from Town Hall; the closest train stations to Barangaroo Reserve are Circular Quay and Wynyard; Cyclists can enter the Reserve at either Towns Place or the Hickson Road entrance.
Located beside the International Towers in Barangaroo, International House can be reached via Wynyard bus and train station — buses 311, 324 and 325 also take you directly there from Town Hall. R7 Barangaroo is also located along the waterfront.
5. Harold Park Tramsheds
image credit : @kerry_p_23
A refurbished tram depot situated in the historic suburb of Sydney's Forest Lodge, Harold Park Tramsheds is a market hall inspired by local Victorian-era motifs and the raw industrial textures of its' past offering a wide array of gastronomic delights both international and local.
image credit : patientw0lf
image credit : jeongmini_92
While every stall has its' own distinct character, there is little deviation from the overall tram depot aesthetic — go micro and experiment with the varying decor, or stick with the big picture; with eats like Bodega 1904 and Osaka Trading Co. , Harold Park Tramsheds is also #foodporn galore, you might just find a different, more beautiful side to #Sydneygram.
HOW TO GET THERE:
Simply take the Light Rail and alight at Jubilee Park Station — Harold Park Tramsheds is located directly beside the station grounds. Buses 433 between Balmain East and Pitt Street as well as bus 431 between Glebe Point and Martin Place take you to bus stops within walking distance of the Tramsheds — get off at The Crescent opposite Nelson Street and walk down Dalgal way or get off at Glebe Point Road near Pendrill Street and walk down Cotter Lane respectively.
6. Taronga Zoo
image credit : @amy_eunmi_lee
City zoos typically get a bad rap for keeping wildlife within the confines of an urban jungle, but not Taronga Zoo — managed by the Taronga Conservation Society, this city zoo is home to over 4000 animals spanning no less than 350 species, showcasing the beauty of not only the various exotic wildlife but also beautiful panoramas of Sydney Harbour. Wildlife casually graze against an urban backdrop, creating a space of peculiar contrast for every enterprising Instagram creative. 

image credit : @rmallari_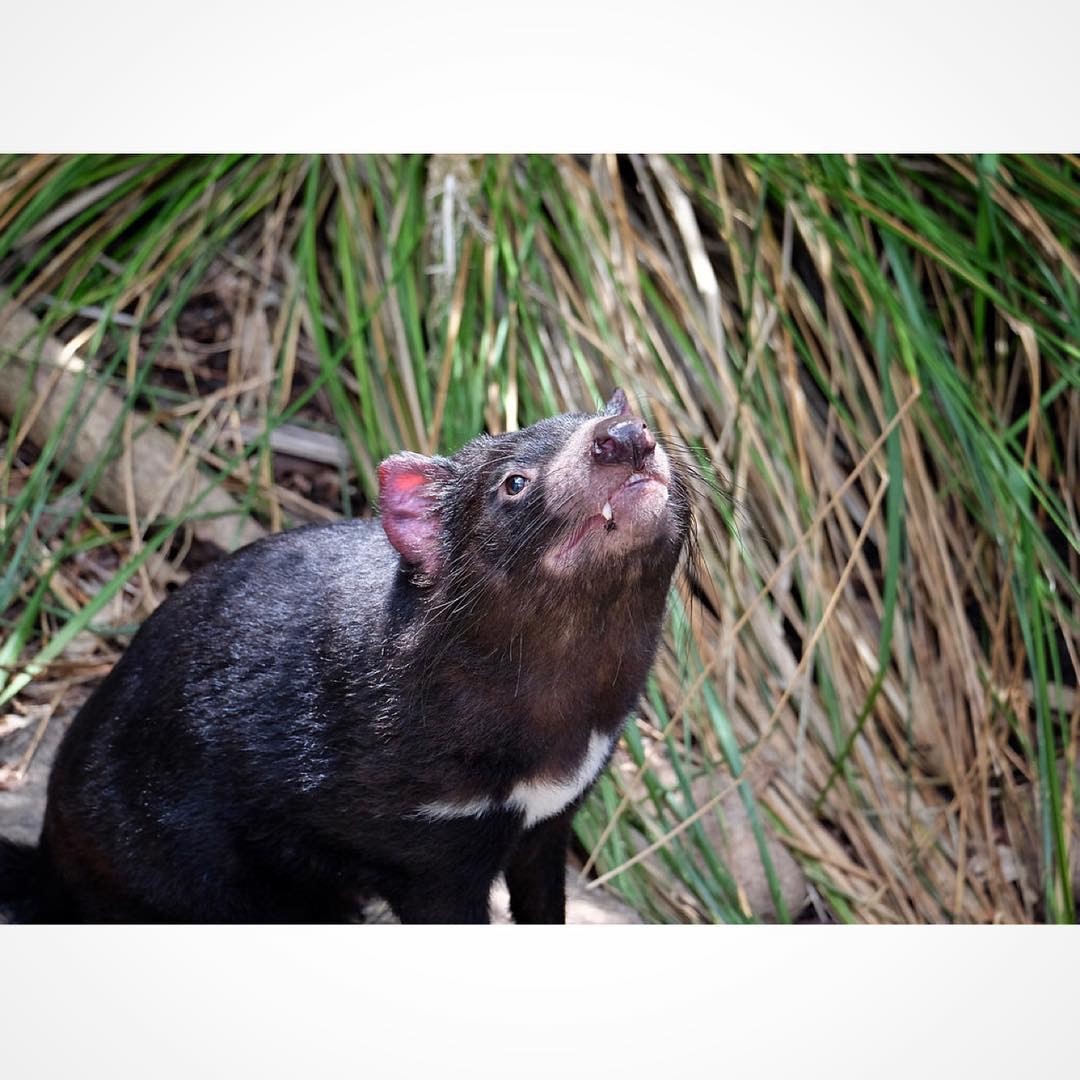 image credit : @instamondmann
If Instagram is a space to express your inner animal lover, Taronga Zoo's indigenous inhabitants like the Koala and Tasmanian devil will put the perfect Aussie spin on your cute critter montage — fancy a Koala selfie anyone?
HOW TO GET THERE:
Taronga Zoo is located at Bradley's Head Road in Mosman district — a ferry ride from Circular quay will get you there in just 12 minutes or board bus M30 at Central Station for a 30 to 45 minute bus trip directly to the zoo premises.