This article is reviewed (every month) by Wego's editorial team to ensure that the content is up to date & accurate.
Last updated 18 September 2020
The United States of America holds the dubious honor of being the world's hardest-hit country by the novel coronavirus pandemic. As of 17 September 2020, there has been a total of 6,571,867 confirmed cases with 195,053 recorded fatalities. In light of yet another record-breaking surge, the demand for COVID-19 testing has risen significantly throughout the United States.
In response, in addition to the existing COVID-19 tests being conducted in private, commercial and state-owned health facilities, numerous test centers have also been popping up across the US. These test centers are mostly in the form of drive-through and community-based test centers. The Center for Disease Control and Prevention (CDC) has also updated their guidelines in its bid to combat the spread of the disease.     
Should you get tested for COVID-19?
As per the CDC's guidelines, you should only consider getting yourself tested if you fall into the following categories:
People who have symptoms of COVID-19 and those have additional risk factors, such as older adults and individuals with underlying or chronic medical conditions
People who have had close contact (within 6 feet of an infected person for at least 15 minutes) with someone with confirmed COVID-19
People who have been asked or referred to get testing by their healthcare provider, local or state health department
Please note that the CDC does not recommend everyone to get tested. If you're still wondering whether or not you should get tested, the coronavirus self-checker may alleviate some of your concerns.  
How do I find COVID-19 testing centers near me?
Community-based test centers
In an effort to provide American citizens with the ability to quickly and accurately pinpoint the nearest testing centers to their location, the US Department of Health & Human Services (HHS) has incorporated a useful search tool on their website. The search page allows anyone to locate free community-based testing centers across the US available for all Americans, including people without insurance.
Upon accessing the search page, you can either input your location manually or allow the website to detect your location automatically. Once you've determined the closest or the most convenient testing centers in your immediate area, you will obtain information on the address, phone number, website of the test center and even directions to get there .
Additionally, select pharmacies are offering COVID-19 tests free of charge in cooperation with the government, including CVS, Kroger, and others. To find out where to find these pharmacies by state, please consult the following web page.
Contact the test center/pharmacies beforehand to determine their opening hours and whether or not an appointment would be necessary.
Drive-through test centers
There is unfortunately no single, comprehensive official government database available to determine all the drive-through testing centers across the US. However, if you're looking to find a drive-through testing center near your location, you may find the following interactive map useful.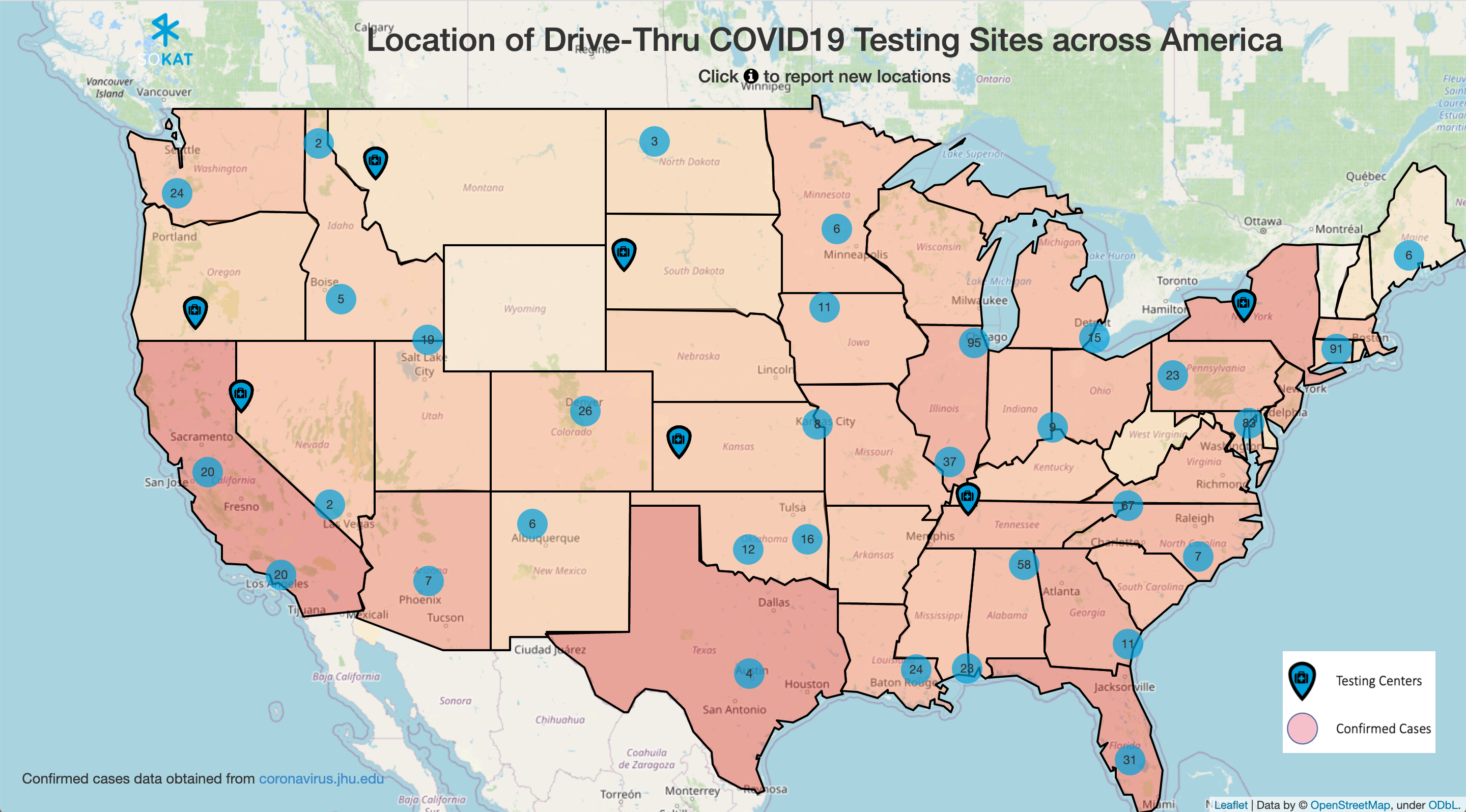 The interactive map provides information on the locations of drive-through testing centers across all 50 states. You'll be able to click on any location on the map and be redirected to a website displaying all the available information regarding the test center.
Are COVID-19 tests accurate? How long until I get my result?
Two types of tests are most commonly used today; the real-time polymerase chain reaction (RT-PCR) and antigen tests.
The PCR test usually involves inserting a 6-inch long swab deep into the nose and rotating it several times. After the sample has been collected it is sealed into a container and sent to a lab for analysis. The accuracy of the test is believed to be "pretty close to 100 percent accurate."
The antigen test on the other hand involves taking a blood sample that may identify past infection. Its accuracy varies between 30 to 90 percent depending on the time of the test.  
As most COVID-19 tests in the US utilizes the PCR swab test, you may expect your results in 24 to 48 hours. However, depending on the lab's capacity, results may take up to a week before they become available. Check with your testing facility of choice for instructions on how the results will be delivered.
How much does a COVID-19 test cost?
COVID-19 test is free for all Americans in accordance with The Families First Coronavirus Response Act. The initiative effectively removes all barriers to COVID-19 testing and decrees that no American should be refused testing due to cost or lack of insurance.