This article has been reviewed by Wego's editorial team to ensure that the content is up to date & accurate.
Updated 7 October 2021
In a bid to help revive international aviation, the International Air Transport Association (IATA) is in the process of launching its comprehensive "COVID passport", with the aim of allowing air travellers to provide their COVID credentials to airlines and governments in a straightforward manner, thus granting entry into their destination.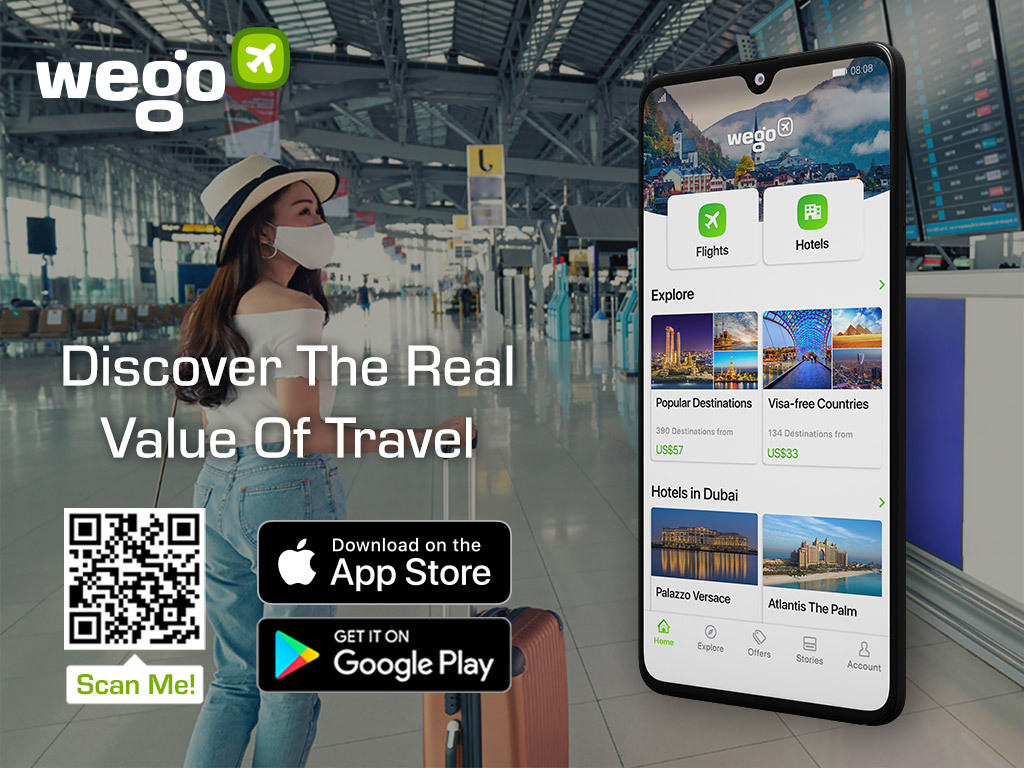 What is the IATA Travel Pass?
IATA Travel Pass is a mobile application that helps travellers to store and manage their verified certifications for COVID-19 tests or COVID-19 vaccines. This will be important for governments that are likely to require either verified testing or vaccination proof as a condition of international travel during and after the COVID-19 pandemic.
The IATA Travel Pass will be more secure and efficient than paper processes used to manage health requirements (the International Certificate of Vaccination or Prophylaxis, for example). This is important given the potentially enormous scale of testing or vaccine verifications that will need to be securely managed.
Why is there a need for the IATA Travel Pass?
The IATA Travel Pass is conceived as a response to the following challenges:
Complexity and variety
The wide range of COVID-19 tests coupled with the varied requirements of governments worldwide have inevitably created a rather challenging setting wherein travellers, airlines and immigration authorities struggle to navigate. 
Information gap
Travellers are often left confused and in need of accurate and reliable information with next to no clue as to where to find them. Should they do come across the information, understanding or acting upon it may become problematic.
Inefficiencies, errors, fraud
The multitude of entry requirements may lead to confusion as check-in agents attempt to verify multiple non-standard test certificates presented by travellers. This may eventually lead to inefficiencies, errors and even fraud.  
Rising to the challenge
IATA Travel Pass modernizes an existing system. For decades the world has relied on a paper documentation system for providing proof of vaccination. The most well-known is the requirement of many governments for a yellow fever vaccination depending on our travel history and travel destination. Under the International Health Regulations, this is managed by the "yellow book" or International Certificate of Vaccination and Prophylaxis.
The IATA Travel Pass moves this to a digital platform and joins it with up-to-date information on entry requirements. This makes the process more convenient for travellers and helps avoid fraudulent documentation. This modernization will be crucial as government entry requirements are expected to evolve with the epidemiological situation.
An electronic process will be better able to manage the volumes of data that are likely to be needed and it will help passengers to adapt to any changes more easily in government requirements. Importantly, there will be paper-based alternatives for people who do not have mobile phones, albeit less convenient ones.
IATA is already managing health requirements through its Timatic solution, so IATA Travel Pass is a natural evolution to support the industry during the pandemic.
How does the IATA Travel Pass work?
The IATA Travel Pass has four open and interoperable modules which together create the end-to-end solution. IATA Travel Pass incorporates;
Global registry of health requirements – enables passengers to find accurate information on travel, testing and eventually vaccine requirements for their journey.
Global registry of testing/vaccination centers – enables passengers to find testing centers and labs at their departure location which meet the standards for testing and vaccination requirements of their destination.
Lab App – enables authorized labs and test centers to securely share test and vaccination certificates with passengers.
Contactless Travel App – enables passengers to (1) create a 'digital passport', (2) receive test and vaccination certificates and verify that they are sufficient for their itinerary, and (3) share testing or vaccination certificates with airlines and authorities to facilitate travel. This app can also be used by travelers to manage travel documentation digitally and seamlessly throughout their journey, improving the travel experience.
What can the IATA Travel Pass provide?
Rising to the aforementioned challenges, IATA is calling for systematic COVID-19 testing of all international travellers, along with establishing the required information infrastructure. By so doing, the travel pass will directly address these issues and provide benefits for all parties involved in the travel process.
For governments
 the IATA Travel Pass will make it easier to duly verify the authenticity of the required tests and the identity of those presenting the test certificates. The Travel Pass is based on IATA's views that a uniform testing regime would make for more effective safety and health protocol than that of quarantine requirements.
For airlines
The Travel Pass will enable them to accurately provide information to their passengers regarding test requirements and to verify that a passenger meets the requirements for travel.
For Covid test laboratories
The Travel Pass will provide the means to issue and securely deliver digital test or vaccination certificates to passengers that will be recognized by governments.
For travellers
The Travel Pass will enable them to procure accurate information on travel, testing and vaccine requirements for their journey along with a number of other advantages:
Enables passengers to find testing centers and labs at their departure location which meet the standards for testing/vaccination requirements of their destination
Enables passengers to (1) create a 'digital passport', (2) verify their test/vaccination meets the regulations & (3) shares test or vaccination certificates with authorities to facilitate travel.
Can be used by travellers to manage travel documentation digitally and seamlessly throughout the travel experience.
Key design elements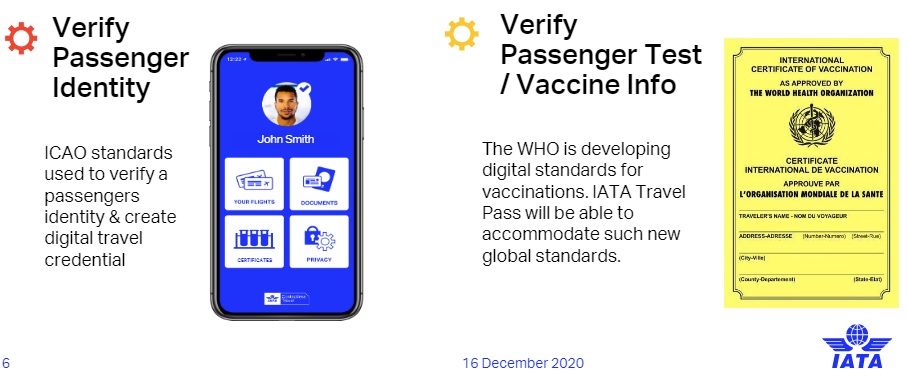 IATA prioritizes three key elements in designing the IATA Travel Pass, all of which extend to data security and privacy, globally recognized identity and vaccination verification, and enhanced contactless travel procedures. Details as follows.
Travellers are in control of their personal information and privacy
This means the IATA Travel Pass stores encrypted data which includes verified test or vaccination results on the traveller's own mobile device. There will be no central database or repository collecting or storing this vital information. The traveller fully controls what information is being passed on to governments, airlines or other relevant authorities. By so doing, the highest levels of data privacy and security are effectively maintained.
Global standards recognized by governments to ensure verified identity and test/vaccine information
Verified identity: By utilizing a government-issued ePassport to verify the identity of the traveller, the Travel Pass also allows the creation of a digital representation of the user's passport. This allows the required information to be transferred electronically in a way that is secured and linked to their verified identity. This is done by harnessing the global standards developed by the International Civil Aviation Organization (ICAO), which match biometric passport data and a selfie taken by the user. A Type 1 digital travel credential in line with ICAO standards is thus created.
Verified test results or vaccine information:  As the COVID-19 vaccine has now been widely available to the general public, the main vaccination requirement for entry into most countries is the COVID-19 inoculation. The IATA Travel Pass will be able to accommodate and incorporate these global standards into its system by establishing partnerships with governments and airlines to securely link a traveller's vaccination and test status with the verified identity of the IATA Travel Pass holder.
Enhanced contactless travel procedures
Both convenience and biosafety will be enhanced with seamless integration into contactless travel processes. The ICAO CART recommendations for biosafety include the use of contactless travel processes to reduce the risk of virus transmission when documents need to be exchanged in the travel process.
What this means for travellers, is that the IATA Travel Pass will also tap into the potential for convenient contactless travel processes from check-in to boarding. As the world slowly recovers from the pandemic, the need for COVID-19 related verification may eventually disappear altogether, but the IATA Travel Pass will remain as a bold step forward in the implementation of contactless travel.
Is the IATA Travel Pass available now?
The IATA Travel Pass app is now available for download on the Apple Store and Google Play but travelers will not be able to use it unless their airline is part of a trial. If your airline is participating in one of these trials, they can provide you with instructions on how to use IATA Travel Pass.
Will the IATA Travel Pass work alongside other vaccine passports?
Yes, it will.
As of late, IATA has announced that the EU Digital COVID Certificate (DCC) and UK NHS COVID Pass can now be uploaded into IATA Travel Pass as verified proof of vaccination for travel.
Travelers holding an EU DCC or UK NHS COVID Pass can now access accurate COVID-19 travel information for their journey, create an electronic version of their passport and import their vaccination certificate in one place. This information can be shared with airlines and border control authorities who can have the assurance that the certificate presented to them is genuine and belongs to the person presenting it.
Airlines implementing IATA Travel Pass
Singapore Airlines
Singapore Airlines became the first to trial the use of IATA Travel Pass on an international flight in March. The Singapore – London flight marked a successful implementation of IATA Travel Pass in demonstrating that technology can securely, conveniently and efficiently help travelers and governments to manage travel health credentials.
Etihad Airways
Etihad Airways passengers flying from Abu Dhabi to Chicago, New York, Washington and Toronto will be among the first customers of the airline to trial the IATA Travel Pass app until 15 June. Passengers participating in the IATA Travel Pass pilot will benefit from priority queue access at Life Diagnostics and Biogenix Labs for their PCR test, faster check-in at the airport and a free 90MB Wi-Fi voucher to use in-flight.
Emirates Airlines
Emirates on 15 April commenced trials of the IATA Travel Pass. The trial is being done on selected Emirates flights from Dubai to Barcelona and London Heathrow to Dubai; and will soon be expanded to include other routes. Eligible passengers are being personally invited to download the app and enroll for the digital travel pass ahead of their travels. In Dubai, Emirates has partnered with select Prime Health Care labs which are authorized to securely send test results to passengers via the app. Those travelling from the UK can get their test done at select Screen4 labs.
Copa Airlines
Panama is the first government to participate in a trial of IATA Travel Pass which will be essential to re-establishing global connectivity while managing the risks of COVID-19. The flag carrier of Panama, Copa Airlines, will be the first carrier in the Americas to trial the IATA Travel Pass.
Qatar Airways
Qatar Airways has begun trialing the innovative new IATA Travel Pass from March 2021. The trial will play an important role in the airline's vision to have a more contactless, secure and seamless travel experience for its passengers. The first phase of trials of the 'Digital Passport' will be rolled out on the airline's Doha to Istanbul route, enabling passengers to receive COVID-19 test results and verify they are eligible to undertake their journey.
Saudia Airlines
Starting from 19 Apr 2021 to 6 June 2021, SAUDIA guests travelling from Kuala Lumpur to Jeddah are invited to use the IATA Travel Pass mobile App to comply with travel and health requirements. SAUDIA is offering complimentary Alfursan Loyalty Program membership along with free miles and complimentary admission to the business lounge in KUL (subject to COVID-19 protocols).
Malaysia Airlines
Malaysia Airlines is another addition to the list of airlines to incorporate the IATA Travel Pass into its own mobile app. The Malaysian flag carrier's mobile app's newest feature, Digital Travel Health Pass, will leverage IATA Travel Pass modules to help travellers navigate the cumbersome document verification process. Malaysia Airlines has announced that it is extending and expanding its trial of the IATA Travel Pass, conducted on flights out of Kuala Lumpur to Tokyo-Narita and Melbourne. In addition to iOS users, passengers on Android devices will also be able to join the following stage of the trial.
British Airways
British Airways is trialing the IATA Travel Pass. Initially, the airline is solely targeting flights to one country, Switzerland. As a result, British Airways will be offering the digital solution on flights from its London Heathrow home to both Geneva and Zurich.
SWISS
Swiss International Air Lines (SWISS) will be trialing the IATA Travel Pass on its Zurich – London Heathrow route at the end of April. The airline has also stated that the IATA Travel Pass is rendered optional for passengers who may wish to refrain from using the digital app.
Other Airlines
Apart from the ones mentioned above, the following airlines are also trialling IATA Travel Pass:
Virgin Atlantic
Qantas
airBaltic
ANA
AirSerbia
Thai Airways
Thai Smile Air
Korean Air
Ethiopian Airlines
Neos
Vietjet Air.
Pegasus Airlines
Gulf Air
Royal Brunei Airlines
International Airlines Group
Azerbaijan Airlines
RwandAir
Avianca
Turkish Airlines
Vietnam Airlines
Vueling
Philippine Airlines
Hong Kong Airlines
Japan Airlines
Iberia
Air New Zealand
AirFrance
AeroMexico
Aeroflot
Aer Lingus
Bamboo Airways
China Airlines
China Southern Airlines
Finnair
Eva Air
Garuda Indonesia
Spice Jet
SriLankan Airlines
S7 Airlines
T'way
Jazeera Airways
Jetstar
Royal Jordanian
Apart from removing the hassles of manually confirming and validating travellers COVID credentials, airlines also note that the IATA Travel Pass takes the issue of privacy very seriously. No passenger information is kept centrally; all data is stored on the passengers' own devices and only they have the option of whether or not to share said data on their travels. In short, IATA does not have access to any data, it merely facilitates the transfer of data from the passengers to their airlines of choice.
Countries accepting IATA Travel Pass
Singapore
From 1 May 2021, passengers traveling to Singapore will be able to use IATA Travel Pass to share their pre-departure COVID-19 PCR test results upon check-in with their airline, as well as on-arrival at the immigration checkpoints at Changi Airport. This is part of an ongoing collaboration between the Civil Aviation Authority of Singapore (CAAS) and IATA to facilitate seamless and efficient travel through digital certificates of COVID-19 tests.
Panama
Panama is the first government to trial the IATA Travel Pass. The Government of Panama supports the implementation of this important tool developed by IATA that will allow passengers to comply with the country's health requirements. Through its integration with different stakeholders, it is hoped that confidence in travel and tourism will be restored.
Saudi Arabia
The General Authority of Civil Aviation (GACA) of the Kingdom of Saudi Arabia has announced its acceptance of the IATA Travel Pass to confirm pre-departure COVID-19 test results for departing and arriving passengers starting 30 September 2021. While the current scheme is focused on testing verification, vaccine certification will eventually be incorporated.
The announcement means that international travellers flying to and from Saudi Arabia will have the choice of using either the IATA Travel Pass or the Tawakkalna app, the country's national health app, owned and developed by Saudi Data and Artificial Intelligence Authority (SDAIA).
Australia
The Australian government has shown interest in using the IATA Travel Pass to connect its residents to safe, domestic flight routes. The australian airline Qantas Airways is currently using the pass. 
UAE
UAE based airlines, Etihad Airways, is said to roll out the IATA Travel Pass in a phased manner and will be soon resumed in an operational phase. Emirates has also implemented the IATA Travel Pass on six continents. The roll-out across all 120-plus Emirates destinations is expected to be completed by October. The airline has now signed a contract with IATA to implement the solution across its global network.
Spain
Spain's Iberia airlines has also announced its acceptance of the IATA Travel Pass. Spanish health care provider Quironprevencion, which Iberia partnered with recently, is now an official provider of Covid-19 tests for the IATA Travel Pass trial.
IATA Travel Pass in 2021
IATA's latest analysis shows that the airline industry is expected to remain cash negative throughout 2021. Taking into account all considerations, the year's weak start has prompted the airline industry to focus on three critical initiatives.
Planning
Careful planning along with months of preparation are required to prepare the industry to gradually restart following the debilitating disruption. Governments must ensure that airlines are prepared to reconnect people and economies by working with industry to develop the benchmarks and plans that would enable an orderly and timely restart.
Health credentials
The ramping up of various vaccination drives worldwide will inevitably play a key role. Efficient digital management of health credentials is therefore critical. Digital verification processes will be the only plausible solution to expedite recovery across the board. Be that as it may, any and all digital solutions must be secure and must emphasize the safeguarding of data privacy. The IATA Travel Pass focuses on setting the bar very high for managing health credentials, protecting against fraud and enabling a convenient travel process.
Global standards
Speed is critical. Fraudulent COVID-19 test results are already proving to be an issue. There has to be a globalized solution adopting a globalized standard to support a successful restart at scale when governments open borders. While WHO, ICAO, and OECD are working on such standards, each day without them means the challenge gets bigger. Working in partnership is nothing new for airlines or for governments. Therefore it is imperative that all stakeholders work in unison to come up with a standardized solution to keep people safe and to eventually be able to restore their well-being and that of the economy.