The favourite island of the Indonesia archipelago is undoubtedly Bali. A tropical paradise that travel-bloggers, honeymooners, city dwellers, young family and retirees escape to, in search of affordable heaven on earth.
Bali is generous with its offering of private villas, fantastic attractions, captivating beaches, verdant jungle and mysterious volcanic landscape. Especially popular towns are Seminyak, Ubud, Sanur, Uluwatu, Canggu and Nusa Dua.
Ironically, the reason why I have never thought of visiting Bali is because of its fame. It is honestly too touristy, and the chaotic traffic situation is a potential nightmare.
However, I am sure that the situation has improved tremendously: a more welcoming airport, alternative transportation like the "GoJek" and more significant efforts at cleaning up. Thus, it has remained as one of the top tropical destinations of choice.
The time has come for me to plan my virgin Bali getaway, with two very young kids in tow.
Travelling with babies is an entirely different ball game! As it is, merely heading out for lunch could look as if we are going camping for three days, survival mode! Some pre-travel advice shared was the issue of water cleanliness, to skip the cut fruits, and leave the stroller at home.
Bearing all that in mind, I have found the ideal place for a first Bali holiday – Jimbaran!
Perfect Location
Jimbaran is situated south of Kuta and the Ngurah Rai International Airport or a 15 to 20 min drive. Hearing this is a big plus when travelling with two anak-anak (Indonesian for kids).
It is not far from its neighbouring towns: Seminyak is about a 40 min drive, 30 minutes from Uluwatu and 20 minutes to Nusa Dua. That is a big bonus for added items on the itinerary. A visit to Uluwatu Temple, a round of golf at Nusa Dua, a day trip to Seminyak is just a taxi away.
A short drive to Ungasan, there is the Garuda Wisnu Kencana cultural park where you can soak in the local culture. There are many cultural show and music festivals held throughout the year.
The most appealing trait is that Jimbaran is a local fishing village updated and rejuvenated for tourists, but it stays true to its roots.
The Local Fish Market
There is hardly a chance for children to visit a wet market. Since our call time with children is involuntarily early, this is the best opportunity to show them where we get our fish! And it is not the fridge at the supermarket.
Kedonganan Fish Market is a traditional wet market, the largest in Bali and where locals most of their fresh catches. Heading there early in a cab, you might be able to see all the fishing boats returning with their haul.
The market is sprawling with all kinds of seafood you can think of, priced by weight. Just the sheer number of stalls and marine life can be pretty overwhelming.
The best way to enjoy the freshness is to have them grilled on the spot at one of the small charcoal barbecue restaurants.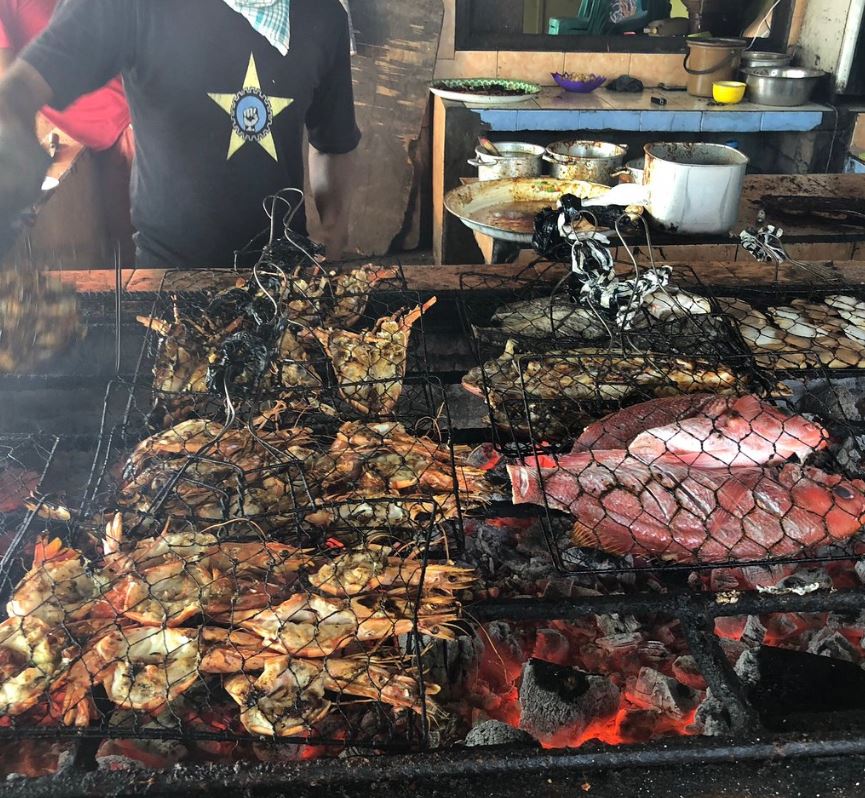 Accommodation and Activities
Known for its many luxury five star accommodations, Jimbaran has come a long way to offer hotels, villas and homestays for any wallet size.
Everyone is always friendly and ready to help. Private hire drivers and taxi are readily available and are the safest way to get around. It helps make travelling with kids far less daunting.
The warm Balinese culture truly embraces children, and people go the extra mile to make them feel comfortable and included.
An ideal Bali beach holiday for me is to be able to slow down and be immersed in the local community. For the like-minded, there is L'Atelier Parfums et Creations, where you can concoct a custom perfume.
There is also the Cooking Class and Market Tour where the chef will personally pick you up from your hotel. Like the Bali version of "Take Home Chef," you will go grocery shopping then whip up traditional Balinese cuisine alongside the Chef.
Dream Beaches
The further south you go, the whiter the beaches. Jimbaran's 4 km long crescent-shaped beach is tranquil, and its long stretch of white sand sets the mood for a relaxing beach holiday.
It is a quieter option to the swankier beaches around Bali that contains large waves more suited for surfing. The waves here are calmer and therefore safe for children to wade their feet in and enjoy the tranquillity of beach life. It is excellent for swimming, snorkelling and accommodating to beginner surfers, like me.
Beachfront Dinners
Grilled Indonesian food, just those three words is enough to make one salivate. There are three main clusters of cafes on the beach to choose from. The beach is wide so children are free to run and play while parents can keep a close watch.
People come to Jimbaran for the beachfront dining experience. You get to savour amazing seafood with your toes buried in soft sand while listening to the ocean's melodious song and revelling in the stunning golden sunset. It will be the highlight of the holiday!
Jimbaran is an ideal fishing village with a carefree pace of life. For a family with young children, it is a quick drive from the airport to your comfortable and affordable hotel. The waters and beach are friendly for the children.
Dinners are as fancy as you want it to be, bare feet and bun up hair, relaxed and hassle-free. Situated comfortably around major attractions, it offers a little bit more if you wish to explore, excellent for the young group of friends, the couples and the empty-nesters.
You could start right here, or make it the last stop of a Bali island-hopping vacation.