This article has been reviewed by Wego's editorial team to ensure that the content is up to date & accurate.
Updated 4 January 2022
The much anticipated reopening of the Sabarimala Temple down south in Perinad Village in Pathanamthitta of Kerala has been met with much enthusiasm by pilgrims across India. Dedicated to Lord Ayyappan or Dharma Shasta, the hill shrine of Sabarimala is now finally open for pilgrims, albeit with restrictions.
Have you been waiting for Sabarimala Darshan all year long? As you get excited about the journey, you must acquaint yourself with all the guidelines for pilgrims, including Virtual Q Booking. Read along to get all the updated news about Sabarimala and Mandalam-Makaravilakku pilgrimage 2022.

Sabarimala Temple opening dates 2022
The Lord Ayyappa temple at Sabarimala was opened on 15 November 2021 for the annual two-month-long Mandalam-Makaravilakku pilgrimage season. Pilgrims have been allowed to enter from 16 November 2021.
The 41-day Mandala puja festival concluded on December 26. The temple has opened again on December 30 for the Makaravilakku
pilgrimage. The Makaravilakku is on January 14, 2022, and the temple will be closed on January 20, 2022.
Sabarimala entry requirements due to COVID-19
Despite the COVID-19 situation, hundreds of devotees have been trekking the hills to offer prayers at the Ayyappa temple since it opened on November 15 for the annual Mandalam-Makaravilakku pilgrimage season. Here are the entry guidelines as mandated by the Kerala government that you should be aware of, before visiting the temple shrine.
Sabarimala Q online ticket booking
Like the previous year, the devotees are being allowed through a virtual queue system this time also as part of efforts to regulate the flow of pilgrims in view of the pandemic. Ayyappa devotees can visit Sabarimala for the annual pilgrimage only if they have completed the virtual queue booking on the online portal of Sabarimala. Registration at Virtual Q is mandatory if you want to go on the Sabarimala pilgrimage and gain access to Prasadams, Pooja, Kanika, and accommodation.
You need to first sign up with a valid mobile number and email id or if you are a member already, you simply need to log in. Devotees have been asked to make the bookings well in advance to guarantee their Virtual Q pass for Sabarimala.
About 10 counters have been opened for checking the documents of those devotees who have already booked darshan through the virtual queue. When a pilgrim books darshan through the virtual queue system, he will be notified then and there itself about the report timing at Nilakkal.
On-spot booking
The police has opened five special counters at Nilakkal for spot booking by devotees who fail to get slots for viewing the deity ('darshan) through the virtual queue system.
Those who have applied for spot booking will be allowed to have darshan in the slots that come vacant following the non-reporting of the devotees, who have booked darshan through virtual queue, at Nilakkal on time. Those who want to avail themselves of spot booking will have to wait at Nilakkal for some time to get slots, if any.
Documents required
Devotees should mandatorily take documents such as their Aadhaar card and a negative RT-PCR certificate taken within 72 hours before the Sabarimala visit and a vaccine certificate showing proof of administering two doses of vaccines is necessary for visiting the Lord Ayyappa shrine.
The facilities for RT-LAMP and antigen tests will be ready at Nilakkal. The report of the RT-LAMP test will be provided within three hours. Those who do not have vaccination certificate and RT-PCR certificate can make use of these testing facilities. The Health Department is also planning to introduce kiosks for RT-PCR testing in Chengannur, Thiruvalla and Kottayam railway stations and at major pilgrim rest centres.
Exemptions: Children accompanying parents going to Sabarimala does not have to take a mandatory RT-PCR test.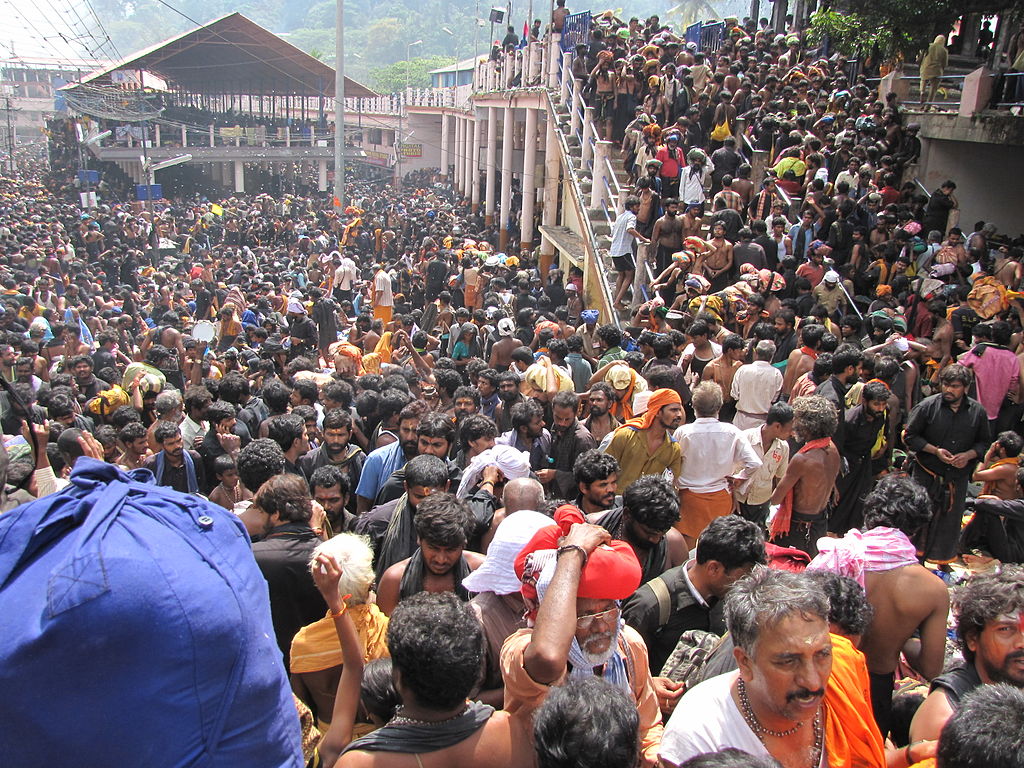 The usual rush during the pilgrimage at Sabarimala would be missing this year owing to COVID restrictions – © Wikimedia Commons
Sabarimala Opening Schedule 2021-2022
Here is the complete 2021-2022 schedule of Sabarimala opening and closing, starting from November 2020 for Mandala Pooja.
Thirunada Re-opens for Makaravilakku
Opening – 30/12/2021 5pm, Closing – 20/01/2022 10pm
Makaravilakku Day: 14/01/2022
Monthly Pooja – Kumbham:
Opening – 12/02/2022 5pm, Closing – 17/02/2022 10pm
Monthly Pooja – Meenam:
Opening – 14/03/2022 5pm, Closing – 19/03/2022 10pm
Sabarimala Utsavam:
Opening – 08/03/2022 5pm, Closing – 19/03/2022 10pm
Kodiyettu: 09/03/2022
Pankuni Uthram & Arattu: 18/03/2022
Meda Vishu Festival:
Opening – 10/04/2022 5pm, Closing  – 18/04/2022 10pm
Vishu: 15/04/2022
Monthly Pooja – Edavam:
Opening – 14/05/2022 5pm, Closing – 19/05/2022 10pm
Idol Installation Pooja:
Opening – 08/06/2022 5pm, Closing – 09/06/2022 10pm
Monthly Pooja – Midhunam:
Opening – 14/06/2022 5pm, Closing – 19/06/2022 10pm
Monthly Pooja – Karkkidakam:
Opening – 16/07/2022 5pm, Closing – 21/07/2022 10pm
Monthly Pooja – Chingam:
Opening – 16/08/2022 5pm, Closing – 21/08/2022 10pm
Onam Pooja:
Opening – 06/09/2022 5pm, Closing – 10/09/2022 10pm
Onam Day: 08/09/2021
Monthly Pooja – Kanni:
Opening – 16/09/2022 5pm, Closing – 21/09/2022 10pm
Monthly Pooja – Thulam:
Opening – 17/10/2022 5pm, Closing – 22/10/2021 10pm
Sree Chithra Atta Thirunal:
Opening – 24/10/2022 5pm, Closing – 25/10/2022 10pm
Mandala Pooja Maholsavam:
Opening – 16/11/2022 5pm, Closing  – 27/12/2022 10pm
Mandala Pooja: 27/12/2021
Thirunadai Thirappu – Makaravilakku Mahotsavam: 30/12/2022
Makaravilakku Day: 14/01/2023
Sabarimala latest news and updates
As the COVID-19 situation in Kerala is deteriorating steadily, with quickly changing travel restrictions and entry guidelines, it is important to stay vigilant of the latest travel news and updates if you are looking to travel to Sabarimala this year. In addition to the above mentioned rules, here are some other guidelines issued by the Kerala government:
Parking: The vehicles of pilgrims will be allowed entry till Nilakkal. After parking the vehicle there, the pilgrims will have to reach Pamba by public bus.
Neyyabhishekam: "Neyyabhishekam" (anointing the idol with ghee) will be conducted in the temple daily between 5.30 am to 12 noon. The Health Department's stance this time is that the "neyyabhishekam" offering by devotees cannot be done in the conventional way because of COVID-19 protocols. It has been advised that the ghee brought back after "abhishekam" should be given in return of the ghee offered by devotees. No final decision has been taken on this suggestion. Those who come in the afternoon can collect the ghee used for "abhishekam" after giving the neythenga (the coconut used for storing the ghee carried by the devotee) at the counter.
Offerings: Devotees will be given opportunity to do offerings such as Kalabhabhishekam, Pushpabhishekam, Archana, Ganapthy Homam, Bhagavathi Seva, Usha Pooja, Ucha Pooja, Deeparadhana and Athazha Pooja. But there is advanced booking for Udayasthamana Pooja and Padi Pooja.
Appam and aravana: Devotees can buy "prasadams" such as "appam" and "aravana" from the counter at Sannidhanam.
Pamba Snanam: Travancore Devaswom Board President N Vasu informed that the pilgrims would be allowed to take bath in the Pamba river.
Reopening of traditional route to Sabarimala: The Kerala State Government has decided to open the traditional route to the Sabarimala temple from Pampa via Neelimala, Appachimedu, and Marakoottam, which was earlier banned due to COVID-19.
Laying of sheets: No one will be allowed to spread sheets (viri) and take rest in the Sabarimala Sannidhanam. But devotees will get time to open "irumudi kettu" and prepare for "neyyabhishekam" offering. They will not be allowed to sit for a long time at Sannidhanam to take rest.
Medical facilities: Hospital facilities will be put up at Sannidhanam, Pamba, Charalmedu and Nilakkal. Three off-road ambulances are kept ready to take those who need emergency medical aid from Sannidhanam to Pamba.
Dolly services: The dolly service or palanquins will be allowed only for the benefit of those who are physically incapable of climbing the hills.