Let's face it, we all love a great vacation, but it's one of the most stressful things to plan. Maybe it's hard to fit everyone into the same schedule, or flights might be too expensive. However, a staycation is a great alternative! You wouldn't have to go through all the hassle at the airport or stressing out about getting a ride to the hotel. Here are some staycation ideas perfect for families:
Sentosa
Singapore's very own resort island paradise, it's tucked away out of the hustle and bustle of the raucous city. From the action-packed Universal Studios Singapore bound to keep your heart racing to the fun but laid-back Tanjong Beach Club set on the beautiful Tanjong Beach, Sentosa is a welcomed respite from the hectic city life. The beaches are free to the public, and there are affordable dining options all over the island.
Festive Hotel
Located within the integrated resort of Resorts World Singapore, Festive Hotel is the pocket-friendly, family-oriented hotel of the resort. Boasting brightly colored hues and striking graphics, this hotel also has a dedicated family room that has bunk beds – perfect for kids. Being located on the grounds of RWS also means that food and entertainment options are literally steps away.
Family Deluxe King Room © Resorts World Sentosa
Shangri-La's Rasa Sentosa Resort & Spa
This beachfront resort is one of Singapore's finest and is the only beachfront resort as well. The property also boasts children's play clubs, a playground, and waterslides, ensuring the kids would always be entertained. While incredibly kid-friendly, the resort is very tastefully decorated with neutral hues and balconies that look out to the South China Sea.
Shangri-La's Rasa Sentosa Resort and Spa © Top With Kids
W Singapore Sentosa Cove
Great for families with older kids, the W hotel chain is known for its cheeky and fun atmosphere, and this one is no exception. With quirky accents all over the hotel and a massive pool lined with palm trees, this is easily one of Singapore's best hotels. It's proximity to Quayside Isle also puts excellent restaurants at a stone's throw away, on top of a terrific buffet restaurant and a stunning steakhouse located on-site.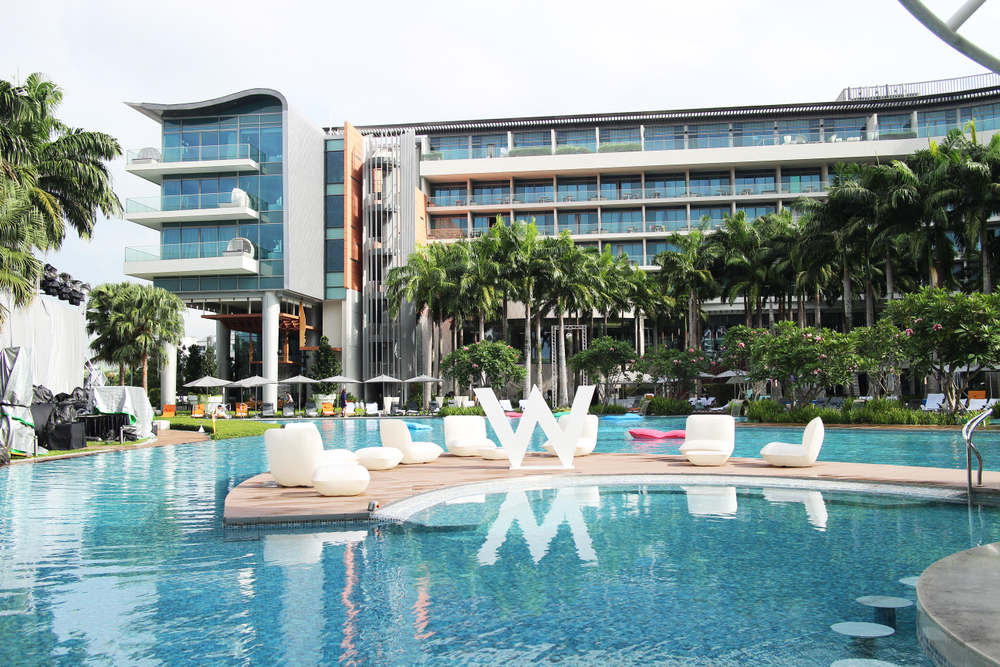 City Center
Want to get away but don't want to sacrifice the convenience of staying in the city? Well, thankfully there are plenty of options right in the city centers but offer you some quiet respite.
JW Marriott Singapore South Beach © Honeycombers
Swissotel Merchant Court
Set along Clarke Quay, the Swissotel Merchant Court puts some of Singapore's most famous restaurants and sights right at your doorstep. From the iconic Jumbo Seafood at Riverside Walk to the undeniably traditional Peranakan cuisine at Ellenborough Market Cafe right in the hotel, you would never go hungry. The hotel has options for a kids' room setup, offering children's furniture, furnishings, and toys.
Children's room at Swissotel Merchant Court © sg.Kidlander
JW Marriott Singapore South Beach
Designed by the world-renowned Philip Starck, the JW Marriott here is decked out in quirky details and amenities. The hotel also launched a new campaign – kids can get their very own camper in the room, as well as an activity booklet with sticker tattoos and a free "JW Kid" tee-shirt. The pool also offers unblocked views of the CBD, perfect for parents to soak in the views while kids play in the water.
JW Marriott Singapore South Beach © Singapore Motherhood
Shangri-La Hotel Singapore
The first-ever Shangri-La Hotel every built, this sprawling 15-acre property is just steps away from the main shopping district of Orchard Road. Surrounded by lush greenery and immaculately manicured landscapes, it offers an idyllic backdrop unlike any other in the city. The hotel also provides babysitting services and buds by Shangri-La, a dedicated play area just for kids.
buds by Shangri-La © Mum on the Move
Do some research
Check out reviews and see what people have to say about the hotels you are considering. We all value different amenities differently, so choose the one that is the best fit for you.
Another common mistake is jumping in immediately after seeing a supposedly "great deal." Before you confirm your booking, research on what alternatives there are and how much they cost. Flexible with your dates? Look out for the cheapest period for your stay.
Maximize your time at the hotel
Remember to always ask for late checkout! It's usually easily accommodated unless the hotel is fully booked. Some hotel memberships offer this perk by default, for example, the Shangri-La Golden Circle Jade and Diamond tiers.
Also, why not order in or buy some takeaway to eat in the room? Ask the concierge for some crockery and flatware, and it could be just like a fancy dinner at the restaurants in the hotel but at a mere fraction of the price. And you get more bang for your buck in your room too!