Think of Switzerland and you'll think of a place where the mountains are glazed with snow, where the sights of charming seasonal markets warm your heart, and where a cup of hot chocolate is a must after conquering the ski lanes.
Come December and all the way to Christmas and New Year's Eve, the country transforms into an enchanting destination with its stunning landscapes set on dazzling Alpine traditions. 
Whether you're into exhilarating winter activities or simply looking to take in the sights, Switzerland's excellent network of trains, buses and cable cars all guarantee easy access to practically the whole country. 
So, if you're looking to escape the heat and humidity of the tropics, here are the top winter experiences in Switzerland for your unforgettable winter wonderland experience.
The Grand Train Tour of Switzerland
The Swiss railway system is renowned for being one of Europe's finest for a multitude of reasons. It provides excellent services to families, people with disabilities, winter sports enthusiasts and of course international tourists.
This cinematic rail line takes passengers on a 1,280-kilometer tour on a journey of discovery across lakes, glaciers, mountain passes and all other breathtaking sights and landmarks. All of Switzerland's panoramic lines are conveniently lined together in a single comprehensive route.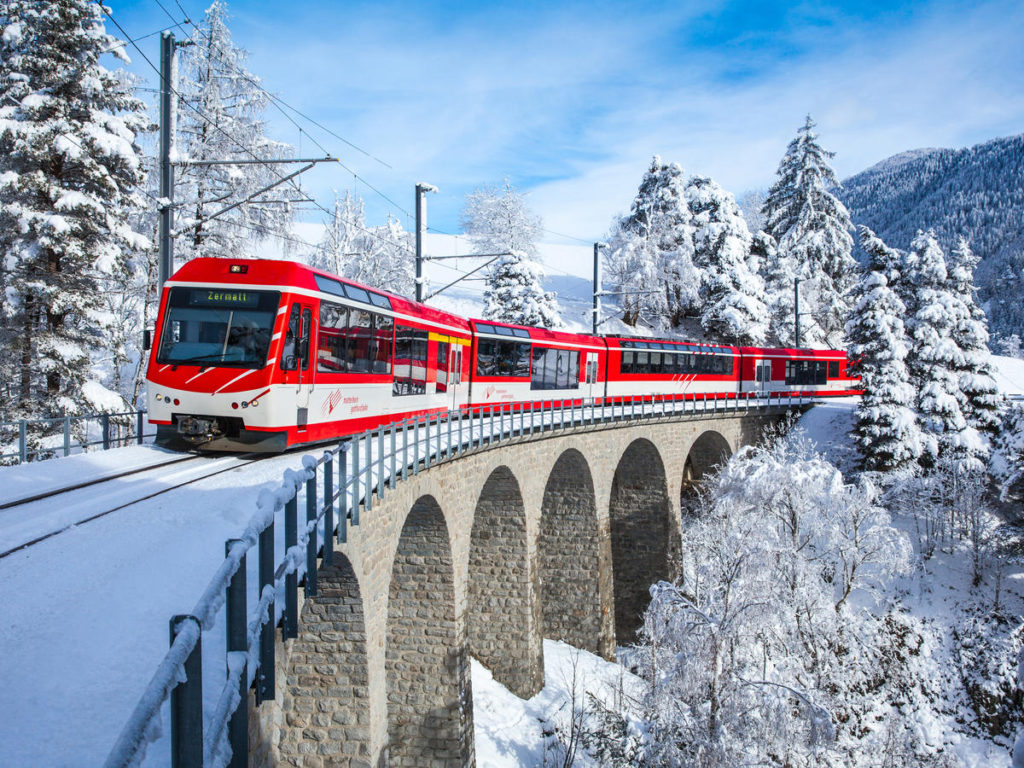 You may opt to partake the Grand Train Tour of Switzerland in its entirety to fully immerse yourself in the journey. But since the nature of the tour itself is free from any prescribed direction or duration, hopping on and off at any given time and place will not pose a problem. 
For a more hassle-free experience, the all-in-one Swiss Travel Pass grants unlimited travel by train, bus and boat. And in case you're wondering, yes, the Swiss Travel Pass' unlimited travel does extend to premium panoramic train rides as well. Also, holders of the pass are eligible for discounts on cable car fares. The perks don't end there, as the ticket also grants free access to over 500 museums. Children under the age of 16 travel for free if accompanied by at least one parent with a valid Swiss Travel Pass. 
First ski experience
For anyone wishing to experience skiing for the first time, Switzerland has got you covered. Numerous ski schools scattered throughout the country are just waiting for your visit and will provide you with the necessary training and equipment to have you skiing down that easy slope in just three short days! Experienced instructors will readily instruct you on the basics of skiing as well as guide you on where you can best hone your skiing skills.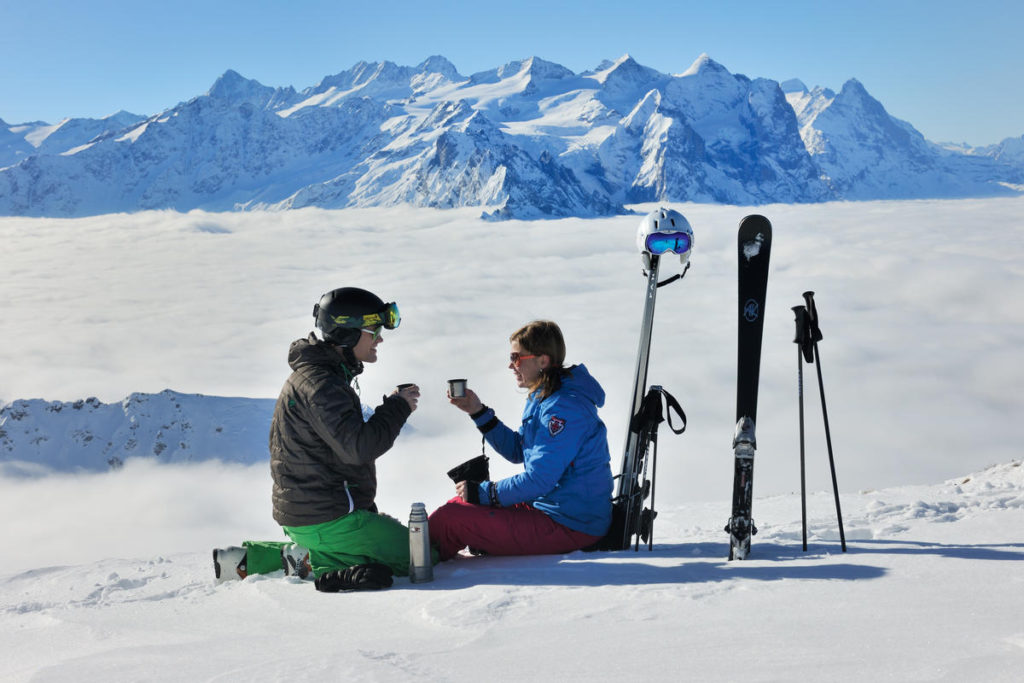 The experience extends to more than just skiing lessons, as you will also get the opportunity to take breaks in beautiful mountain huts while enjoying hot and refreshing beverages. Additionally, you may also try your hands at snowtubing, snowboarding and even riding a snowmobile.
Festive Christmas markets
Christmas markets are synonymous with tempting aromas, twinkling glows and all the wonderful things associated with the run-up to Christmas. The Alpine nation boasts a plethora of Christmas markets typically starting from mid-November and ending on December 24. 
So grab yourself a glass of mulled wine and prepare to visit the best Christmas markets Switzerland has to offer
Montreux (25 November – 24 December)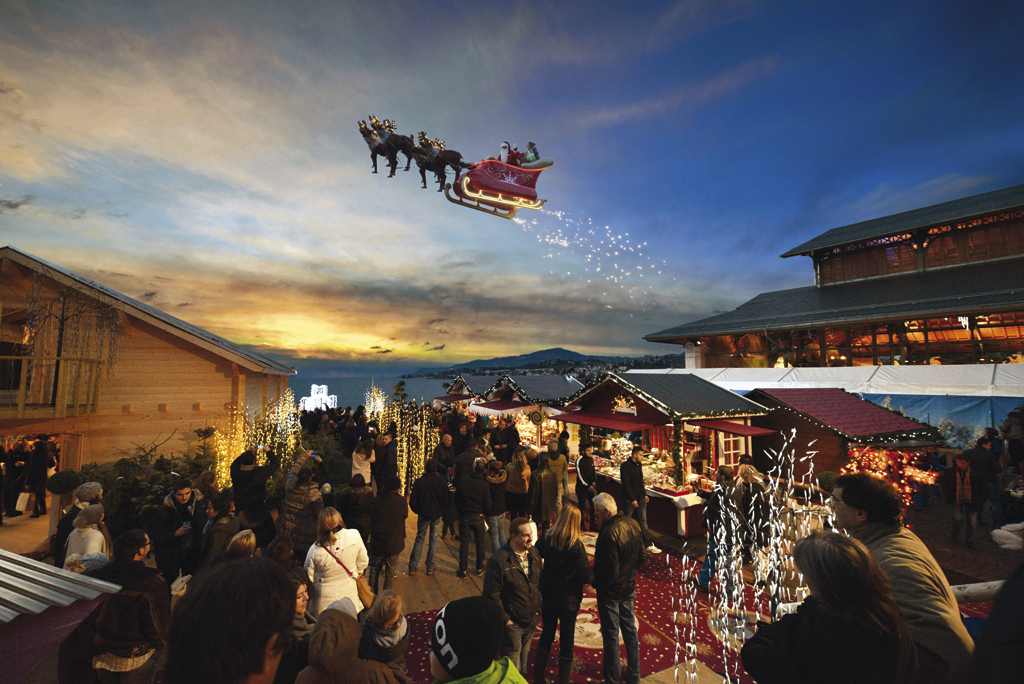 This lively lakeshore Christmas market features a big ferris wheel, a dazzling lightshow and Santa's House in addition to its neatly aligned promenade stands. The presence of the towering Chillon Castle also adds to the market's charm.
Geneva (6 – 31 December)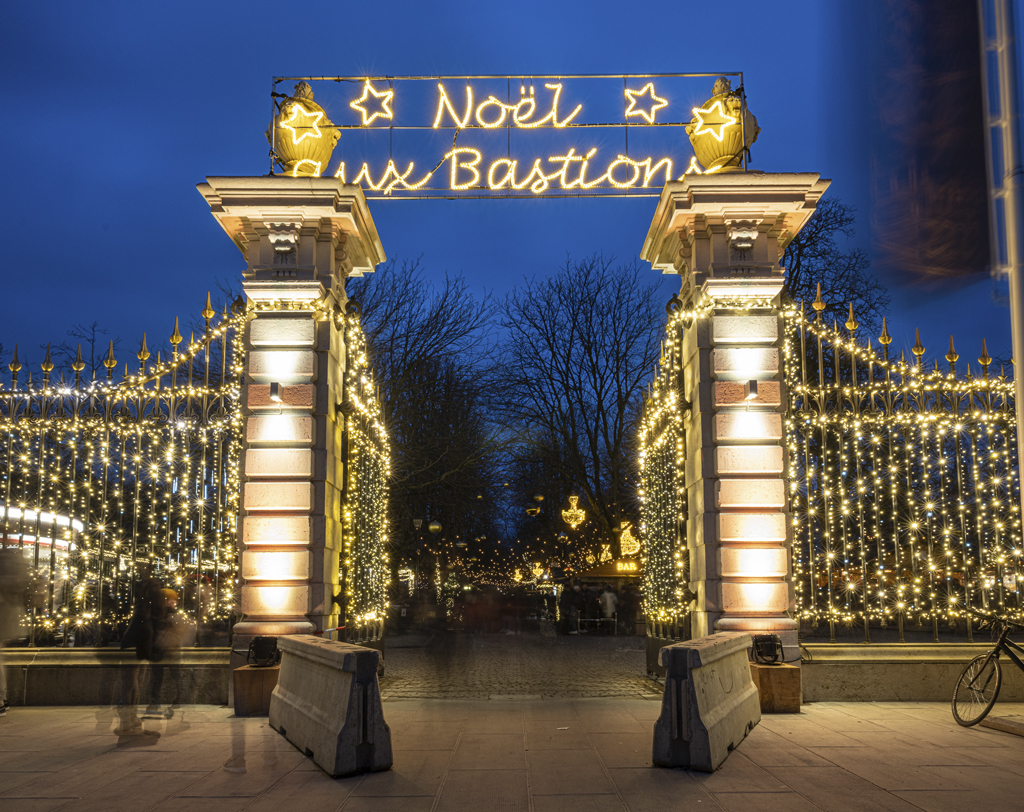 The Christmas market of Geneva is set to be held at the Parc des Bastions at the center of town. Promising wonderful traditional treats, beautifully handcrafted Christmas gifts and a vibrant atmosphere, Geneva's Christmas market is sure to get you and your family in the Christmas mood.
Basel (26 November – 24 December)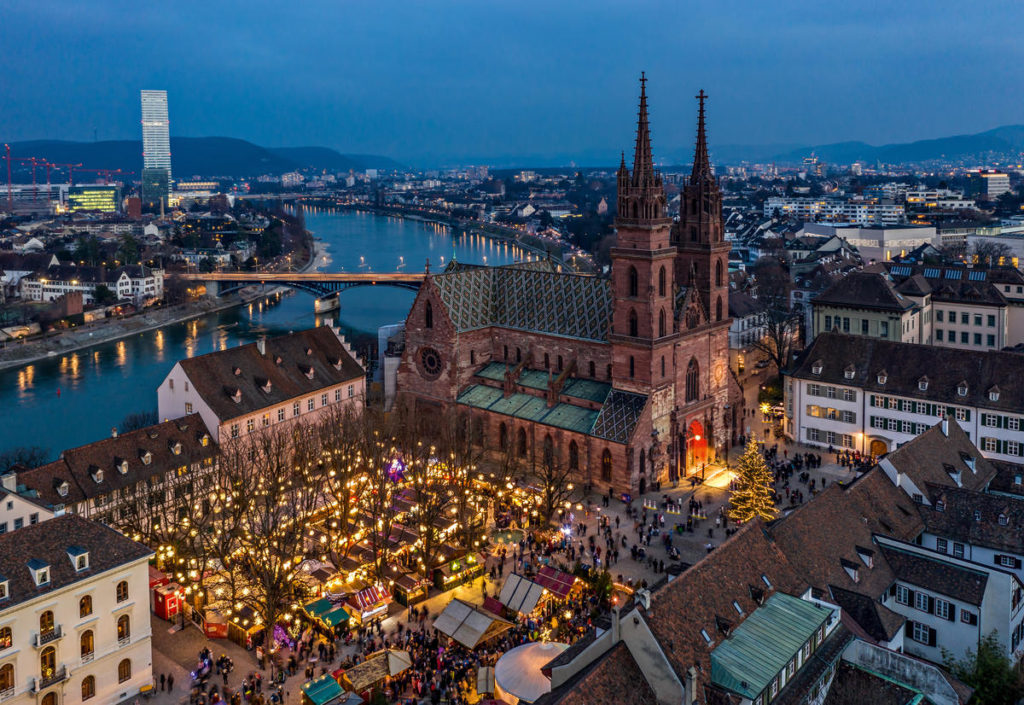 The city of Basel has not one but two Christmas markets ready to uplift anyone into the Christmas spirit. The Christmas markets on Barfüsserplatz and Münsterplatz, respectively, are filled with rustic wooden chalets utilized by craftsmen to peddle their artistic goods. Those who are looking for culinary experience may sample cuisines ranging from waffles, glühwein to the exquisite Swiss raclette.
For those taking part in the Grand Train Tour of Switzerland, the following Christmas markets are conveniently located at the station or in close proximity to the station.
Christkindlimarkt at Zurich Main Station (November 19 – December 24)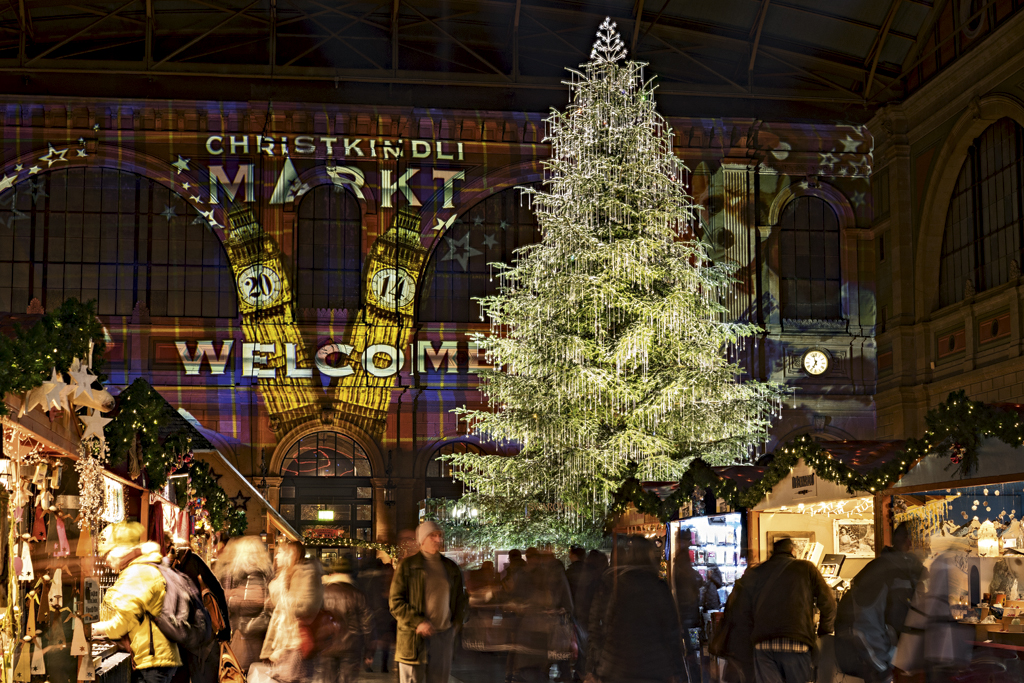 Taking place in the main concourse of Zurich Main Train Station, the Christmas market features a hundred plus stalls and is one of the largest indoor Christkindlimarkt in Europe. The 32-feet tall Christmas tree decorated with thousands of glittering Swarovski crystals serves as the centerpiece of the Christmas market.
Top of Europe ICE MAGIC, Interlaken (19 December 2020 – 27 February 2021) 
At some point between your journey from Lucerne to Montreux, you'll find a stopover in Interlaken well warranted due to the winter magic emanating from Interlaken's very own Top of Europe ICE MAGIC. The radiantly decorated winter attraction in front of snow-covered mountain peaks all but guarantees to fill your heart with warmth. 
While not technically a Christmas market, the ICE MAGIC winter adventure is a not-to-be-missed experience if you're visiting Switzerland. As the name implies, the colorful, authentically-Switzerland venue offers a wide range of winter activities which includes five ice skating rinks of varying sizes, including the 750 m2 centerpiece, kids' ice rink as well as the Bavarian curling rink. Plus there's the Winter Lounge and the Swiss Chalet Restaurant, where you may indulge in numerous Swiss delights.
Mountain Daytrips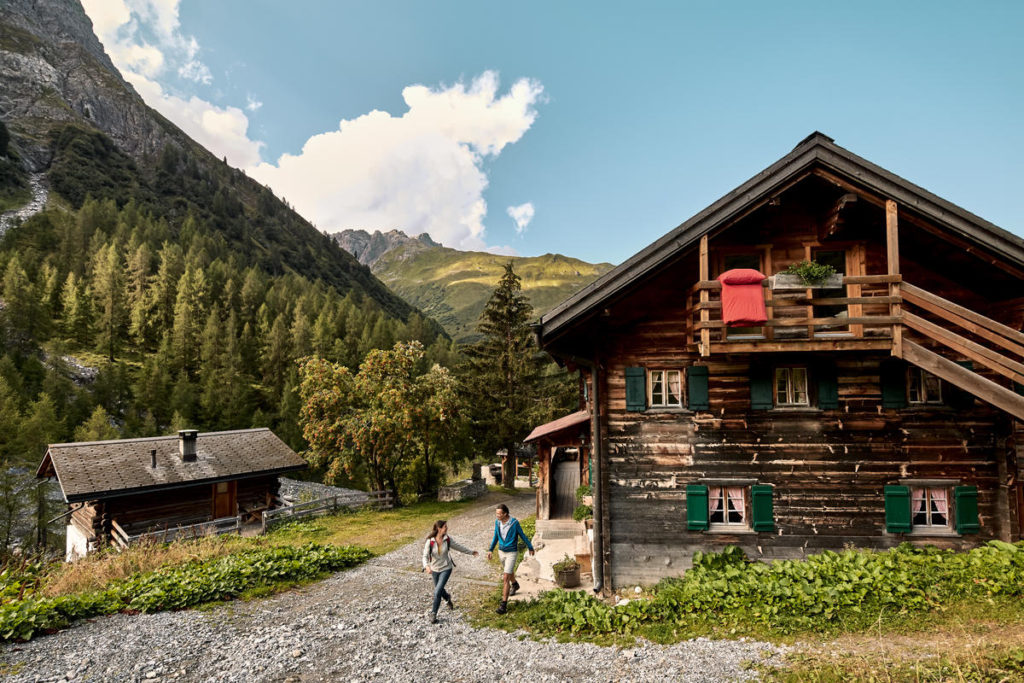 Breakfast in the hotel, mountaintop excursion at lunchtime, and wine and dine come dinner time? Yes to all those!
Upon visiting Switzerland, you'll find a wide selection of these daytime excursions readily available from the city of your choosing to the nearby mountains. You won't want to miss the opportunity to climb to a height of 3,000 meters above sea level where perpetual snow accompanies you as you gaze upon the views of the Bernese Oberland. 
Among some of the more family-friendly ones is the Zurich – Mount Rigi mountain daytrip, which is also covered by the Swiss Travel Pass.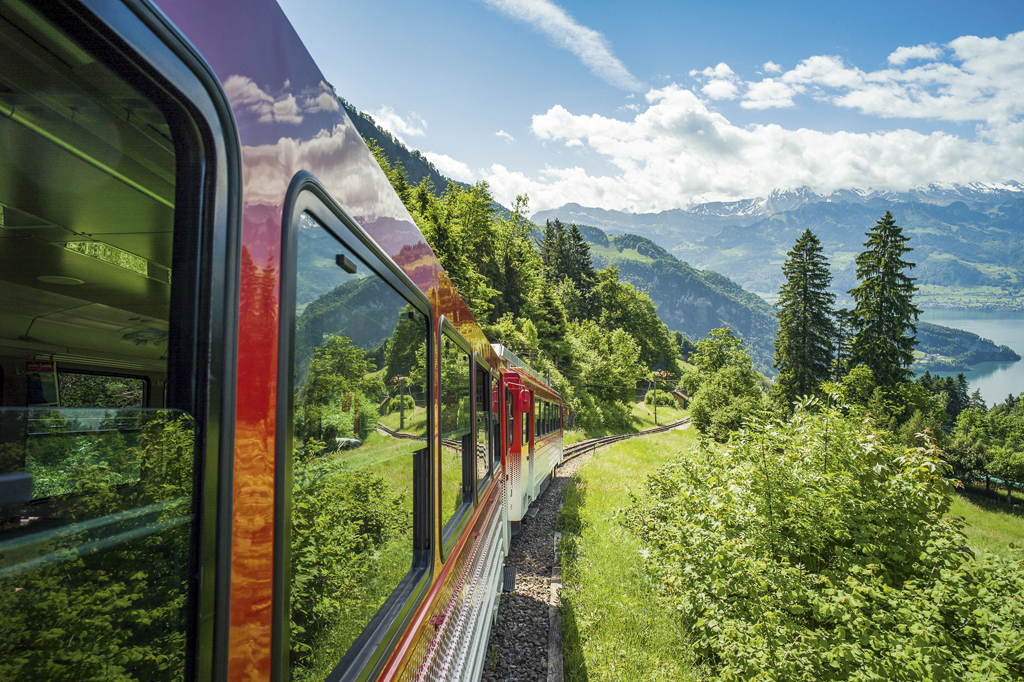 From Zurich, you can simply take a train to Arth-Goldau to the start of the mountain trail. If you're up for it, you may choose to scale the mountain via its 35-kilometer winter hiking trail. 
On the way to the top onboard the train, just the right amount of aperitif will help you prepare your taste buds for the coming bread dipped in warm fondue.  Upon reaching the top, restaurants serving local delicacies and specialties will undoubtedly provide you with an unforgettable dining experience with their open terraces and a tranquil atmosphere.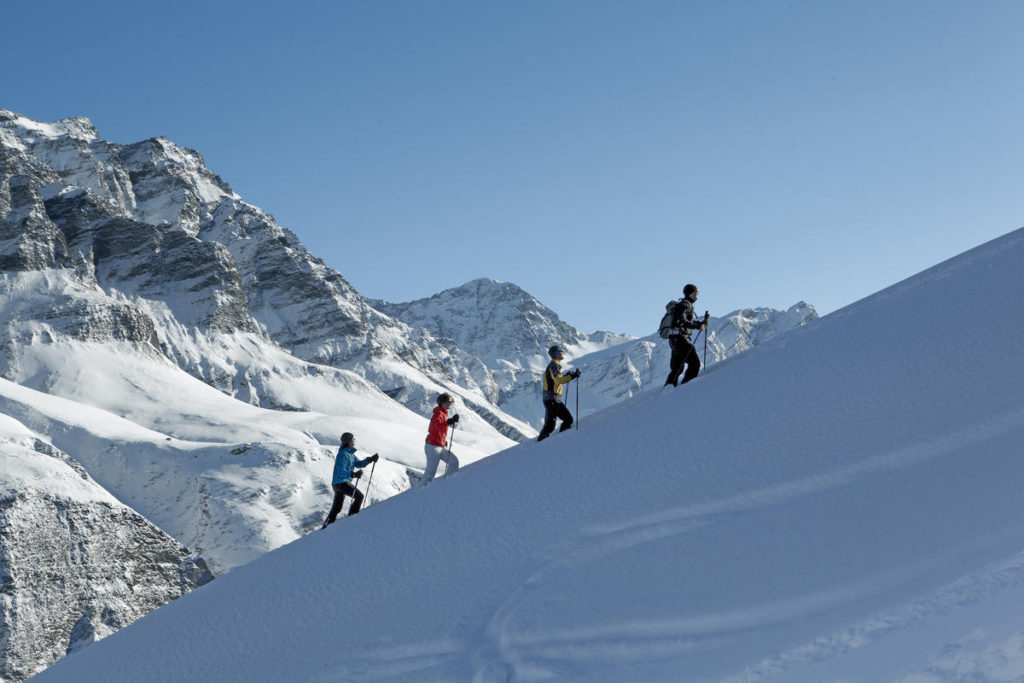 After having your midday sustenance, options are available to you. You can choose to further immerse yourself in the relaxation process by availing yourself to the Rigi Kaltbad Mineral Bath & Spa, or you can partake in the various winter activities such as skiing, snowboarding and winter hiking. You also have the option of hiking your way down from the mountain or taking the train down back to Arth-Goldau; from where you can catch a train back to Zurich and be at your hotel before dinner.
Check out other mountain daytrips in various cities here.
Winter bucket list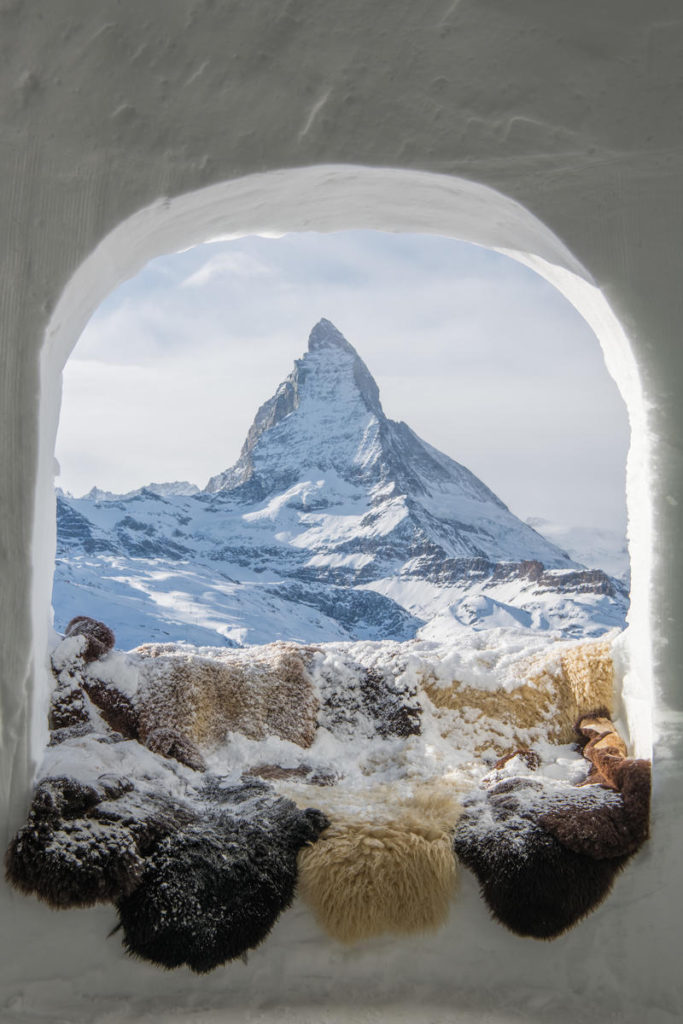 Granted, a lot of countries in the world experience snowfall come wintertime, but if your bucket list involves spending some time in a fairytale-like igloo village with an unobstructed view of the Matterhorn, then Switzerland is literally your only option.
So, whether you're a Swiss resident or a visiting traveler, our following Switzerland highlights will hopefully inspire you to create your very own winter wonderland bucket list. See how many you can check off!
Ice fishing on Melchsee-Frutt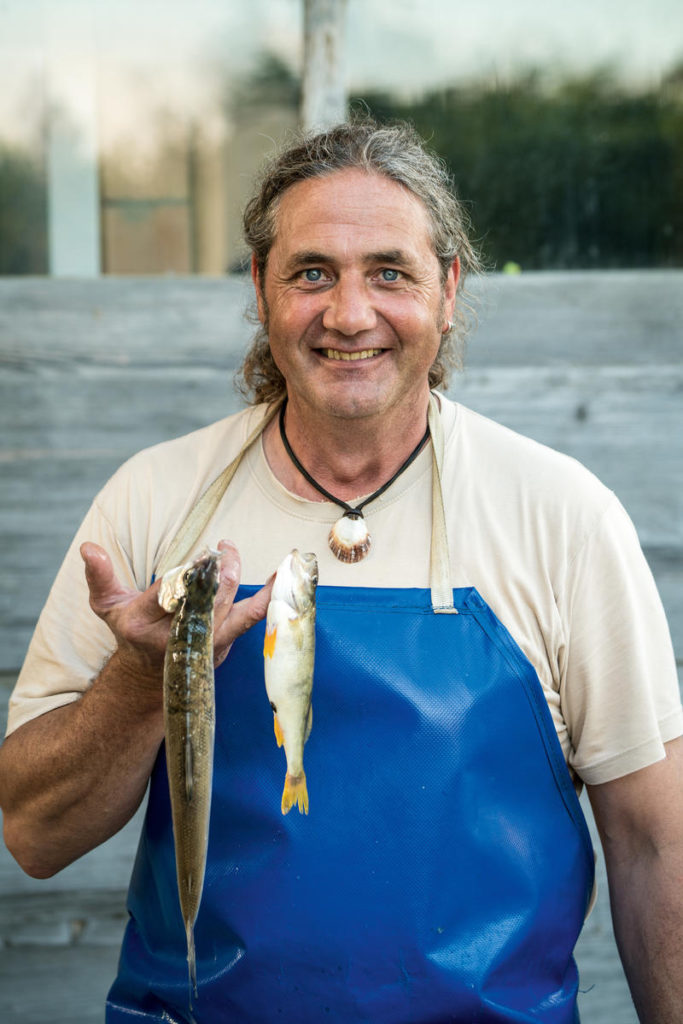 If you've yet to try your hands at ice fishing, you're missing out on some of winter's most iconic activities. At 2,000 meters above sea level, it's very much possible to ice fish right here at Melchsee-Frutt. With help from a guide, it really is a beginner-friendly affair to drill a hole through the ice on the frozen lake and start angling some fish. Hint: the fish actually tastes better!   
Moonlit adventure on the Rothorn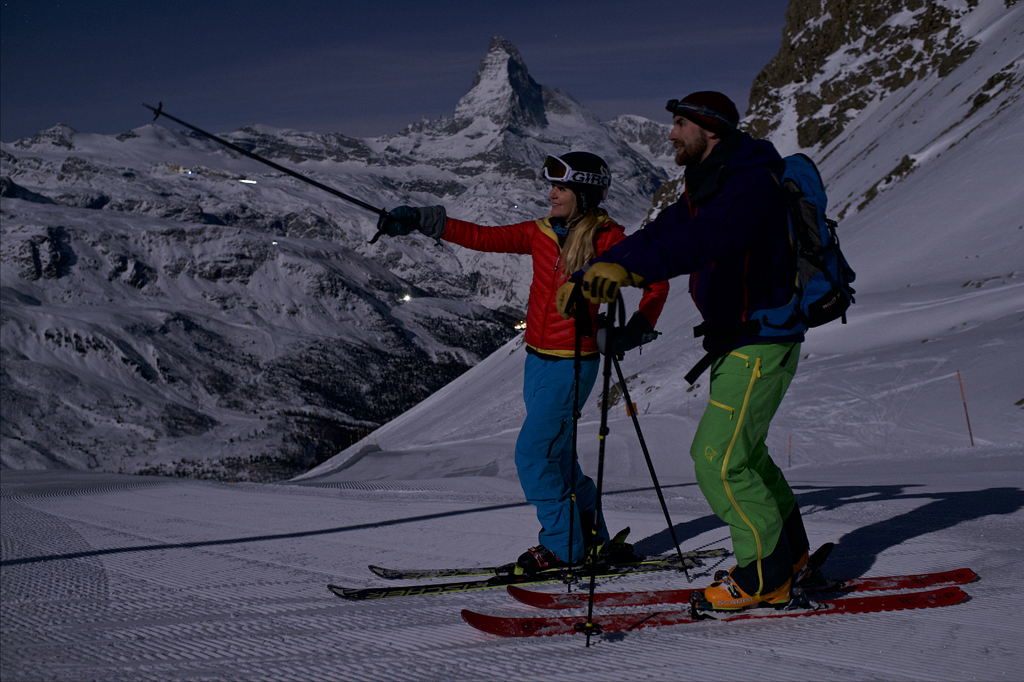 If you're a skier, the prospect of heading out into the night after a warm cheese fondue to slide down the slopes and observe the profile of the moonlit Matterhorn is nothing short of exhilarating. This unique skiing experience is perfectly safe as rescue services are on hand at all times for the duration of the descent. You can find this night-time excursion at the Zermatt piste.
Lesser known fact; apart from being renowned as a skiing destination, Zermatt is also a charming, perfectly laid out town, where tons of available activities cater to just about anyone. So if skiing's not your thing, don't fret, you can always try your hand at curling, ice skating, go on museum tours or simply have lunch under the watchful eyes of the mighty Matterhorn. Spa treatments and relaxation are also available for those looking to focus on their wellness and well-being.
Wellness indulgence with a jump in Lake Thun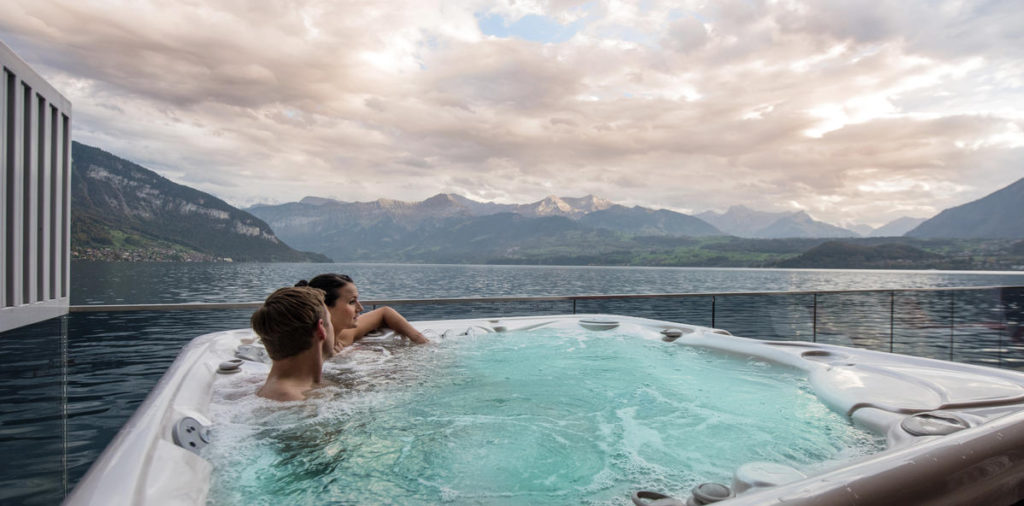 Too cold for a dip? Not if you've worked up a sweat at the Parkhotel Gunten's exquisite spa and sauna beforehand. The wellness oasis offers guests a myriad of relaxation methods, including fragrant floral sauna, Finnish sauna and even the simple option of dipping into a hot tub on the terrace as you marvel at the beauty of Lake Thun.
Other bucket list entries
Switzerland has tons more activities befitting your winter bucket list. Things like car-free villages, luxurious hotels and even snowshoe tours close to the city. So no matter what activities or places you decide to visit, just remember to slow down, relax and simply enjoy the enchanting winter wonderland that is Switzerland.
Planning your Switzerland winter getaway
With so many winter activities and highlights available in and around the Alpine nation, planning for your Switzerland exploration may pose a bit of a challenge. You can rely on Wego to discover affordable flights to Zurich as well as finding and booking the most suitable Zurich hotels for you and your family. 
For your visa information, you can read up on what you need to prepare and changes you need to be aware of here. 
The country is employing the best strategies and initiatives to welcome guests back into a safe, hygienic environment, so you'll be guaranteed to have a worry-free holiday. Read up more on the official tourism board MySwitzerland's clean and safety measures, along with Switzerland's Health Ministry page for the latest travel update.
All images courtesy of Switzerland Tourism