This article has been reviewed by Wego's editorial team to ensure that the content is up to date & accurate.
With Valentine's Day 2021 just around the corner, it's the perfect time to reaffirm the love you have for each other. Yes, we're still in the middle of a pandemic, but that doesn't mean we can't celebrate love.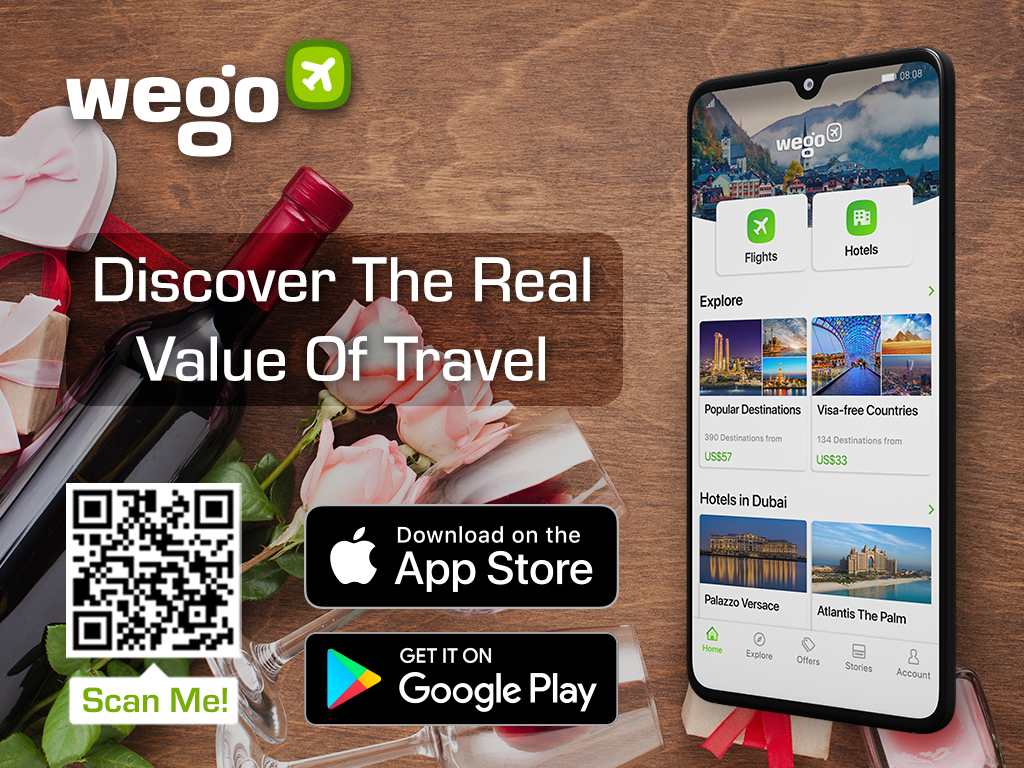 So on the off chance that you find yourself struggling to find ways of doing so, take a look at our list of 5 ideas for an unforgettable Valentine's Day.
Go on a romantic staycation
Leave the world behind if but for a fleeting moment by going on a romantic staycation. Come Valentine's Day, various hotels will have romantic arrangements for couples looking to spend some intimate time together.
Typically, the romantic stay would include 1 to 2 nights in romantic suites with whirlpool, sauna, fireplace as well as breakfast in bed and candlelight dinner. Some hotels would even include spa and wellness programs designed specifically for couples. 
Looking for a hotel to spend time with your loved one? Find and reserve yours now.
Celebrate your love under the stars
Yes, we're advocating going on a glamping trip for the upcoming Valentine's Day. If you're not familiar with the concept, glamping is basically a camping trip with the amenities you'd expect to find at a full-fledged hotel. That way, you won't have to worry about sleeping on the ground or being chased by some wild animal that's not afraid of humans.
Besides, it's not every day you get to spend the night with your loved one under the stars while being embraced by mother nature herself.
Check out some noteworthy glamping sites here.
Romantic wining and dining with a twist 
Chances are you've thought about this one, right? But perhaps you'd like to take it up a notch this year by dining and wining at a romantic restaurant in that particular city or even country you both have been dying to visit.
While it's true that international travel may still be off the table for many of us, there's a good chance that travelling domestically for Valentine's Day may still be a viable option. In any case, wherever you both decide to go for that be-all-end-all Valentine tradition, be sure to stay safe and adhere to the prevailing safety protocols.
Check out all available flights here.
Do something unexpected
If you feel like skipping the romantic clichés this year and doing something unexpected, there's actually a couple of ways to go about it. For example, you might consider getting matching tattoos.
Too much?
Okay, you can also choose to go hiking or rock climbing together or any other adrenaline-inducing activities offering options for couples this Valentine. You can even go on the great (insert country name) road trip where it's just the two of you, the road and the awaiting adventure. 
But if you're looking for something a little less extreme, you can always opt for a couples dance class, like salsa, bachata or what have you. Other than that, simply enjoying the sunset with a bottle of champagne, taking couples yoga classes or even just cooking together will definitely do the trick.
Or, you can just stay home
Valentine's Day would be the perfect day to binge-watch that romantic Netflix series together. Cheesy flicks the likes of Sweet Magnolia, Emily in Paris or what have you, await and would definitely translate to a lot of cuddling and spooning. You can also order out food, drinks, dim the lights and light up some aromatherapy candles, followed by a relaxing bath together.  
In short, there's really nothing wrong with spending Valentine's Day with your significant other in the comfort of your own home. In fact, staying home would probably be the smartest thing to do during the pandemic.