This article is reviewed regularly (on a monthly basis) by Wego's editorial team to ensure that the content is up to date & accurate.
Updated May 2023
The Absher platform, developed and maintained by the Saudi Arabian government's Ministry of Interior, has become an integral part of daily life for many citizens and residents in the country. This one-stop-shop for government services offers a wide range of features, from passport and ID management to e-services related to residency, travel and other government-related affairs.
If you'd like to know more about the Asher platform and its range of e-services, please read on.
Absher latest news
The Absher platform now supports a number of new features as announced by the Saudi General Directorate of Passports (Jawazat).
Among the new features is the digital identification document service for family members of expatriates living in the Kingdom. This will allow the family members of expatriate residents to display their digital resident identity through their mobile devices. The new digital identification feature may be used anywhere within Saudi Arabia to verify ID without the need to carry paper identification.
Apart from Jawazat, Saudi Public Security has also implemented new features accessible through the Absher platform. The new e-service allows citizens and residents to report stolen vehicles online without visiting police stations. Moreover, they can now access all licensing renewals and obtain an electronic consent form to transport their weapon from one area to another.
Absher portal Saudi Arabia
The Absher portal is an online platform in Saudi Arabia that allows citizens and residents to access a variety of government services, including passport renewal, visa applications, and a range of other government services.
Managed by the Saudi Ministry of Interior, the web-based portal provides a convenient way for individuals to manage certain aspects of their relationship with the Saudi Arabian government. Some of the more popular Absher services are as follows.
Book cheap flights to Saudi Arabia
Saudi passport renewal
The Absher platform enables Saudi Arabian citizens to renew their passports online. The service can be accessed through the Absher.sa portal. For more details regarding the Saudi passport renewal process, please visit our article below.
Issuance of Saudi exit/re-entry visa
Foreign national employees, along with their dependents, can apply for the Saudi exit/re-entry visa from the Absher platform. For those looking to obtain their Saudi exit/re-entry visa, you can learn more about the process in the article below.
Other Absher e-services
Saudi citizens and residents may also take advantage of numerous other e-services offered by the Absher portal. Such services extend to driver's license renewal, vehicle registration renewal, and numerous others. You can learn more about Absher's wide range of e-services on its official page.
Absher login
If you already have an account on the Absher platform, you can simply log in to the platform by following the steps given below: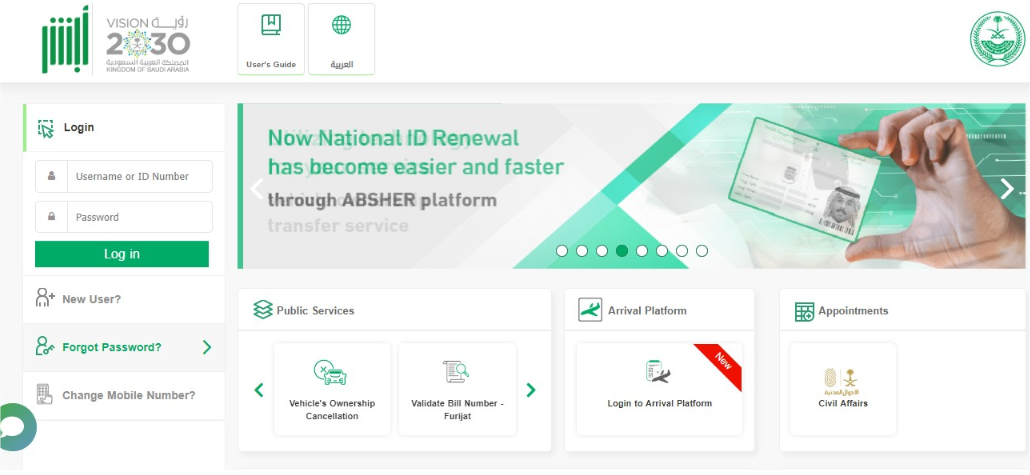 go to the Absher portal login page
set the language to English
go to the 'Login' section on the left side of the webpage
enter your account username/ID Number and password
select 'Log in', and you will be successfully logged into your Absher account
Absher registration
If you've yet to register on Absher, you can do so by following the steps given below: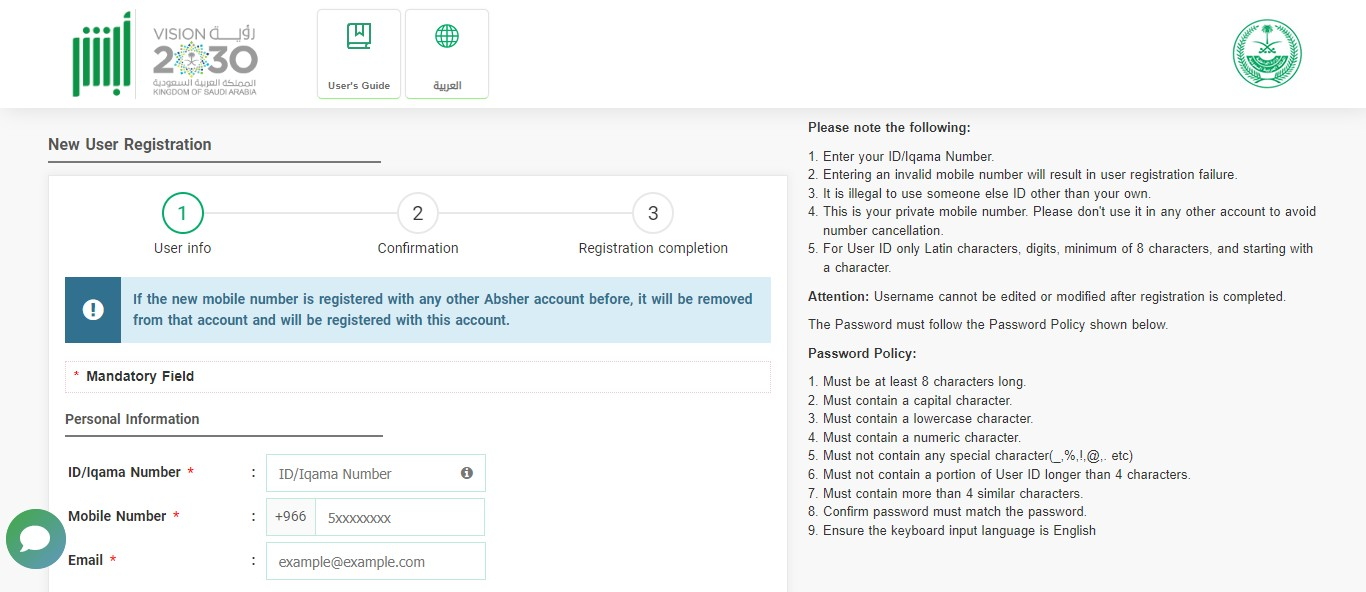 visit the Absher portal
select 'Individuals
set the language to English from the top of the webpage
click on 'New User?'
fill in all the required details, including Iqama number/ID, mobile number, email address, and other required information
enter the captcha code correctly
agree to the terms of use and privacy policy
click 'Next'
enter the activation code sent to your registered mobile number
click on 'Register' to complete the registration process
Please note:
entering an invalid mobile number will result in user registration failure
it is illegal to use someone else's ID for registration
please avoid using your registered mobile number in any other account to avoid number cancellation
the username cannot be edited or modified after the registration process has been completed
Absher Business
Absher Business is a platform that provides owners of small businesses or establishments access to visa-related services for their foreign employees or workers. Businesses or establishments that qualify for the Absher Business are those that do not exceed 100 employees/workers.
Some of the available services are as follows:
issuing resident IDs for employees/workers
renewing resident IDs for employees/workers
profession change for employees/workers (requires the Ministry of Labor's approval)
issuing exit-re-entry visas
cancelling exit-re-entry visas
issuing final-exit visa
document delivery services
Muqeem printing request
issuing authorization
accepting/rejecting authorization
transferring services
updating passport information
vehicle scrap
Please consult Asher Business' official portal for more information.
Absher self-service machine
Apart from accessing the Absher platform through your phone or computer, the Ministry of Interior has provided Absher self-service machines in various locations throughout the Kingdom. These self-service machines offer the same functionalities and features as the online platform, allowing citizens and residents to easily access their required services.
Absher self-service machine near your location
You can find Absher self-service registration machines all over Saudi Arabia. To find one that's nearest to your location, please consult the official list.
Absher app
The Ministry of Interior has also launched the Absher app, which is a smartphone application allowing citizens and residents of Saudi Arabia to use a variety of governmental services. Among the list of other services, the Absher app may be used to avail of passport services, traffic services, civil affairs services, and more.
You can download the Absher app from Google Play or the App Store.
Absher number change
There are two ways to change your mobile number on Absher as follows:
Via the Absher website
To use this method, you must have access to your registered mobile phone number. Follow the steps below:
log in to your Absher account
click on the 3 dots in the upper right corner of your screen
select 'user information'
click on 'Edit'
enter your new mobile number
save your progress
enter the verification code
once completed, you will see a confirmation message "Your account information has been successfully updated"
Via the Absher self-service machine
You can also use Absher's self-service machine to change your registered phone number. Please follow the steps below:
visit your nearest Absher self-service machine
set the language to English if you prefer
enter your ten-digit Iqama number
select the 'Update Mobile' option
for verification, provide your fingerprint on the scanner
enter your new mobile number
enter the OTP received on your new number and complete the process