This article has been reviewed by Wego's editorial team to ensure that the content is up to date & accurate.
Updated 8 November 2022
Abu Dhabi, the wealthiest emirate in the UAE, continues its tradition of heavily investing in environmental, cultural and educational innovations.
The emirate is so much more than merely the UAE's capital or Dubai's closest neighbor; home to the world's largest hand-woven carpet, the fastest roller coaster, the leaning tower, the first universal museum in the Arab World, Abu Dhabi establishes itself as a city set to lay claim on a number of world records.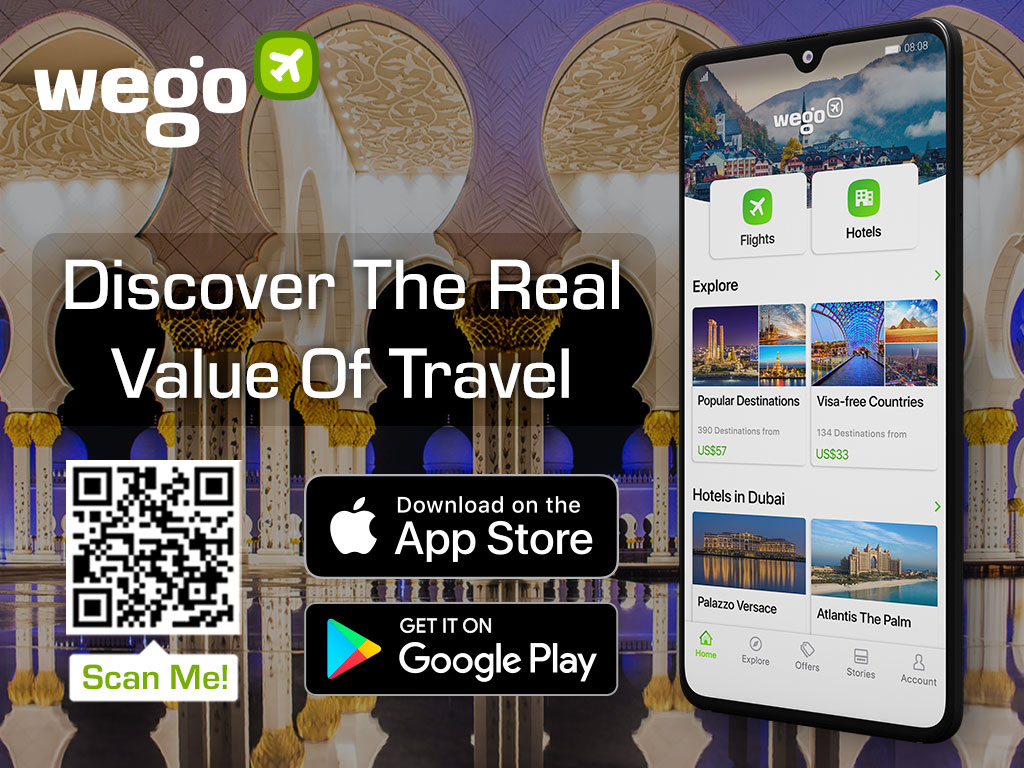 As the world prepares to once again visit Abu Dhabi, the emirate is also rolling out safety rules and precautions to welcome visitors.
Here is your guide to a COVID-safe journey to Abu Dhabi and the current prevailing measures for international arrivals.
Travelling to Abu Dhabi 
As a second phase towards easing of restrictions, and after nearly two-and-a-half years of stringent Covid-19 restrictions, the UAE authorities have now announced the lifting of all Covid-19 precautionary measures and rules.
As a part of this, the Al Hosn application will be limited to proof of vaccination certificates and test results inside and outside the country upon request, and the Al Hosn Green Pass is NO longer required to enter public facilities and sites.
Moreover, Inbound travellers to Abu Dhabi no longer need to take a PCR test on arrival. It is now optional and available at the airport at a cost of AED 40.
However, as announced by the authorities Covid-19 PCR testing and treatment health facilities will continue to operate and the five-days isolation period for those infected with Covid-19 will still be implemented. Furthermore, face masks are now optional in all open and closed facilities in the UAE, including places of worship and mosques.
Abu Dhabi entry requirements
All foreign travellers wishing to enter Abu Dhabi must ensure that they are eligible for a visa on arrival prior to their departure, if not they will require a pre-arranged visa to enter the UAE.
Other requirements include a UAE-approved vaccine (for fully vaccinated arrivals), a recovery certificate with a QR dated within 30 days or a negative PCR test (for unvaccinated arrivals) obtained within 48 hours of departure.
Finally, it is also required to download and install the Al Hosn app to verify vaccination status.
Here are the latest entry requirements for those travelling to Abu Dhabi:
Vaccinated travellers
Vaccinated arrivals to Abu Dhabi can present a valid vaccination certificate reflecting that the traveller is fully vaccinated with a vaccine approved by the WHO or the United Arab Emirates, and must include a QR code.
Unvaccinated travellers
Travellers who are unvaccinated or partially vaccinated and entering the capital must present a valid negative COVID‑19 PCR test certificate issued within 48 hours from the time of sample collection to the time of boarding and the certificate must be issued by an approved health service provider with a QR code.
Recent recoveries
Arrivals to Abu Dhabi who have recently recovered from COVID-19 can present a valid medical certificate issued by the relevant authorities that the passenger has recovered from COVID‑19 within 1 month from the date of recovery to the date of arrival.
Abu Dhabi quarantine measures
Travellers to Abu Dhabi are not required to undergo quarantine measures upon arrival. Individuals infected with COVID-19 will need to isolate for 5 days and mandatorily wear a mask.
The UAE has also scrapped the isolation requirements for people who had close contact with the infected. In addition, any close contact will only need a PCR test if they possess COVID-19 symptoms; however, PCR tests are recommended for close contacts from the vulnerable categories (including the elderly and people of determination).
The Al Hosn App
The Al Hosn app's colour-coded system has been designed to reflect vaccination-related status and validity. The app grants the green pass to anyone able to satisfy the UAE's test and vaccination requirements.
However, after the easing of restrictions, the Al Hosn application will now be limited to proof of vaccination certificates and test results inside and outside the country upon request, and the green pass is NO longer required to enter public facilities and sites.
For residents, the Alhosn app requires an Emirates ID number. While tourists will need to use the UID number from their visa.
The Green Pass on the Alhosn app can be attained by anyone regardless of vaccination status. However, the extent of your COVID-19 vaccine coverage will dictate how long the Green Pass is active for. Read more about the Al Hosn app in our article below:
[Total:

143

Average:

4.9

]