This article has been reviewed by Wego's editorial team to ensure that the content is up to date & accurate.
Updated February 2023
As a major international connection point for long-haul flights to and from countries in Europe, Asia, North America, and Oceania, Dubai International Airport (DXB) has always been among one of the world's busiest airports in terms of international passenger traffic.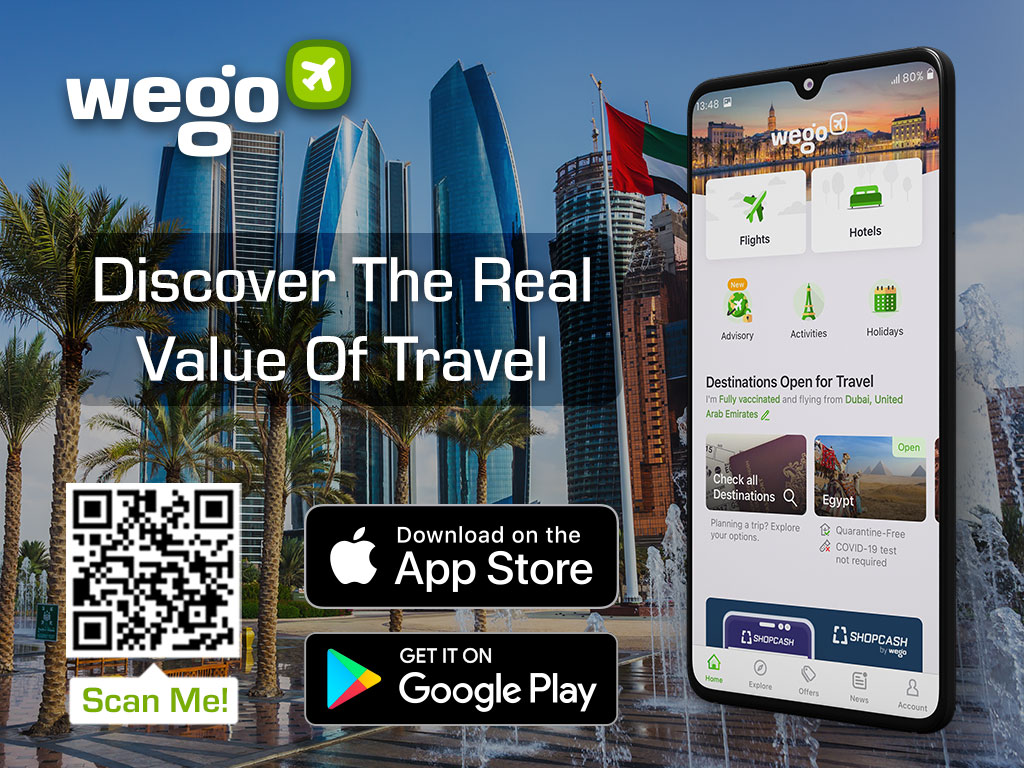 If you're planning on transiting or flying to or from the city of Dubai, here's our complete guide to Dubai International Airport; arrival, departure, transit, and the latest COVID-related requirements.
Dubai Airport terminals 
Before making your way to the airport, make sure to determine your terminal of operation. Generally, airlines are assigned to the following:
Here's an overview of what both arriving and departing passengers can expect in terminals 1 to 3.
Terminal 1
Terminal 1 serves most international airlines, except Emirates Airlines.
Aeroflot
Aerosvit Airlines
African Express Airways
Air Algérie
Air Blue
Air China
Air France
Air India
Air Malta
airBaltic
Arkefly
Armavia
Austrian Airlines (Tyrolean Airways)
Azerbaijan Airlines
Bahrain Air
Belavia
Biman Bangladesh Airlines
British Airways
Bulgaria Air
Cathay Pacific
China Eastern Airlines
China Southern Airlines
Condor
Cyprus Airways
Daallo Airlines
Delta Air Lines
Djibouti Air
EgyptAir
Enter Air
Ethiopian Airlines
Finnair
Georgian Airways
Gulf Air
IndiGo
Iran Air
Iraqi Airways
Jazeera Airways
Jet Airways
Jordan Aviation
Kabo Air
Kam Air
Kenya Airways
KLM
Korean Air
Kuwait Airways
Libyan Airlines
Lufthansa
Mahan Air
MIAT Mongolian Airlines
Middle East Airlines
Nas Air
Nordstar Airlines
Norwegian Air Shuttle
Oman Air
Onur Air
Pakistan International Airlines
Qatar Airways
Rossiya
Royal Brunei Airlines
Royal Jordanian
RwandAir
S7 Airlines
Safi Airways
Saudia
Shaheen Air International
Singapore Airlines
Somon Air
SpiceJet
SriLankan Airlines
Sudan Airways
Swiss International Air Lines
Syrian Air
Tajik Air
TAROM
Tatarstan Airlines
Thai Airways International
Transaero Airlines
Tunisair
Turkish Airlines
Ukraine International Airlines
United Airlines
Ural Airlines
Uzbekistan Airways
Virgin Atlantic Airways
Yemenia
Passengers may treat themselves to some shopping and dining at Terminal 1. The terminal's food court located at Concourse D offers a variety of international dining options the likes of Japanese, Arabic, Mexican, and more. If you're looking for a pre or post-flight drink, numerous bars and cafes offer both alcoholic and non-alcoholic beverages.
Those looking to buy some gift-wrapped souvenirs may do so with ease as Concourse D offers an impressive 175-outlet lineup. You can find everything from electronics and books to authentic Arabic coffees and dates. 
Other facilities include business and first-class lounges, currency exchange, pharmacy, baby care spaces, and more.
Terminal 2
Terminal 2 caters to some budget airline passengers, along with other regional and international airlines.
Air India Express
Alexandria Airlines
Alitalia
Ariana Afghan Airlines
AVE.com
Caspian Airlines
Eritrean Airlines
Euro-Asia Air
Fars Air Qeshm
flydubai
Gryphon Airlines
I-Fly
Iran Aseman Airlines
Jubba Airways
Jupiter Airlines
Kish Air
Kyrgystan Aircompany
Mihin Lanka
Nasair
TAAG Angola Airlines
Taban Air
Toumaï Air Tchad
Transavia.com
Travel Service Hungary
TUIfly
Turkmenistan Airlines
United Airways
Among others, you can find ATMs, Baby care facilities, currency exchange services, information points, lounges, and prayer rooms here.
Terminal 3
Terminal 3 is the world's largest airport terminal serving primarily Emirates Airlines. 
Here, you can find over 40 restaurants, cafes and bars across the B and C concourses. As with Terminal 1, dining options are varied and you can find everything from Indian to Italian cuisines and everything in between.
In addition to business and first-class lounges, Terminal 3 also offers a full-scale hotel. Dubai International Hotel is within Terminal 3's premises and accommodates transit passengers only. Rooms are offered in 6, 12, and 18-hour packages.
Naturally, you can do some serious shopping at the famed Dubai Duty Free store. From electronics, liquor to perfumes and luxury brands, you can pretty much find anything here. You can even try your luck at the Dubai Duty Free raffle runs by buying a ticket and standing a chance to win a luxury car or motorbike. 
Transfer between terminals
There is a free 24-hour shuttle bus service between Terminals 1 & 3, and Terminals 2 & 3. Simply follow the signs or ask the Guest Experience team.
You can also use the Metro between Terminal 1 and Terminal 3. If you're connecting flights, you will be automatically transferred as part of your connection.
How to check for Dubai Airport flight status, departures, and arrivals?
You can check your departure and arrival status, timing, and terminal by visiting Dubai airport's flight status page.
Dubai Airport arrival
Entry requirements
Dubai Airport departures
Departure rules for UAE citizens
Under the UAE travel protocol for UAE Nationals 18 years old and above, they must meet one of the following requirements to travel out of Dubai:
Must have completed one (1) dose of an approved vaccine and a period of one month has not lapsed from the date of the vaccination and the date of travel; or
Must have competed two (2) doses of an approved vaccine; or
If not vaccinated, the passenger must present a valid negative Covid‑19 PCR Test certificate that is issued within 48 hours from the time of sample collection and the time of boarding the aircraft. The COVID‑19 PCR test certificate has to be issued from an approved health service provider and must contain a QR code.
The following categories of UAE Nationals are exempted from the specified travel conditions provided they obtain an official letter from the relevant health authority in the UAE:
Individuals medically exempted from taking the vaccine
Humanitarian cases
Individuals travelling for medical and/or treatment purposes
Any exception must be obtained by the individuals from the relevant authorities before arrival to airport or making travel arrangements.
Departure rules for other passengers
Other than UAE citizens, other departing passengers from DXB must adhere to the following rules:
Passengers travelling from Dubai will need to undergo COVID‑19 PCR testing only if it is required by the country you are travelling to.
Please check the requirements of the country you are travelling to. The travel regulations change frequently.
Check the

list of authorised COVID‑19 test laboratories in Dubai

where you can get tested before you travel to your destination.
Transiting through Dubai International Airport
The international airport is huge and going the wrong way may result in travellers missing their flights. Those with a short connection time of 60 to 120 minutes need to be alert and efficient to avoid missing their connecting flight. After disembarking, transit passengers looking to catch their next flight need to follow the 'Connections' signage and make their way to the transfer area.
To avoid getting on the wrong transfer route, make an effort to consult the staff wearing a "May I Help You" t-shirt. The friendly and well-informed staff will be more than happy to point you in the right direction. 
To know more about the complete transit procedures at the Dubai International Airport, and things to do while waiting in transit, check out our article–Transiting in Dubai: Everything You Need to Know About Transit Rules in Dubai International Airport
Dubai Airport Customer Service
To assist passengers and answers their queries, DXB has launched a 24-hour contact centre that combines live and tech-enabled services that enables travellers to access the airport support services through phone, email, live online chat and social media. The service is also set to launch in WhatsApp Business soon.
The contact centre team is available 24 hours a day, 7 days/week to answer your queries. Alternatively, the live chat team is available all day to deal with any question you may have. The bilingual 24 hour contact service can be accessed
Other methods of communications include:
Via email: [email protected]
Via social media: @DXB and @DubaiAirports on Facebook, Instagram and Twitter channels
Dubai Airport Careers
As one of the most advanced and busiest airports in the world, the Dubai International Airport has several career opportunities available in different fields. You can search for jobs at DXB here on their official website careers.dubaiairports.ae 
[Total:

254

Average:

4.6

]