Elevated 810 ft above sea level, resting on an 82-meter high hill with a picturesque view of Saane river and lake of Gruyères, is a quaint little town of Gruyere. It is the town that gave the world-famous Gruyères AOP cheese its name.
Surrounded by the luscious Fribourg pre-Alpine and endless pastures, visitors are drawn to revel in Gruyères long history and well preserved glorious medieval days. The medieval ages are of imperative importance in European history, inspiring our modern-day fairytales, folklores, castles and knights in shining armour. The quasi-medieval fantasy book, Game of Thrones also draws some from the era.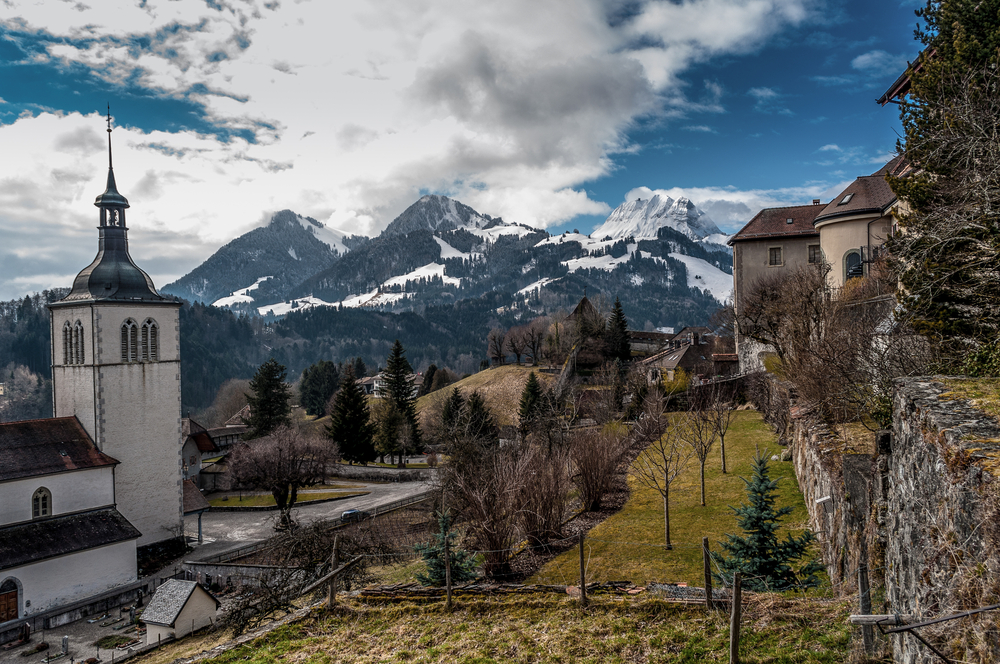 Most, if not all, of the most beautiful historical towns in Europe, owe its intrinsic qualities to this period. One of Switzerland's and most famous, Castle Gruyères and its village, has retained all its charms.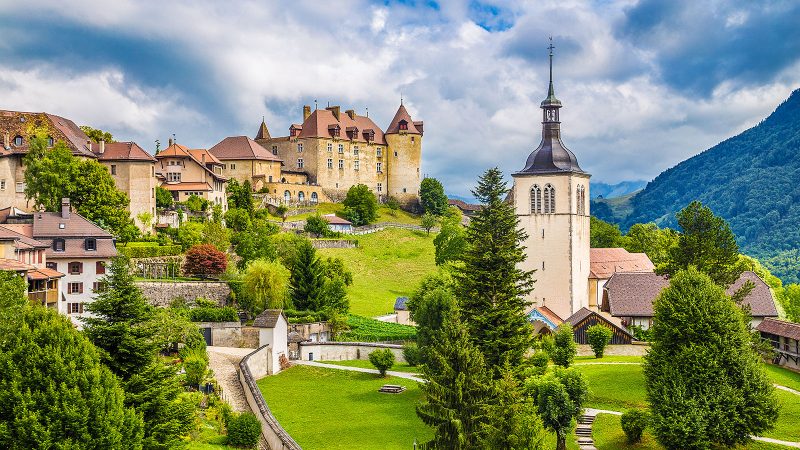 The village centre is flanked by two rows of neat romantic old terraces, right out of a fairytale storybook. The cobblestone pedestrian town is best explored on by foot and with an empty tummy. Famous not only for its spectacular scenery and cheese fondue, Gruyères is one of the most unique Swiss towns you will ever come to visit.
Finding the Knights
Legend has it that the Count Gruyères founded the village of Gruyères. He then captured a crane (in French: "grue") and chose it as his heraldic animal, and hence the emblematic crane is seen everywhere in the village.
To reign over the town, the mysterious House of Gruyères built the 13th century fortified Castle of Gruyères, The castle is a Swiss heritage site, with 800 years of deep and eventful history. It has passed through many hands, contributing to its contrasting collection of ancient-modern art and decor.
Today it is a museum that showcases battlements, stunning stained glass window, treasured war booty, precious art pieces and the troubadour decorations of the Knights Hall.
It houses the three capes of the Order of the Golden Fleece and many legendary stories. One of which is the heroic women of Gruyères who saved their outnumbered men by gathering their troops of goats.
Having dressed the animals in heavy armour, bells and torches on their horns, they then sent the frenzied goats running amok toward their enemy.
Savouring the Cheese
It is almost blasphemous to talk cheese fondue and not mention Gruyère AOP, the versatile cheese that is the integral ingredient in the luxurious, creamy Swiss staple.
The revered cheese carries an AOP (Appellation d'Origine Protégée / Protected Designation of Origin (PDO). It is a label which means it is patented and can only be produced in its region of origin! Famed, protected gluten and lactose-free it has inevitably become gastronomically sought after.
La Maison du Gruyère is a cheese-making dairy plant that brings you on an interactive tour. It has sessions of live cheese-making, an art form that has been passed on from generations to generations.
Gruyère AOP is a hard yellow cheese that is perfect when melted, and it is the pride of the quintessential town. Out in the streets are restaurants waiting to satisfy your tempted taste buds and convince you of its solid reputation!
Discovering the intergalactic aliens
Quite literally out of this world, with St-Germain chapel as a home base, is a museum by Hans Rudi Giger, a Swiss artist, the mind and heart of the titular creatures from the Aliens movie.
The Oscar award winner for Best Visual Effect came to Gruyères and set his eyes on building a permanent lair for his aliens, personal collections, dark sculptures, painting, sketches and biomechanical masterpieces.
Ominous and sinister with fetishistic overtones, it is a stark contrast from the walls of a medieval town that it is in, and not designed with children in mind. It is, however, a bucket list for HR Giger's fans. There is Giger bar across from the museum, where visitors can drink "Alien" coffee and digest pizzas in the fossilized insides of a Xenomorph.
A twisted and intriguing surprise, HR Giger is a permanent mark in an otherwise pastoral Gruyere, left behind by the Knight of Darkness himself.
Tibetan Museum
The Swiss are predominantly Christians, divided between Roman Catholics and Protestants. It is peculiar to find a Tibet Museum in an old chapel.
There is an extensive collection of more than 300 Buddhist statues, ceremonial items and paintings belonging to the Himalayan region, some dating back to the 6th century. This is the works of Alain Bordier, a passionate Tibetan art collector. What started as a single purchase of an exquisitely beautiful piece of art gradually turned into a compelling devotion to amass them.
Beyond Gruyere cheese – Maison Callier
Swiss chocolate is as well known as Swiss cheese. Toblerone and Lindt are the more widely exported chocolates but not any lesser in popularity is Cailler chocolates.
If you are willing to travel 5 minutes away from Gruyere, there is a chocolate factory, build in 1819 in Broc, that takes you on an epicurean excursion. Maison Cailler is where you can touch cocoa beans, smell its aroma, indulge in its sweet richness and even customize your chocolate.
Gruyères is an isolated beauty nestled in the foothills of the Fribourg Alpines, and the discovery of knights, famed cheese and alien harmoniously coexisting is fascinating. Outside of the town, cows and sheep nonchalantly graze on the bucolic pastures. The chiming of the cowbells accompanies the natural beauty of the Swiss alps delighting the eye of the beholder.