This article is reviewed regularly by Wego's editorial team to ensure that the content is up to date & accurate.
Updated July 2023
As the Hajj season 2024 is coming closer, many pilgrims around the world are looking forward to performing Hajj 2024 after its successful pilgrimage in the previous season. To be able to perform Hajj, all pilgrims need to obtain a Hajj visa.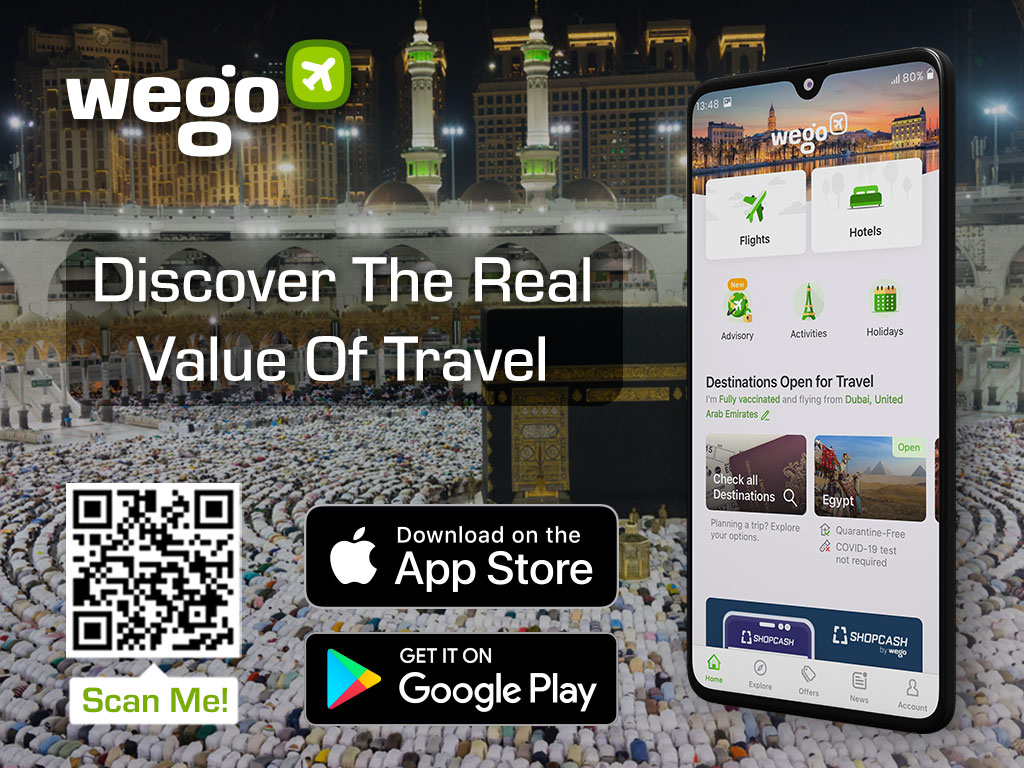 What is a Hajj visa?
The Hajj visa is one of the most important documents that Hajj pilgrims need to be allowed to perform the Hajj. Hajj visas are valid for travel only in the vicinities of Jeddah, Makkah, and Madinah and for travel between these cities. Please note that these visas are not valid for work or residency. Unapproved travel outside these areas may result in immigration violations and penalties.
Book cheap flights to Saudi Arabia
Do I need a visa to perform Hajj 2024?
Yes. All pilgrims need a visa to perform Hajj. However, GCC nationals do not need a visa to travel to Saudi Arabia, although they would still need to obtain an official Hajj permit to perform the Hajj.
What are the requirements for Hajj visa?
Other than possessing a non-refundable roundtrip ticket with confirmed reservations, there are various requirements that applicants are required to comply with to obtain a Hajj visa.
Passport requirements
Applicants must have a passport with the following criteria:
valid for at least six more months
acceptable for entry to Saudi Arabia and the next destination
have at least two empty visa pages adjacent to each other
Photograph requirements
Each applicant must submit one recent passport-size photograph with these specifications:
coloured photograph with a white background
the photograph must be a full-face view in which the visa applicant is facing the camera directly
side or angled views are NOT accepted
Please note that some travel agents may require two coloured photos, one for the visa application and the other for the group identification card.
Application form
It is also mandatory for applicants to submit a completed application form. The form must be:
filled in with black ink pen or printed
signed and stamped by the authorized travel agency
Mahram requirements
The Saudi authorities have set forth specific guidelines for Hajj pilgrims regarding the Mahram:
The Mahram must provide complete information on his spouse and children or any relative travelling with him.
He must also submit copies of marriage or birth certificates and proof of kinship along with the application form.
Women are required to travel for Hajj with a Mahram.
Women over the age of 45 may travel without a Mahram in an organized group if they present a notarized letter of no objection from their Mahram, authorizing them to travel for Hajj with the named group.
Vaccination requirements
Applicants must have been injected with the following vaccines:
For adults and children over 15 years old
approved COVID-19 vaccines
meningitis and ACYW135 vaccination
For children up to 15 years old
polio and meningitis vaccination
It is important to note that a certificate of vaccination should have been issued not more than three years and not less than 10 days prior to entering Saudi Arabia.
Payment requirements
Here are the payment requirements that applicants need to observe in regard to pilgrimage services:
Each applicant must pay appropriate fees by submitting two certified or cashier's checks payable to the 'Unified Agents Office' in Jeddah for pilgrimage services.
Checks should include the pilgrim's name, passport number, date, and place of issue.
Pilgrims can submit one check for both fees.
Children between the ages of 7 and 15 pay half the amount, and those under 7 are exempted from payment.
For the correct charges, consult the Saudi Consulate in your country.
Important notes:
applicants who are not nationals of the country they are applying from should submit documented proof of legal residence status. If the applicant has converted to Islam, an Islamic certificate must be presented, which must be notarized by an Islamic Center.
passport authorities in the Kingdom of Saudi Arabia reserve the right to return (at their own expense) any pilgrim who has provided wrong or false information about their residence.
no applicant under the legal age of eighteen will be granted a Hajj visa if not accompanied by his family.
How do I apply for the Hajj visa?
The application form is available from your nearest Saudi Consulate. However, it is advisable to appoint a licensed travel agent, who will arrange a visa, as well as your travel and accommodation and anything else you may need to perform the Hajj. It is also advised that you apply for your Hajj visa from Mid-Shawwal until the 25th Dhual-Qa'dah of each year.
The Kingdom of Saudi Arabia confirmed that Hajj visas will start to be issued on 1 March and ends on 29 April 2024.
What is the fee for obtaining the Hajj visa?
The Hajj visa is 100% free for all pilgrims.
[Total:

278

Average:

4.7

]