This article is reviewed regularly by Wego's editorial team to ensure that the content is up to date & accurate.
Updated March 2023
The Umrah is a minor, non-compulsory pilgrimage that any able-bodied Muslim with adequate financial means may undertake to gain the blessings and favour of Allah. Umrah is seen as a way for Muslims to seek forgiveness, spiritual renewal, and a closer connection to God. It is also an opportunity for Muslims to visit the birthplace of their religion and Islam's holiest sites.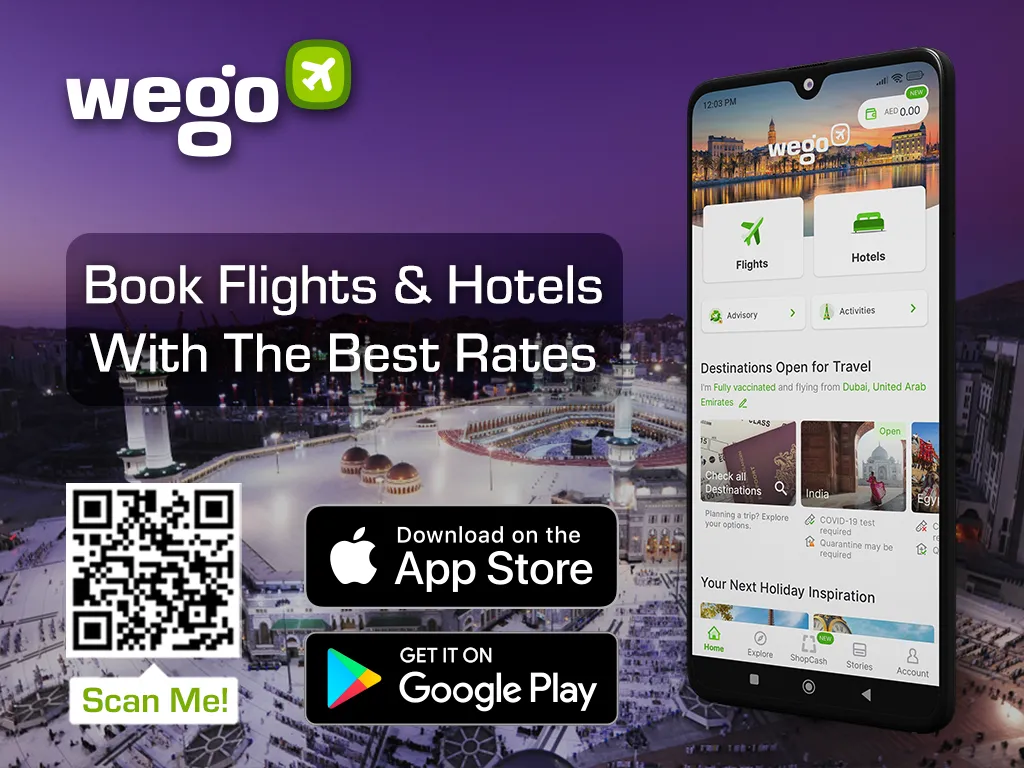 Pilgrims looking to fulfil this religious calling are required to first obtain an Umrah visa before entering the Kingdom of Saudi Arabia. If you're planning to visit Makkah from Pakistan to perform Umrah, here's how you can apply for an Umrah visa.
Umrah from Pakistan news 2023
In order to expedite services for the rites, Saudi Arabia has announced that permits for undertaking Umrah, or minor pilgrimage, during the next Islamic holy month of Ramadan can be provided via an electronic platform. Muslims who intend to perform Umrah during Ramadan are urged by the Saudi Ministry of Hajj and Umrah to submit applications using the Nusuk portal.
Muslims can use the nusuk.sa website to electronically book associated travel arrangements and receive the appropriate visas and permits in order to perform umrah or visit the holy sites.
According to the latest announcement, the government of Saudi Arabia has allowed religious tourists to arrive and depart on scheduled flights through any international airport in the kingdom.
As a result of the application of this newly added policy, all airlines, as well as private aviation operating in the Kingdom of Saudi Arabia, must permit pilgrims wishing to conduct Umrah to arrive and depart on scheduled flights via any of the kingdom's international airports.
Do I need a visa to perform Umrah from Pakistan?
Yes. It is important to note that Pakistani looking to perform the Umrah are required to first obtain any type of Saudi visa. These include the Umrah visa, Saudi Tourist visa, transit visa and the free 4-day visa.
Book cheap flights to Saudi Arabia
Umrah visa from Pakistan online application
The Saudi authorities have launched an electronic service for Umrah seekers to obtain their Umrah visa within 24 hours. Umrah seekers residing in countries all over the world may now directly apply through the Maqam platform. To apply for the Umrah visa online, follow the below steps:
visit the Ministry of Hajj and Umrah's Maqam portal and choose one of the approved Umrah companies
build your Umrah package consisting of accommodation, transportation, and ground services with your selected company
after securing your umrah package, you will receive the reference number for the application
you'll be redirected to the Ministry of Foreign Affairs portal, where you'll need to complete the visa issuance process
Umrah visa through approved travel agencies
Alternatively, you can get the visa package booking and visa issuance application done through an approved tourism agency in your country.
The government of Saudi Arabia recommends that you enlist the assistance of an approved travel agent in Pakistan to obtain your Umrah visa. Furthermore, the Ministry of Hajj and Umrah has announced the possibility for international Umrah seekers to plan their own itineraries electronically through approved platforms.
To learn more about how you can arrange your Umrah journey from your city, please consult our dedicated article below.
Umrah visa from Pakistan processing time
While it is possible to obtain an Umrah visa from Pakistan in under 24 hours, issuance of an Umrah visa typically takes between 5 – 10 days.
Umrah visa from Pakistan price
The Umrah visa itself is available free of cost. However, there may be fees associated with processing and other Umrah-related services. It's been reported that these fees may amount to somewhere between PKR 44,000 to 52,000.
[Total:

112

Average:

4.6

]