A holiday should be relaxing. That's my mantra for any vacation that I take. Especially with kids.
Often, you hear people needing a holiday from the trip they just came back from. It is not the wanderlust but rather the sardine-packed itinerary that has taken away the essence. The beautiful Japan is one such destination with a mountain of things to see and do.
If I am touring in Japan and need a break from the bustling Tokyo, here is where you would find me. In Hakone, an adorable little town known for its tea houses, onsens, and volcanic eggs.
Never one to like sitting in a restaurant for hours while being served course after course of dishes, delicious meals on the go with a view is right up my alley. Hakone is such a picturesque place with a generous brush of greenery and open blue skies.
Two days in Hakone will be perfect for a much-needed break from the bustling city. Water has such a calming and healing effect on me. I love to stare at the ocean as much as I love a good warm bath.
This mountainous town is known for its hot springs, and there are more than a dozen of them, with most hotels offer them free for staying guests and paying daytime visitors. It serves very well to soothe those tired muscles, and if you want a view, Green Plaza Hotel has an unmatched view of the iconic Mt Fuji.
Gora Park 
A cable car ride leads up to Gora Park. Many things make this park: the French style buildings and layouts, a rainbow of florals, tea houses, the Gora brewery, a pottery class, a glass blowing workshop, and in the center of it all, a tranquil fountain that ties everything together.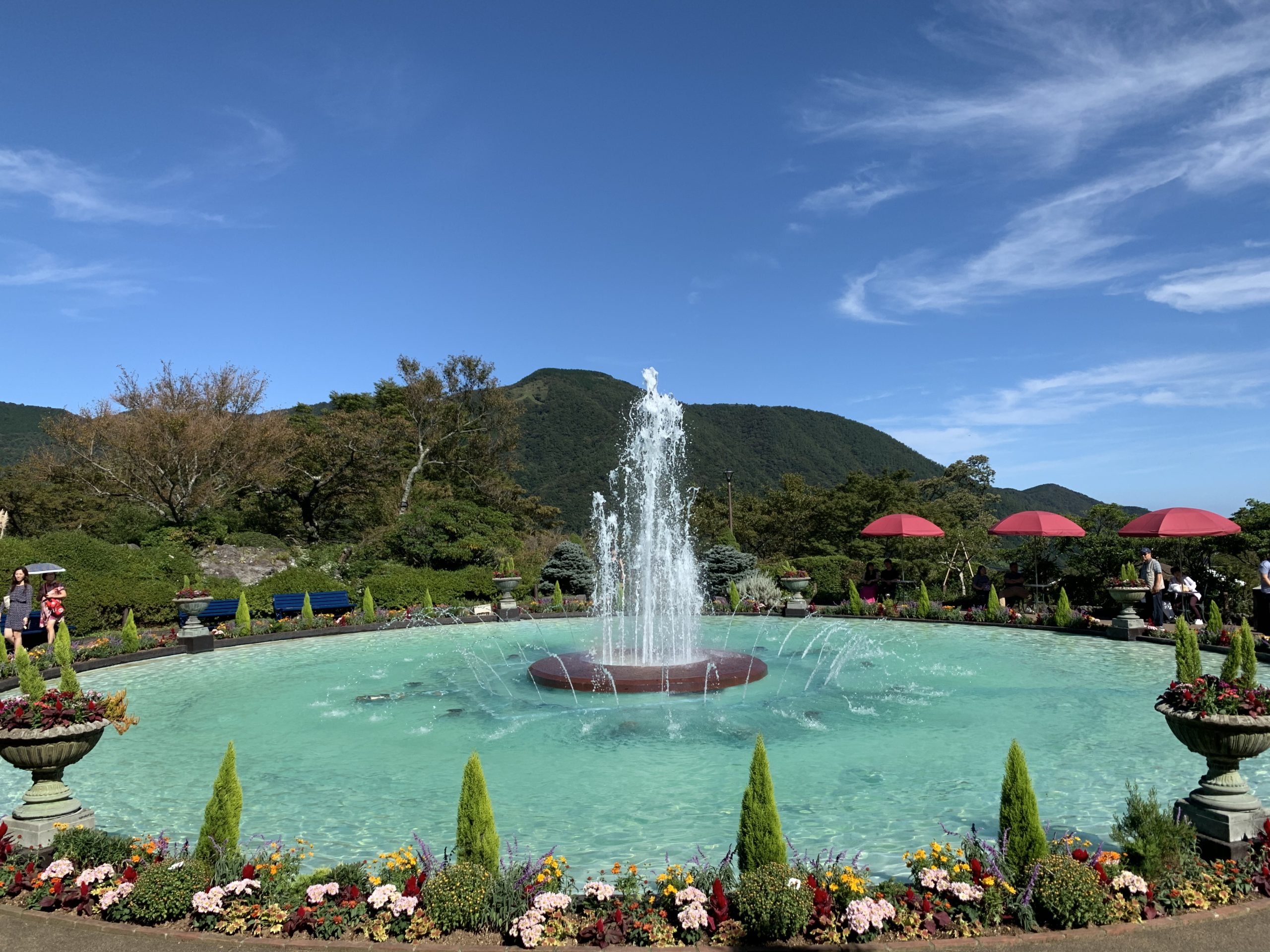 If you have seen how glassblowers work, you would appreciate the dedication, precision, and mastery that is involved in this art form. The manipulating of liquid glass couple coupled with the intricacies of its design will leave you holding your breath. That satisfying little tap at the end signals the rush to the annealing oven to cool the glass down before it's final reveal. The whole process is exhilarating to watch!
It is time to take off all that heat with a good glass of beer or delicious Nobu Sakae at Gora Brewery. All that breath-holding has also worked up an appetite, and a plate of Japanese beef is recharging!
Owakudani
From the serene paradise to the "Valley of hell" as the locals coined it. I prefer to call it Owakudani, which sounds a lot less ominous for an active volcano lest it lived up to its name. Owakudani is a volcanic valley created when Hakone Volcano erupted.
Apart from how it got its name, the jet black eggs are what draws the crowds. The sulfur eggs or "kuro-tamago" turn black after boiling in hot sulphuric springs. Supposedly an elixir of life: it is said that eating one extends your life by seven years.
I could have eaten a couple and brought a dozen home, given how many years have been taken away from being a parent to two little daredevils. However, they are not as readily available due to the volcanic activity, which closes the area until it cools off.
Pirate Sightseeing Boat
There is nothing more exciting for a child than to ride a pirate ship! Even it is just designed to look like one.
Although there is no Captain Jack Sparrow at its helm, these pirate style boat traverses between three stops: Hakone-Machi Port, Moto-Hakone Port, and Togendai Port. Otherwise, the sightseeing boat offers the best seats in the house for reveling in the beauty of Lake Ashi and the beautiful scenery.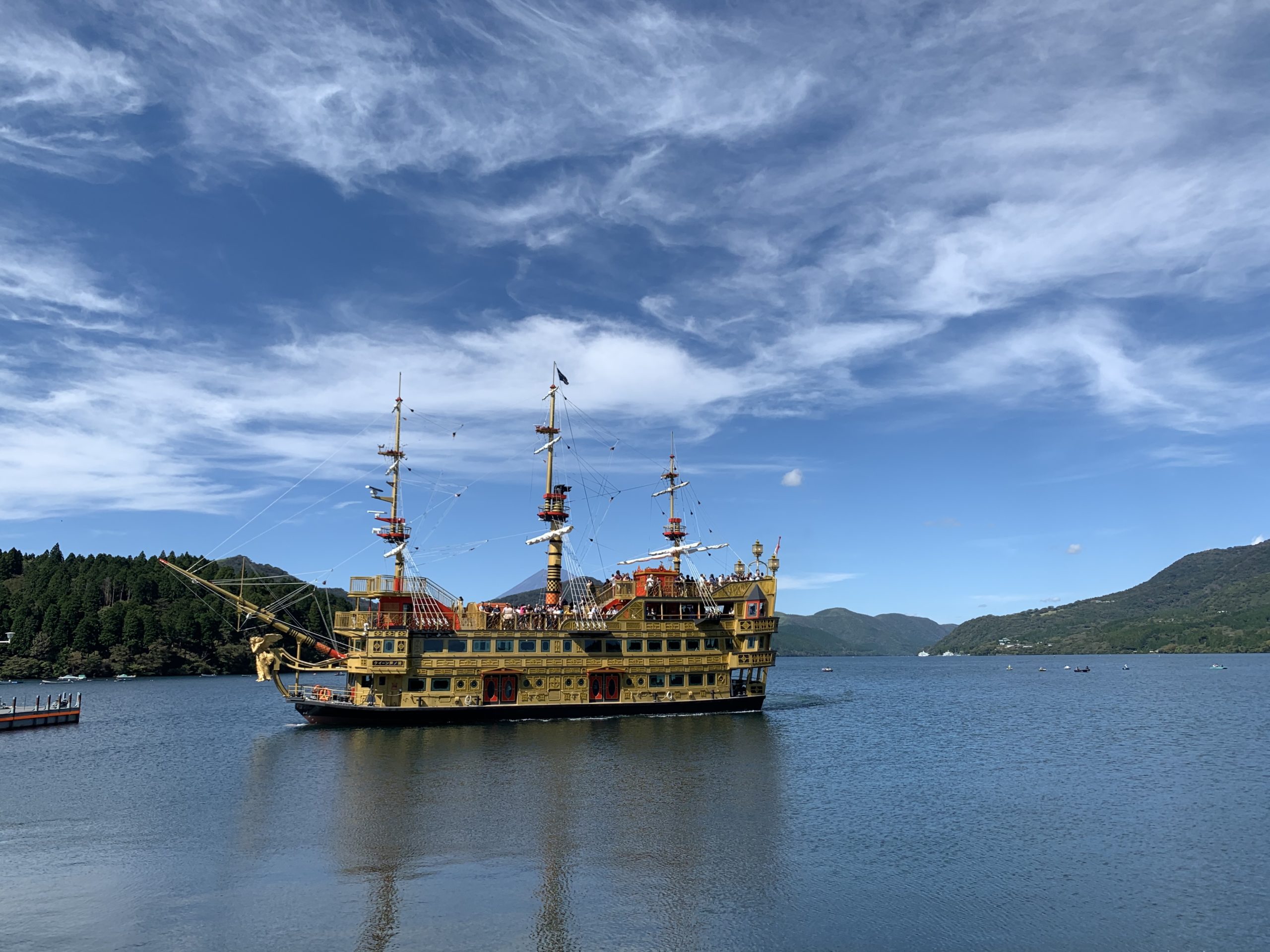 Lake Ashi and Torii Gate
Ashinoko Lake, or more affectionately known as Lake Ashi, is Hakone's Crown jewel. The crater lake was created 200,000 years ago from a volcanic eruption and lies at the caldera of Mount Hakone. The 8km panoramic mountain views and the opportunity to see the imposing Mount Fuji is what makes the lake itself iconic.
There are many attractions in the three towns that the pirate ferry stops at, and each warrants a visit. At Hakone-Machi Port, you can visit the oldest checkpoint. Savor the famous yuba-don (tofu skin over rice) and walk amongst cedarwood trees at Moto-Hakone port.
Togendai Port is where you can find the cable car or ropeway up to Gora Park or stop at Owakudani Station and ascend upwards in search of those famed eggs.
Above all the attractions that Hakone has to offer, the one that captures hearts far and wide is the most serene and seclusive. To find the icon of Hakone, you must find the path to the divine Hakone Shrine.
That is when you will be greeted by one of the three colossal shrine gates or torii-gates. Torii-gates mark the entrance of a sacred place, a Japanese Shinto shrine.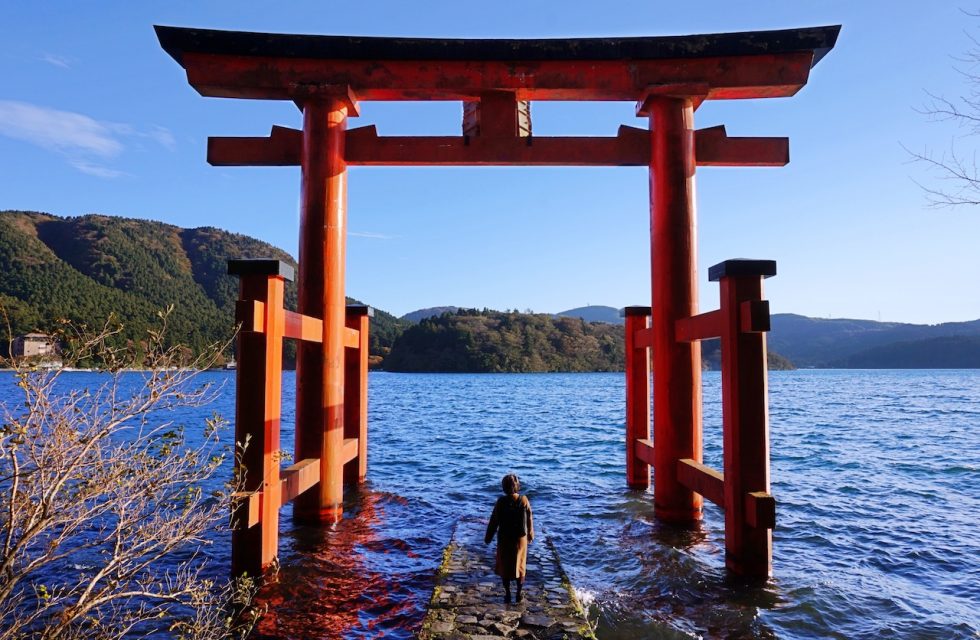 Of these three symbolic gates, the one that outshines is the Torii Gate in the water.
Hakone Open-Air Museum
An enjoyable holiday for me is one where my children feel they are not just tagging along, but are being included in the holiday planning. The most memorable place in Hakone for any kid would have to be the Open Air Museum, which is Japan's first!
Unconstrained and unconventional, the 70,000 square meters museum is a delightful space showcasing 120 creative works at its best.
Some of the installations are precisely a child's wildest imaginations come to life. 
I would go so far as to say that even a philistine will enjoy this delightful ground. There are also foot spas, cafes, and restaurants around.
It is wise to always save the best for last. As a word of advice, save a whole day for this beguiling art and play space. 
The next time you head to Japan with a laundry list of an itinerary, stop by rejuvenating Hakone for a breather!